Frenchy looks to revitalize career in familiar setting
Vet returning to Braves, the team that drafted him, on Minors deal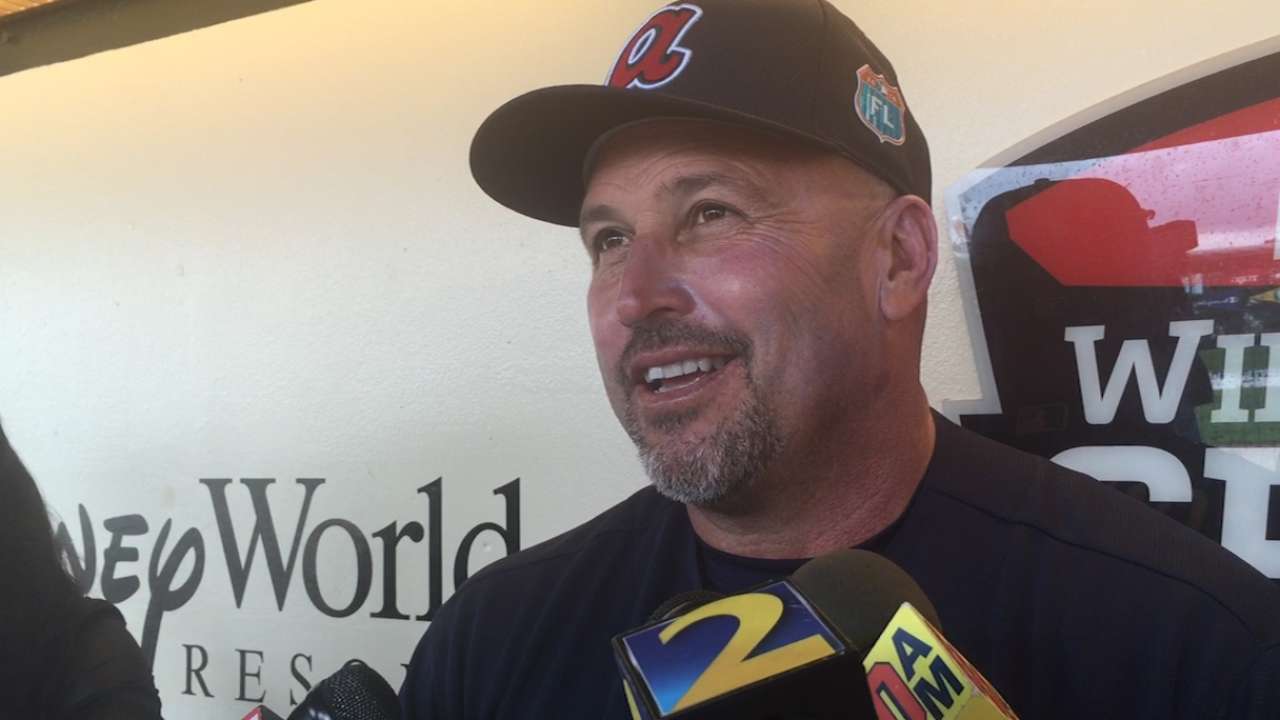 LAKE BUENA VISTA, Fla. -- Jeff Francoeur, who possesses the same upbeat approach that he had in the earliest years of his once highly-promising career, has returned to the Braves for the chance to rejuvenate his career in a familiar environment.
"I think I've learned a lot," Francoeur said. "I was 25 [years-old] the last time I was here. I've been through a lot. I'm excited. I'm confident in the player that I am now. I know the things I can do and the things I can't do. So I don't think there is any pressure anymore to feel like I have to do this or do that."
• Spring Training: Tickets | Schedule | More
No longer burdened by the expectations that surrounded him when he produced instant Major League success and became one of the Braves' most popular players, Francoeur is looking forward to the unexpected opportunity that he gained this week when the Braves offered him a Minor League deal and an invitation to big league camp.
Francoeur certainly wasn't anticipating this kind of development back when he earned a spot on Sports Illustrated's cover a month into his big league career. But considering his inconsistent play in the past several years, the suburban Atlanta native graciously accepted this opportunity to prove himself within a comfortable setting.
Welcome back to #BravesST Frenchy! pic.twitter.com/OZA6hB8jaF

— Atlanta Braves (@Braves) February 24, 2016
Though the Braves are not in a position where they can guarantee Francoeur will be on their Opening Day roster, they opted to extend him a Minor League deal with the hope that he will be a solid clubhouse presence during Spring Training and provide some insurance in case they need to alter some of their roster plans.
Francoeur's roster candidacy could be influenced by Freddie Freeman's wrist. If Freeman begins the season on the disabled list, the Braves could opt to keep Nick Swisher around to play first base and try to move another backup outfield candidate -- Michael Bourn. There is also some uncertainty surrounding Hector Olivera's ability to make a smooth transition from third base to left field.
"I honestly couldn't imagine this about 10 days ago," Francoeur said. "It all just kind of came together quick. I'm excited. I was able to talk to [manager Fredi Gonzalez] and [president of baseball operations John Hart] this past weekend. We just had some good talks. It really just came down to feeling comfortable here and feeling that there is an opportunity. The chance to play at home again is something I really look forward to."
Francoeur admits there were hard feelings when the Braves traded him to the Mets midway through the 2009 season. But most of his frustration with the organization was aimed toward former general manager Frank Wren. Now, he has returned to experience the club's new era while playing alongside his good friend Kelly Johnson, who rejuvenated his own career after returning to the Braves on a Minor League deal last year.
Francoeur is also looking forward to seeing some of the same front office and clubhouse employees that are still with the team. One of the guest instructors over the next week will be another former teammate, Andruw Jones, who has already playfully told Francoeur that he's going to make him work hard.
"It's obviously different, but there are so many familiar faces here, and it's fun just to see all of the guys," Francoeur said. "When I left, there's always feelings here and there, but again, that was seven years ago. We live in Atlanta. We'll always be Braves fans. It kind of feels good to be back."
Mark Bowman is a reporter for MLB.com. This story was not subject to the approval of Major League Baseball or its clubs.