MLB.com Columnist
Fred Zinkie
Tale of the fantasy tape: Mets-Nationals
New York entering season with 9-4 edge at key positions
The Nationals were expected to run away with the National League East in 2015, but the Mets used a terrific stockpile of young starters and the key July acquisition of Yoenis Cespedes to steal the division title on their way to a World Series appearance. In an effort to bridge the gap, Washington made several notable offseason moves.
Before these rivals settle their competition on the field in 2016, we can get a head start on assessing them by comparing the fantasy value of their key players.
Catcher: A lifetime .258 hitter capable of compiling 15-plus homers, Wilson Ramos is a serviceable fantasy catcher. But the nod at this position belongs to Travis d'Arnaud, who hit .268 with 12 homers across 239 at-bats last season. If he can stay healthy in 2016, d'Arnaud could join the upper tiers at this position.
First base: Ryan Zimmerman has played just 156 games across the past two seasons due to injuries, opening the door for Lucas Duda to earn the Mets a point at this position. Capable of hitting 30 homers and driving in 85 runs, Duda can be considered among the top-12 fantasy first basemen.
Second base: After showing improved power during the regular season and postseason with the Mets, Daniel Murphy jumped to the Nationals in the offseason. Murphy gives his new team a narrow advantage at the keystone position over his replacement, Neil Walker. Walker should match Murphy's newfound power stroke but will likely fall short in the batting-average department.
Shortstop: Because the Nats will likely go with lifetime .230 hitter Danny Espinosa as their Opening Day shortstop, they concede a point to the Mets and Asdrubal Cabrera. Although he is not a high-end option, Cabrera should deliver respectable power as well as a batting mark that Espinosa is unlikely to match. When Washington turns this position over to prized prospect Trea Turner, it may immediately pick up a point on its foes.
Third base: Anthony Rendon is coming off an injury-plagued 2015 season, but his outstanding '14 production (21 homers, 17 steals, 111 runs) cannot be forgotten. Because David Wright has made a minimal fantasy impact in each of the past two seasons, the edge at the hot corner goes to Rendon.
Left field: In a battle of youth against experience, Michael Conforto gives the Mets a small edge over Jayson Werth and the Nats. Capable of providing more than 20 homers and a solid batting average, Conforto will be a popular mixed-league pick in 2016. To match Conforto, Werth will have to show that his disappointing '15 season is not part of a permanent decline.
Center field: Speedster Ben Revere should impact mixed leagues while serving as a solid spark plug for Washington, but he cannot duplicate the fantasy value of Cespedes. The native Cuban will be a solid No. 2 outfielder in mixed formats, even if he is unable to match his lofty 2015 production.
Right field: Ranked No. 1 overall in MLB.com's 2016 Fantasy Player Preview, Bryce Harper runs away with this matchup against Curtis Granderson. Although Granderson had a solid 2015 season, he cannot match the production from the reigning NL MVP Award winner.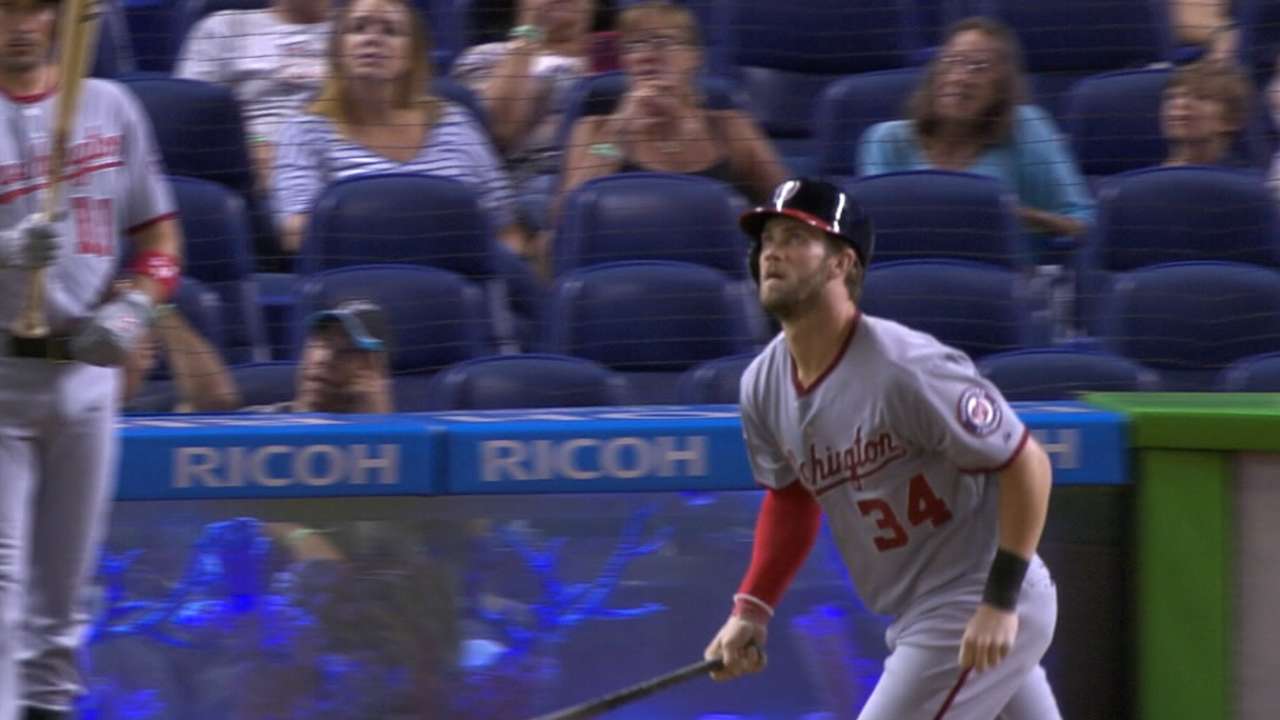 No. 1 starter: Coming off a 276-strikeout season, Max Scherzer gets the edge at the ace position over Matt Harvey. Harvey could match Scherzer in limiting baserunners and runs in 2016, but he is unlikely to surpass the 31-year-old in strikeouts and innings.
No. 2 starter: In what may be his final season as a member of the Nationals, Stephen Strasburg will attempt to finally deliver on longstanding expectations to produce a Cy Young-caliber year. Due to his immense potential and lifetime 3.09 ERA, Strasburg earns a tie with Mets co-ace Jacob deGrom, who is also a viable mixed-league No. 1 starter.
No. 3 starter: While his workload will likely be monitored in 2016, Noah Syndergaard has the dominant stuff to give fantasy owners 200 strikeouts and strong ratios in his first full season. His impressive arsenal scores the Mets a point over the Nats, who counter with another ascending starter in Joe Ross.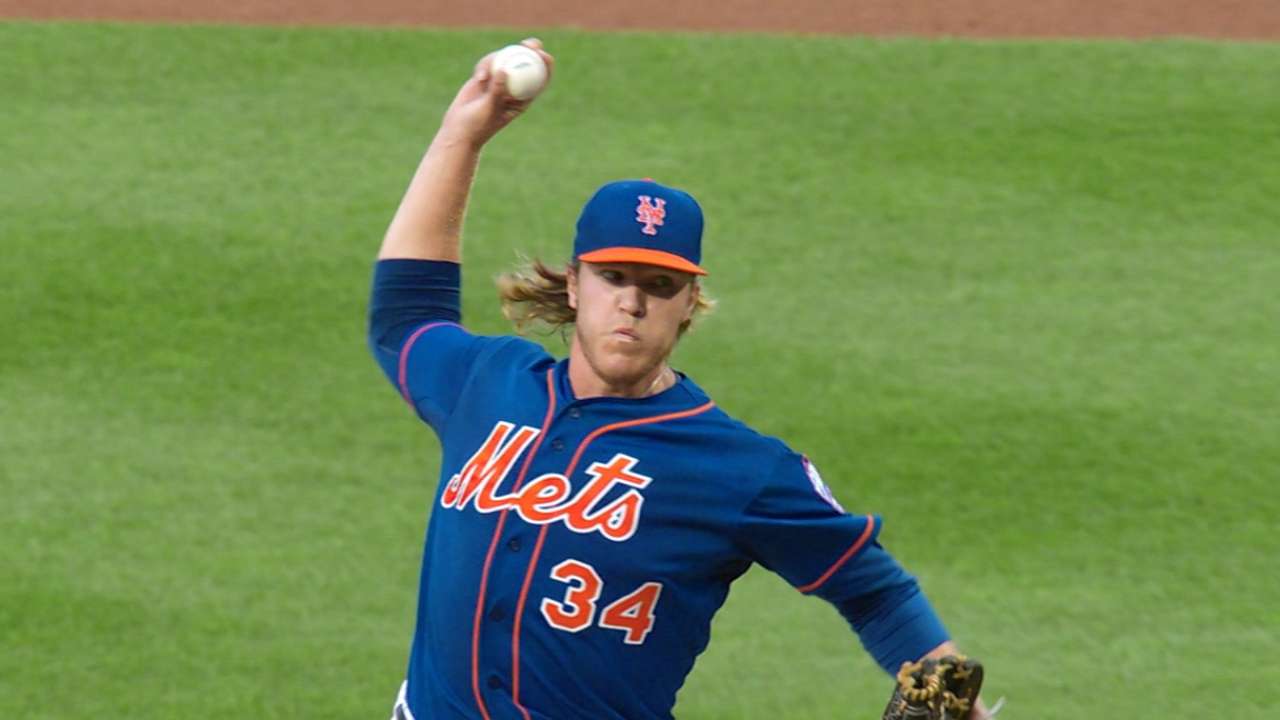 No. 4 starter: Gio Gonzalez can compile whiffs for fantasy owners, but his inconsistent control leads to a high WHIP and some short starts. Because of said limitations, we are giving the edge to the Mets' high-upside youngster, Steven Matz. After dazzling Minor League hitters at the outset of last season, Matz quickly proved that he has the skills to be an immediate impact player in mixed leagues.
No. 5 starter: Despite his advanced age, Bartolo Colon can still deliver a respectable ERA and WHIP along with a solid win total in deep mixed leagues. Colon's consistency gives him the nod over Tanner Roark, who took a major step backward last season after an excellent 2014 campaign.
Closer: Coming off a 2015 season in which he converted 43 saves and logged a 1.85 ERA, Jeurys Familia has already become a borderline top-tier fantasy closer. He gives the Mets a ninth-inning edge over Jonathan Papelbon, who does not produce the strikeout totals to escape the middle rounds of mixed-league drafts.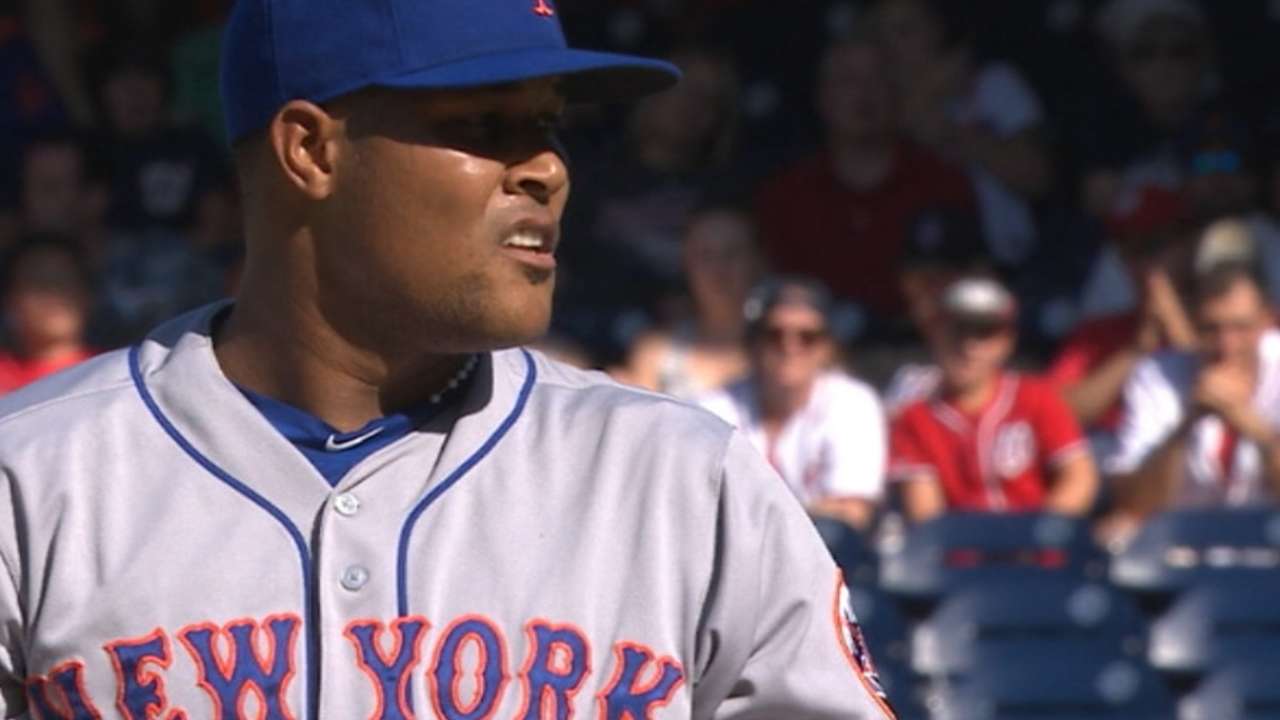 Setup men: The setup crews are a source of concern for both clubs, as Addison Reed, Antonio Bastardo, Shawn Kelley and Trevor Gott are unlikely to make a notable impact in NL-only leagues. As a result, we will call this category a draw.
Final verdict: Both teams will place multiple stars in the early rounds of 2016 fantasy drafts. But the depth of the Mets' pitching staff helps New York to secure a 9-4 win in this tale of the fantasy tape.
Fred Zinkie is the lead fantasy baseball writer for MLB.com. Follow him on Twitter at @FredZinkieMLB. This story was not subject to the approval of Major League Baseball or its clubs.