Vogt's surgically repaired elbow feels 'awesome'
MESA, Ariz. -- A's catcher Stephen Vogt, not much more than three weeks removed from right elbow surgery, is seemingly ahead of schedule after beginning a throwing program Tuesday.
Vogt made 15 sock throws before picking up a baseball and throwing it 20 times from a distance of 60 feet. The backstop reported no pain afterward.
Spring Training: Schedule | Tickets | Gear
"Awesome," he said. "Felt normal, obviously outside of getting surgery and not throwing for a month."
Vogt is already swinging the bat, too, albeit on a different schedule than his teammates. He took 40 swings off the tee on Monday and is likely to graduate to soft toss by week's end.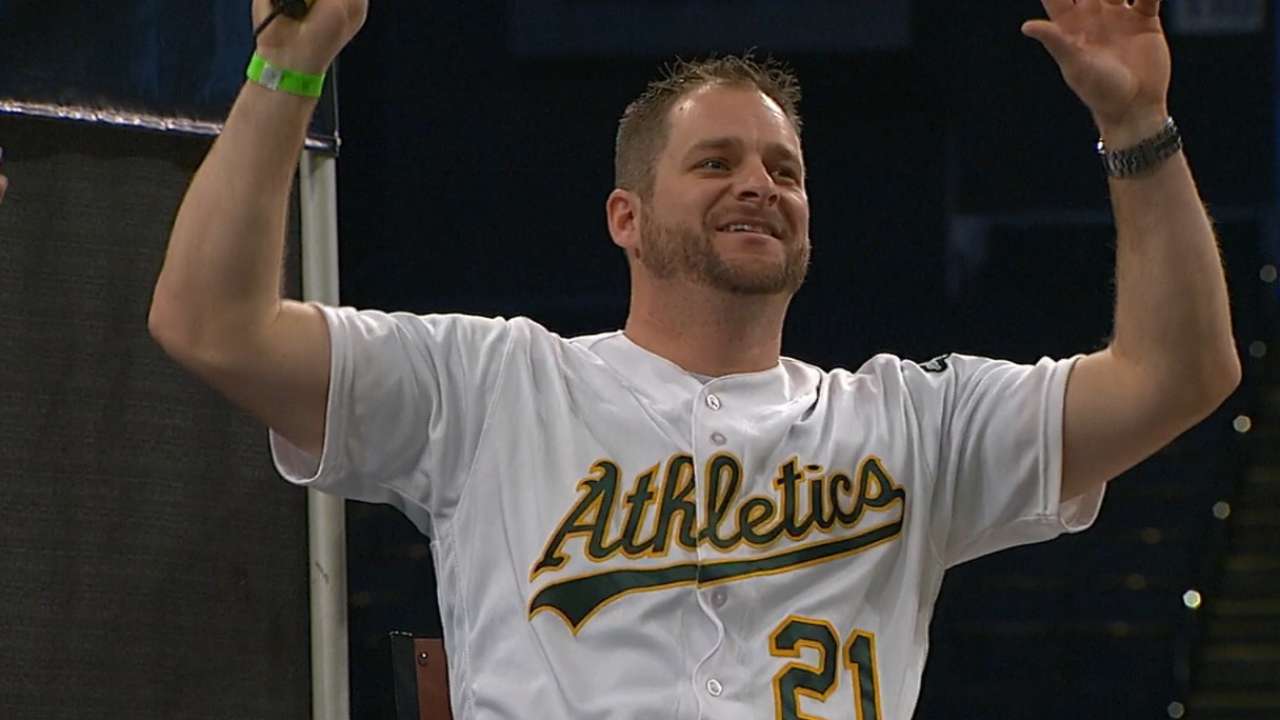 "Definitely progressing really well and feeling good," said Vogt, who faced similar restrictions early in camp last year following foot surgery.
"Now it's all going to be about holding him back, because swinging the bat feels great, throwing for the first time today felt great," A's manager Bob Melvin said. "But I think the fact last year he was late and still had the production he did early in the season … he knows it's just important he's healthy when the season starts."
Melvin has said he foresees Vogt getting into Cactus League games during the second week of play, putting him on track for Opening Night of the regular season.
Worth Noting
• Right-hander Jesse Hahn, who missed the second half of the 2015 season with a forearm strain, is adhering to the same schedule as Jarrod Parker, getting two days off between bullpen sessions. All other pitchers are throwing off the mound every other day. It's unclear, Melvin said, if this means Hahn will be limited at the start of Cactus League action.
• Nearly all position players have arrived in camp, even though their official report date isn't until Thursday. Only veterans Jed Lowrie and Sam Fuld, who are soaking up time with their families before full-squad workouts begin, have yet to appear at Hohokam Stadium.
Jane Lee is a reporter for MLB.com. This story was not subject to the approval of Major League Baseball or its clubs.