V-Mart looks good taking important swings
Kinsler gets butterflies; players enjoy rag-ball drills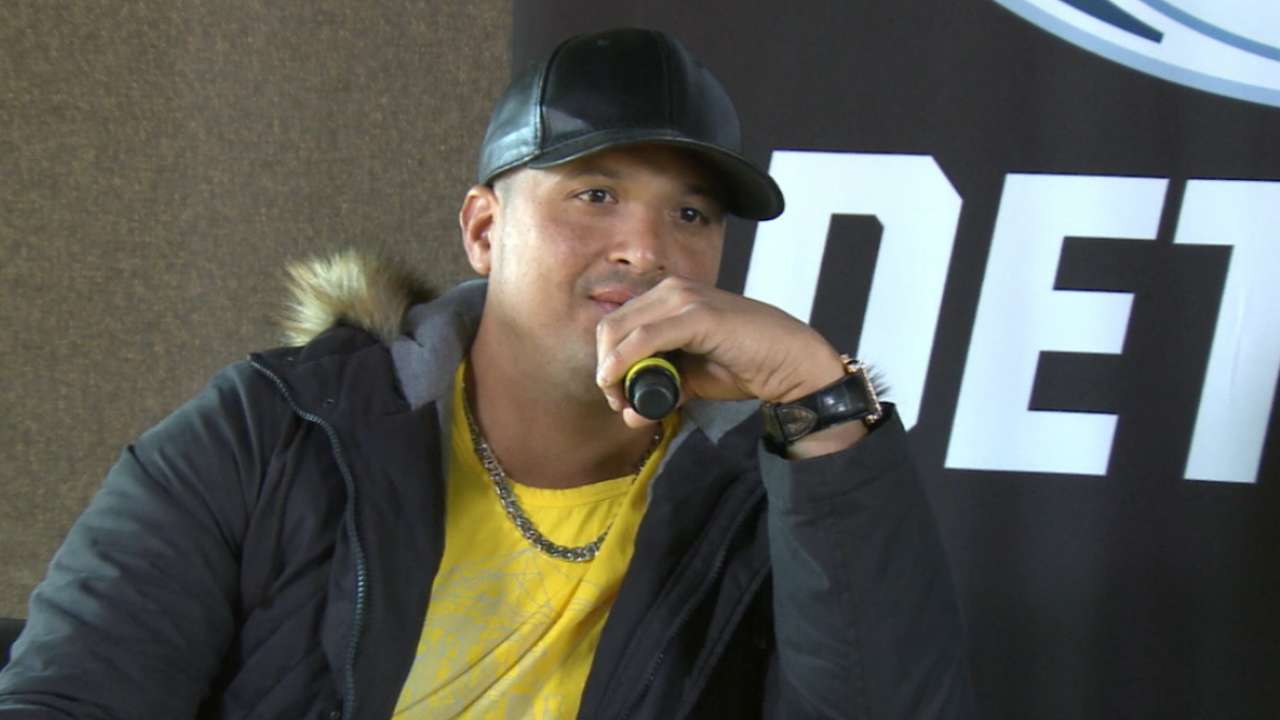 LAKELAND, Fla. -- A day after Victor Martinez checked into Tigers camp and hit in the cages, he took the most anticipated swings so far this spring, testing his left knee with the left-handed swing that bothered him so much last season coming off a torn meniscus.
It was an early spring session of batting practice, and not against live pitching. But so far, so good.
• Spring Training: Schedule | Tickets | More info
"I thought he looked good," manager Brad Ausmus said Tuesday afternoon. "He looked strong."
Martinez also took ground balls and throws at first base during morning drills, moving around fairly well and joking with teammate Miguel Cabrera.
Martinez said Monday he started swinging early this offseason and "felt like Superman." The Tigers don't need a superhuman performance from him, but enough production from the left side to help balance out a predominantly right-handed-hitting lineup.
Martinez hit for a .219 (77-for-351) average and .616 OPS against right-handed pitching in 2015. By contrast, he hit .348 (31-for-89) with an .870 OPS off lefties.
Kinsler gets nervous
The last of the Tigers position players reported to camp with Ian Kinsler's arrival. As a veteran who played as hard as anybody down the stretch last season, he doesn't need to prove anything. Yet he admitted to feeling rookie-like butterflies on his way to Florida.
"On the plane flight here, I was nervous," Kinsler said Tuesday morning. "I had butterflies. I don't know why, but I couldn't get rid of them. I don't know what was going on. I couldn't really put my finger on why I was nervous. Maybe it was because of the way the season ended last year [with a last-place finish].
"The preparation that you put in, you always think, 'Did I prepare well?' That's always in the back of your mind, regardless of how hard you work."
Kinsler said he texted his wife about it. She told him it's a sign that he still loves the game, which is good.
"You get here, and they're all gone," he said about the butterflies. "I'm ready to go."
With Kinsler's arrival, the lone absence from Tigers camp is closer Francisco Rodriguez. The Venezuelan continues to wait for his work visa.
Rag ball
The Tigers' rag-ball drills, in which pitchers stand in front of the outfield fence and try to field rubbery baseballs on hard-hit comebackers, are in their third year. Yet they remain as competitive as ever, with pitchers vying against each other to determine a winner.
While Ausmus didn't announce winners, teammates said Justin Verlander's group won the team competition, though not without some challenging the victory based on ground rules. The bigger competition comes for the individual title Wednesday, with Verlander joining Daniel Norris, Blaine Hardy and others in the eight-man finals.
"I've always taken pride in fielding my position," Norris proudly proclaimed.
Whoever wins will be a new title-holder. Joel Hanrahan won last year's competition before leaving camp to undergo Tommy John surgery. Joba Chamberlain won the inaugural competition in 2014.
Jason Beck is a reporter for MLB.com. Read Beck's Blog, follow him on Twitter @beckjason and listen to his podcast. This story was not subject to the approval of Major League Baseball or its clubs.