Frazier sets out on learning curve with new teammates
Garcia believes in hitting adjustments made over winter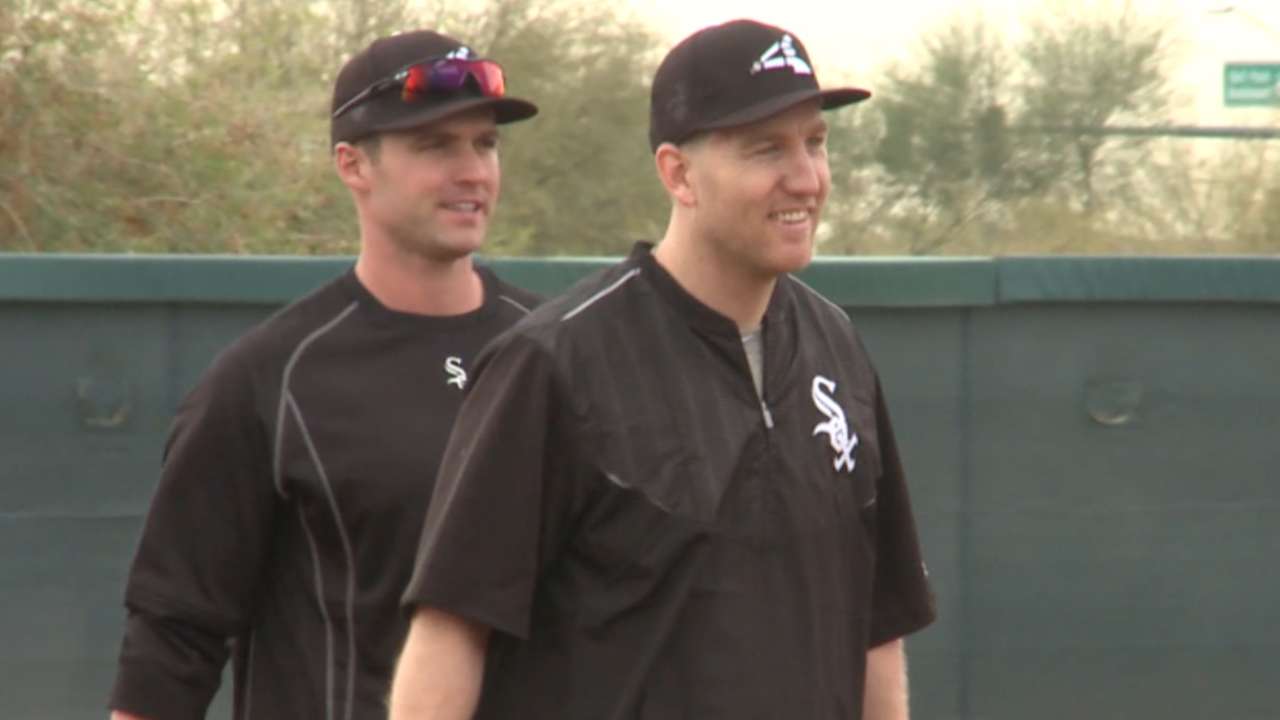 GLENDALE, Ariz. -- The start of Spring Training also can be considered back-to-school time for Todd Frazier.
It's not that the five-year veteran has to re-learn baseball moving from the National League to the American League. He simply has to understand the tendencies of his teammates over the upcoming weeks.
"I have a lot of homework to do," the 30-year-old Frazier said. "I have to see who are the guys that get off the mound quick. Who are the guys that I maybe need to get up on the grass a little bit more on the bunt and where to position myself on certain guys. It's a lot of work. You just have to get after it."
Already a fan favorite. #SoxSpringTraining pic.twitter.com/1SFvoeOkfC

— Chicago White Sox (@whitesox) February 23, 2016
Many players consider the time from when pitchers and catchers report or even when the full squad comes to camp until the first Cactus League contest as the longest time of the season. They quickly start itching to get into games.
But this extra time becomes important for a newcomer such as Frazier.
"You do want to play, but the longer I have to get to know the guys before the games, the better off I'll be," Frazier said. "Just like the catchers, Alex [Avila] and Dioner [Navarro], the more time they get with the guys, too, as well.
"This is going to be complicated, tough at times. But the more we talk and the more we figure things out and work on the plays, I think we'll be fine."
Garcia believes in success
Outside doubters don't seem to matter to White Sox right fielder Avisail Garcia, who reported to camp on Tuesday. Even after last year's struggles, the 24-year-old understands the team still believes in his abilities.
"Yeah, for sure. They believe in me and I believe in me, too," Garcia said. "I've been working really hard. I know I have a lot of talent and I just have to keep working and believe what I'm doing and trust myself."
.@AvisailGarcia meets with the media. #SoxSpringTraining pic.twitter.com/dorvu119T8

— Chicago White Sox (@whitesox) February 23, 2016
Along with getting into better shape during the offseason, Garcia worked with hitting coach Todd Steverson in Florida on a new hitting approach. He displayed that change during Tuesday's full-squad workout, as part of live batting practice.
"If it doesn't work out for one week, two weeks, three weeks, it's OK," Garcia said. "I know for a long time it's going to be consistent and it's going to be good. I feel comfortable."
Full squad reports
For those keeping track, Frazier hit the first home run -- off John Danks -- during the opening rounds of live batting practice sessions Tuesday at Camelback Ranch. The first full-squad workout lasted close to 3 1/2 hours, following a team meeting featuring a strong team-first message, meaning if you are not for the team, you won't be long for the White Sox.
This group features a great deal of different personalities, but it's a mesh that doesn't worry manager Robin Ventura.
"I believe we got personalities that can play. So that's not really a gamble," Ventura said. "If you're just going for a personality and you don't really know what they can play like, that might be a little bit different. I don't look at Todd Frazier as a gamble. He does bring a little bit of something to the table as well as inside the clubhouse."
They said it
"Just leave a great impression that I'm a shortstop, show them I've been working hard this offseason and I'm looking forward to staying [at that position]." -- Tim Anderson, on his Spring Training goal.
"I think our fans will like him, but not because he's got a great personality." -- White Sox executive vice president Ken Williams, on fans relating to Frazier.
Scott Merkin is a reporter for MLB.com. Read his blog, Merk's Works, follow him on Twitter @scottmerkin, on Facebook and listen to his podcast. This story was not subject to the approval of Major League Baseball or its clubs.