MLB.com Columnist
Jonathan Mayo
Breaking down Reds' 2016 Top 30 Prospects
Winker leads overhauled list featuring 8 new players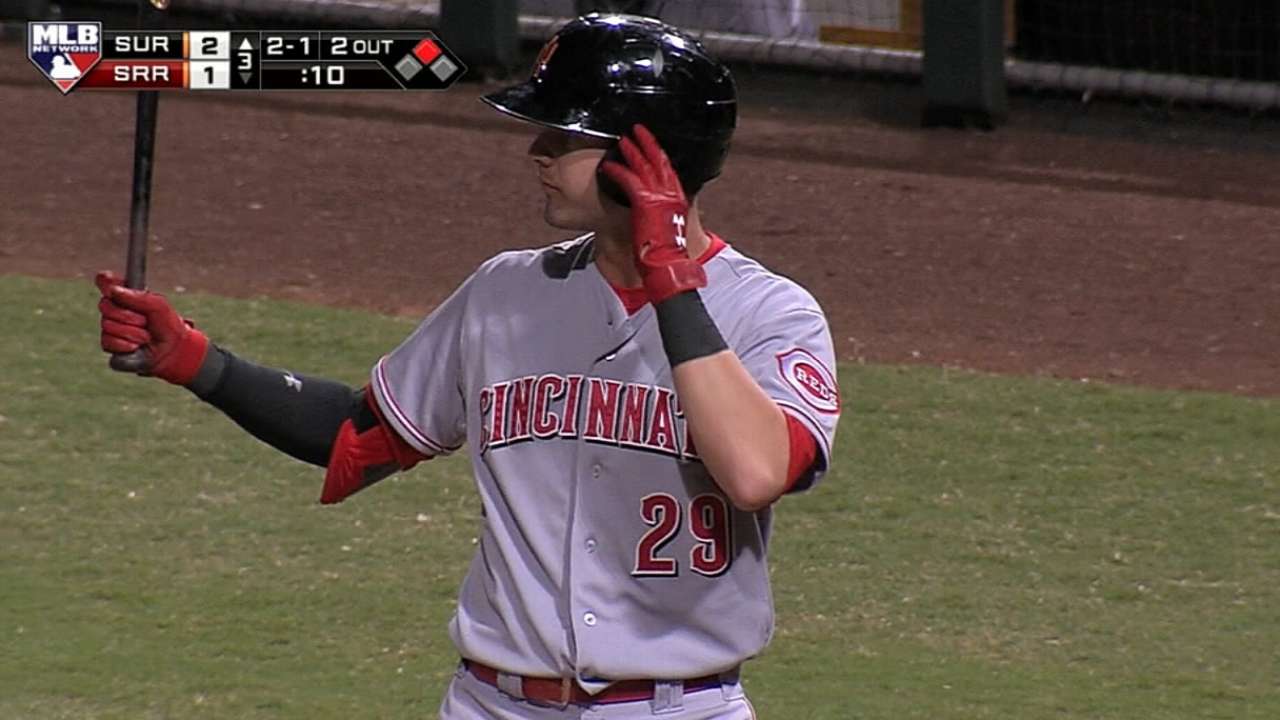 Let the rebuilding commence!
Well out of the race in 2015, the Reds began the process of trading away big league players and getting as much as they could in return to replenish the farm system. Johnny Cueto and Mike Leake were dealt at the Trade Deadline, while Todd Frazier and Aroldis Chapman were moved in offseason deals. In return came eight new members on the Reds' Top 30 Prospects list.
That group is headlined by three in the top 10: Cody Reed and Jose Peraza, both on the overall Top 100 Prospects list, who came in the Cueto and Frazier deals, and Keury Mella, who joined the organization via the Leake trade.
As much change as there is on the Reds' new Top 30, the names at the top are the same, though they've changed order. Outfielder Jesse Winker and right-hander Robert Stephenson, both of whom could impact the big league team this season, have flipped-flopped, with Winkler taking the top spot ahead of Stephenson. Both are former first-round picks of the Reds, and even with an influx of talent from trades, the Draft continues to be the No. 1 player acquisition source for the system, as scouting director Chris Buckley and his staff have provided 18 of the Top 30 over the past several Junes.
Top 30 Prospects lists
Division
Teams/Release date
NL East
ATL, MIA, NYM, PHI, WAS
AL East
BAL, BOS, NYY, TB, TOR
NL Central
CHC, CIN, MIL, PIT, STL
AL Central
CLE, CWS, DET, KC, MIN
NL West
ARI, COL, LAD, SD, SF
AL West
HOU, LAA, OAK, SEA, TEX
Biggest jump/fall
Here are the players whose ranks changed the most from the 2015 preseason list to the 2016 preseason list.
Jump: Tyler Mahle
(2015: Unranked | 2016: 11)
Fall: Nick Howard
(2015: 3 | 2016: 22)
Best tools
Players are graded on a 20-80 scouting scale for future tools -- 20-30 is well below average, 40 is below average, 50 is average, 60 is above average and 70-80 is well above average.
MLB's Top 10 farm systems
Hit: Winker (60)
Power: Eric Jagielo (55)
Run: Peraza (70)
Arm: Yorman Rodriguez (65)
Defense: Peraza (60)
Fastball: Stephenson (70)
Curveball: Antonio Santillan (60)
Slider: Cody Reed (60)
Changeup: Stephenson (60)
Control: Mahle (55)
How they were built
Draft: 18
International: 3
Trade: 8
Rule 5: 1
Breakdown by ETA
2016: 9
2017: 9
2018: 9
2019: 3
Breakdown by position
C: 1
2B: 2
3B: 3
SS: 2
OF: 7
RHP: 12
LHP:3
Jonathan Mayo is a reporter for MLBPipeline.com. Follow @JonathanMayo on Twitter.
This story was not subject to the approval of Major League Baseball or its clubs.