Nottingham spending spring learning from Lucroy
Young catcher recently acquired in trade from A's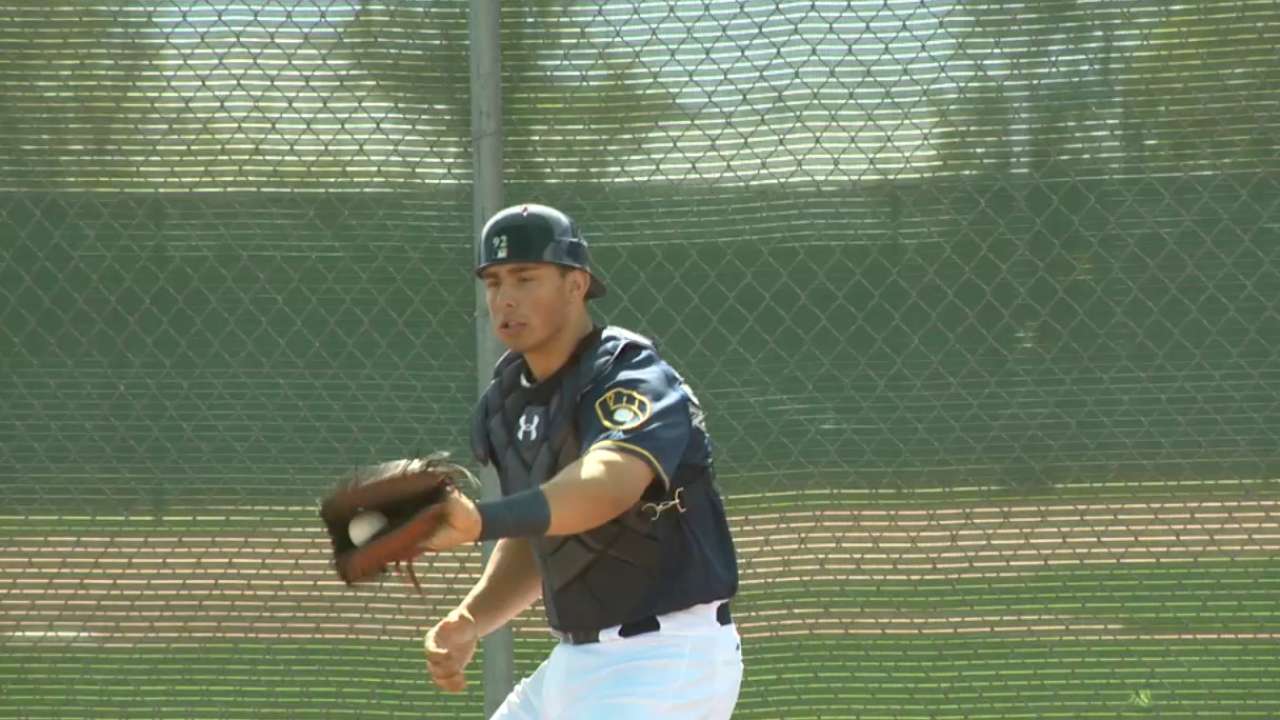 PHOENIX -- The young catcher wasn't sure what to expect when he started peppering Jonathan Lucroy with questions. Jacob Nottingham, after all, had just arrived from the A's in a trade that provided the Brewers with their catcher of the future. Despite all of the trade rumors, Lucroy is the team's catcher of the present.
Nottingham was pleasantly surprised by the reception.
"He's been awesome," Nottingham said. "I've been asking a lot of questions -- almost probably bugging him. I'm just trying to get everything I can out of him. From the first day, 'Luc' told me, 'Ask as many questions as you can. Don't be scared.'"
Spring Training: Tickets | Schedule | Complete info
It's not just Lucroy. Backup catcher Martin Maldonado, Minor League veteran Adam Weisenburger and catching coordinator Charlie Greene all have found themselves fielding questions from the talkative Nottingham, who entered MLBPipeline.com's rankings of the top Brewers prospects at No. 15. That list is due for an annual update on Wednesday.
Nottingham has asked about set-up, receiving pitches and footwork.
"He's a sponge," said Weisenburger, who is in his fourth big league camp. "He's trying to come into his own and find his way. I'm trying to do the same thing myself, but it's good. We're all here to get better. If you love baseball, the conversations are part of it."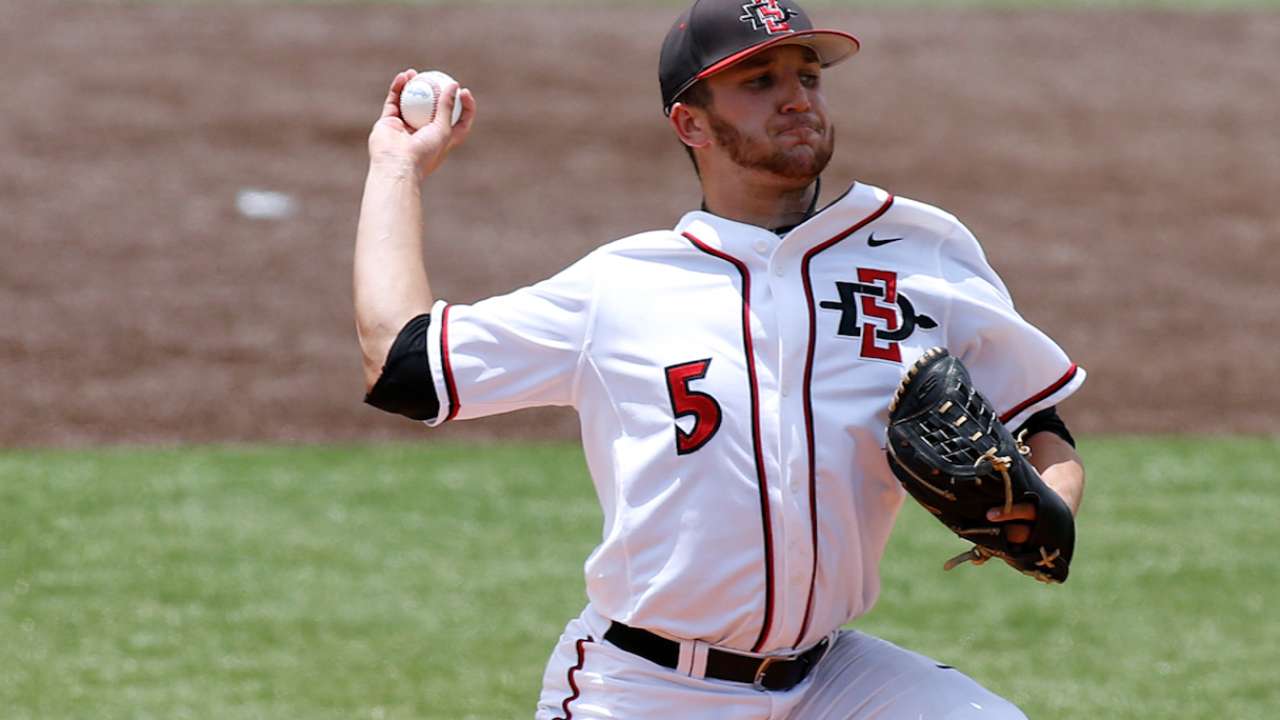 At the Major League level -- barring a trade -- the Brewers' catching picture is entering its fifth straight season without any changes. Lucroy is the starter, two years removed from an All-Star season in 2014 that saw him finish fourth in National League MVP balloting, but is coming off a 2015 ruined by an early-season slump, a midseason toe injury and a late-season concussion. The defensive-minded Maldonado is Lucroy's backup. The Brewers also brought in Rene Garcia, Manny Pina and Josmil Pinto for depth at a time of transition for the franchise.
Lucroy is under contract for this season and the Brewers hold an affordable club option for 2016 at $5.25 million, though it would be a shock to see Lucroy play out that contract in Milwaukee. More likely, he will join the list of established players traded away for prospects as part of the team's full-scale rebuilding effort.
The Rangers, Astros and A's have talked with Brewers GM David Stearns about Lucroy. For a time this winter, Lucroy was miserable about the prospect of rebuilding, but he reported to camp having altered his attitude.
"I think it's a good year just to have fun and play the game for the love of it," Lucroy said. "I want to focus on getting better myself and helping other guys get better, too. I'm really enjoying being around the Minor League catchers right now, doing defensive drills and hitting BP."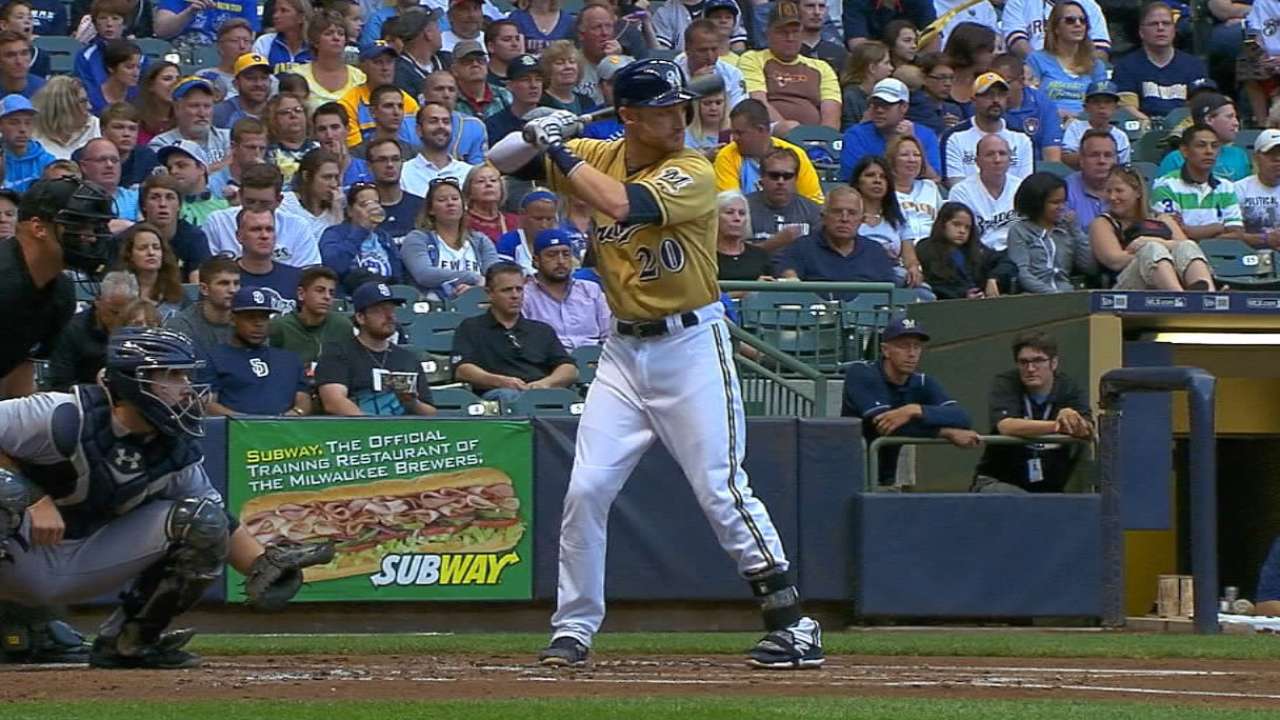 It was on Lucroy's first day in the batting cage at Maryvale Baseball Park that Nottingham approached and started asking questions about catching.
"I was sitting there like, 'Man, this is great.'" Lucroy said. "I love to help like that. … That's what Jason Kendall once did for me."
Said manager Craig Counsell of Nottingham: "The first impression you get is that he's 20 years old, that he's a big man, and I think he's a very open kid, which is great. He's a hard worker and he wants to get it right."
There are few questions about Nottingham's offensive potential. He hit .316/.372/.505 with 17 home runs and 82 RBIs last season for three Minor League clubs in the Astros and A's systems (Nottingham was part of the July trade that sent Scott Kazmir to Houston). He topped out at the advanced Class A level.
David Stearns and Matt Arnold with eyes on Jacob Nottingham's BP in Brewers camp. pic.twitter.com/B4DKwoLe0Z

— Adam McCalvy (@AdamMcCalvy) February 21, 2016
The Brewers acquired him from the A's on Feb. 12 along with pitching prospect Bubba Derby in exchange for slugging outfielder Khris Davis. Nottingham immediately became Milwaukee's top catching prospect, and Brewers officials say they are committed to keeping him there. Nottingham's large frame -- he is 6 foot 3, 230 pounds in the Minor League Baseball database -- has led some observers to wonder whether he might someday wind up at first base.
"I want to be a catcher," he said. "I don't want to move positions. I mean, if they ask me to, I'll do whatever they say, but I want to be a catcher, and I want to be a big league catcher. I'll do anything I can to stay there."
There was a point in Nottingham's not-so-distant past that he considered football as a career. He played tight end, fullback and outside linebacker in high school outside Los Angeles and had a scholarship to play linebacker at the University of Arizona.
But baseball provided a stronger pull, especially when Astros drafted Nottingham in the sixth round in 2013 and offered him an above-slot $300,000 signing bonus.
"Baseball has always been my dream," Nottingham said. "I've always wanted to be a big league catcher. … In football, they wanted me to be too big. You can't have a football body and play baseball. You have to be super strong, you're going to be stiff, and the position I play, you can't have that.
"I miss football but, like I said, baseball has always been my dream."
With the Brewers, he is closer to achieving it.
"I feel good," Nottingham said. "I know they're rebuilding, so I'm just doing everything I can to help out and be the best player I can. I'm known for having a bat, but I want to be known as an all-around catcher."
Adam McCalvy is a reporter for MLB.com. Follow him on Twitter @AdamMcCalvy, like him on Facebook and listen to his podcast. This story was not subject to the approval of Major League Baseball or its clubs.