Hall delivers State of the D-backs address
President/CEO discusses fan relations, Goldy's contract, '16 forecast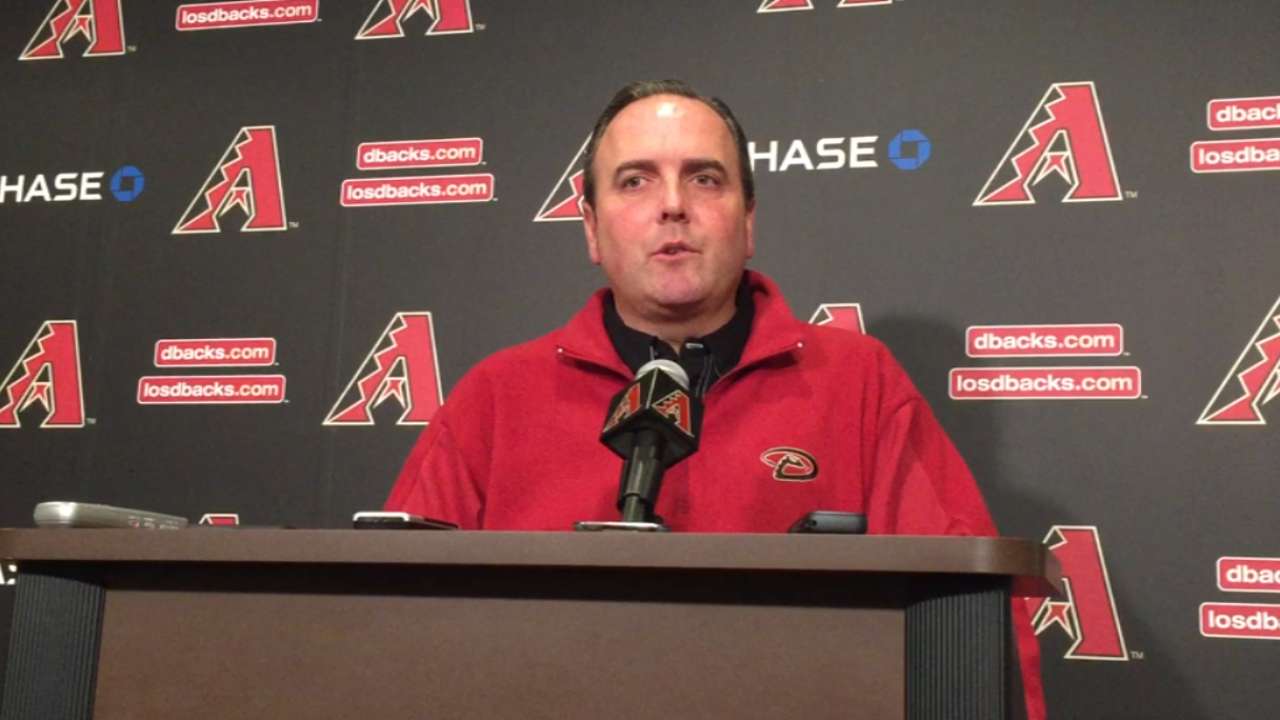 SCOTTSDALE, Ariz. -- D-backs president/CEO Derrick Hall has a similar message each year when he addresses the team prior to its first full-squad workout of the spring, and it deals with what happens off the field rather than on it.
"We consider ourselves one of the most fan-friendly teams in baseball," Hall said he told the players. "We're proud of that. We want our players to make sure they take the time to go and sign autographs and take pictures with the fans. We want them to spend as much time with the fans as possible."
• D-backs Spring Training info
Hall touched on a variety of other topics during a session with reporters Tuesday:
• On whether the team might consider reworking Paul Goldschmidt's team-friendly contract that runs through 2019: "It's a great contract for us. I know that certainly he was happy when he signed that contract. Goldy is not one that's pushing for it. Goldy has never expressed any sort of disappointment or discouragement, nor has his camp at all, and that's really a credit to him. It's good that we have him under control for a while, and you know Goldy is a smart guy and a good player and a loyal guy. I would just leave it as, we're very glad he's ours and we love him and we hope he continues to perform the way he has and we have no reason to believe he won't."
(Goldschmidt is owed $25.5 million through 2018, with a $14.5 million option for 2019 that will almost assuredly be picked up.)
• On how offseason acquisitions have impacted sales: "We've seen a lift, we definitely have. Corporate partnerships have been basically maxed out for the last couple of years, which is a nice thing, but we've seen a lift in ticket sales. We've seen a wave of an increase. It's definitely shown a reflection of the moves we've made, but also it's just the overall feeling of the direction of the team.''
• On whether the D-backs have mortgaged the future for the present: "It's not just about this year. It's hopefully going to be a five-, seven-, hopefully 10-year deal. We still have a very young team.''
• On whether it's playoffs or bust in 2016: "I know personally I would be disappointed if we don't make the playoffs, and I think our fans would be too, because there's a lot of excitement for this team. But a lot has to go right, and we know that, too. I feel like we have a very balanced team, but there are a lot of really good teams. We're in a division that's going to be the most competitive, in my estimation.''
• On the size of this year's payroll: "Right around $100 million. Where our challenge is going to be is in future years depending on revenues. As those revenues increase, so will our payroll, but we're projecting relatively flat with little increments here and there. So we're right where we want to be. We haven't gone crazy with the payroll. I mean, naturally, we've committed ourselves to some high salaries, but we're doing it hopefully in a very efficient way and within budget.''
Steve Gilbert is a reporter for MLB.com. Follow him on Twitter @SteveGilbertMLB. This story was not subject to the approval of Major League Baseball or its clubs.