On the rink: MLB Network preps for NHL at Coors
Analyst Reynolds takes his shot at scoring on former pro goalie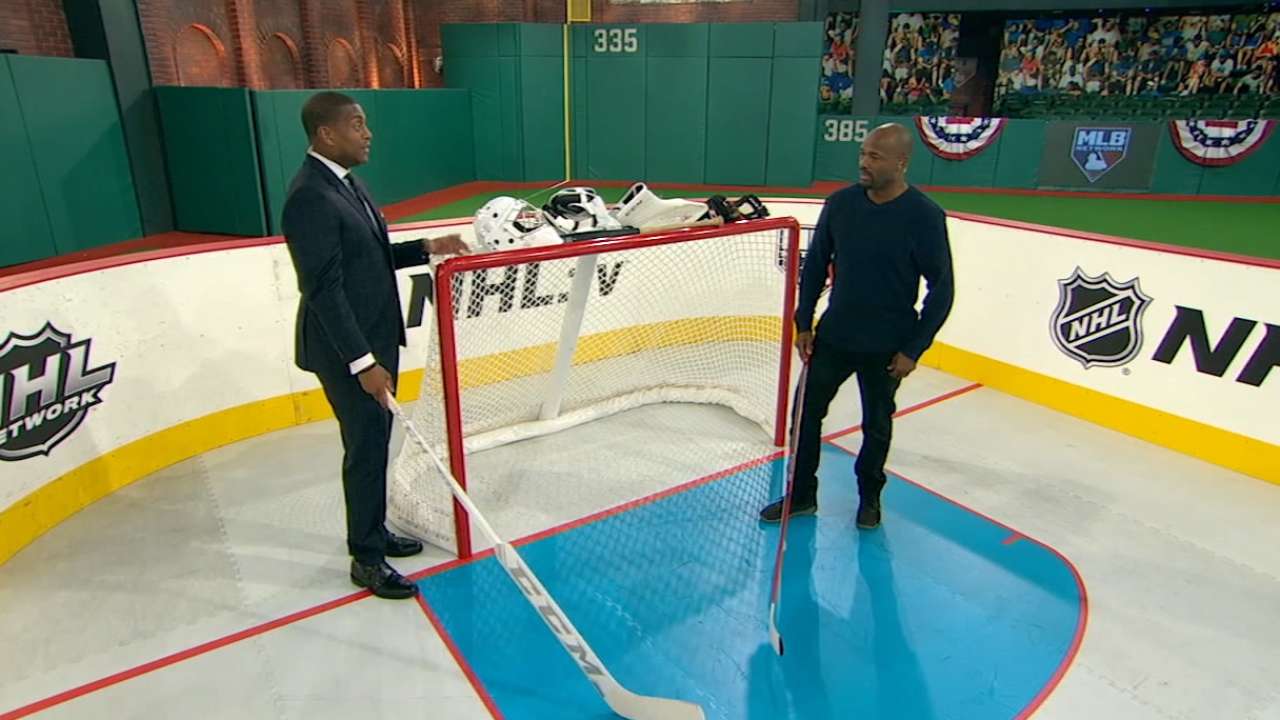 As Coors Field prepares to become the latest ballpark to host a National Hockey League game on Saturday, MLB Network joined in the fun by setting up a miniature hockey rink inside Studio 42.
MLB Network analyst Harold Reynolds took to the makeshift rink alongside NHL Network analyst Kevin Weekes at the end of Tuesday's Hot Stove broadcast to preview Saturday night's game between the Detroit Red Wings and Colorado Avalanche.
• Coors Field undergoes challenging transformation
The outdoor battle between two teams that are both locked in tight playoff races is the second and final installment of the NHL's 2016 Stadium Series. The other featured game took place Sunday afternoon at TCF Bank Stadium in Minneapolis, where the Minnesota Wild defeated the Chicago Blackhawks, 6-1.
Weekes, who spent parts of 11 seasons in the NHL as a goaltender from 1997-2009, joined Reynolds in Studio 42 on Tuesday to discuss the upcoming hockey game, as well as the toughest aspects of the two sports.
"You brought something up to me," Reynolds said, "that I thought was real interesting about the difference between hitting a pitch -- and being able to recognize pitches -- compared to what a goalie goes through. I think you've got me convinced that goalies might have it a little bit tougher."
For what it's worth, Weekes was up to the task when Reynolds tested him with a handful of shots, successfully turning away each one -- though it's unclear how the former goalie may handle a fastball.
As for the game itself, Coors Field will become the seventh Major League stadium to host an NHL game, joining Nationals Park, Yankee Stadium, Dodger Stadium, Citizens Bank Park, Fenway Park and Wrigley Field. Each of those stadiums has hosted one outdoor game, with the exception of Yankee Stadium, which was home to a pair of games -- one featuring the New York Rangers and New York Islanders, and the other featuring the Rangers and New Jersey Devils -- in January 2014.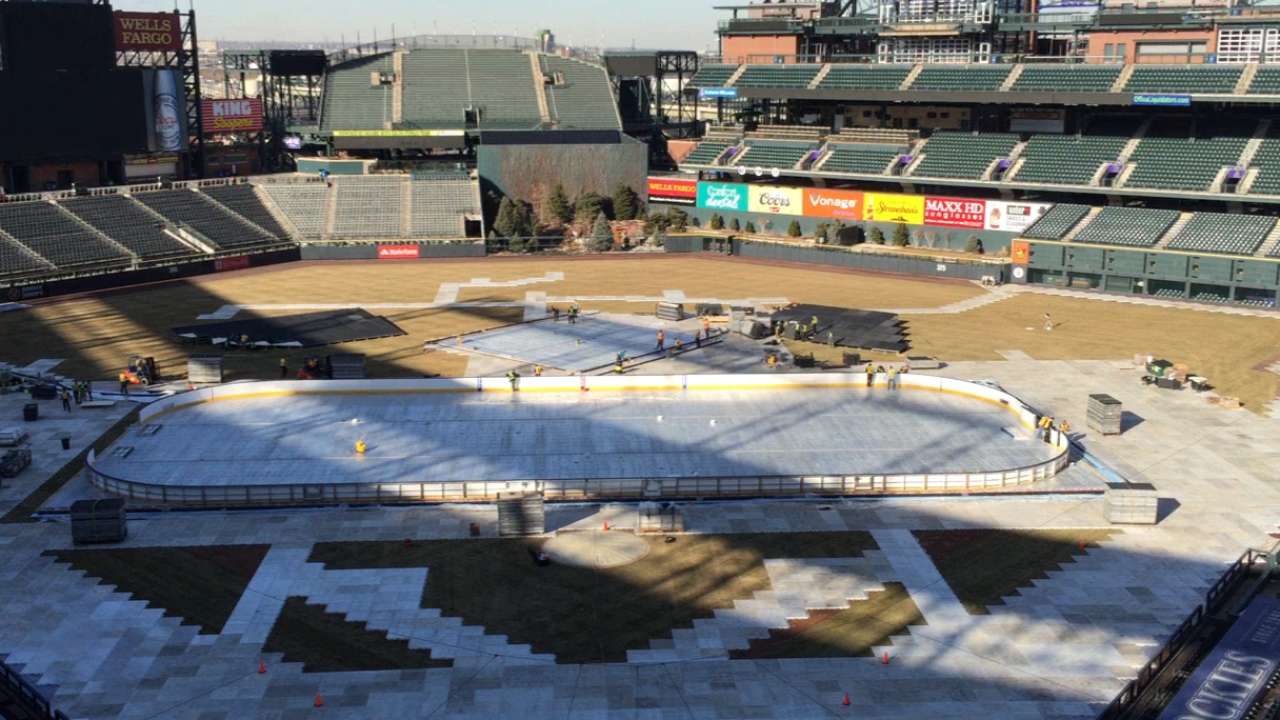 Saturday's game will mark the third and final hockey game hosted by Coors Field this winter. The first came last Saturday, when the University of Denver beat rival Colorado College, 4-1, in what was dubbed the "Battle on Blake," in reference to Coors Field's location at the corner of Blake Street and 20th Street. The second game at the stadium, which will feature Red Wings alumni facing off against Avalanche alumni, will take place on Friday night.
Saturday's NHL contest will air at 8 p.m. ET on NBC.
Paul Casella is a reporter for MLB.com. Follow him on Twitter at @paul_casella. This story was not subject to the approval of Major League Baseball or its clubs.