MLB.com Columnist
Mike Bauman
Blue Jays showing they have tunnel vision
Team not distracted by Bautista extension situation or reported 3-team deal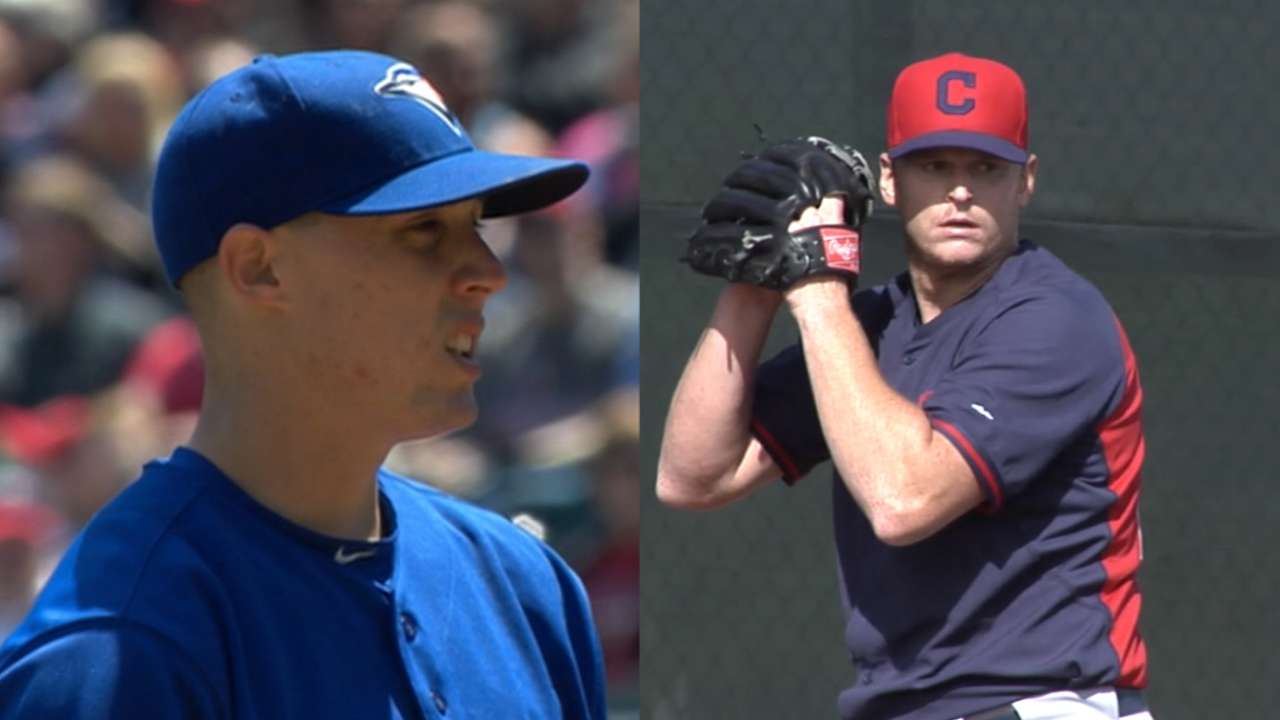 DUNEDIN, Fla. -- It was like an intrasquad game Tuesday. Distraction was playing against optimism at Florida Auto Exchange Stadium, the Spring Training home of the Toronto Blue Jays.
Distraction had a big day, no question about it. But over the long term, with the defending champions of the American League East, optimism is a heavy favorite to prevail.
First to the reasons for optimism: The Blue Jays return the key pieces of baseball's best offense. They have greater depth throughout the pitching staff, both in the rotation and the bullpen. They will have a better rotation than the one they started 2015 with -- although not better than the one they finished with, the one that included David Price.
• Spring Training: Tickets | Schedule | More
Toronto put on a big rush in the second half last year, going 39-15 in August and September to break a 22-year postseason drought. There isn't much reason to think that the Blue Jays will evaporate now.
"We were a really good team last year in the second half; you look at the personnel we have, we should be a very good team again," manager John Gibbons said Tuesday. "The offense should be good again, with [shortstop Troy] Tulowitzki, out there full time now. Josh [Donaldson] and Jose [Bautista], and those guys -- every year, they seem to do what they do.
"But pitching, I think we'll have a little more depth breaking camp this year. Really, that's what it always come down to in the end, anyway. We managed to slug our way to the top, for the most, part last year. Still, pitching in the end is what wins it."
With this offense, Toronto will require not great pitching, but competent pitching to win. That is not too much to ask. So the optimism is completely legitimate.
Now for a distraction doubleheader. Bautista is in the final year of his contract. The six-time All-Star said Monday that he had presented the Blue Jays with the exact terms he wanted for a contract extension, and that those terms were non-negotiable.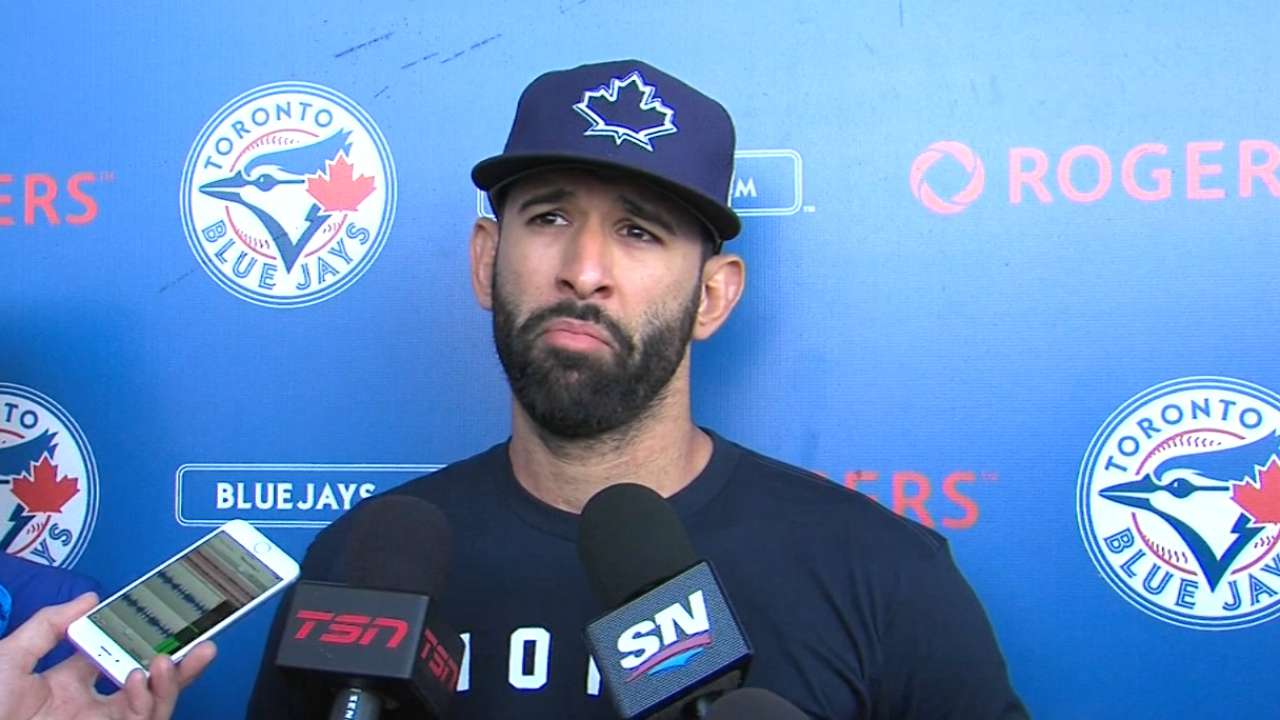 Bautista, 35, is currently in a five-year, $65 million contract. By today's standards, he has been a bargain. Thus, the concept of a "hometown discount" is not in Bautista's field of vision.
"That doesn't exist, not in my world," Bautista said. "In my eyes, I've given this organization a five-year hometown discount already."
New general manager Ross Atkins, when asked about that development, responded: "We're really glad that Jose's here, love the fact that he's a Blue Jay. Beyond that, I can't comment on negotiations.
"All of my interactions with Jose have been incredible. I love being around the guy, I love talking baseball with him, I love to hear him talking about his career. It gets me fired up. In relation to the negotiation, out of respect to him, out of respect to the Blue Jays' organization, we just can't get into the specifics of it."
But Gibbons did not believe that this issue would be a distraction for Bautista when the games counted.
"Jose's always very vocal and upfront," the manager said. "He's in a great position as far as his career goes. I think he just laid out how he saw things, and we'll just move on from there and see how it goes. He's been really good for this organization for a number of years. He's been one of the best players in baseball. He's not only a very talented guy, he's always been able to focus. You don't have to worry; he'll continue to do that.
"He'll handle it like a pro -- go out and do his job like he always does. I expect him to have a monster year."
Next up was the issue of a three-team trade that reportedly came close to being finalized, but then fell apart Monday night. The deal would have sent outfielder Michael Saunders to the Angels, while the Blue Jays would have received outfielder Jay Bruce from the Reds.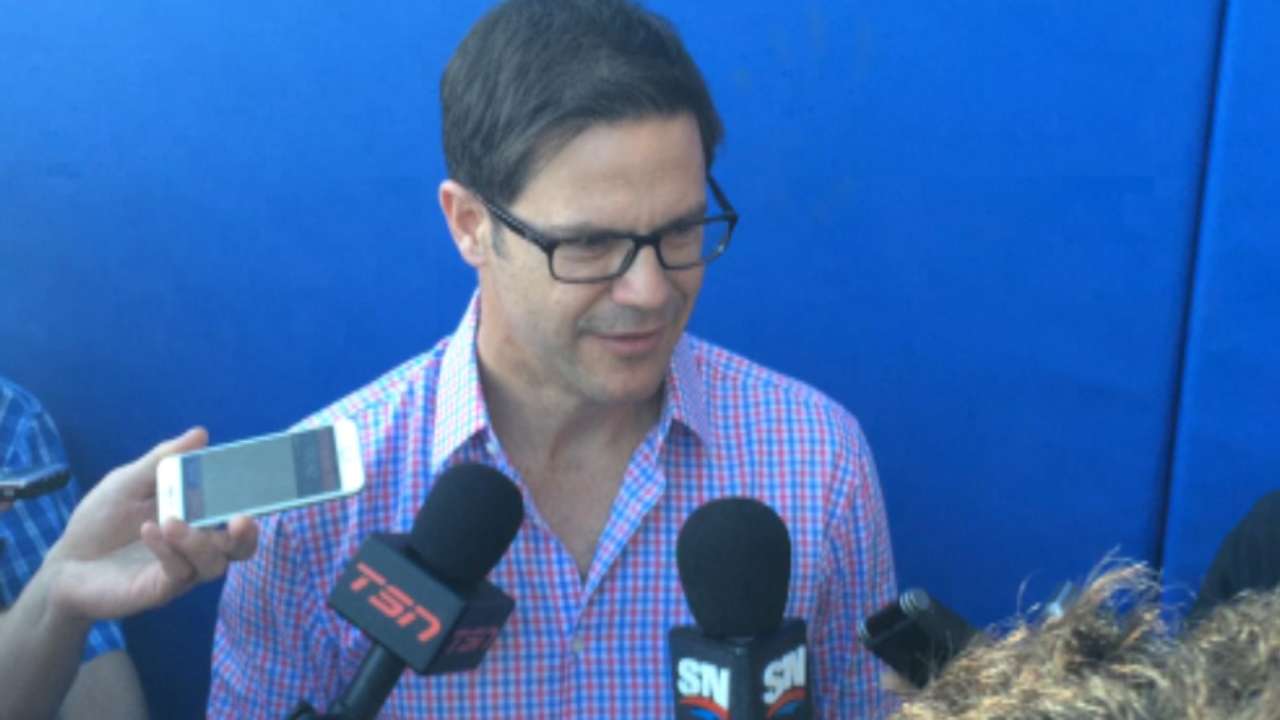 This wouldn't be a lasting issue with Saunders, either, Gibbons said.
"He'll move past that," the manager said. "Mike's kind of ahead of the game. He a very mature guy, he understands the business. I don't think that'll be a problem. Mike's a pro. Nothing happened. We'll move on, we're glad to have him."
Based on Saunders' ensuing discussion with the media, that's exactly how it appeared.
"Ross and Gibby talked to me, and that's kind of the human element of it," Saunders said. "They assured me that [reports of a trade] were just rumors and nothing more.
"I can look at this one of two ways: I can pay heed to it and not come into work today and kind of mope and worry. But I'm trying to be professional. I'm a Blue Jay. I'm here to work to help bring a championship to Toronto."
Saunders is at a particularly important career junction, coming back from a season in which a knee injury limited him to nine games. He is penciled in as the Blue Jays' starting left fielder.
"We're not just chess pieces on a board, we're people," Saunders said. "I want to be here. I want to be a Blue Jay. It was a dream of mine, growing up in Toronto, to play one day for Toronto. I feel like this is kind of a redemption year for me. I was really excited to come here last year and show what I could do and do it for my hometown team. I was excited last year, but I feel like a kid this year."
OK, it was a day with some distractions. But it still looks like a season in which the reasons for optimism will reign.
Mike Bauman is a national columnist for MLB.com. This story was not subject to the approval of Major League Baseball or its clubs.