Fredi glad high-character Frenchy back on board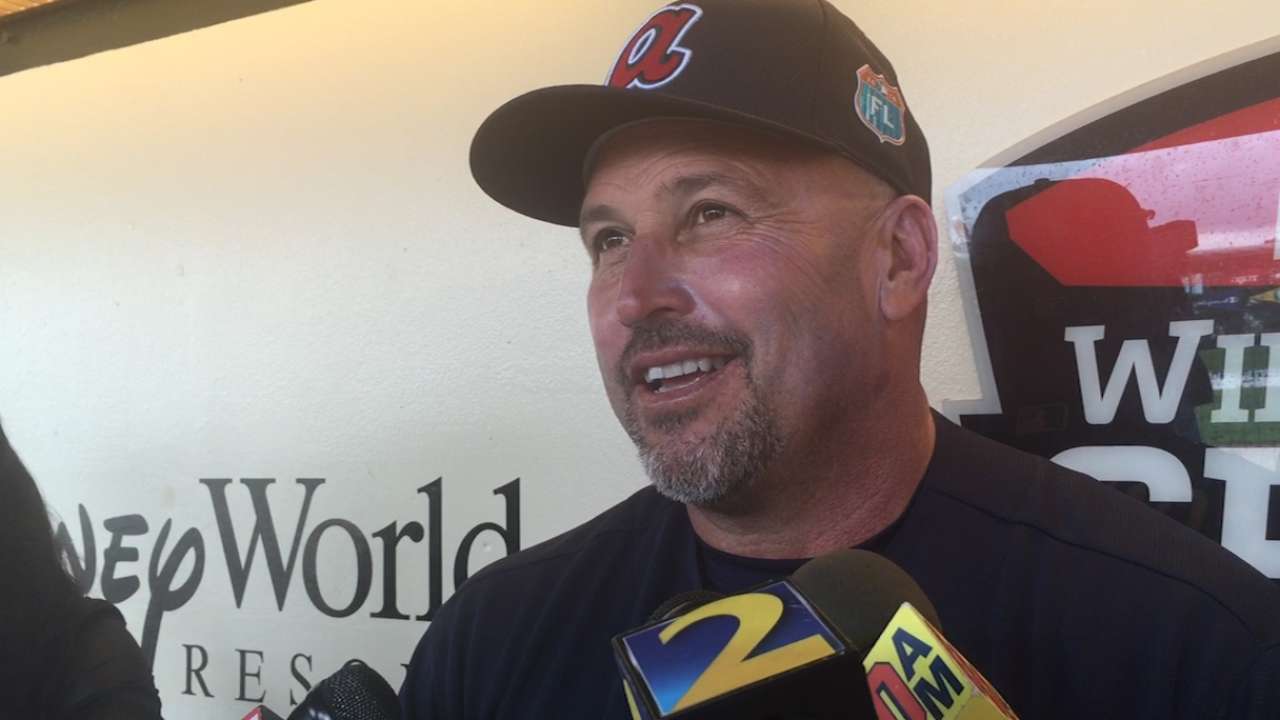 LAKE BUENA VISTA, Fla. -- Once the Braves find some locker space for Jeff Francoeur within a Spring Training clubhouse that has already surpassed capacity, they will get a chance to see whether his return to the organization proves to be more than just a feel-good story with a short shelf life.
"[Francoeur] brings the good energy and he's a great teammate," Braves manager Fredi Gonzalez said. "We always talk about how if we're going to bring some of those guys in, those are some of the characteristics you want them to have. Who knows? We've talked a lot about him making the team. He had a great year last year."
• Spring Training: Schedule | Tickets | More info
Finding locker space for Francoeur might actually be less challenging than finding a spot for him on Atlanta's roster. The Braves already have a surplus of outfielders, with Hector Olivera, Ender Inciarte and Nick Markakis slated to serve as the starters. Michael Bourn and Emilio Bonifacio are the top candidates to serve as the club's backup outfielders.
Even before signing Francoeur to a Minor League deal on Monday night, the Braves were already expected to attempt to either trade or release Nick Swisher -- one of their other backup-outfielder candidates -- before the end of Spring Training.
Because there is reason to at least question whether Freddie Freeman's wrist will be healthy enough for him to be ready for Opening Day, the Braves might opt to keep Swisher around as an option to man the first-base position. But Francoeur's candidacy for an Opening Day roster spot would still likely hinge on another injury or another potential roster move.
Working in Francoeur's favor is the fact that Olivera and the switch-hitting Bonifacio are the only current right-handed options among the outfield candidates. The left-handed-hitting Bourn could occasionally spell Olivera in left field when an opponent starts a tough right-handed pitcher. But his value is minimized by the fact that the Braves already have a left-handed-hitting center fielder in Inciarte.
Thus, there remains a chance that the Braves could reassess their options and opt to keep Francoeur, who could man either corner-outfield spot and also provide another right-handed option off the bench.
While playing for the Phillies last year, Francoeur fared better against right-handed pitchers (.769 OPS in 202 plate appearances) than left-handed pitchers (.645 OPS in 141 plate appearances). He also enhanced his attractiveness off the bench as he batted .367 and drove in 11 runs over 31 pinch-hit plate appearances.
Finances could also significantly influence any decision regarding Francoeur, who was one the Braves' most popular players while he was in the organization from 2002-09.
Swisher is owed $15 million, and Bourn will make $14 million before becoming a free agent at the end of this season. If the Braves were to trade either of these declining veterans, they would have to eat a significant portion of their salary.
The Braves received $15 million from the Indians when they acquired Bourn and Swisher via the bad contract swap that sent Chris Johnson to Cleveland in August. These funds would soften the blow if the club has to release at least one of these veterans.
Mark Bowman is a reporter for MLB.com. This story was not subject to the approval of Major League Baseball or its clubs.