Liriano desires to deliver durability
Left-hander altered offseason routine in effort to be stronger down the stretch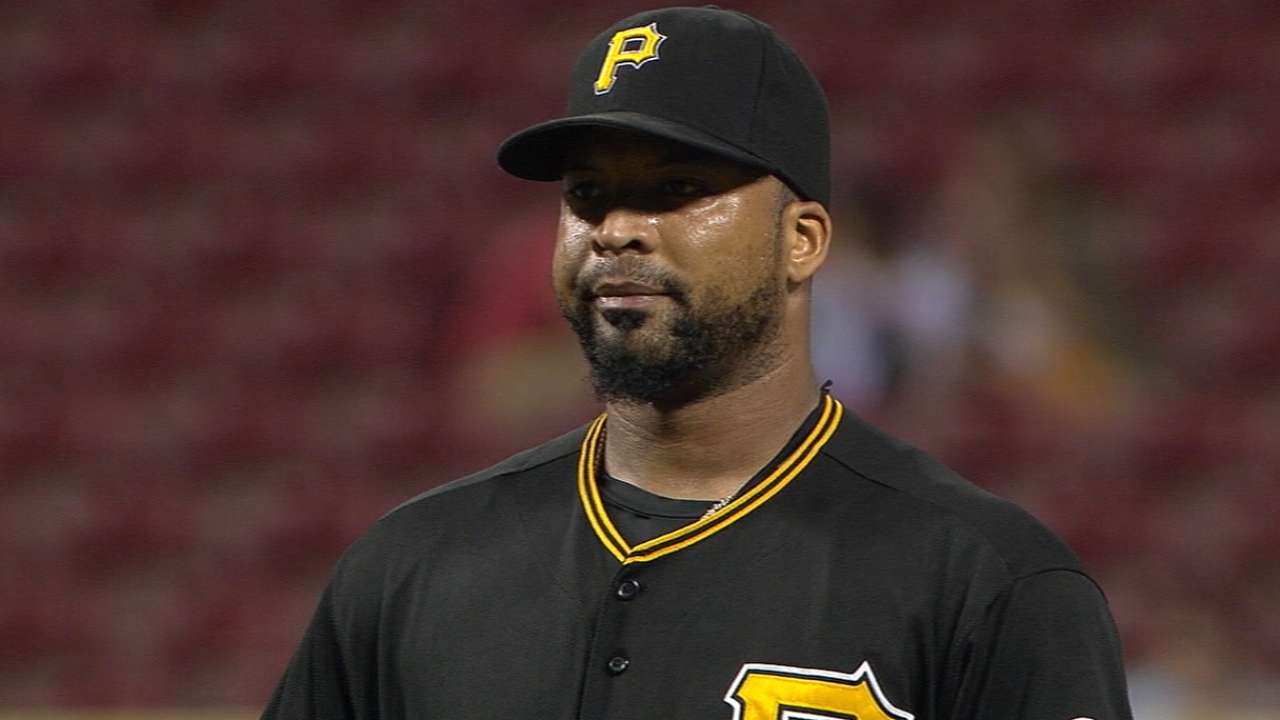 BRADENTON, Fla. -- Francisco Liriano made one notable tweak to his offseason routine this year. Same workouts, same general plan -- just with less throwing and fewer bullpen sessions. Why would a veteran pitcher, much less a successful one such as Liriano, change like that?
"Just to be fresh later in the year," Liriano said, sitting in front of his locker in the Pirate City clubhouse. "I'm getting old, too."
Liriano laughed, then quickly turned serious. He turned 32 in October, so it's not as if he's that old, even in baseball years. But he meant what he said about wanting to be strong down the stretch.
• Kang a limited participant in first full-squad workout
After making his Major League debut in 2005, Liriano set a goal: pitch 200 innings. It's the sign of a durable, workhorse starter. Only 28 pitchers reached that plateau last season, Pirates ace Gerrit Cole (208) among them.
Liriano has been remarkably reliable for the Pirates, right down to his identical 3.38 ERA each of the past two seasons, but now he's ready to cross the 200-inning threshold.
"That's one of my goals, to throw at least 200 innings," Liriano said. "I want to threw fewer pitches per inning, make something happen in three pitches or less. Just trying to find a way to get better at that, go deeper into games and be more consistent."
• Track records bring O'Flaherty, Pirates together
Liriano threw 186 2/3 innings over 31 starts last season, his biggest workload since 2010. He might have hit 200 if not for a brief stint on the paternity list in April and a few instances of extra rest during the second half.
Then again, Liriano may not have been quite as effective if not for the additional time down. That's the fine line manager Clint Hurdle, pitching coach Ray Searage and Liriano himself must walk toward Liriano's ambitious 200-inning goal.
"It's a great yard mark. It's something a guy should want to go get. It's something to knock down to help their team," Hurdle said. "At the same time, I think every man's a little different."
Liriano's tendency to work outside the strike zone can lead to higher walk rates, including a 9.1 percent mark in 2015, and longer innings. He also misses bats like few other pitchers, evidenced by the fact that he struck out 26.5 percent of the batters he faced -- the 10th-highest strikeout percentage among qualified starting pitchers last year.
The Pirates are counting on Liriano to anchor the top of their rotation alongside Cole, but they are more concerned about the quality, as opposed to the quantity, of his work.
"Frank's going to take the ball every time it's his turn," Hurdle said. "I think it was great last year he got to the number he got to and the way he did it. He learned a lot."
Adam Berry is a reporter for MLB.com. Follow him on Twitter at @adamdberry. This story was not subject to the approval of Major League Baseball or its clubs.