A healthy, productive Pujols is key to Angels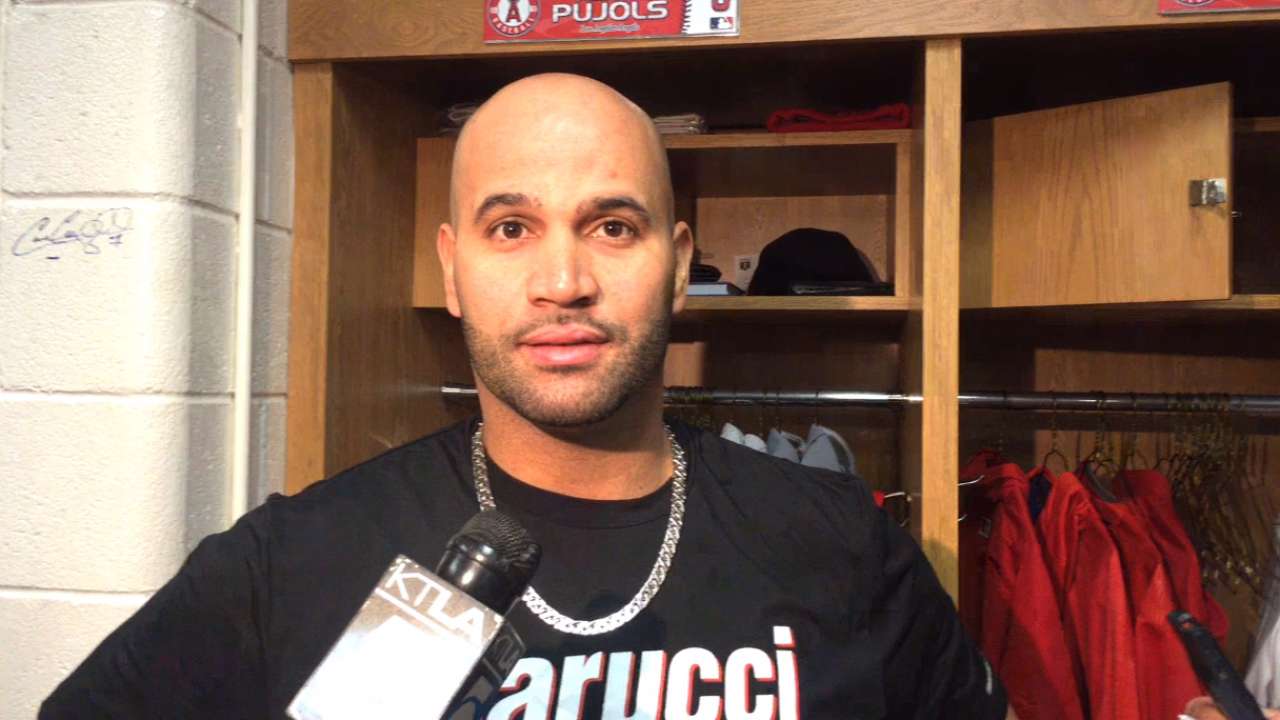 TEMPE, Ariz. -- One of Albert Pujols' homes, the one in Irvine, Calif., that is up for sale and now exposed for public consumption, has a Mike Trout poster plastered on a mirror. It's in the bathroom, for Pujols' oldest son, A.J. He's a big fan. So is his youngest son, Ezra. But they have some Pujols posters, too. They know better.
"Daddy's first, then Trout," Pujols said, snickering. "Yeah, we make sure."
Spring Training: Schedule | Tickets | Gear
You can make a valid argument that Pujols is an even more critical component of the Angels' season, merely because the public can reasonably expect greatness out of Trout. Pujols is the one who's 36 years old, recovering from another surgery to his lower half and -- because he will once again bat behind Trout -- figures to get the most opportunities to drive in runs.
There are questions about whether Pujols can improve on last season's career-low .244 batting average and .307 on-base percentage. Or how many games he'll have to start at designated hitter. Or whether he'll have to begin the season on the disabled list.
Pujols was pretty adamant about that last one.
"My target is Opening Day," he said Tuesday, the day position players were required to report to Spring Training for their physicals. "I'm going to do whatever I have to do in Spring Training to get ready for Opening Day and see how it goes from there."
.@PujolsFive welcomes the Molina brothers to #LAASpring! pic.twitter.com/Ubkb0FcxuC

— Angels (@Angels) February 23, 2016
Pujols spent the final five weeks of last season with constant pain near the arch of his right foot, a condition that prompted him to start his last 28 games at DH. He thought the discomfort would subside with time off his feet, but the weeks went by, very little changed and surgery quickly became inevitable.
"I wish I would have done it earlier, but we took the risk to wait and see if it came down," Pujols said. "As soon as I started working out again, I started feeling it. It was time to do the surgery."
Robert Anderson, one of the nation's leading orthopedic surgeons, performed the surgery in Charlotte, N.C., in the early stages of November. The procedure repaired the plantar plate, a thick ligament-type structure that sits between the toe bones and the arch of the foot. Anderson warned Pujols about the surgery's unpleasant nature.
"I would prefer to chop your foot off," he told him.
But then everything changed.
"It was weird. Three days after the surgery, the pain was gone," Pujols said. "I was like, 'Oh my God, are you serious? This is unreal.'"
#TheMachine is in the building. #LAASpring pic.twitter.com/k872SIHzSo

— Angels (@Angels) February 23, 2016
Pujols wore a protective boot for seven weeks and picked up a bat in late January. He said he's been doing "full baseball activities for a month" and was "able to get in the weight room a lot" to strengthen his lower half during the winter. Pujols hasn't done any defensive work at first base, but he said that is no different from how it was last spring.
"You get plenty of that here," he said.
With the Angels, Pujols' starts at DH have gone from 34 to 65 to 43 to 62, the second number a result of the plantar fasciitis he battled on his left foot in 2013. Over time, though, Pujols has become more accepting of the DH role, a lifeline with regards to keeping him on the field.
Pujols will probably start at DH more often than ever this year, even if it means the Angels are worse off defensively when C.J. Cron takes his place at first base.
"I would love to play first base if I can, but I can't be selfish," said Pujols, a two-time Gold Glove Award winner. "It depends how I feel. And I also understand that. As long as I'm out there."
Pujols belted 40 home runs and made the All-Star team last season, both were feats he hadn't accomplished in five years. But he didn't get on base very often, and part of that could've been bad luck. Pujols' batting average on balls in play was .217, the lowest in the Major Leagues and 48 points below where it was in 2014.
It should increase.
Pujols' strikeout rate in 2015 (10.9 percent) was only slightly higher than his career mark (9.9). His walk rate (7.6) was way lower than his career rate (11.8), but still higher than his 2014 mark (6.9).
To summarize: Pujols isn't the menacing hitter he used to be, but there are indications that his batting average and on-base percentage should improve.
"Albert hit the ball much better last year, arguably better than he has since he's been with us," Angels manager Mike Scioscia said. "And it showed up with hitting the ball out of the park."
With Trout batting in front of him, Pujols got 308 plate appearances with runners on base, the highest total on the team and the 13th most in the Majors. But he hit only .225/.318/.438 in that situation. Improving on that will be key. So will finding consistent production behind Pujols, so he doesn't feel the need to expand his zone to keep at-bats alive in RBI opportunities.
Pujols admitted that, on paper, "It doesn't look too good" for the Angels. "But you can't go by that," he said.
Asked whether he thinks the lineup is deeper, Pujols shrugged.
"I don't make the lineup," he said. "I don't really care about that."
As for his numbers?
"This is 2016," Pujols said. "I could care less about last year. How many home runs did I hit last year?"
The answer is 40.
"I'm starting on zero this year," Pujols said, "so I could care less about that."
Alden Gonzalez is a reporter for MLB.com. Follow him on Twitter @Alden_Gonzalez and Facebook , and listen to his podcast. This story was not subject to the approval of Major League Baseball or its clubs.