Franco arrives at Phils camp, gets right to work
Fresh off winter ball, third baseman out to improve on solid rookie campaign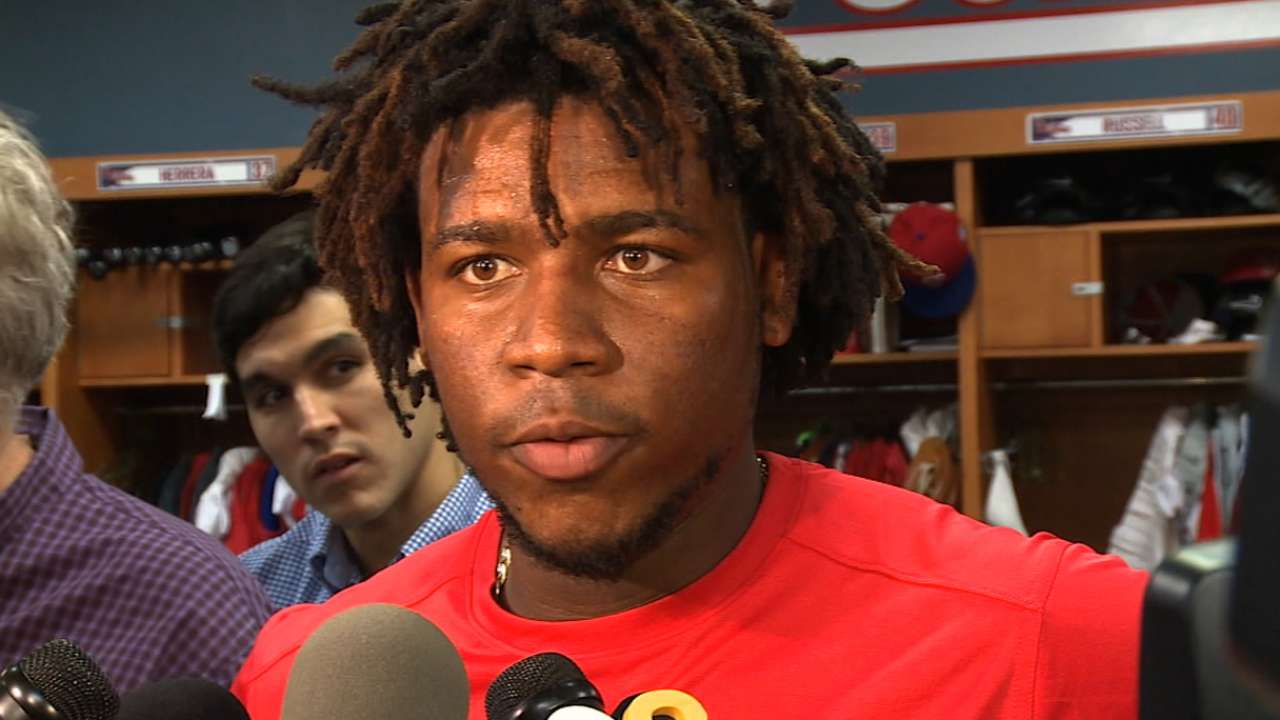 CLEARWATER, Fla. -- Maikel Franco could be a cornerstone for the Phillies, and he hopes to solidify those expectations with a strong 2016.
His work began Tuesday, when the Phillies held their first full-squad workout at Carpenter Complex. Franco, 23, hit .280 with 22 doubles, one triple, 14 home runs, 50 RBIs and an .840 OPS in 335 plate appearances in his rookie season. He played so well that former teammate Jeff Francoeur agreed to buy him a suit, which he has not yet received.
• Phillies' Spring Training info
"I'll let you know because I need it," Franco said.
Franco's play in 2015 was encouraging, but he needs to continue to play well for the Phillies' rebuild to keep moving in the right direction.
"I put a lot of work in in the D.R. [Dominican Republic] and I'm prepared for everything," Franco said. "I'm ready to go for everything."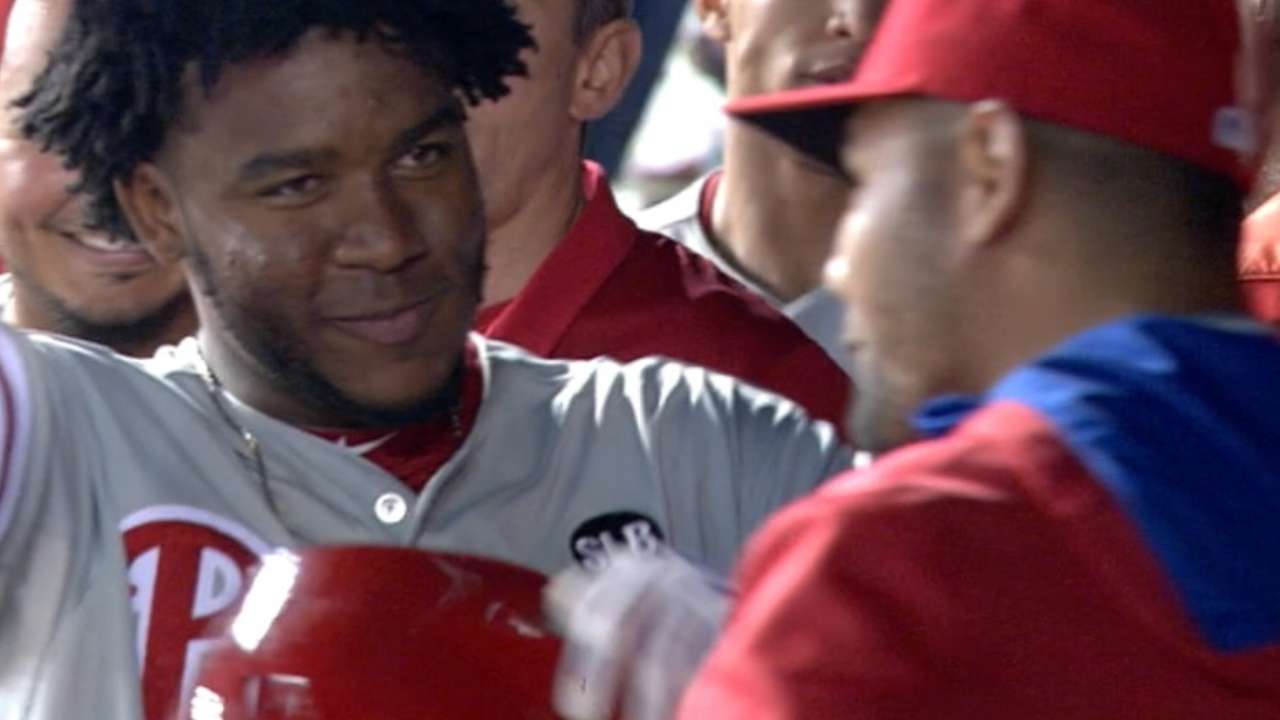 Franco said he worked on everything while he played winter ball this offseason.
"Mental, physical, worked on my body," he said. "I tried to learn more about hitting. I worked on ground balls. Everything. That's what I did in the D.R. and that's what I'm continuing to do."
But news also broke this offseason that Franco filed a grievance against the Phillies, claiming they manipulated his service time to delay his eligibility for free agency. Franco opened the season in Triple-A before being recalled May 15. Franco accrued 170 days of service time, which is two days short of a full season.
Those two days delayed his free agency from 2020 to 2021.
Franco's agent, Ryan Royster, said in December the grievance will not be an issue moving forward.
Franco's absence from camp until Tuesday raised eyebrows from some in the organization both in and out of uniform. The Phillies always have asked players to arrive in camp a day before the first full-squad workouts to take physicals, but Franco arrived Tuesday morning.
He is the first Phillies player in recent memory not to arrive at least a day before the first workout, although it is not an official requirement according to the Collective Bargaining Agreement. Manager Pete Mackanin said he has no problem with it.
"Only thing I heard is this was the day I had to report and this is the day I'm here," Franco said.
What is important at this point is that Franco is healthy and ready to go. He broke his left hand in August, when current teammate Jeremy Hellickson hit him with a pitch while with Arizona. Franco said the hand feels fine.
"It's exciting," Franco said about camp. "A lot of players and new faces. I want to be a good teammate, put in a lot of work and hopefully everybody has fun and enjoys the game. I'm happy. I'm here. I want to put everything into getting better."
Todd Zolecki is a reporter for MLB.com. Read his Phillies blog The Zo Zone, follow him on Twitter and listen to his podcast. This story was not subject to the approval of Major League Baseball or its clubs.