Kang a limited participant in first full-squad workout
Pirates monitoring infielder's rehab from surgery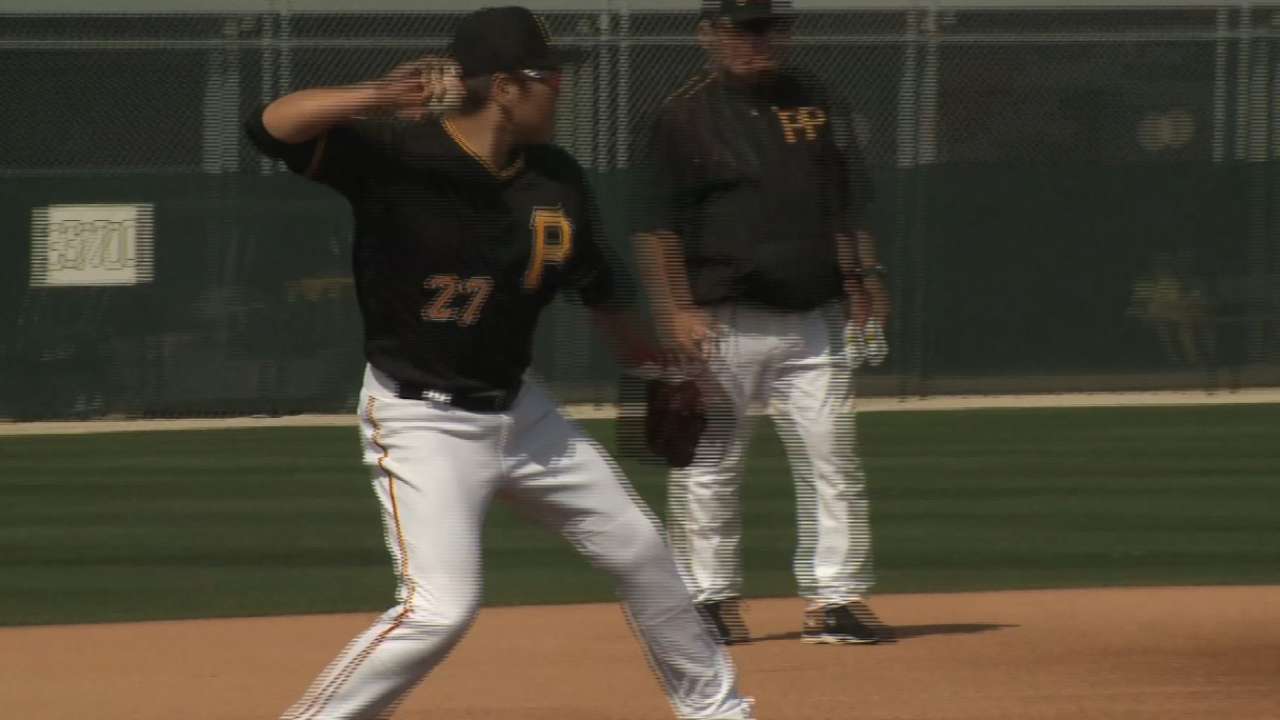 BRADENTON, Fla. -- The Pirates spread out across the fields behind their Spring Training complex Tuesday morning for their first full-squad workout -- and it was indeed the full squad, including rehabbing third baseman Jung Ho Kang.
Kang didn't participate fully in the entire workout, as he's still working his way back from September surgery on his left leg, but he was involved in fielding drills and stood in the box during on-field batting practice.
Live BP is going down at Pirate City. Here's Jung Ho Kang, tracking a pitch in the batter's box: pic.twitter.com/nX9IDdDmOB

— Adam Berry (@adamdberry) February 23, 2016
After the workout, manager Clint Hurdle further clarified Kang's level of involvement. For now, Kang will be hitting in the indoor batting cages and off a tee but not hitting on the field. He will participate in fielding drills, but he won't push his surgically repaired tibia and meniscus too far just yet.
"Any situation that calls for a quick, violent movement, we're holding off on right now," Hurdle said. "He's making great progress. He's doing very well. At this particular point in time, there are some things we are holding him back from that I anticipate we'll see him getting involved in as we move further into Spring Training."
Kang underwent an open reduction/internal fixation of a displaced tibial plateau fracture with a lateral meniscus repair on Sept. 17 after sustaining season-ending injuries during a collision at second base. Kang is expected to join the Pirates at some point in April.
Around the horn
• Hurdle addressed the club, including all 63 players, before the first workout. Without getting into the specifics of his message, Hurdle relayed the overall theme to reporters.
"We're committed to one another. We've got things to do. We've got more work to get done," Hurdle said. "We've got to improve in some areas. Our focus is going out there as a unit and working hard to get a little bit better every day.
"It's going to take all of all of us to get where we want to go, play late and win a lot of stuff."
The full squad gets ready for the team meeting. #LetsGoBucs #PiratesST #WeAreFamalee pic.twitter.com/t4A4iD4qBd

— Pittsburgh Pirates (@Pirates) February 23, 2016
• Tuesday was the first round of live batting practice, with Pirates pitchers throwing to their teammates. Typically, hitters will only "track" pitches on their first day seeing live pitching, but most of them swung away Tuesday.
Hurdle said the number of early swings weren't part of their plan to better prepare players for a hotter offensive start to the regular season.
• Position players were divided into two groups Tuesday. Non-roster outfielder Matt Joyce and infielder Cole Figueroa, both competing for a spot on the Opening Day roster, worked out alongside virtually all of the returning Major League players.
Adam Berry is a reporter for MLB.com. Follow him on Twitter at @adamdberry. This story was not subject to the approval of Major League Baseball or its clubs.