Johnson welcomed to Marlins by Fernandez
Vet infielder takes on reserve role; he and ace hug before camp opens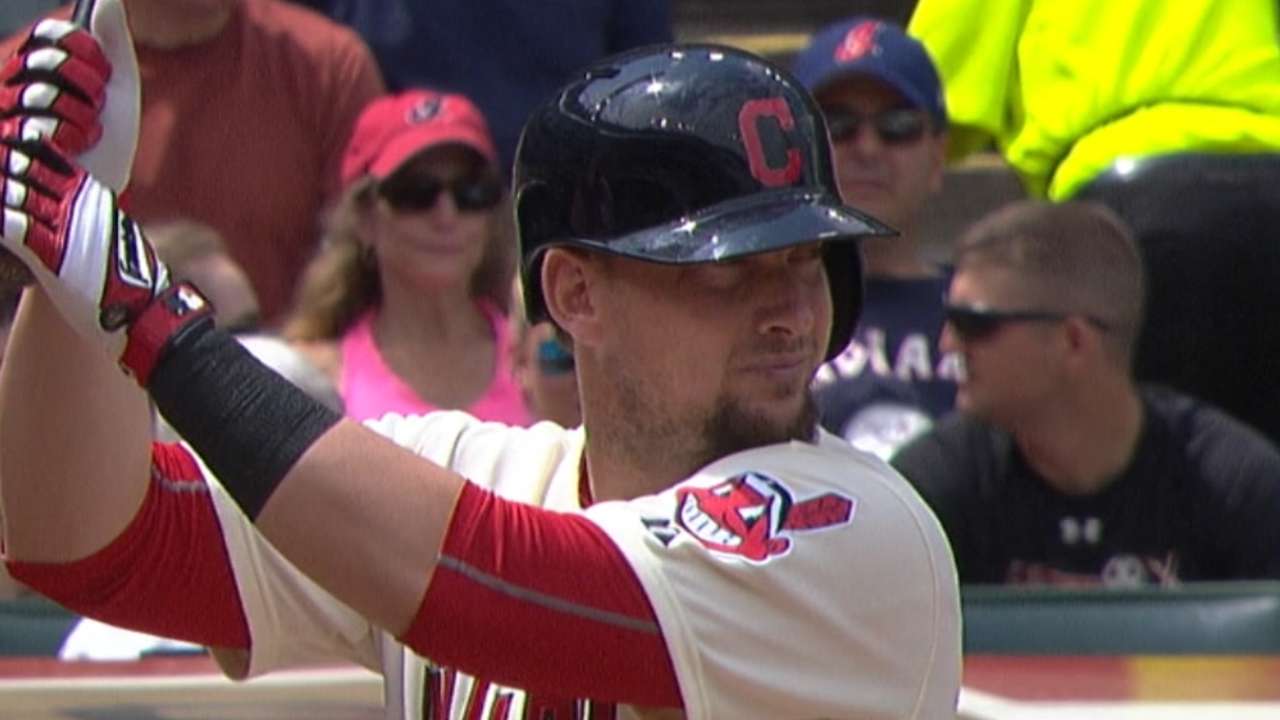 JUPITER, Fla. -- First things first, Chris Johnson and Jose Fernandez buried the hatchet a long time ago. Their September 2013 dustup, when they were jawing at each other after Fernandez bat-flipped and admired a home run at Marlins Park, is a distant memory and won't be a distraction now that the two are teammates.
Johnson, the veteran corner infielder, was signed as a free agent in January to provide depth at first and third base, and he may play some left field. A native of Naples, Fla., Johnson welcomed the opportunity to play in his home state, and do his part in helping the Marlins become contenders.
• Marlins' Spring Training info
If there was any question how Johnson and Fernandez would get along as teammates, that was quickly put to rest before Spring Training started.
"He was great," Johnson said. "As soon as he saw me, he came up to me, gave me a hug, and said, 'Welcome.' As far as I'm concerned, that was over a long time ago."
Actually, their heat-of-the-moment exchange was settled after that Sept. 11, 2013, game when Fernandez went over to the Braves' clubhouse and they both expressed regret.
Johnson admits he wished he had handled himself differently, and learned from the incident.
"You're going against the other team," Johnson said. "You're not supposed to like the other team. Once you become teammates, there is a bond that comes between guys, and now we're fighting together."
Another bond Johnson and Fernandez share is they're both fiery competitors.
Johnson is known as a good teammate, and his role in Miami is to come off the bench, and perhaps platoon at first base with left-handed-hitting Justin Bour.
Johnson, a career .280 hitter with 58 homers, split time in 2015 with the Braves and Indians, combining to hit .255/.286/.337 with three homers and 18 RBIs.
The Marlins targeted Johnson because of how he's performed against left-handed pitching, compiling a .314/.350/.436 career slash line.
Marlins president David Samson views Johnson as an unsung signing.
"You bring in someone like Chris Johnson, and no one talks about that," Samson said. "That's a great signing for this team, having Chris Johnson available for you."
Formerly a regular third baseman, Johnson is at the point in his career he will assume multiple roles. One reason he came to Miami was to work with respected infield coach Perry Hill.
"Perry Hill is a very, very big reason why I'm here," Johnson said. "I want to work with him. I've heard a lot of good things about him, and how he can really help guys defensively. If I'm going to be playing different positions from here on out, he's probably the best guy to be able to teach me all of those things."
Joe Frisaro is a reporter for MLB.com. This story was not subject to the approval of Major League Baseball or its clubs.