New to Brewers, lefty Nolin open to any role
Southpaw claimed off waivers by Milwaukee on Monday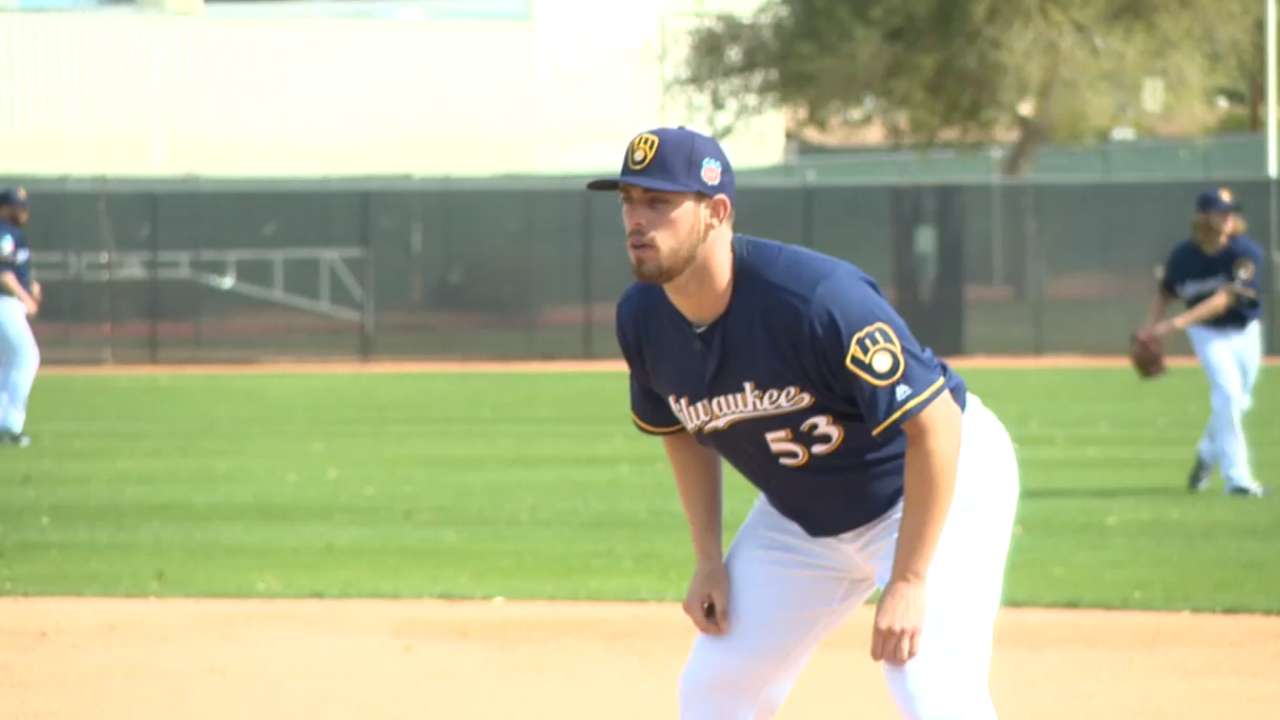 PHOENIX -- Spring Training has begun anew for left-hander Sean Nolin, the Brewers' waiver claim who arrived in camp on Monday just as pitchers and catchers were finishing their workout.
"When guys were coming in, I was like, 'I'm Sean Nolin … Sean Nolin … Sean Nolin,'" said the southpaw, who was claimed off waivers from the A's and will bid for a spot in the Brewers' bullpen. "I wasn't even really getting to know anyone, I was just letting everyone know who I was. I'll do the same thing again today. … I'm probably introducing myself to the same people again."
Nolin is not complaining. He has been in Arizona since reporting to A's camp on Jan. 10, hoping to get a head start on a competition for that team's starting rotation. That bid ended Feb. 12, when Oakland traded for Brewers outfielder Khris Davis and needed to clear a 40-man roster spot. The A's designated Nolin for assignment.
For 10 "difficult" days, he waited in limbo. Through a connection at Chandler-Gilbert Community College, Nolin was able to get on a mound several times during his layoff to stay sharp. On Monday, he learned he'd been claimed by the Brewers.
When he arrived at Maryvale Baseball Park, there was at least one familiar face. Nolin was teammates with Brewers reliever Jeremy Jeffress in Toronto.
@AdamMcCalvy Reunited, and it feels so good. #Brewers pic.twitter.com/zhgaiUEiCF

— Jeremy Pink (@jerpink) February 22, 2016
Since he's out of options, Nolin will have to be exposed to waivers again if he doesn't make the Brewers' cut.
"He fits the profile of a lot of the guys we've had," manager Craig Counsell said. "He's left-handed, he's out of options, but he was certainly a promising prospect at one time. Had a little bit of a frustrating season last year, but there was an opportunity where we thought there was talent there and a possible fit. I think it's a good chance to take."
Nolin indicated he was open to any role.
"I've only been a starter. I've relieved a couple of times, but I'm open for whatever," he said. "I want to play. I want to be in the big leagues, wherever I fit."
Fresh face
It's not exactly a physical transformation, but outfielder Shane Peterson did lose enough weight over the offseason to prompt double takes in the clubhouse. He's dropped more than 20 pounds since the end of last season.
"I thought it would be good to look the part of a center fielder a little bit more," said Peterson, one of many players competing for that position this spring. "I just ate a little bit better, did a little bit more conditioning. I didn't have to do much, really."
Peterson briefly served as the Brewers' starting center fielder last August, but he mostly played off the bench. He was particularly effective as a pinch-hitter (10-for-34), but he was bumped from the 40-man roster in late January after the Brewers traded for another outfielder, Rymer Liriano.
The fact he's a non-roster invitee makes Peterson's bid a bit more challenging.
"I don't feel like I'm in a much different spot than I was at this time last year, whether I'm on the roster or not," he said. "I'm still fighting for a chance to break camp with the team."
Last call
Rule 5 Draft pick Colin Walsh is a second baseman by trade, but he'll also get some reps at third base this spring, Counsell said. The Brewers must keep Walsh (and reliever Zack Jones, another Rule 5 pick) on the active roster all season, or offer him back to the A's.
Adam McCalvy is a reporter for MLB.com. Follow him on Twitter @AdamMcCalvy, like him on Facebook and listen to his podcast. This story was not subject to the approval of Major League Baseball or its clubs.