Peterson eager to help Braves in any capacity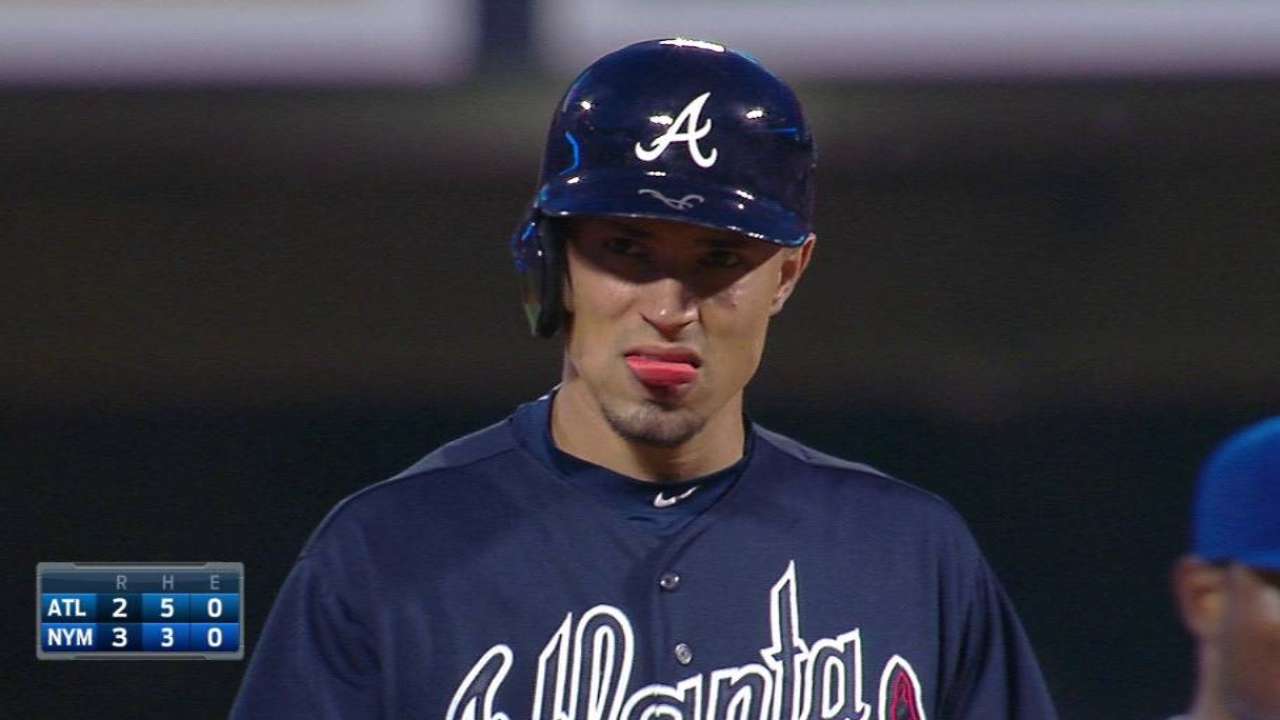 LAKE BUENA VISTA, Fla. -- After becoming Atlanta's starting second baseman courtesy of the impressive Spring Training he produced last year, Jace Peterson experienced a turbulent season that was marred by struggles against left-handed pitchers and a torn right thumb ligament that plagued him for more than four months.
Now that Peterson has arrived for his second camp with the Braves, he understands that he might need to platoon with Gordon Beckham at second base. But at the same time, he is prepared to prove he has the capability to be successful enough against lefties to serve as an everyday player at the big league level.
• Spring Training: Schedule | Tickets | More info
"If they want to platoon, whoever it is they want me to platoon with, I'm going to support him because he's my teammate," Peterson said. "I'm going to be ready to play when I'm called upon and do my job and do what I can control. But I know that I will have a better year hitting lefties. That's for sure.
"I can't do much worse than I did against lefties last year. I think last year I got myself in trouble and tried to do too much against lefties, instead of just taking my hits and doing what I've always done in my career. That's what I'm going to get back to doing -- just playing the game like I did before and not try to overthink or overdo it."
While producing a .239/.314/.335 slash line over 597 plate appearances during his first full big league season, Peterson slashed .251/.332/.350 in 483 plate appearances against righties and .190/.234/.276 over 114 plate appearances against left-handers. He had hit .307 with a .391 on-base percentage over the 92 plate appearances he totaled against lefties at the big league and Triple-A levels for the Padres in 2014.
"He won that [starting] spot last year in Spring Training," Braves manager Fredi Gonzalez said. "I don't see any reason to think he might go backwards. The way we use him might be a little bit different. I think last year I got in a situation where maybe I played him against some tough left-handers too often. Maybe this year with having Beckham, we can spell him and his numbers would be a lot better."
While it remains to be seen whether the platoon might enhance Peterson's production, there is no doubt that he could benefit from better health. He played most of last season's final four months with a torn ligament in his right thumb and spent nearly all of this offseason wearing a hard or splint cast on the thumb.
Once the splint cast was removed on Jan. 15, Peterson began strengthening his thumb and enhancing his baseball activities. He was one of the first position players to arrive early to camp, and over the past week he has provided some indication that a healthy thumb might enable him to renew the promise he had when he slashed .278/.351/.368 through last season's first two months.
"Mentally, I'm good and physically, I'm good," Peterson said. " I'm just looking forward to getting started here soon."
Mark Bowman is a reporter for MLB.com. This story was not subject to the approval of Major League Baseball or its clubs.