As things stand, De Aza's role limited
Barring injury, veteran outfielder will mainly serve as lefty pinch-hitter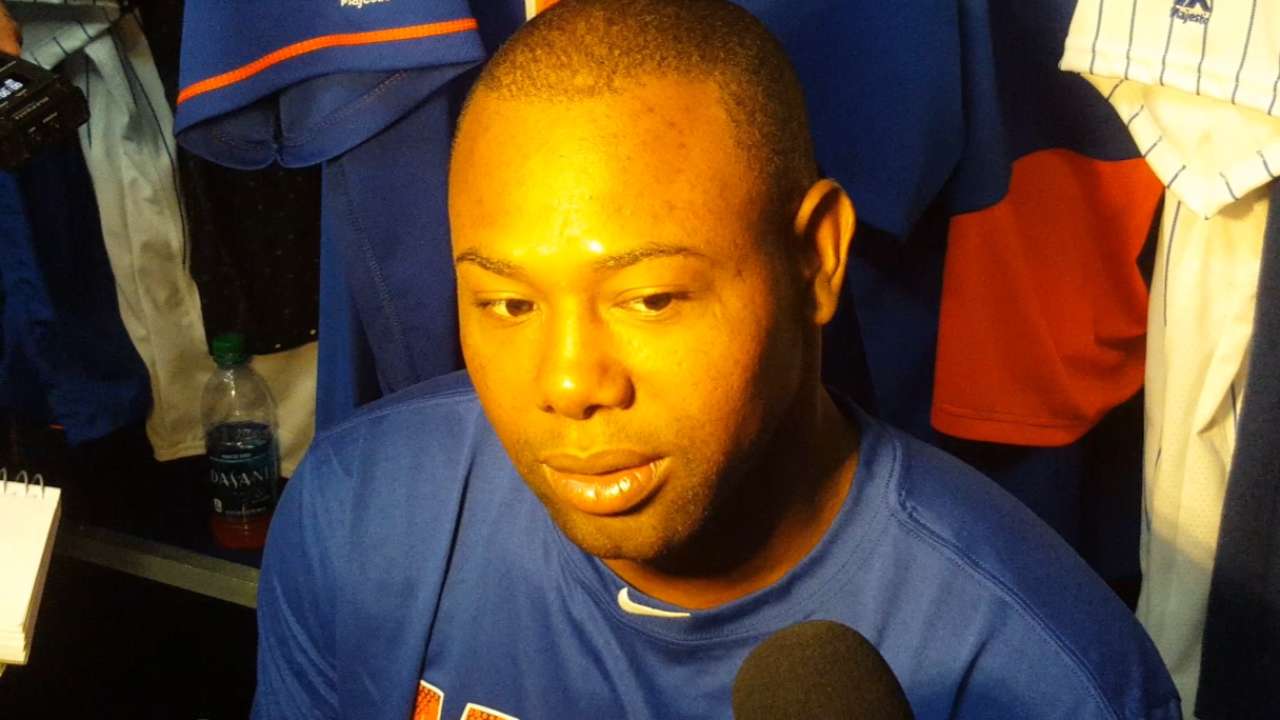 PORT ST. LUCIE, Fla. -- At the time, signing Alejandro De Aza to a one-year deal seemed to signal the end of the Mets' tepid pursuit of Yoenis Cespedes. De Aza gave the Mets a versatile platoon partner for Juan Lagares, leaving the club in search of nothing more than a right-handed bench bat.
Then Cespedes dropped his demands for a six-year megadeal, the Mets realized re-signing him was realistic, and everything changed -- including for De Aza, who is now a backup outfielder without a clear path to playing time.
"There are only certain things you can control in this game, and that's how you play," manager Terry Collins said. "If he plays good, we've got to find a way to get him in the lineup every once in a while."
That is, if De Aza is still here on Opening Day. Shortly after signing Cespedes, general manager Sandy Alderson floated the idea of trading De Aza, which would free up both roster space for another bench bat -- Eric Campbell, perhaps -- and money for a midseason acquisition or two. But the Mets can't do that until mid-June without De Aza's permission, due to a Collective Bargaining Agreement clause preventing sign-and-trade deals.
Consider it an added chance that De Aza, who hit .261 with seven homers for the Orioles, Red Sox and Giants last season, sticks around at least into the summer.
"I just have to play baseball," De Aza said. "This thing, we can't control. We all have to play the game and help the team try to win."
For now, De Aza's path to playing time seems limited. Michael Conforto, Cespedes and Curtis Granderson figure to play most days in left, center and right field, respectively, with Lagares serving as the primary late-inning defensive replacement. That leaves De Aza as little more than a left-handed pinch-hitting option -- though injuries can always open new avenues to playing time.
"It's too early to tell," Collins said. "He might have a big role on this team. You just don't know. They haven't even gotten on the field yet."
At least for now, De Aza's day-early arrival all but completed the Mets' camp roster in advance of Wednesday's position-player report date. Only Minor League outfielder Roger Bernadina has yet to report; the Mets expect him to be a few days late due to a visa issue.
News and notes
• Starter Jacob deGrom, who skipped his bullpen session Monday due to left leg soreness, threw off flat ground Tuesday. Collins said he expects deGrom to return to a mound Wednesday morning.
Anthony DiComo is a reporter for MLB.com. Follow him on Twitter @AnthonyDiComo and Facebook, and listen to his podcast. This story was not subject to the approval of Major League Baseball or its clubs.