Passion renewed, Bauer hopes to soar
Pitcher's offseason spent pursuing off-field interests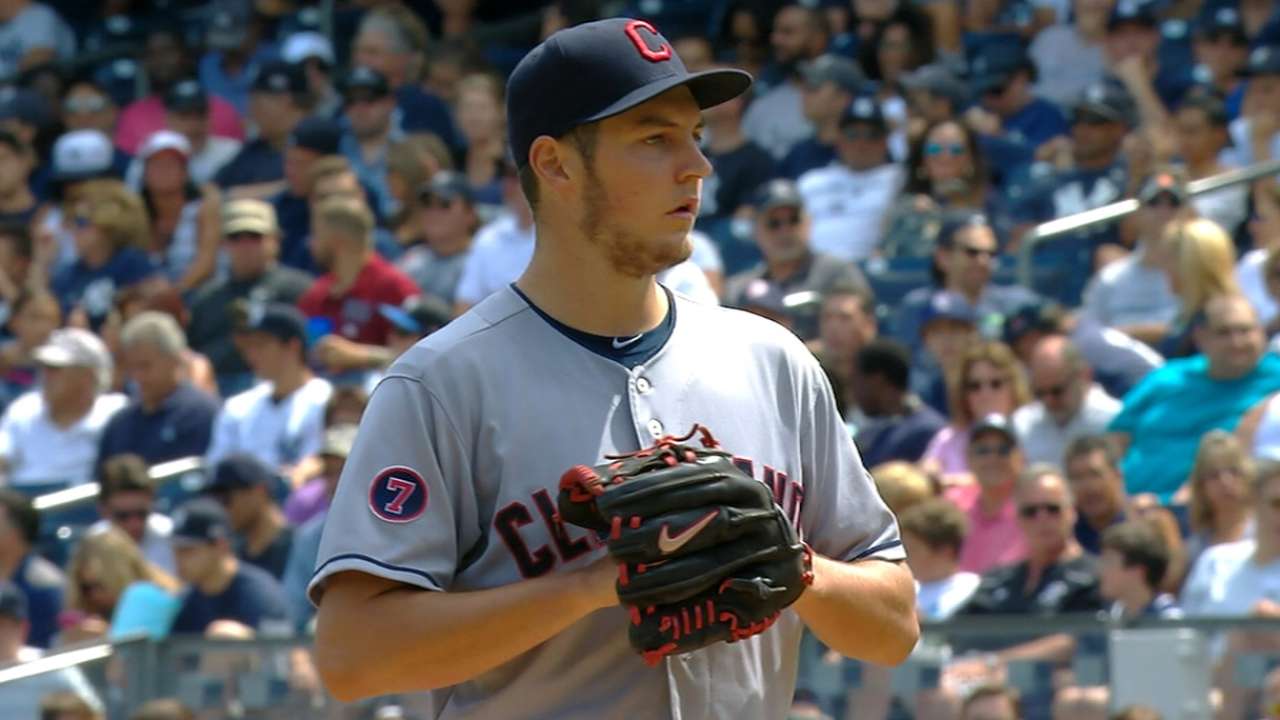 GOODYEAR, Ariz. -- Trevor Bauer needed to shut his mind off from baseball for a while. When last season ended and the Indians pitcher mapped out his offseason, he realized that all the scientific studies, in-depth training programs and feedback from pitching coaches were weighing him down.
Before Bauer returned to baseball, he needed to take some time away from the game.
"I've been overloaded mentally on it for many years," Bauer said. "I kind of got away from it."
Bauer pursued some of his other passions before diving back in to his annual offseason training.
The pitcher built and flew his growing fleet of drones. He made a point of heading out to the movies and making parody videos with his friends. Bauer stayed active on social media and continued to add videos to his YouTube channel. He spent time editing and sharing the aerial photos he took at various stadiums last season. When college basketball season began, he invested his time in following Duke.
Baseball could wait.
When last season ended, Bauer stood at his locker and said he needed to find things that made him happy outside of his profession. Baseball was his job -- not his hobby -- and it was consuming him. The Indians sensed as much, convincing pitching coach Mickey Callaway to take a step back as well. Over the winter, Callaway kept tabs on Bauer, but did not reach out as often as previous winters.
College hoops, drones, paintball, Bauer Units. This podcast w/ guest @BauerOutage has it all https://t.co/QDAvu0BiTi pic.twitter.com/Ax0b2wBxuJ

— Jordan Bastian (@MLBastian) February 22, 2016
"I just tried to keep up with where he was at and what was going on," Callaway said. "It sounds like he had a great offseason. He relaxed a little bit at the beginning, didn't think a ton about baseball. He was able to kind of relax and kind of get away from it a little bit, and then he really got into it.
"We talked a little bit about it at the end of the year. This game can be frustrating and hard. Every now and then, you need a little bit of an escape. You need to find some things that make you happy. It sounds like he took that to heart, and he did that."
Last season was a trying one for Bauer, who went 11-12 with a 4.55 ERA in 31 appearances. The 25-year-old right-hander struck out 170 batters, walked 79 and logged 176 innings in arguably his best season in the Majors. Bauer slumped in the second half, though, leading Cleveland to place him temporarily in the bullpen while the team fought for a Wild Card.
Bauer, Callaway and manager Terry Francona did not always see eye to eye on certain things last season, but the Indians continue to hold out hope that the young pitcher can develop into a strong member of the rotation. Francona is quick to point to Carlos Carrasco, who was inconsistent for a handful of seasons before finally putting it together over the past two years.
"We told him that we want him to be one of our starters," Francona said. "You look at his skillset and his pitches and what he has done, at least in spurts, and it's a lot like Carrasco. If you're not patient, sometimes you can miss out on something good. We don't want to be that team that misses out. Sometimes, you have to be a little more patient than people want you to be."
My favorite stadium picture I got to take with my @GoPro this year was of PNC park. Just beautiful! pic.twitter.com/s9xrzNZcSq

— Trevor Bauer (@BauerOutage) January 14, 2016
When Bauer did refocus his attention to baseball, he went all in.
Similar to past offseasons, Bauer spent six-to-eight hours a day studying and working on his game. The pitcher loves the scientific side of pitching and an area of concentration this winter was velocity improvement. He continued to use high-definition, slow-motion footage to analyze mechanics, movement and spin rate, and did a variety of studies between his workouts.
Bauer even developed his own statistic, which he refers to as "Bauer Units." The pitcher took spin rate (revolutions per minute) and divided that by miles per hour, so he could better compare pitchers with larger gaps in velocity, but similar spin rates.
"The most interesting part about baseball probably to me," Bauer explained, "is the research and development that goes into learning about all the little intricacies of the game, and how to better teach it and understand it. And the technology has finally gotten to a point where we can start to measure some of the things that have been completely hidden basically for the history of baseball."
That is an aspect of baseball that Bauer does enjoy thoroughly.
He also knows he needs to escape now and then to keep that passion alive.
"I think what's important for Trevor in his instance, is he finds what he wants to be," Francona said. "I think there were times last year, even by his own admission, he wasn't sure what that was, especially away from the field. So, that's important that he finds an outlet or something that he really enjoys.
"We had talked about that a few times. I think that will be beneficial to him, certainly off the field, but it'll probably help on the field."
Jordan Bastian is a reporter for MLB.com. Read his blog, Major League Bastian, follow him on Twitter @MLBastian and listen to his podcast. This story was not subject to the approval of Major League Baseball or its clubs.