Atkins mum on Bautista's extension terms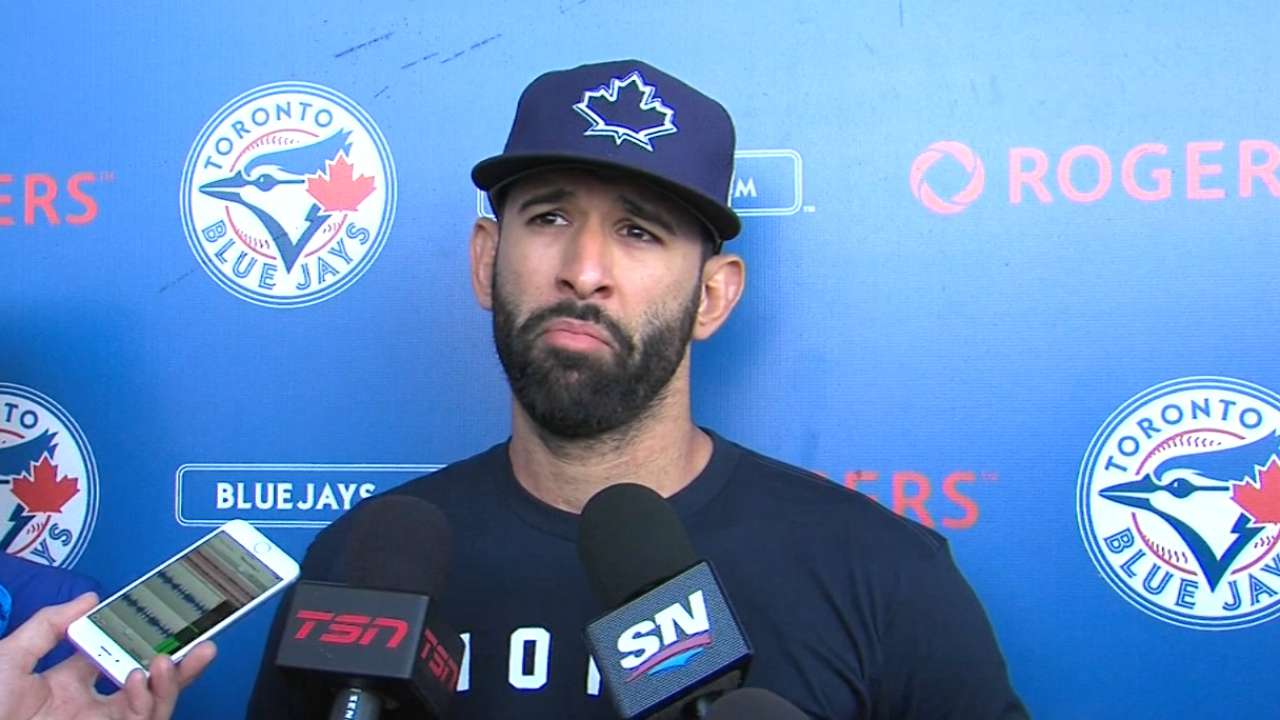 DUNEDIN, Fla. -- Jose Bautista put all of his cards on the table during a compelling scrum with reporters on Monday afternoon, but Blue Jays general manager Ross Atkins isn't going to follow suit any time soon.
Bautista, who's eligible for free agency at the end of the season, told reporters that he has provided the Blue Jays with the exact dollar amount and total number of years that would be required for him to re-sign with the club. He also said there's no need for negotiation because the price has been set and the ball is in Toronto's court.
• Spring Training: Schedule | Tickets | More info
According to a report from TSN's Rick Westhead, Bautista asked for a five-year contract worth $150 million, but that's something the star slugger denied Tuesday afternoon. What's unknown is whether the reported figure is close and Bautista is simply arguing semantics, or whether the dollar amount was way off.
Earlier Tuesday morning, Atkins was asked for his response to those comments, and even though Bautista was the first one to broach the subject publicly -- and seemed very open about his requests -- the Blue Jays do not intend to follow a similar path.
"We're really glad that Jose is here," Atkins said. "Love the fact that he is a Blue Jay and beyond that I can't comment on negotiations. There's really nothing that we can say and there's really nothing more to it than that."
A large group of reporters tried its best to get some kind of clarity from Atkins about the club's willingness to sign Bautista long term, but he wasn't budging.
Atkins was pleasant but issued similar "No comment" answers to questions about whether Bautista's demand would fit into the club's payroll, whether Bautista's comments were accurate or any kind of specifics about the recent meeting in Toronto.
"All my interactions with Jose have been incredible," Atkins said as he sidestepped one of the questions. "I love being around the guy, I love talking baseball with him, I love to hear him talk about his career. It gets me fired up, but in relation to the negotiation, out of respect for him, out of respect for the Blue Jays' organization, we just can't get into specifics about it."
It was a stark contrast from how Bautista handled the situation just one day earlier.
"If this is going to happen, I think it should be natural, organic, quick and easy," Bautista said. "It shouldn't be pull and tug over a few dollars here and there. I didn't want to waste any time. I didn't want to waste their time or their effort so they can start planning ahead, and if it's not going to happen, they have plenty of time to [respond].
"They asked me about two weeks ago, and I told them, 'That's it. There's no negotiation.' I told them what I wanted. They either meet it, or it is what it is."
Gregor Chisholm is a reporter for MLB.com. Read his blog, North of the Border, follow him on Twitter @gregorMLB and Facebook, and listen to his podcast. This story was not subject to the approval of Major League Baseball or its clubs.