Trade buzz shows Angels still seek LF help
Potential 3-team deal sending Jays' Saunders to Anaheim reportedly falls through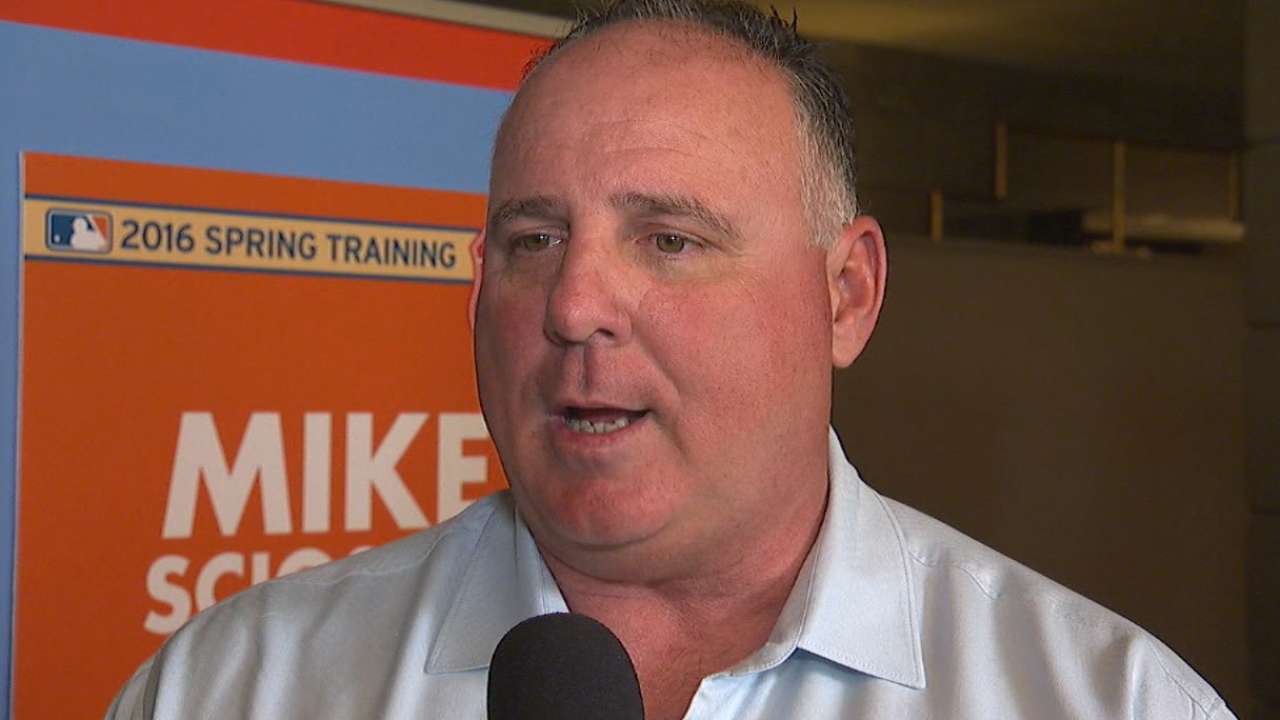 TEMPE, Ariz. -- A potential three-team trade that would've netted the Angels a new left-field option in Michael Saunders reportedly fell apart in the final stages on Monday night, due to medical concerns regarding one of the Minor League players involved.
It revealed something about the Angels, though: Like many fans, they are not necessarily comfortable with their left-field situation.
Spring Training: Schedule | Tickets | Gear
Saunders, a 6-foot-4 left-handed hitter who is coming off an injury-marred season, would've probably competed with the likes of Daniel Nava, Craig Gentry, Ji-Man Choi and Todd Cunningham for at-bats. And since he's set to make $2.9 million in 2016, acquiring him without cash considerations would've put the Angels either right up against or slightly above the $189 million luxury-tax threshold.
But ESPN's Buster Olney reported late Monday night that the proposed trade, which would've sent Jay Bruce to the Blue Jays, was "dead." Ken Rosenthal of FOXSports.com reported Tuesday morning that the concerns centered on a Minor League player going from the Blue Jays to the Reds.
The Angels' search continues.
"I'm looking for any reinforcement for any position I can find, wherever we can improve this club," Angels general manager Billy Eppler said, opting against keeping the focus on left field. "Sometimes that manifests itself in pitching -- starting pitching or bullpen -- sometimes the infield and outfield, whatever. Wherever we can get better, we'll look to do that."
The Angels have also been linked to Bruce, a more prominent left-handed power hitter, for quite some time, but the Reds' slugger is owed $12.5 million this year, and the Angels' payroll is basically maxed out.
Saunders batted .242/.314/.416 in 271 games with the Mariners from 2012-13, compiling 31 homers, 103 RBIs and 34 stolen bases. But injuries to his oblique and shoulder limited him to 78 games in 2014.
In the spring of 2015, after an offseason trade to the Blue Jays, Saunders stepped on a sprinkler while shagging fly balls in Dunedin, Fla., and tore the meniscus in his left knee, an injury that required surgery. He returned in late April, experienced ongoing discomfort, and he was officially shut down for the remainder of the season in the middle of August.
Saunders entered this year looking like the favorite to be the Blue Jays' everyday left fielder and told Sportsnet 590 The Fan that the knee "feels great."
Eppler didn't go into specifics on the trade, but said during Tuesday's workout that "nothing pressing" is going on at the moment, an indication that the trade won't happen.
"Just like anything else, there are discussions that go on all the time with clubs throughout the winter and leading into spring, and then throughout the season, as well," Eppler said. "Sometimes things advance a little further down the field than others and sometimes things don't. I couldn't speak specifically on anything."
Alden Gonzalez is a reporter for MLB.com. Follow him on Twitter @Alden_Gonzalez and Facebook , and listen to his podcast. This story was not subject to the approval of Major League Baseball or its clubs.