Manfred still gathering info on Reyes' case
Rockies expecting decision in near future on possible discipline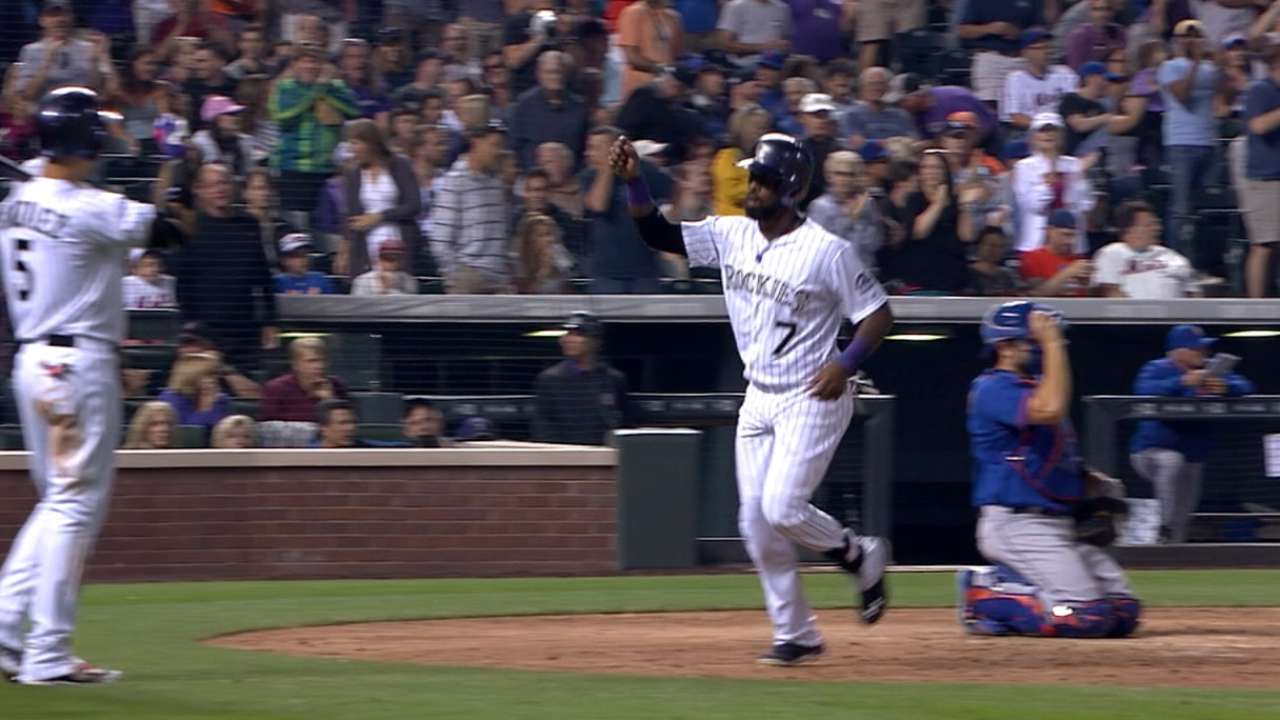 PHOENIX -- Major League Baseball Commissioner Rob Manfred does not necessarily have to wait until domestic violence cases are completed in the legal system. But indications are the ongoing investigation of a domestic violence charge against Rockies shortstop Jose Reyes is delaying a decision on a possible suspension.
Reyes was arrested in Maui, Hawaii, on Oct. 31, after an incident with his wife at a resort hotel, which made his potentially the first case under a joint MLB-MLB Players Association policy. Manfred's office is also looking at incidents involving the Yankees' Aroldis Chapman and the Dodgers' Yasiel Puig; however, local law enforcement declined to prosecute Chapman and no criminal charges were filed in Puig's case.
Manfred, meeting with reporters in Phoenix, reiterated his statement from a previous press gathering on Friday in Florida that he could rule on two of the three cases soon, although he didn't specify which two. Reyes' case differs because it is an active investigation, with a trial date set for April 4, which happens to be Opening Day.
• Rockies' Spring Training information
The policy allows Manfred to make a decision, which could involve counseling as well as a suspension, without a decision made in the legal system. However, the issue is the investigation in Hawaii is still active. It's still possible a decision could come before a trial, but Manfred thus far has chosen to wait.
Manfred did not address Reyes specifically on Monday. However, his answer indicated that he does not want to act before knowing all the information.
"The challenge, and it will always be present, is control over the development of the factual record often is in the hands of law enforcement," Manfred said. "You cannot expect a district attorney or other law enforcement official to provide information on a timetable other than what makes sense for him or her. We are always going to have this issue of being at the mercy of others when we are dealing with these sorts of issues."
Another question is whether Reyes will be in camp on Tuesday, when position players officially report. Physicals are Wednesday and the first workout is slated for Thursday.
MLB Network's Jon Heyman tweeted that the club and Reyes' representatives had a discussion centered on him not reporting to eliminate distractions. But Rockies general manager Jeff Bridich said on Monday that such talks have not taken place, and "whole thing, soup to nuts, the whole thing is held underneath this [MLB-MLBPA joint] policy."
However, not everyone interprets the policy that way. Manfred has yet to rule on Chapman, but the pitcher reported to Yankees camp without an apparent action on the matter from the Commissioner. Technically, Bridich is correct in that the Rockies can't take unilateral action against Reyes' contract -- only Manfred can. But Spring Training appears open to interpretation.
At any rate, Bridich said the Rockies are being careful to do nothing to interfere with Manfred's powers in the Reyes case.
"For us right now, it's kind of a hypothetical -- it's tough to say," Bridich said. "If he showed up, I don't think we would be, like, kicking him out or anything like that. But I think all parties involved in this are anticipating a decision here in the near future."
Thomas Harding is a reporter for MLB.com. Follow him on Twitter @harding_at_mlb, listen to podcasts and like his Facebook page. This story was not subject to the approval of Major League Baseball or its clubs.