Giambi eager to help Tribe as guest instructor
Former slugger back in baseball after two-year hiatus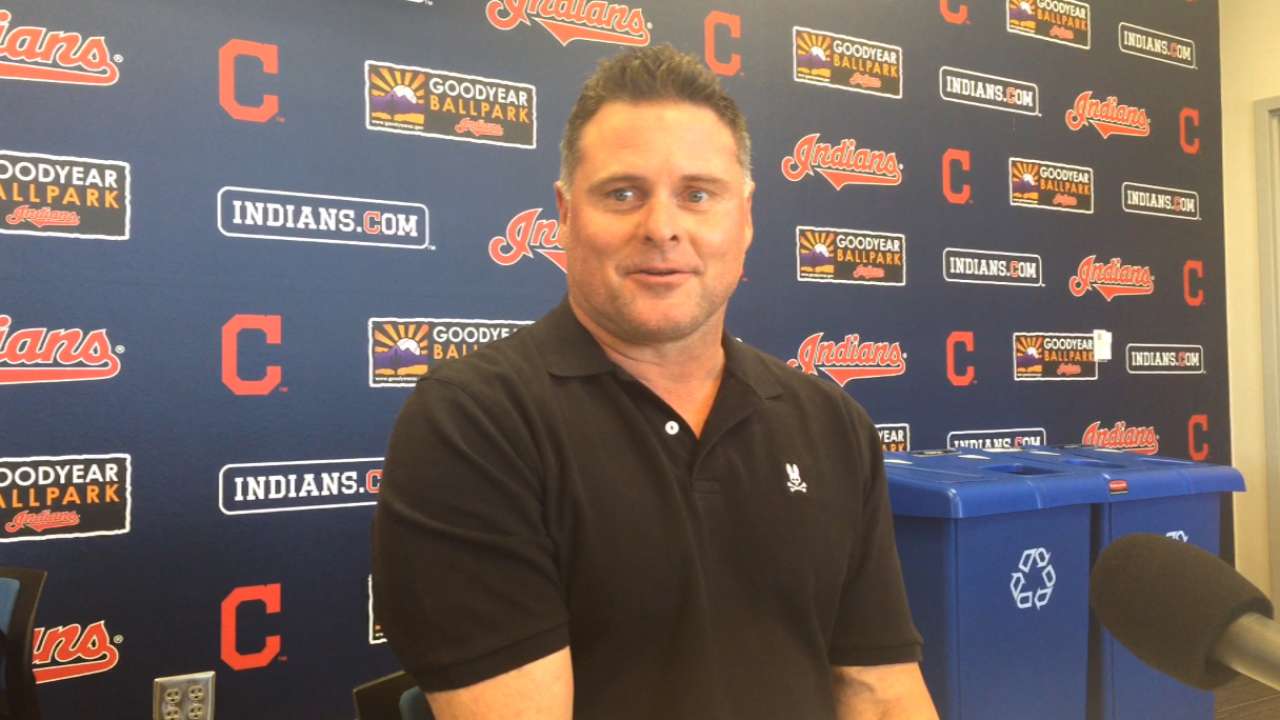 GOODYEAR, Ariz. -- Jason Giambi wanted to step away from baseball completely for a year. Following retirement two offseasons ago, the former slugger received an assortment of calls from teams interested in bringing him on as a coach, but he needed a career intermission.
On Monday morning, Giambi emerged from his hiatus, put Indians gear back on and headed to the batting cage at Cleveland's spring complex to begin his stint as a guest instructor. A future in coaching or managing might be in store for Giambi, but right now he is content with getting a taste with the team he suited up with to close his 20-year career.
• Indians' Spring Training info
"I just wanted to come and get my feet wet," Giambi said. "And to let everybody know I'm still interested. I didn't want to be five years out of the game and then try to come back in. I have a relationship with a lot of these guys and this is really the place I felt was the best fit."
Giambi said his close bond with Indians manager Terry Francona, and the many Tribe players who were his teammates only two seasons ago, made it appealing to join Cleveland for a stint this spring. He will remain in camp for a few days this week and plans on returning later in Spring Training after the Indians are into their Cactus League schedule.
Over two decades in the Majors, the 45-year-old Giambi played for the A's, Yankees, Rockies and Indians.
He launched 440 career home runs, made five All-Star teams, won the American League's Most Valuable Player Award in 2000 and played in the 2003 World Series. Giambi has earned a strong reputation around the game, even after coming clean about performance-enhancing drug use early in his career. Before joing the Indians as a player in 2013, Giambi even interviewed for the managerial vacancy with Colorado.
Given his wide range of experiences, Giambi was content with calling it a career before last season.
"I did everything," Giambi said. "I went from young player to star to utility guy to guy just off the bench to mentor. I left it all on the field. There wasn't much more I could do. So, when I got home and decided to retire, that it was time, it was fun. It was fun to watch now, let go of the reins. I didn't have to worry about getting a base hit anymore."
In his two-season stint with Cleveland, Giambi was a revered leader in the clubhouse.
"I love Big G. I leaned on him a lot when he was here with us," Indians left fielder Michael Brantley said. "I'm going to lean on him every day I see him here. He really helped me as a young player coming up, just helped me understand the process a little more. He'd been through however many years before he got here, and just listening to his advice always helps."
Giambi believes he can be a valuable resource for players.
"I played 20 years in the big leagues, had a lot of ups, had some downs," Giambi said. "I learned a lot in this game and I think it would be a shame not to pass it on to help these younger players play. It's fun to be around the guys. It's fun to pass on all my knowledge that I learned to these guys, and hopefully they can take one or two pieces, take it with them and help them become better ballplayers."
And, when Giambi's Spring Training role comes to an end, Francona hopes the coaching bug will have bitten the former player.
"I want G to be happy doing what he's doing," Francona said. "I think it's good for him to get a taste of it, because having guys like him stay in the game is really good for the game. But, he's earned the right to do whatever he wants."
Jordan Bastian is a reporter for MLB.com. Read his blog, Major League Bastian, follow him on Twitter @MLBastian and listen to his podcast. This story was not subject to the approval of Major League Baseball or its clubs.