Breaking down Rays' 2016 Top 30 Prospects
Eleven pitchers headline overhauled ranking; lefty Snell leads list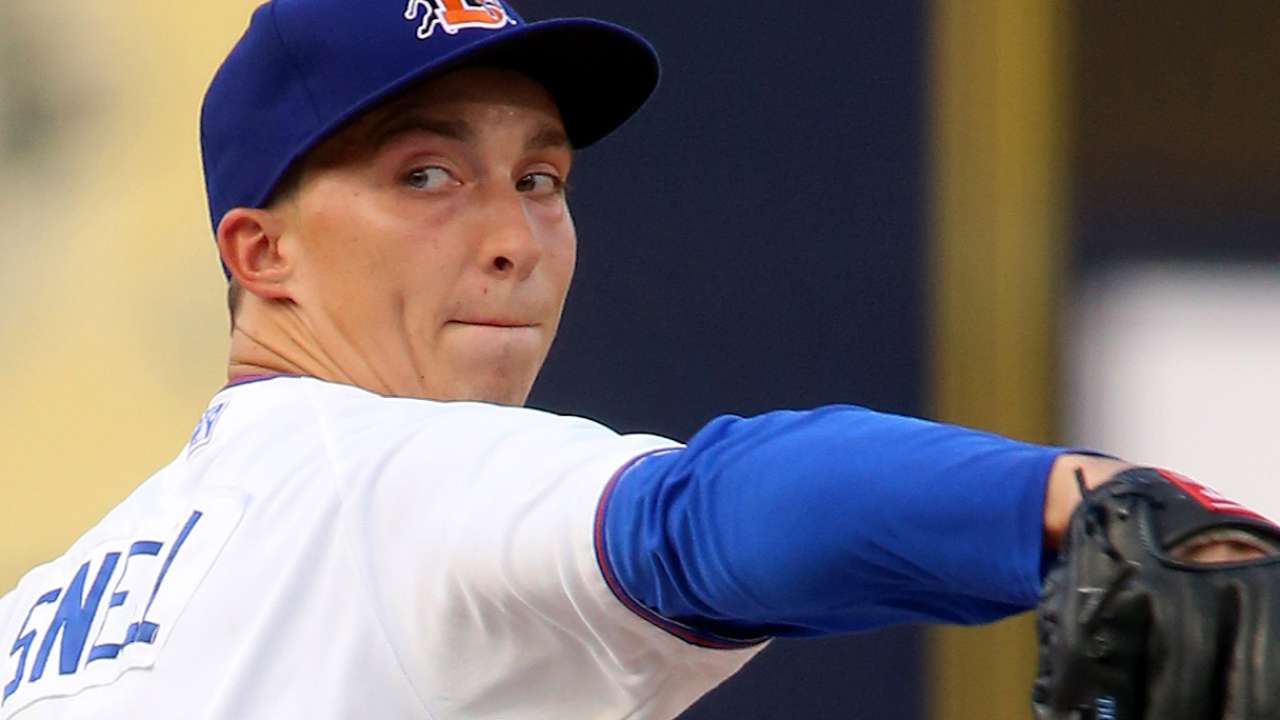 The Rays' farm system didn't experience a significant turnover in 2015, mostly because the club graduated just five prospects to the Major Leagues from its preseason Top 30 list. Headlining that group was outfielder Steven Souza Jr., who showed a promising blend of power and speed when healthy, while right-handers Nathan Karns and Alex Colome emerged as key pieces in the big league rotation and bullpen, respectively.
Tampa Bay also received contributions from former first-rounders Mikie Mahtook and Richie Shaffer, and both players still rank among the club's Top 30 prospects this season after maintaining their rookie eligibility. Left-hander Enny Romero, owner of the system's best fastball, is also back on this year's list, and he's joined by newcomer Andrew Bellatti, who opened eyes during the final two months of the '15 season out of the bullpen.
• Rays' 2016 Top 30 Prospects list
Though it has quite a bit of Major League-ready talent, the Rays' system stands out the most for its deep collection of high-ceiling and high-floor players on both sides of the ball, a majority of whom are homegrown. Left-hander Blake Snell is atop this year's list, though he's just one of many pitching prospects poised to make an impact within the next two years. The club's top position player prospects are a bit further away, however, with shortstop Willy Adames and 2015 first-round Draft pick Garrett Whitley not due to arrive until the 2018-19 seasons.
Top 30 Prospects lists
Division
Teams/Release date
NL East
ATL, MIA, NYM, PHI, WAS
AL East
BAL, BOS, NYY, TB, TOR
NL Central
CHC, CIN, MIL, PIT, STL
AL Central
CLE, CWS, DET, KC, MIN
NL West
ARI, COL, LAD, SD, SF
AL West
HOU, LAA, OAK, SEA, TEX
Biggest jump/fall
Here are the players whose ranks changed the most from the 2015 preseason list to the 2016 preseason list.
Jump: Jake Bauers (2015: 24 | 2016: 5)
Fall: Hak-Ju Lee (2015: 16 | 2016: NR)
Best tools
Players are graded on a 20-80 scouting scale for future tools -- 20-30 is well below average, 40 is below average, 50 is average, 60 is above average and 70-80 is well above average.
MLB's Top 10 farm systems
Hit: Jake Bauers (55)
Power: Casey Gillaspie (60)
Run: Garrett Whitley (60)
Arm: Justin O'Conner (80)
Defense: Whitley (60)
Fastball: Enny Romero (70)
Curveball: Taylor Guerrieri (60)
Slider: Brandon Koch (65)
Changeup: Blake Snell (60)
Control: Brent Honeywell (55)
How they were built
Draft: 21
International: 3
Trade: 6
Breakdown by ETA
2016: 7
2017: 13
2018: 6
2019: 4
Breakdown by position
C: 3
1B: 2
2B: 3
3B: 2
SS: 5
OF: 4
RHP: 9
LHP: 2
Mike Rosenbaum is a reporter for MLB.com. Follow him on Twitter at @GoldenSombrero. This story was not subject to the approval of Major League Baseball or its clubs.