Breaking down the O's 2016 Top 30 Prospects
Harvey leads list, Mancini making moves after huge year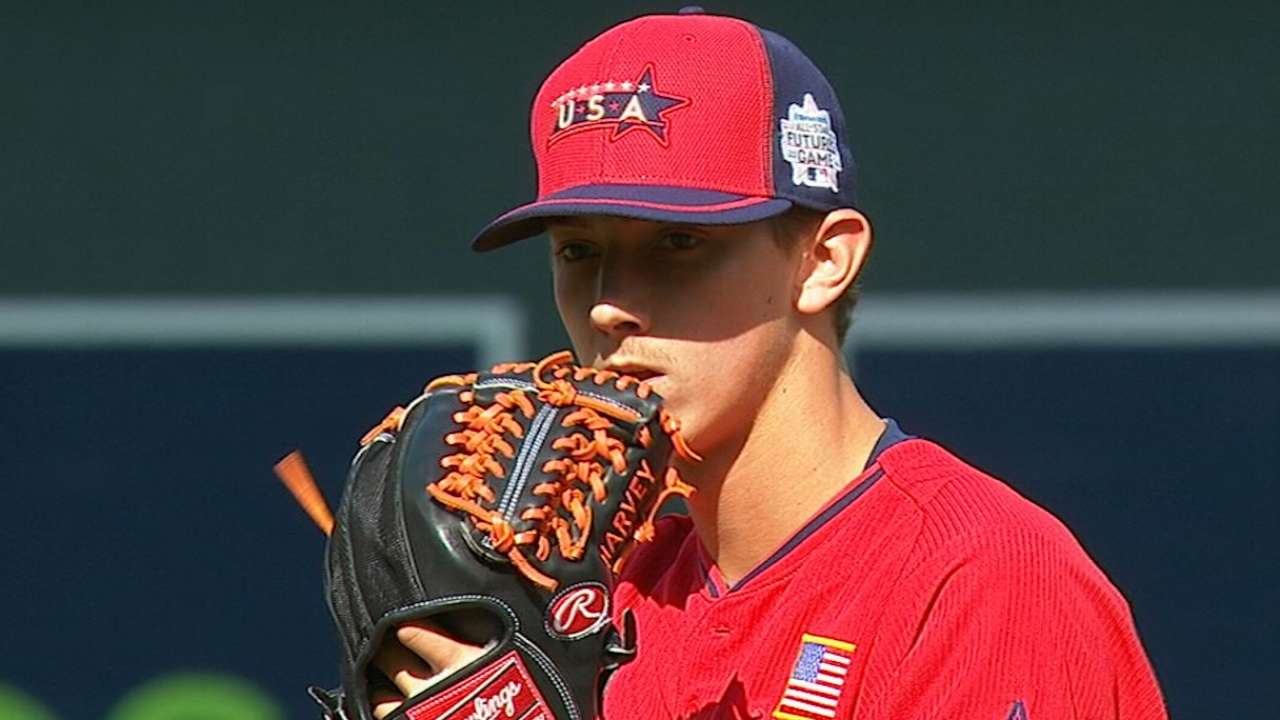 The Orioles might have had a disappointing season at the Major League level in 2015, finishing third in the American League East with an 81-81 record, but it was a productive year for the club's farm system.
The organization was able to offer many of its top pitching prospects big league experience, as 2015 preseason Top 30 Prospects Mike Wright, Tyler Wilson, Jason Garcia and Oliver Drake all showcased their potential at various points. Meanwhile, shortstop-turned-reliever Mychal Givens emerged as a dynamic setup man for the O's and posted a 1.80 ERA with a 36/8 K/BB ratio over 22 appearances. None of those five exceeded 50 innings pitched or 45 days on the 25-man roster, so they still qualify as rookies in 2016 and thus retain prospect eligibility.
• Orioles' 2016 Top 30 Prospects list
But no Orioles prospect had a bigger season in 2015 than first baseman Trey Mancini, who was named the organization's Minor League Player of the Year after he paced the Minors in hits (182), finished third in hitting (.341) and set career highs with 21 home runs and 43 doubles. He did most of his damage at the Double-A level, where he led the Eastern League with .359 average and slugged 13 homers.
Top 30 Prospects lists
Division
Teams/Release date
NL East
ATL, MIA, NYM, PHI, WAS
AL East
BAL, BOS, NYY, TB, TOR
NL Central
CHC, CIN, MIL, PIT, STL
AL Central
CLE, CWS, DET, KC, MIN
NL West
ARI, COL, LAD, SD, SF
AL West
HOU, LAA, OAK, SEA, TEX
Unfortunately, the season turned out to be wash for right-handers and former first-rounders Dylan Bundy and Hunter Harvey , the club's top two prospects from 2015. Bundy, who reached the Majors at the end of his first full pro season in 2012 before missing '13 due to Tommy John surgery, made just eight starts at Double-A Bowie last season before landing on the disabled list with shoulder inflammation, while a balky elbow kept Harvey out of game action entirely.
MLB's Top 10 farm systems
Biggest jump/fall
Here are the players whose ranks changed the most from the 2015 preseason list to the 2016 preseason list:
Jump: Tanner Scott (2015: 28 | 2016: 11)
Fall: Patrick Connaughton (2015: 9 | 2016: NR)
Best tools
Players are graded on a 20-80 scouting scale for future tools -- 20-30 is well below average, 40 is below average, 50 is average, 60 is above average and 70-80 is well above average.
Hit: Chance Sisco (55)
Power: Jomar Reyes (55)
Run: Josh Hart (60)
Arm: Reyes (60)
Defense: Hart (55)
Fastball: Tanner Scott (80)
Curveball: Harvey (65)
Slider: Givens (60)
Changeup: Parker Bridwell (55)
Control: Wilson (55)
How they were built
Draft: 22
International: 3
Trade: 3
Rule 5: 2
Breakdown by ETA
2016: 12
2017: 6
2018: 7
2019: 5
Breakdown by position
C: 3
1B: 2
2B: 0
3B: 1
SS: 1
OF: 6
RHP: 14
LHP: 3
Mike Rosenbaum is a reporter for MLB.com. Follow him on Twitter at @GoldenSombrero. This story was not subject to the approval of Major League Baseball or its clubs.