Breaking down Blue Jays' 2016 Top 30 Prospects
Alford leaps from No. 21 to top of overhauled list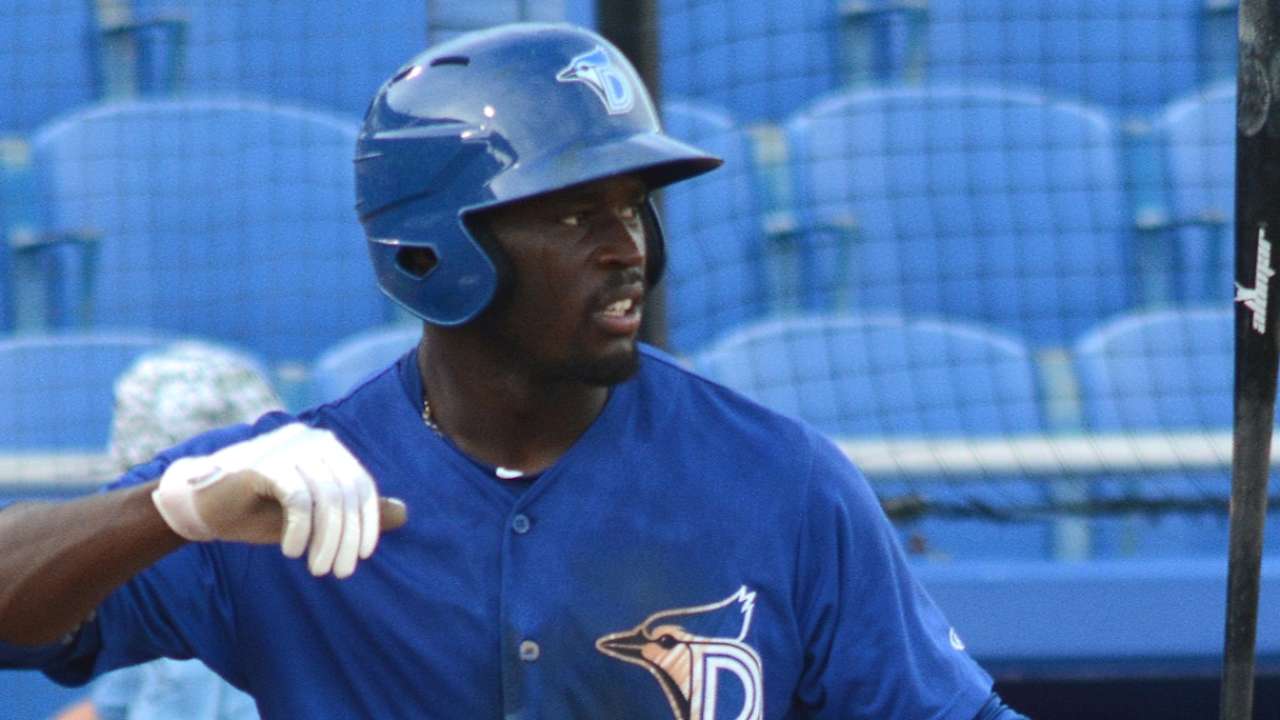 The Blue Jays emerged as contenders last season, winning the American League East and reaching the postseason for the first time since 1993. Offseason acquisition Josh Donaldson proved to be as impactful as expected and paced the team's high-octane offense throughout the season, though he had plenty of help from a strong supporting cast. Yet, it was a willingness to tap into a rich farm system last year that allowed for sustained success.
The Blue Jays graduated four key players from its preseason Top 30 prospects list to the big leagues in 2015. Devon Travis thrived as the team's Opening Day second baseman before a shoulder injury derailed his campaign, while Dalton Pompey provided value with his defense and baserunning in a reserve role. On the mound, former first-rounder Aaron Sanchez effectively bridged the gap to the ninth inning all year while setting up for closer Roberto Osuna, who cracked Toronto's Opening Day roster at age 19.
• Blue Jays' 2016 Top 30 Prospects list
Meanwhile, many of the Blue Jays' prospects found themselves in different organizations by season's end after being dealt for key big league pieces. In total, the club parted with nine of its preseason Top 30 prospects in 2015 including its top two pitching prospects in Daniel Norris and Jeff Hoffman, who were moved to acquire David Price and Troy Tulowitzki at the Trade Deadline, respectively.
Top 30 Prospects lists
Division
Teams/Release date
NL East
ATL, MIA, NYM, PHI, WAS
AL East
BAL, BOS, NYY, TB, TOR
NL Central
CHC, CIN, MIL, PIT, STL
AL Central
CLE, CWS, DET, KC, MIN
NL West
ARI, COL, LAD, SD, SF
AL West
HOU, LAA, OAK, SEA, TEX
Though the Blue Jays lost a significant amount of young talent last season, they did add several high-ceiling prospects in June and July, selecting right-handers Jon Harris, Justin Maese and Jose Espada early in the 2015 Draft, and inking highly touted international amateur Vladimir Guerrero Jr. for $3.9 million the following month. On top of that, 2013 Draftees Rowdy Tellez and Conner Greene both made significant developmental strides last season, with the latter emerging as the top pitching prospect in the system.
Biggest jump/fall
Here are the players whose ranks changed the most from the 2015 preseason list to the 2016 preseason list.
Jump: Anthony Alford (2015: 21 | 2016: 1)
Fall: Matt Smoral (2015: 14 | 2016: NR)
Best tools
Players are graded on a 20-80 scouting scale for future tools -- 20-30 is well below average, 40 is below average, 50 is average, 60 is above average and 70-80 is well above average.
MLB's Top 10 farm systems
Hit: Alford (60)
Power: Guerrero Jr. (55)
Run: Roemon Fields (80)
Arm: Richard Urena (60)
Defense: Alford (60)
Fastball: Conner Greene (65)
Curveball: Clinton Hollon (55)
Slider: Sean Reid-Foley (55)
Changeup: Ryan Borucki (60)
Control: Chad Girodo (60)
How they were built
Draft: 23
International: 6
Trade: 0
Free agent: 1
Breakdown by ETA
2016: 3
2017: 6
2018: 13
2019: 7
2020: 1
Breakdown by position
C: 2
1B: 2
2B: 2
3B: 3
SS: 1
OF: 5
RHP: 11
LHP: 4
Mike Rosenbaum is a reporter for MLB.com. Follow him on Twitter at @GoldenSombrero. This story was not subject to the approval of Major League Baseball or its clubs.