Harper speaks -- but not of limits
MVP addresses free agency, staying healthy, getting Nats to next level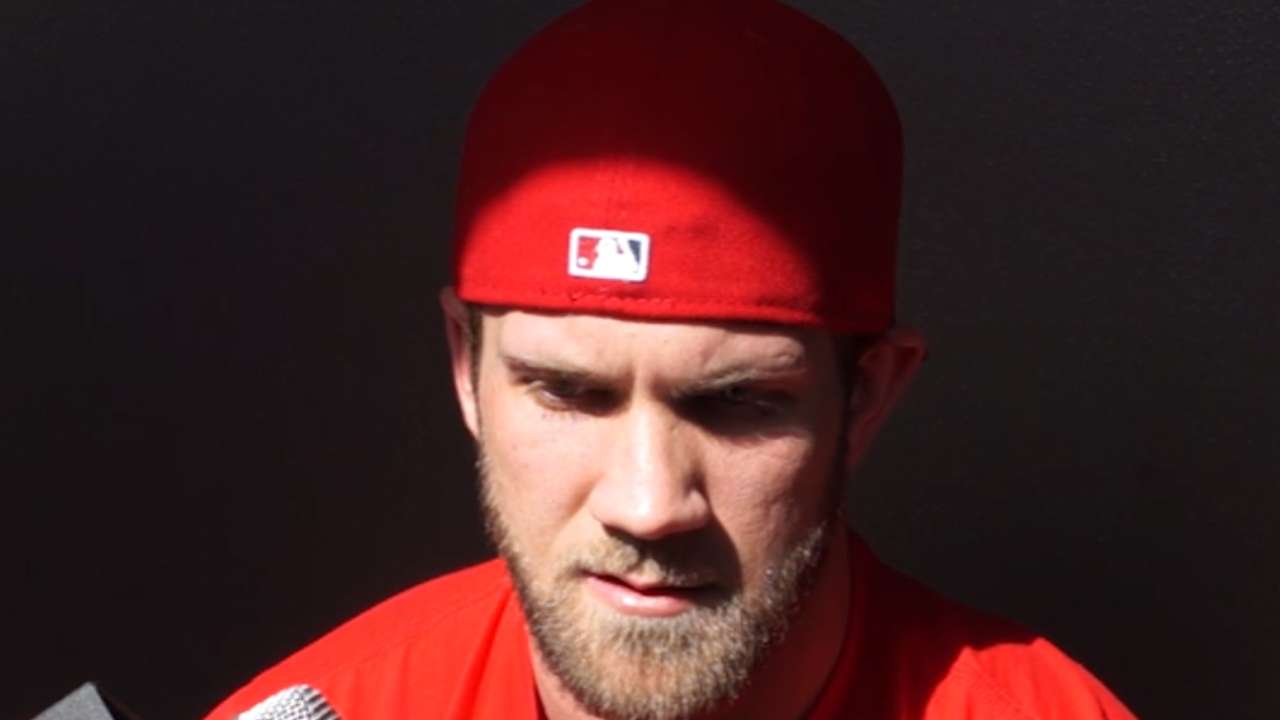 VIERA, Fla. -- Bryce Harper does not want to be placed under any limits.
Perhaps he can exceed his historic 2015 season, when he led the National League in homers (42), on-base percentage (.460), slugging percentage (.649), OPS (1.109) and WAR (9.9), and won the NL Most Valuable Player award unanimously.
• Nationals Spring Training info
Or perhaps he can exceed the estimates for the record-breaking contract he seems destined to sign if he reaches free agency after the 2018 season.
"I've got three years to play [before possible free agency]. I've got three years to do everything I can to play this game," Harper said Monday in his first comments of Spring Training.
"The $400 [million] or whatever everybody was talking about, money, you can't put a limit on players. You can't put a limit on what they do. If that's on the field, off the field, everything they do.
"Everybody says the sky's the limit. But we've been on the moon."
Spring Training, of course, is the time for such optimism, the time when anything seems possible. But Harper's rare combination of age, 23, and production only enhances the possibilities of what he can accomplish next.
When Harper met with the media, there was no headline-grabbing "where's my ring?" moment from one year ago. Instead, Harper discussed a variety of topics in the first-base dugout during a 17-minute chat.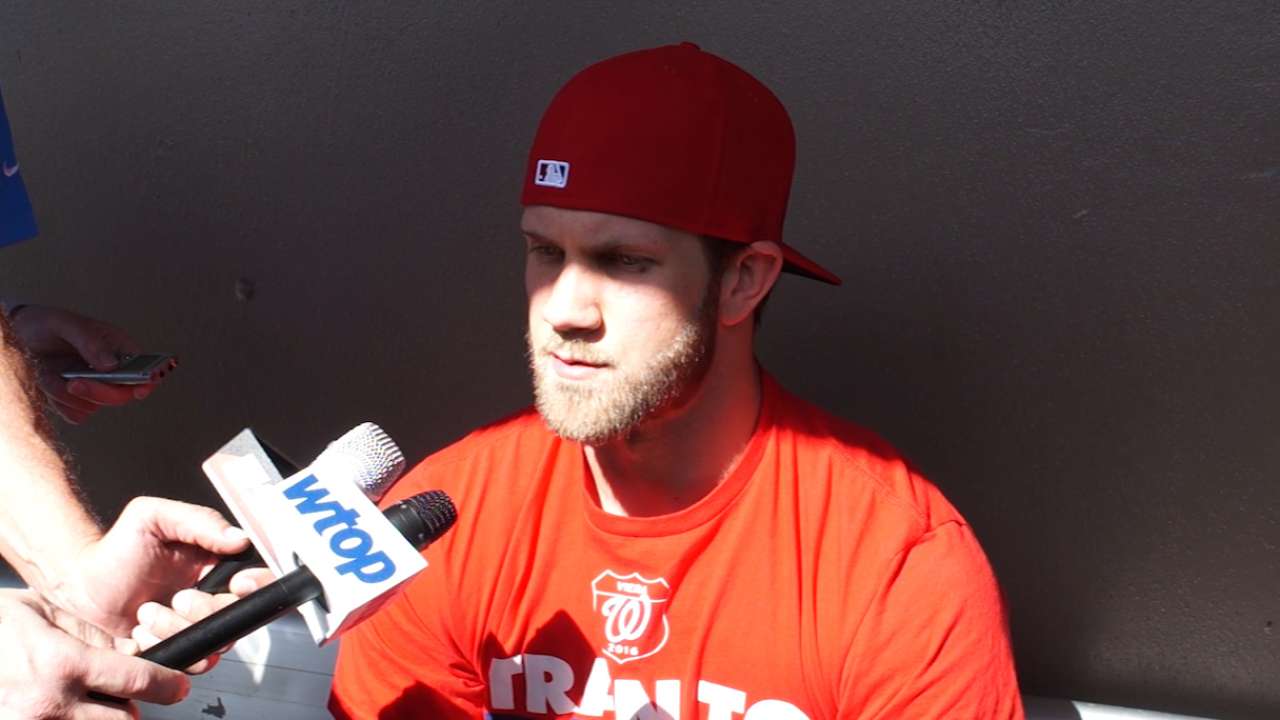 Harper once again addressed last season's dugout altercation with Jonathan Papelbon -- for what he said would be the last time. He reiterated that any problems were settled that day, and that the incident "got blown out of proportion."
Despite his breakout season, Harper said, he did not yet consider himself a leader inside the Nationals' clubhouse, and still deferred to veteran players such as Ryan Zimmerman and Jayson Werth.
Harper called the Mets the team to beat in the division, and did not want to discuss the possibility of going to the Yankees when his contract is finished -- "I'm a National. That's what I want to be right now."
Harper also mentioned his excitement for all the new faces in the Nationals' clubhouse, including skipper Dusty Baker, who has managed former MVPs such as Barry Bonds and Jeff Kent.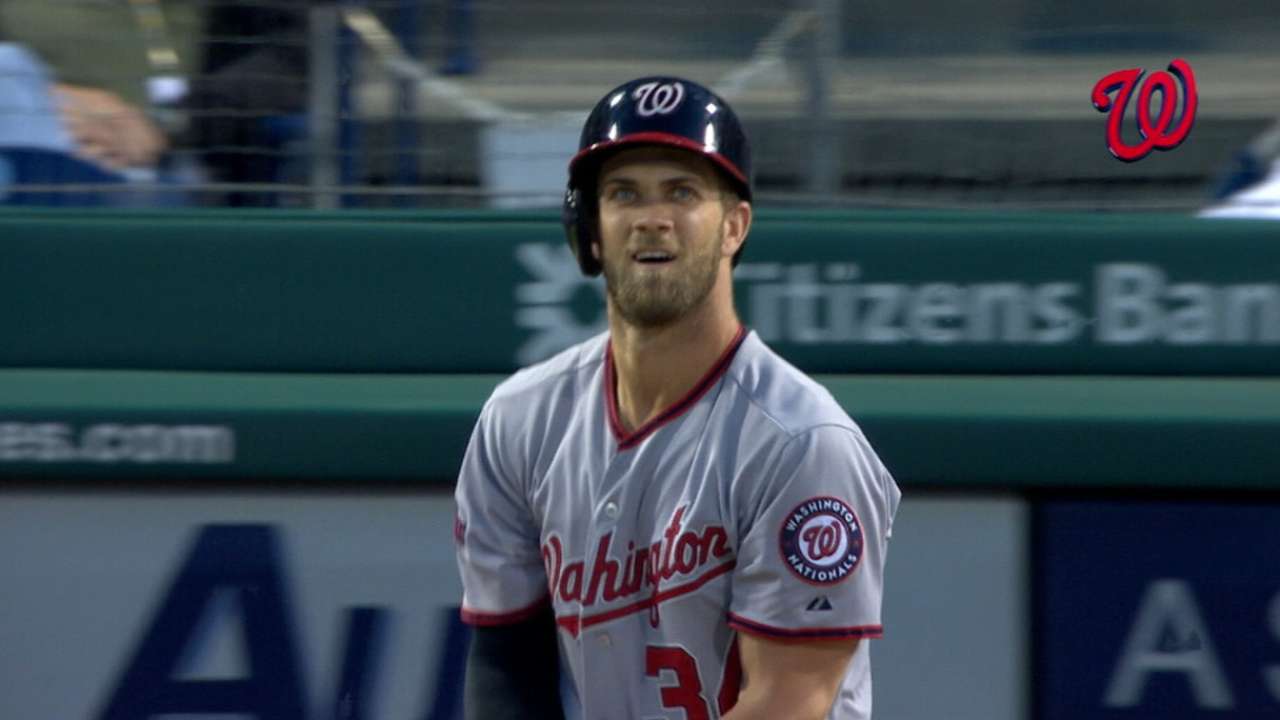 "I'm not putting any limitations on him, I'm not going to put any pressure on him," Baker said. "I'm just [going to] let him be Bryce. The best thing I can do is let him be himself, let him be Bryce. That should be enough."
Harper's arrival in camp Monday ended a busy offseason of appearances that included receiving his MVP award in New York during a historic blizzard; attending Super Bowl 50 while meeting Abby Wambach and Steph Curry; and meeting Dale Earnhardt Jr. and Jimmie Johnson at the Daytona 500 on Sunday.
He also repeated his offseason workout regimen of a year ago, since it helped him stay healthy for a full season, one of his goals again this year. Last season served as proof that if he can remain on the field for a full season and avoid nagging injuries, the results will almost certainly follow.
And perhaps the biggest "limit" Harper would like to overcome is just how far the Nationals can go this season.
"I just want to win. I don't care about accolades or numbers or anything like that," Harper said. "I just want to win ballgames and do everything we can to get to the next level."
Jamal Collier is a reporter for MLB.com. Follow him on Twitter at @jamalcollier. This story was not subject to the approval of Major League Baseball or its clubs.