Beckham hopes to be Braves' starting 3B
Atlanta's new infielder aims to rejuvenate career in hometown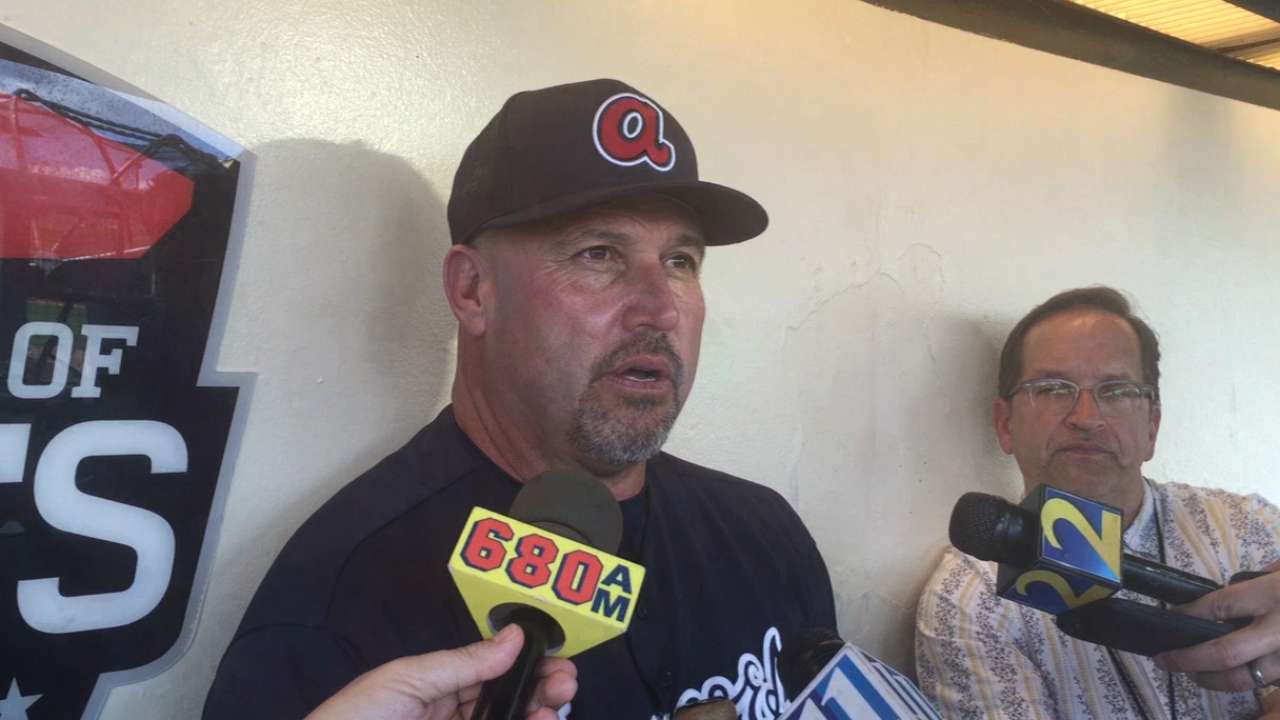 LAKE BUENA VISTA, Fla. -- When the Braves signed Gordon Beckham to a one-year deal in December, they valued his defensive versatility and viewed him as a platoon option with Jace Peterson at second base. But over the course of Spring Training, Beckham wants to prove he is best suited to serve as the club's primary third baseman.
"My goal is to play third every day, and that's what I want to do," Beckham said. "They said I would have an opportunity to do that. I'm just going to take them at their word and go out there with my head down for about a month. Hopefully, at the end of it, that will be where I am at."
• Spring Training: Schedule | Tickets | More info
Although Adonis Garcia and Kelly Johnson are currently slated to share time at third base, Braves manager Fredi Gonzalez said he is keeping an open mind. Beckham has primarily played second base throughout his Major League career, but he manned third base during 76 of the 92 defensive appearances (39 of 48 defensive starts) that he made last year for the White Sox.
Signed, @gordonbeckham. #BravesST pic.twitter.com/HEiym740cR

— Atlanta Braves (@Braves) February 22, 2016
"There are some positions that are open," Gonzalez said. "I like Beckham's attitude."
Beckham has been recognized as a sound defender dating back to his high school days at Atlanta's Westminster School and throughout his collegiate career at the University of Georgia. But from an offensive perspective, he has not lived up to the expectations that were set when the White Sox took him with the eighth overall selection in the 2008 Draft.
Since hitting .270 with 14 homers and an .808 OPS as a rookie for the 2009 White Sox, Beckham has battled inconsistencies at the plate. His offensive struggles reached a new low as he batted .221 and compiled a .615 OPS over the past two seasons.
Live look in @ BP with @gordonbeckham #BravesST pic.twitter.com/VGIz1VKDzI

— Atlanta Braves (@Braves) February 22, 2016
As Beckham aims to rejuvenate his career within the comfort of his hometown, he is encouraged by the fact that he hit .268 and produced a .756 OPS in the 26 games he played after being traded by the White Sox to the Angels for the final six weeks of the 2014 season. After rejoining the White Sox for the entirety of last season, he compiled a .607 OPS and garnered just 237 plate appearances.
"Ultimately, I just needed a new spot," Beckham said. "When I went out to Anaheim a couple years ago, I played really well. I think the fact that I was in a new place really helped me out. I had a lot of expectations in Chicago. For better or worse, it didn't work out for me as well as I wanted it to. Now I'm getting to play in a different stadium and for a new team. There couldn't be a better spot than in my hometown."
Mark Bowman is a reporter for MLB.com. This story was not subject to the approval of Major League Baseball or its clubs.