Peavy still fueled by his patented intensity
Giants right-hander isn't concerned with future beyond this season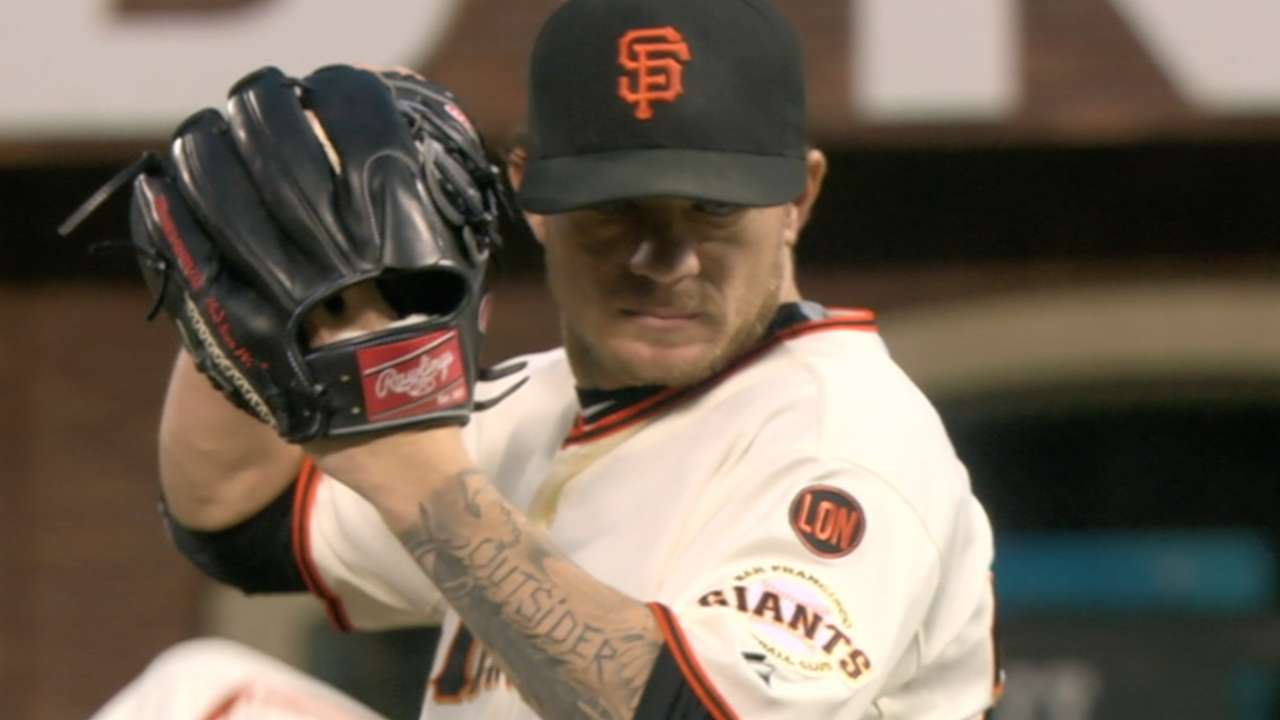 SCOTTSDALE, Ariz. -- If a ballplayer's sheer will could be measured and ranked alongside that of other players, Giants right-hander Jake Peavy would finish annually among the Major League leaders.
Peavy, 34, no longer possesses the electrifying stuff that made him a three-time All-Star and the 2007 National League Cy Young Award winner with San Diego. Nevertheless, he remains a winner, as his performance for the Giants indicates. He's 14-10 with a 2.99 ERA in 31 starts, essentially the equivalent of a full season, since San Francisco obtained him for Minor League pitchers Edwin Escobar and Heath Hembree a few days before the 2014 Trade Deadline. Peavy won six of his last seven decisions that year to propel the Giants into the postseason and on their way to a World Series title, and his 6-4 record with a 2.17 ERA in 12 starts last year helped keep San Francisco competitive in the NL West.
Spring Training: Schedule | Tickets | Gear
"I like to think my time here in a Giants uniform has been indicative of what people think I can do," said Peavy, who's projected to open the season as San Francisco's fourth or fifth starter, on Monday at Giants Spring Training. "I don't how to evaluate it, other than what my numbers say. I'm not sure what they have been since I've been here, but I know that I've been satisfied with who I've been since I've been on the field."
Raise the subject of retirement and Peavy will answer cordially, because he's a gentleman. But he clearly would prefer to address other subjects. With a 147-117 record and a 3.53 ERA over 14 seasons, Peavy just might be good enough to earn the privilege of determining when he'll pitch his final game, instead of leaving that decision to others.
"You know, I don't think that does anybody good to get beyond yourself. You certainly know that it's your last year under contract," said Peavy, whose two-year, $24 million deal expires after this season. "... If you don't stay focused on the day at hand or the task at hand, you're gonna lose what we say we're all about here -- stay in the moment, stay present."
Peavy conceded that he must take a realistic outlook to some degree. He has experienced human frailty. In July 2009, while pitching for the White Sox, Peavy tore his right latissimus dorsi tendon (back, behind shoulder) completely off the bone. Before that, he went on the disabled list with arm and ankle injuries. Since the lat injury, Peavy strained his right adductor (hip) and broke a left rib.
Last year, the Giants witnessed how Peavy plays so hard that it hurts. Lower back inflammation sidelined him after two starts. He didn't pitch again until July.
Peavy thus felt compelled to say, "I certainly don't think this is my last year playing, but I will play as if [it is]. I've done that for years now."
The Giants need not worry about contract status or injuries distracting Peavy. Maintaining focus never has been an issue for him.
"He really hasn't changed," said Giants manager Bruce Bochy, who was San Diego's skipper when Peavy reached the Majors with the Padres in 2002. "When guys see him for the first time, their first impression is how intense he is when he hits the field. He was that way when he was 20 years old. ... That's what you love about him. He still has that drive and intensity you need."
Peavy confirmed that notion.
"I still love the game of baseball," he said. "I still wake up excited to play and to get better, and I still know I can pitch at a high level."
Chris Haft is a reporter for MLB.com. Read his blog, Haft-Baked Ideas, follow him on Twitter at @sfgiantsbeat and listen to his podcast. This story was not subject to the approval of Major League Baseball or its clubs.