MLB.com Columnist
Mike Bauman
Success hinges on health for Yanks' rotation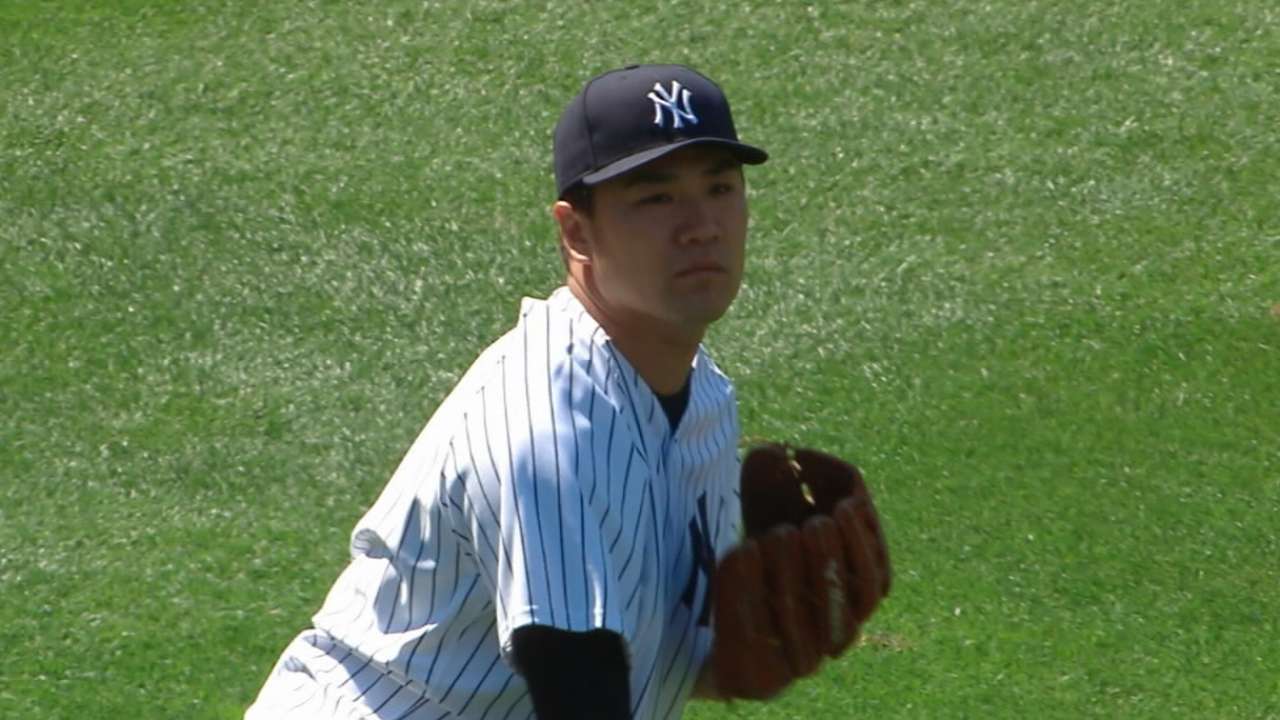 TAMPA, Fla. -- If the 2016 New York Yankees are leading after six innings, they should win at the end of nine.
But it's the six innings before where questions occur. The Yankees' starting rotation could go either way. It is unquestionably a very talented group, but one also prone to something less than full, robust health.
Yanks manager Joe Girardi hit the mark when asked about the rotation Monday at George M. Steinbrenner Field.
"I think it could be really good," Girardi said. "I think you have experience, you have power, you have different types of pitchers in this rotation, so I think it could be very good. Health is always such a concern. I mean, it really is. It's around baseball, it's not just here. So your depth becomes very important."
The strength of the Yankees' pitching staff is a bullpen built from the back end, in the style of the defending World Series-champion Kansas City Royals. In addition to two hard-throwing, highly effective late-inning relievers, Andrew Miller and Dellin Betances, the Yanks added an even harder thrower, Aroldis Chapman.
This is an imposing, perhaps even intimidating back-of-the-bullpen trio. Chapman could be subject to a suspension from Major League Baseball for an alleged incident of domestic violence. But when all three are available, the Yankees will be serious trouble for opposing lineups in innings seven through nine.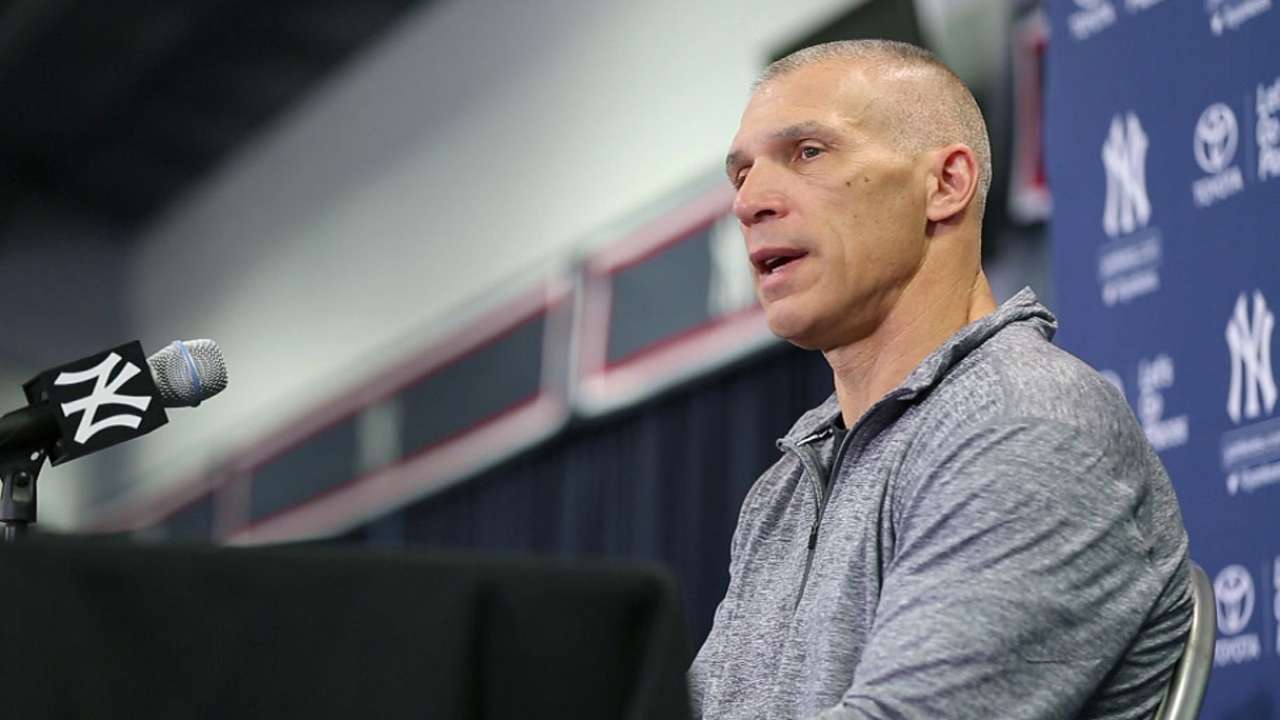 The rotation appears as a much-less certain commodity. At the top of the rotation, Masahiro Tanaka has already had a partially torn right elbow ligament, for which he chose to have non-surgical treatment. This offseason, he had a bone spur removed from the elbow.
Tanaka threw a bullpen session Monday and the appropriate authorities were impressed.
"He's where we want him to be," said pitching coach Larry Rothschild. "So far, there have been no hitches or anything, so we'll just keep progressing, and hopefully it stays that way."
"I thought he looked where he's supposed to be at right now," Girardi said. "He didn't look behind to me. I felt good about it. He felt good about it, which is probably more important."
Tanaka agreed that he felt good about the session and his entire body, including obviously his right elbow, also felt good. But he declined to predict whether he would be ready to pitch on Opening Day.
"I just don't think it's the right time, or the appropriate time, to answer that," Tanaka told reporters through an interpreter. "I just have to take it day by day and see where that takes me."
Tanaka said of the condition of the elbow: "It's clearly better than pre-surgery."
Tanaka has stated that he wants to pitch 200 innings this year. He has only made 44 starts over the past two years, working 154 innings last year.
"I think it's reasonable. I don't think it's a bad goal to have," Rothschild said. "But we need to break it down into how to get to the 200 innings and what that's going to be throughout the year."
Michael Pineda has terrific stuff, although last year he compiled a 4.37 ERA over 160 2/3 innings. From 2012-14, he made only 13 starts due to injuries.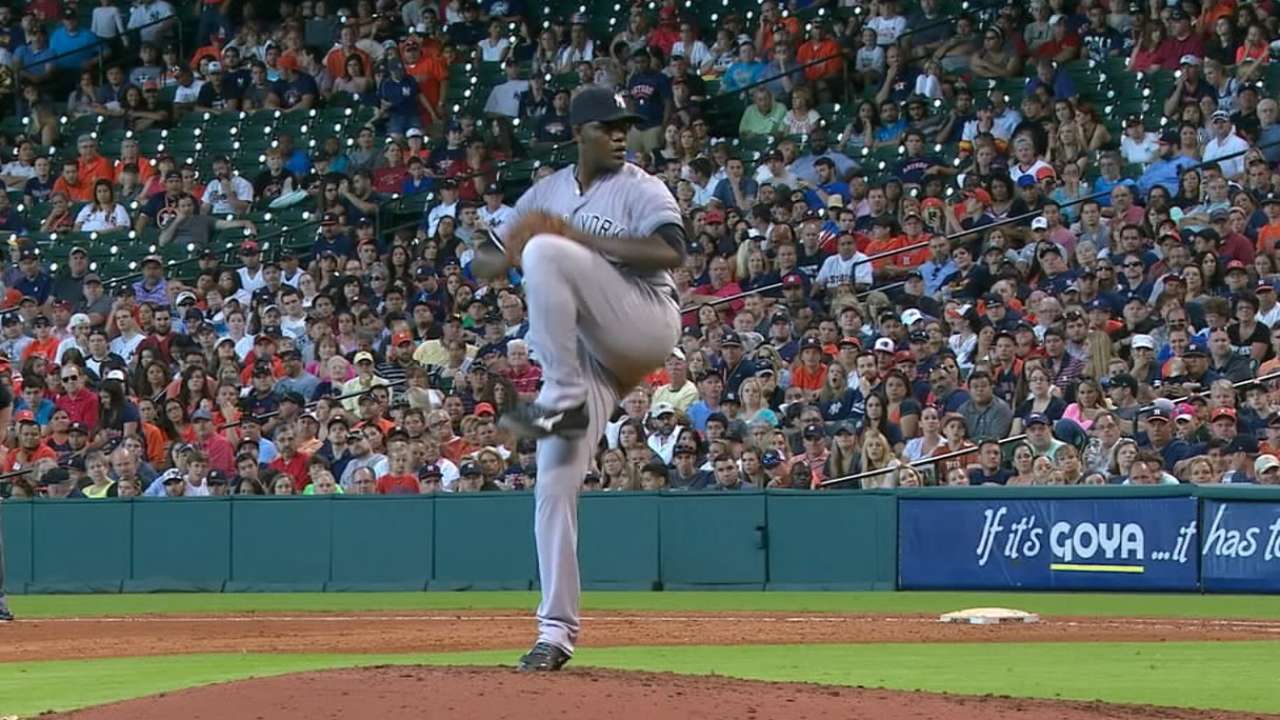 Nathan Eovaldi throws a fastball in the high 90s, and he had a record of 14-3 last season. But his other numbers didn't support that sort of record. Eovaldi had a 4.20 ERA over 154 1/3 innings. Opponents hit .285 against him.
Luis Severino is just 22, but he made a strong impression in 2015, going 5-3 with a 2.89 ERA in 11 starts.
Girardi was asked if Severino could eventually be an ace.
"I think putting that type of pressure on a young man is an awful lot to ask," Girardi replied. "I think he has a chance to be very good, I do. When you look at his stuff, his demeanor, his work ethic, all those signs are positive. So when you look at him, you project him to be really good."
The fifth rotation spot at this point is a contest between CC Sabathia and Ivan Nova. Sabathia has a degenerative knee, and last year was the third straight season in which he gave up more hits than innings pitched, after never doing that in the first 12 seasons of his career. The Yankees were encouraged when he put up a 2.17 ERA in his five final starts.
Nova has been with the Yanks for portions of six seasons. He has shown promise in the past, but he finished 6-11 with a 5.07 ERA in 17 starts last season after coming back from Tommy John surgery. Nova's command was not as good as it had been earlier in his career, although that is a fairly common initial outcome for pitchers returning from elbow reconstruction surgery.
With good health in the rotation, and that bullpen coming in to nail down victories with regularity, one can project a very successful season for the Yankees. But projecting that kind of health for this rotation is not a sure-thing proposition.
Mike Bauman is a national columnist for MLB.com. This story was not subject to the approval of Major League Baseball or its clubs.