Braves camp sparks fond memories for Inciarte
Outfielder took childhood trip to Spring Training with late father, who was Atlanta fan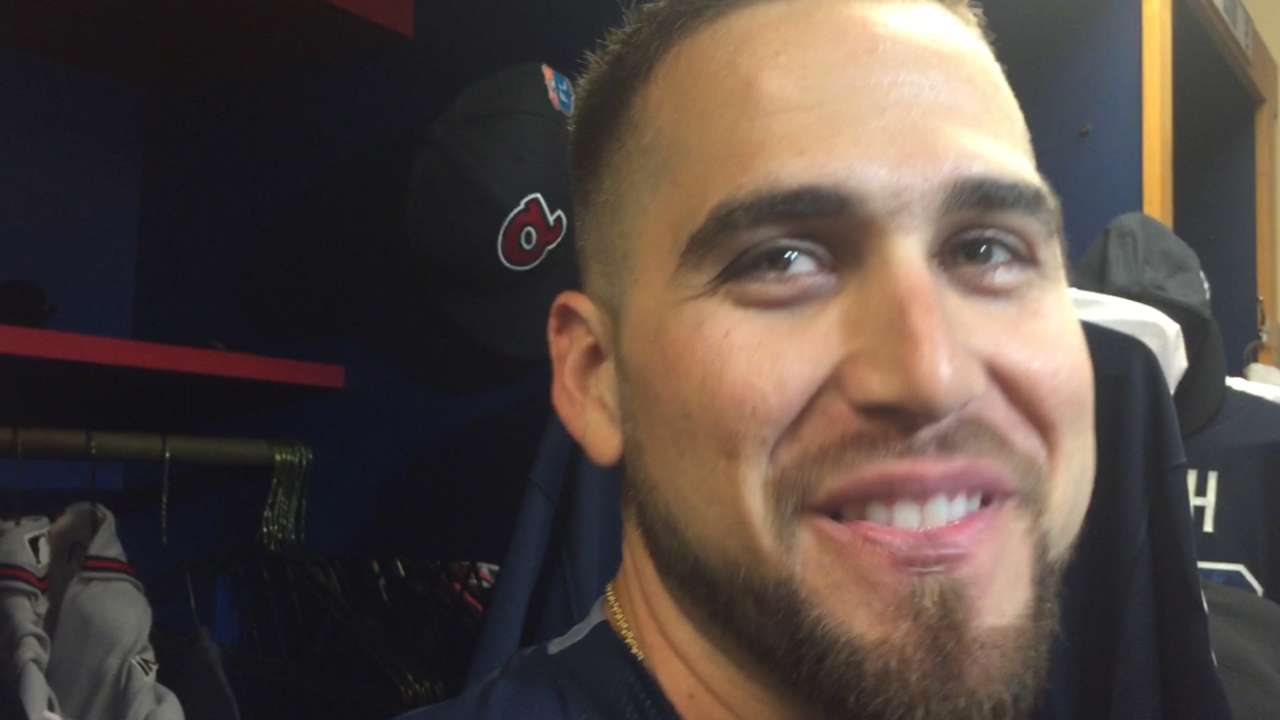 LAKE BUENA VISTA, Fla. -- As Ender Inciarte spends the next six weeks working out and playing at the ESPN Wide World of Sports Complex, he will draw upon fond memories of the childhood trip he made here from his native Venezuela with his late father, who was a Braves fan.
"[My father] said, 'I know it's a lot to ask, but I want you to play like Chipper Jones," Inciarte said. "I said, 'Hey man, that's a lot to ask.' But he was a Braves fan. It's not like I was a fan of the team, but I just used to like to watch their games."
• Spring Training: Schedule | Tickets | More info
Nearly five years after his father died, Inciarte finds himself with the opportunity to enrich his blossoming career with the Braves, who acquired the outfielder via the blockbuster trade that sent Shelby Miller to the D-backs on Dec. 9.
"I was surprised [by the trade] because I went to Arizona on Dec. 4 to try on their new uniforms and everything," Inciarte said. "Then a couple days later, I got traded. I was like, 'OK, I just tried on the uniforms.' At the beginning, I was confused, but a couple days later, I was really happy with the trade because I heard these people saying they want me in the lineup and they want me playing center field."
After reporting to Braves camp on Monday morning, Inciarte seemed to find immediate comfort within his new surroundings. He interacted with many of his new teammates before taking batting practice and renewed acquaintances with Braves bullpen coach Eddie Perez, who has previously served as the outfielder's manager in the Venezuelan Winter League.
Cage featuring @Enderdavid18. #BravesST pic.twitter.com/vrL25CPhRH

— Atlanta Braves (@Braves) February 22, 2016
"He kind of reminds you of Martin Prado from the left side with a little more speed and that kind of energy and work ethic," Braves manager Fredi Gonzalez said. "He's a plus defender with a plus arm."
Along with hitting .303, notching 21 stolen bases and compiling a .747 OPS for the D-backs last year, Inciarte ranked second among Major League outfielders with 29 Defensive Runs Saved. He is slated to begin this year as Atlanta's leadoff hitter and center fielder. But his versatility and arm strength allow him to capably fill any of the outfield positions.
"I'm glad that I got the attention from other teams and the Braves think I can really help them, so I'm here and I'm excited," Inciarte said. "I'm here to prove I can play here for a long time."
Mark Bowman is a reporter for MLB.com. This story was not subject to the approval of Major League Baseball or its clubs.