Brantley reiterates desire to return by opener
Indians left fielder may not be back by then, but progressing well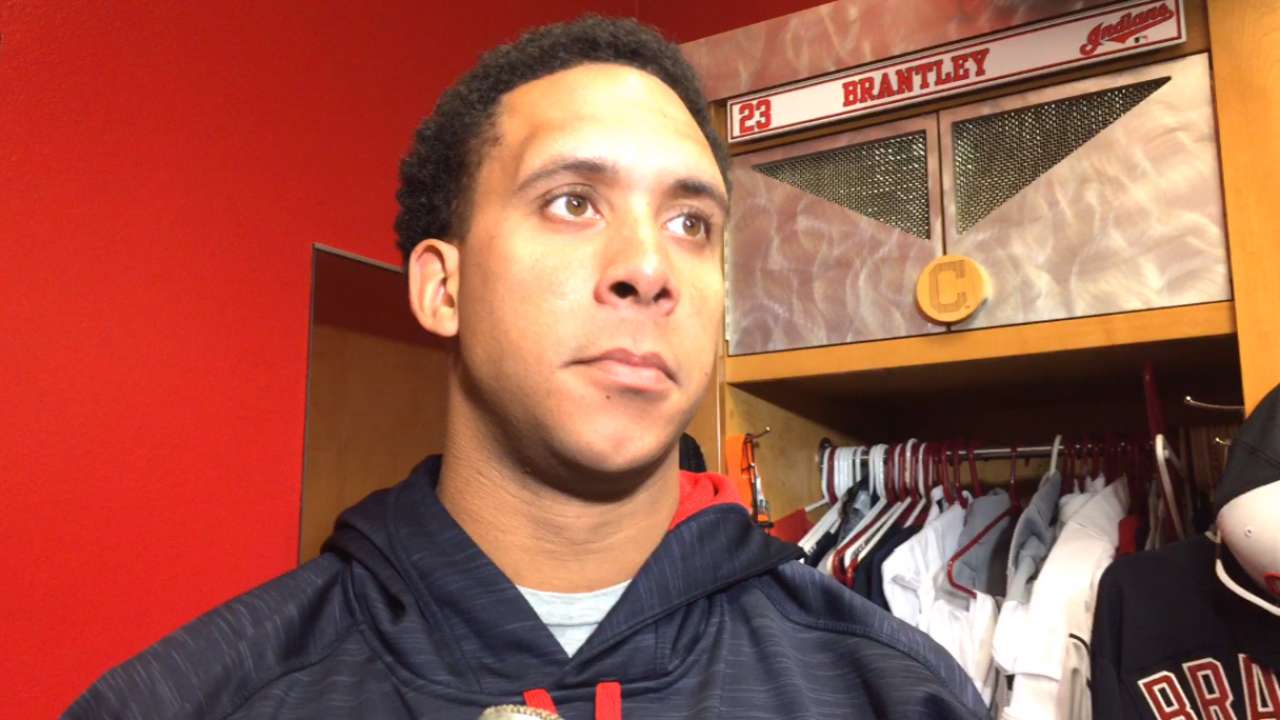 GOODYEAR, Ariz. -- Optimism is always overabundant during the spring. It was overflowing again in Cleveland's camp Monday morning, when Indians left fielder Michael Brantley held court with reporters, flashed a wide smile and continued to claim Opening Day as the goal for his return.
Reality does not always align with optimism, but Brantley's progress from offseason surgery on his right shoulder certainly appears more than positive in the early stages of Spring Training. In a matter of days, Brantley has gone from simply swinging a bat to hitting baseballs off a tee, fueling the Tribe's hope that he will be ready sooner rather than later.
• Indians' Spring Training info
"I want to be back as soon as I can. That's Opening Day," Brantley said. "And if it's not Opening Day, whenever I can get back to help my teammates. They're working real hard in spring and so am I, and the sooner I can get out there with them, the happier I'm going to be."
Those teammates are keeping a close eye on Brantley, too.
When Brantley headed outside the Indians' spring complex with a bat in hand Monday, shortstop Francisco Lindor stopped in his tracks in a hallway. Lindor watched the left fielder exit the building and then yelled out a question.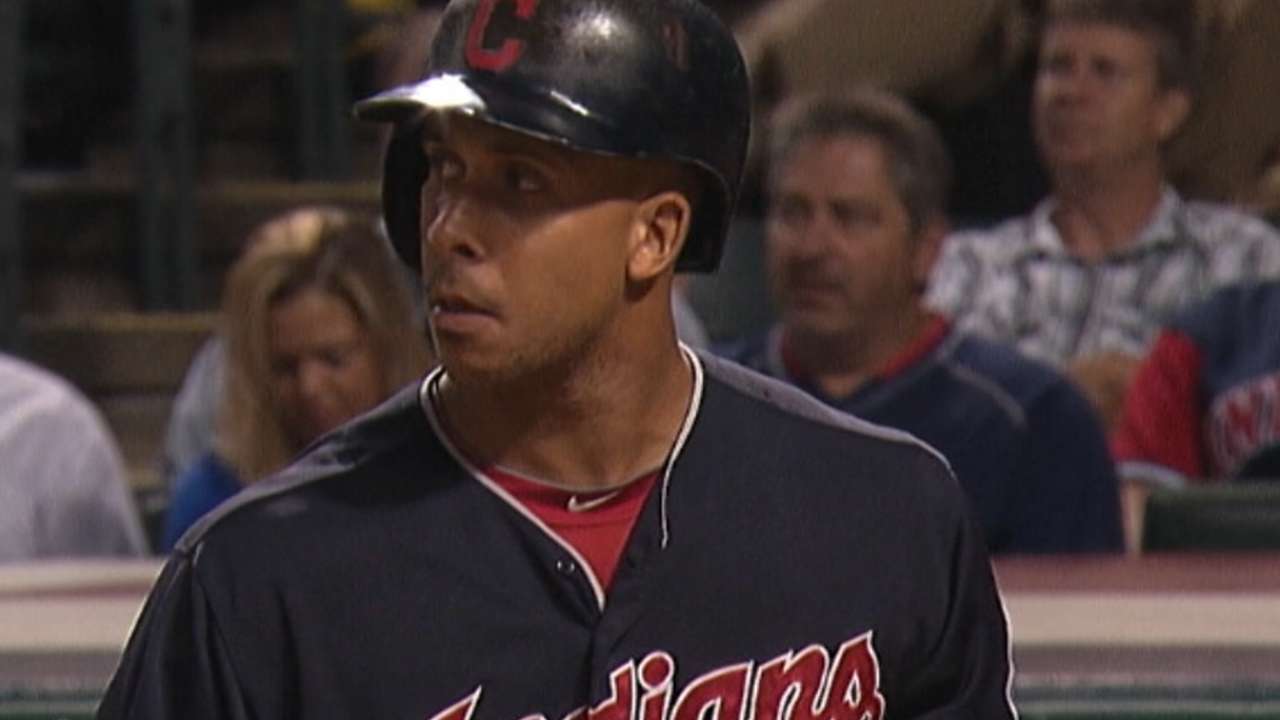 "Where are you going?" Lindor said.
"I'm hitting," Brantley replied.
"Hitting? Or, just swinging?" Lindor shot back.
"Hitting," Brantley shouted.
Brantley held court this morning. Has advanced to hitting off tee. Maintains that Opening Day is his target. pic.twitter.com/aSCCX2OGAu

— Jordan Bastian (@MLBastian) February 22, 2016
Both the Indians and Brantley plan on being smart with this process.
The initial timetable after Brantley underwent surgery in November to repair a labral tear was five to six months, putting his return date somewhere between April and May. Brantley will likely miss Opening Day -- no matter how good the outfielder has felt so far this spring -- but might be back earlier than first predicted.
During the Winter Meetings in December, a report circulated that Brantley's comeback could be delayed until as late as August. That was news to Brantley, who spent the bulk of his winter rehabbing in Cleveland and was surprised when his phone buzzed with messages about the ominous report.
"I hadn't had a re-check with the doctors," Brantley said. "I kind of laughed. At the same time, I got a lot of texts and a lot of phone calls from family members and friends asking what happened. It was something that was kind of far-fetched. I hope that doesn't come true. It was just something that was kind of misreported."
Cleveland will hold its first full-squad workout Tuesday and Brantley said he plans on participating as much as possible. Beyond the gradual hitting program that he is working through, the outfielder is able to run, throw and field without restrictions.
Indians manager Terry Francona met with Brantley on Monday morning to discuss Spring Training and the season ahead, and to go over the ongoing rehab process. Francona said he has confidence that Brantley will not push himself too hard, too soon, risking a setback.
"I love the fact that he's pushing," Francona said, "because I think he's getting better quick, which is good. But, I think he's got a good grasp of things. He's already assured us that he'll be very honest and that's good enough for us. There's a lot of trust there that he's built up, as should be. He deserves that."
Brantley went through a workout, but took day off from hitting drills Thurs. Francona: "He's got a lot of hurdles." pic.twitter.com/hd4BUFR5MB

— Jordan Bastian (@MLBastian) February 18, 2016
Brantley also understands his importance to the Tribe.
Two seasons ago, Brantley finished third in voting for the American League Most Valuable Player Award, earned an All-Star nod and picked up a Silver Slugger Award. Last year, while fighting through a variety of health issues, Brantley hit .310 with 15 home runs, 45 doubles, 84 RBIs and more walks (60) than strikeouts (51).
Hitting is Brantley's passion, so it pained him not to be able to swing for the past few months.
Needless to say, Brantley is feeling much more upbeat right now.
"Anytime I have a bat in my hands, I'm happy," he said.
Jordan Bastian is a reporter for MLB.com. Read his blog, Major League Bastian, follow him on Twitter @MLBastian and listen to his podcast. This story was not subject to the approval of Major League Baseball or its clubs.