Trade talk adds to Cactus Media Day buzz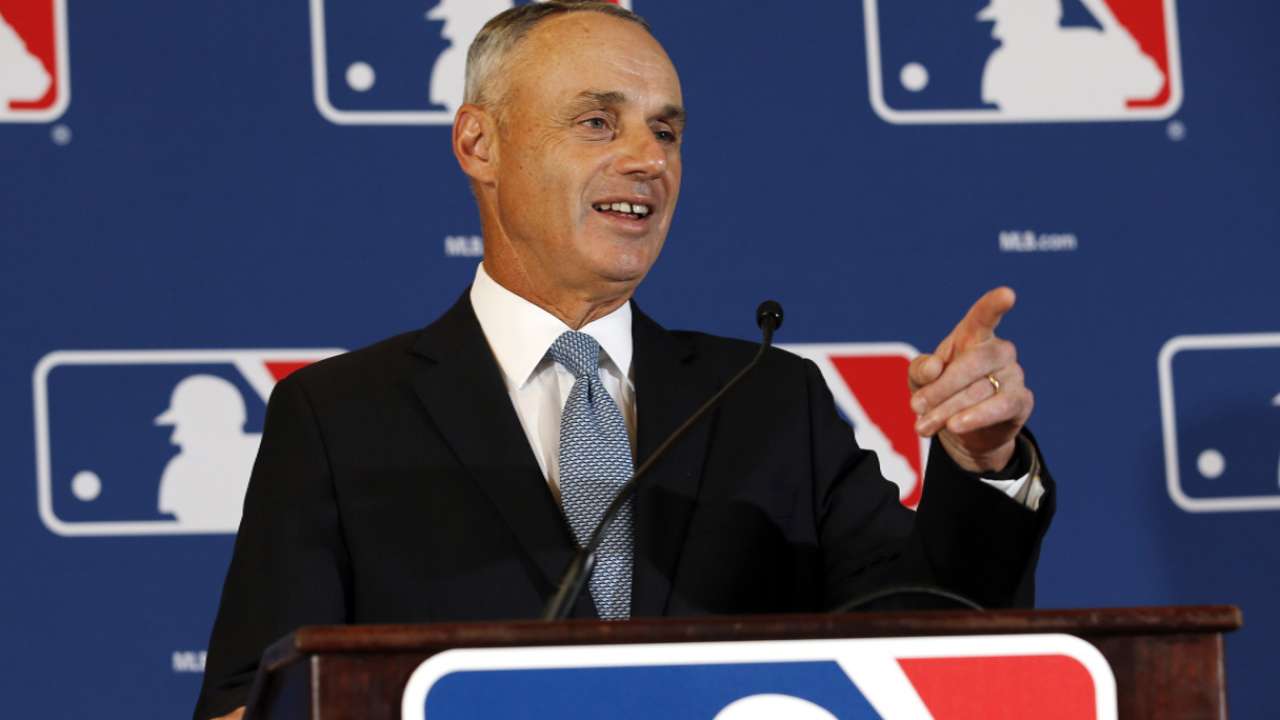 On a day that saw the Blue Jays reportedly discuss a three-team trade for slugger Jay Bruce and former MVP Jimmy Rollins agree to a Minor League deal with the White Sox, MLB Commissioner Rob Manfred took the stage Monday at the fifth annual Cactus League Media Day in Phoenix, where MLB.com was on the scene.
Reports surfaced late Monday night that a trade sending Bruce to the Blue Jays, fellow outfielder Michael Saunders to the Angels and prospects to the Reds was in jeopardy, and on Tuesday, Ken Rosenthal of FoxSports.com reported that the deal was off due to a medical report involving one of the other players in the deal. None of the three clubs has commented on or confirmed the status of the reported trade.
The Blue Jays made additional news on Monday, with veteran Jose Bautista discussing the parameters of an extension he hopes to sign.
White Sox sign Rollins to Minor League deal
During his media availability, Commissioner Manfred touched on a variety of topics, including domestic violence cases, implementing new technology and the debate over the designated hitter.
Justice: Manfred highlights game's advances
MLB is monitoring three alleged domestic violence cases -- Rockies shortstop Jose Reyes, Yankees left-hander Aroldis Chapman and Dodgers outfielder Yasiel Puig -- and Manfred said "we have made additional progress" since discussing the topic Friday during the first-ever Grapefruit League Media Day and "we're close to having an announcement with respect to at least two of the three." Reyes is the only one of the three who has been charged, though MLB's collectively implemented domestic violence policy reserves the right to discipline players even if they have not been charged with a crime.
• Spring Training: Coverage | Map | Schedule
Manfred cited technology as a theme MLB wants to build on in 2016.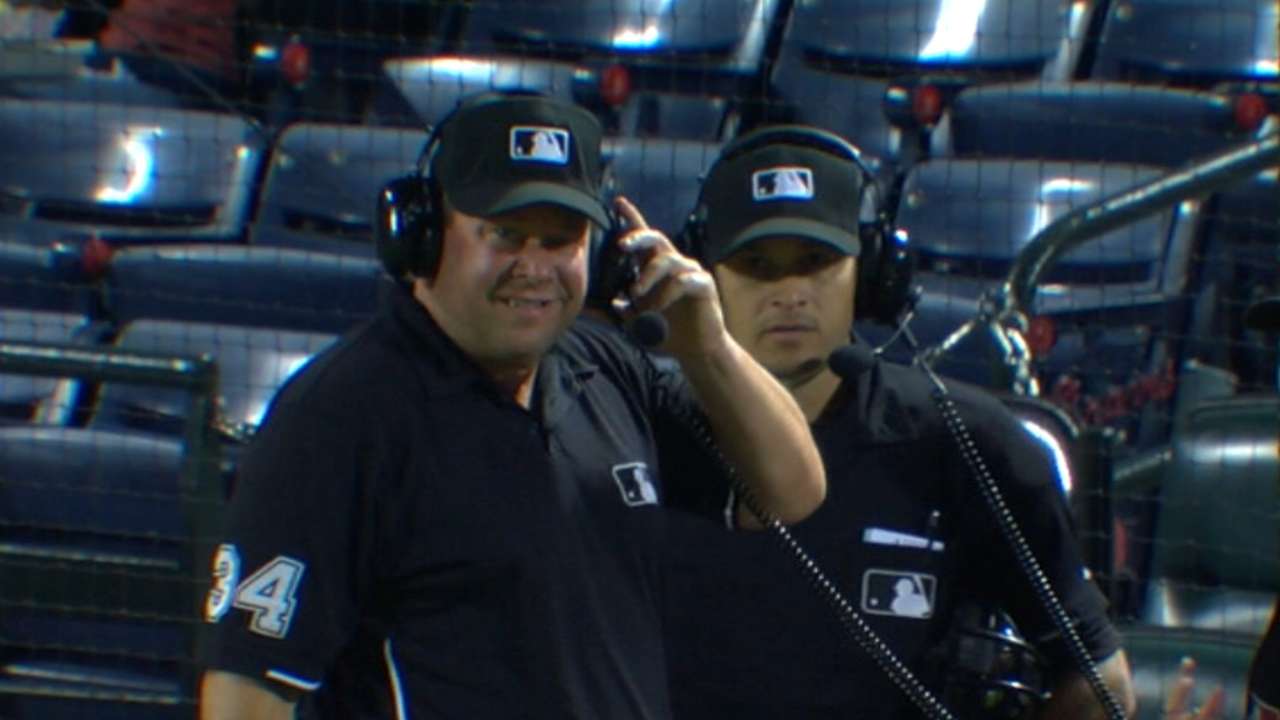 "We're going to do some really interesting things in the technology area with respect to fan engagement and we'll have some announcements about that in just the next couple of days," Manfred said.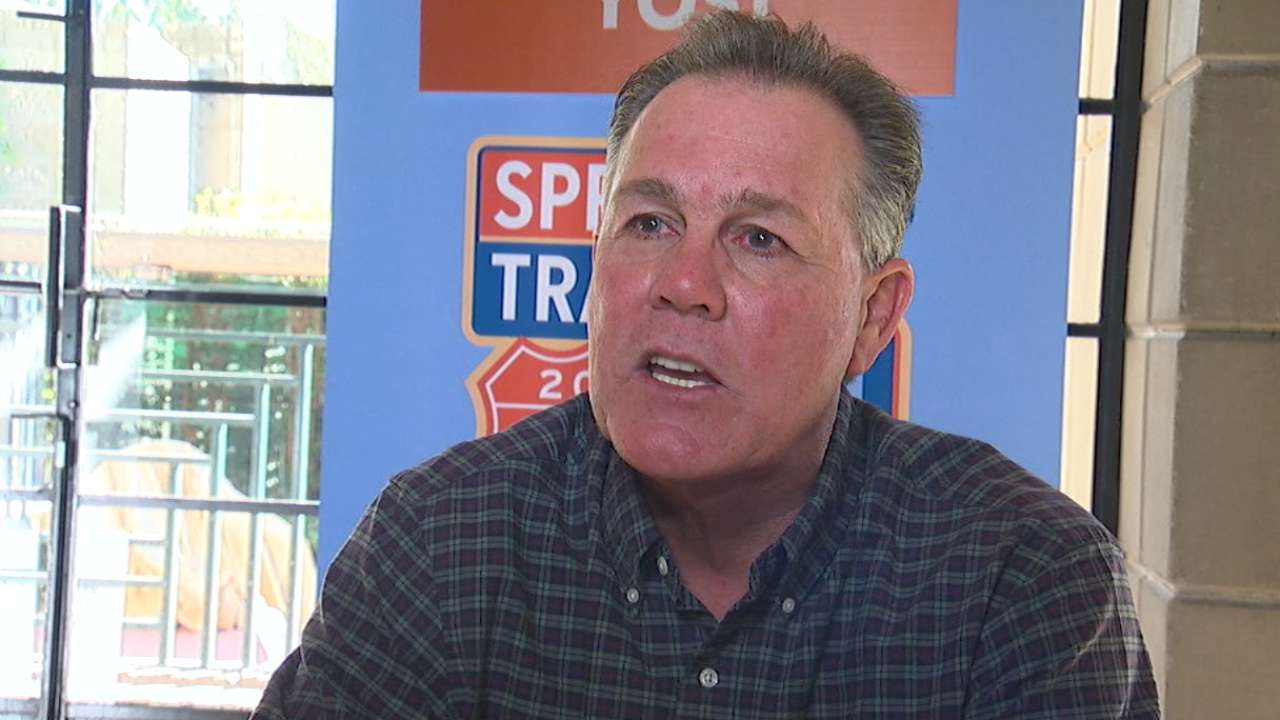 In regards to some recent debate over bringing the DH to the National League, Manfred said an immediate change is unlikely and offered some reasoning for preserving the status quo.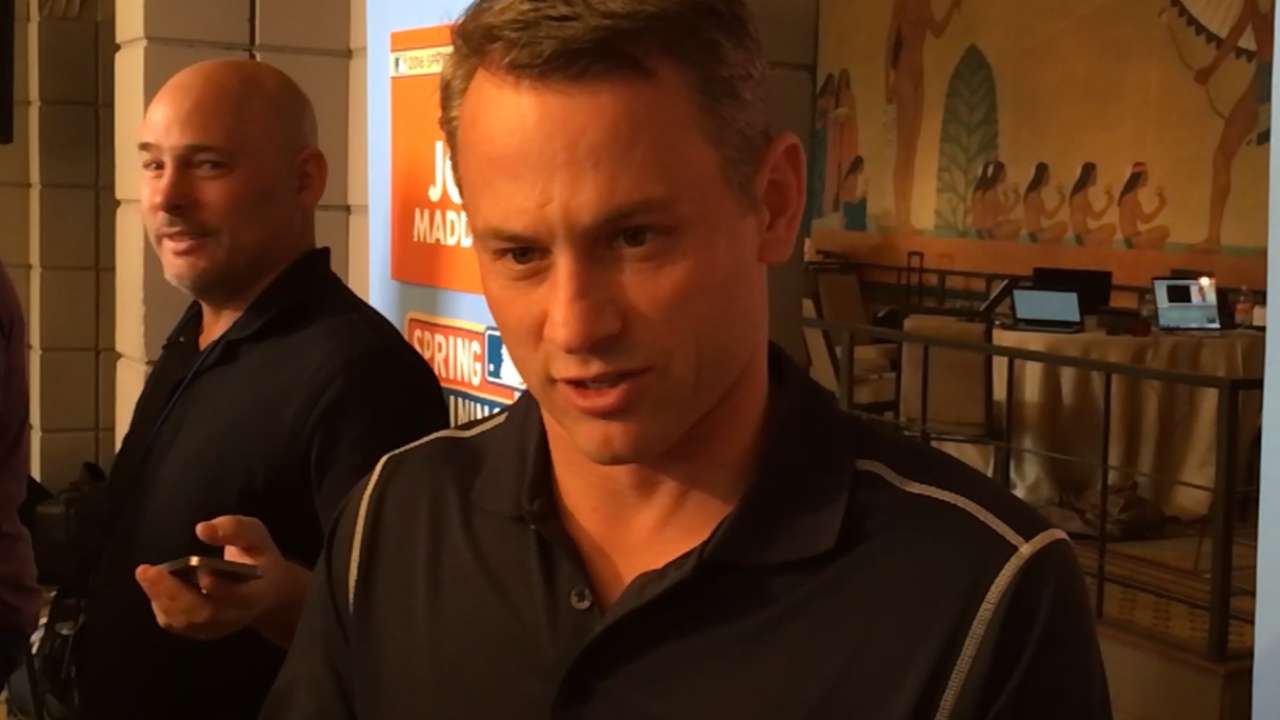 "The principle differentiator between the two leagues is the DH, and I would be really reluctant in the age of Interleague Play to give up that differentiator," he said. "I think it is a really interesting aspect to our game."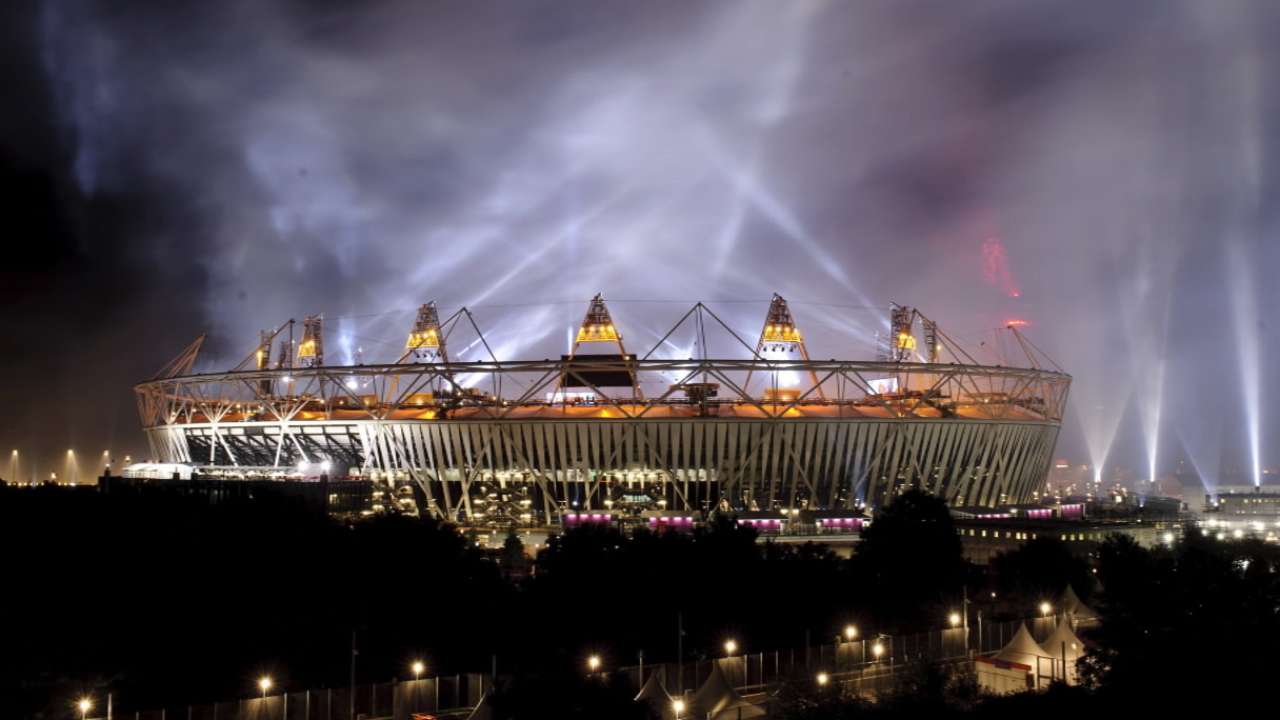 After Commissioner Manfred's news conference, the general managers and managers from the 15 clubs training in Arizona held court in two hour-long sessions, and our reporters were there to get the latest on the key issues facing each team.
Here is a club-by-club breakdown of each team in the desert. Join the conversation on social media with the hashtag #MediaDayAZ.
Angels
Position players are slated to report for their physicals on Tuesday, at which point manager Mike Scioscia can begin to see what he'll get out of his offense, by far the biggest question facing his team as Spring Training ensues.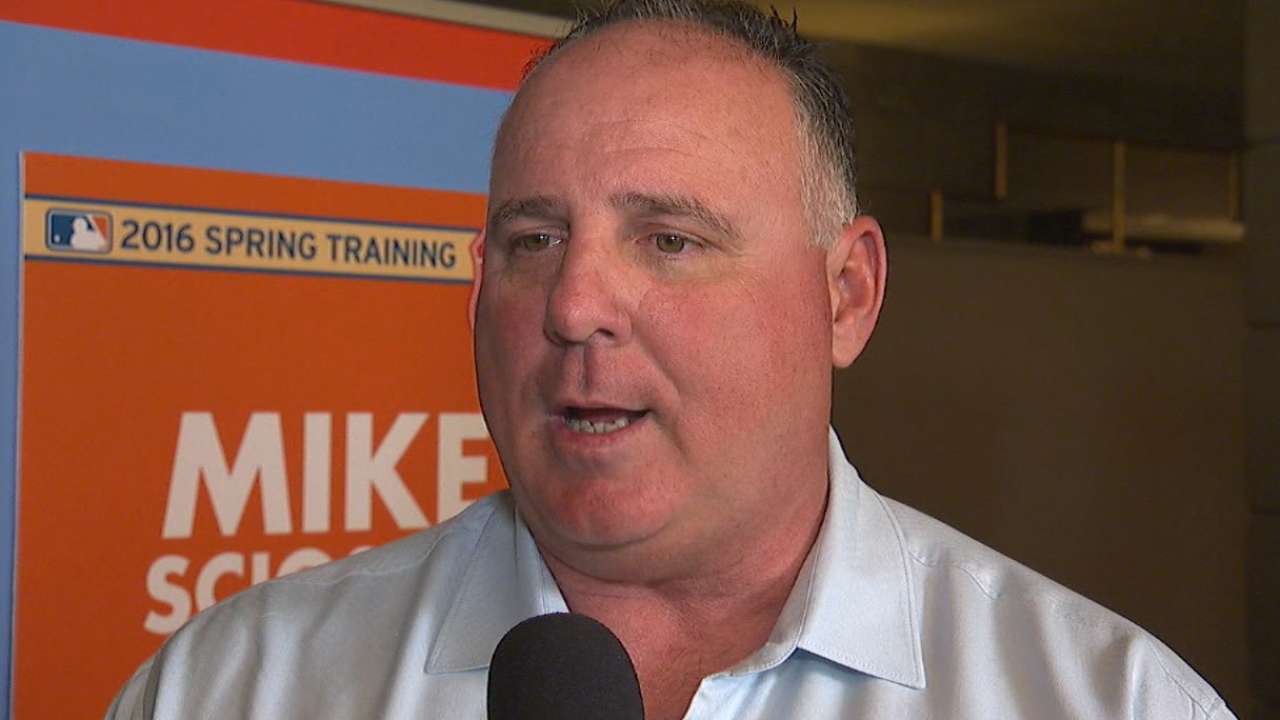 The Angels finished last season 20th in the Majors in runs and enter 2016 with Albert Pujols questionable for Opening Day and left field unresolved.
The biggest issue, in Scioscia's mind, is providing Mike Trout with enough opportunities to drive in runs. More >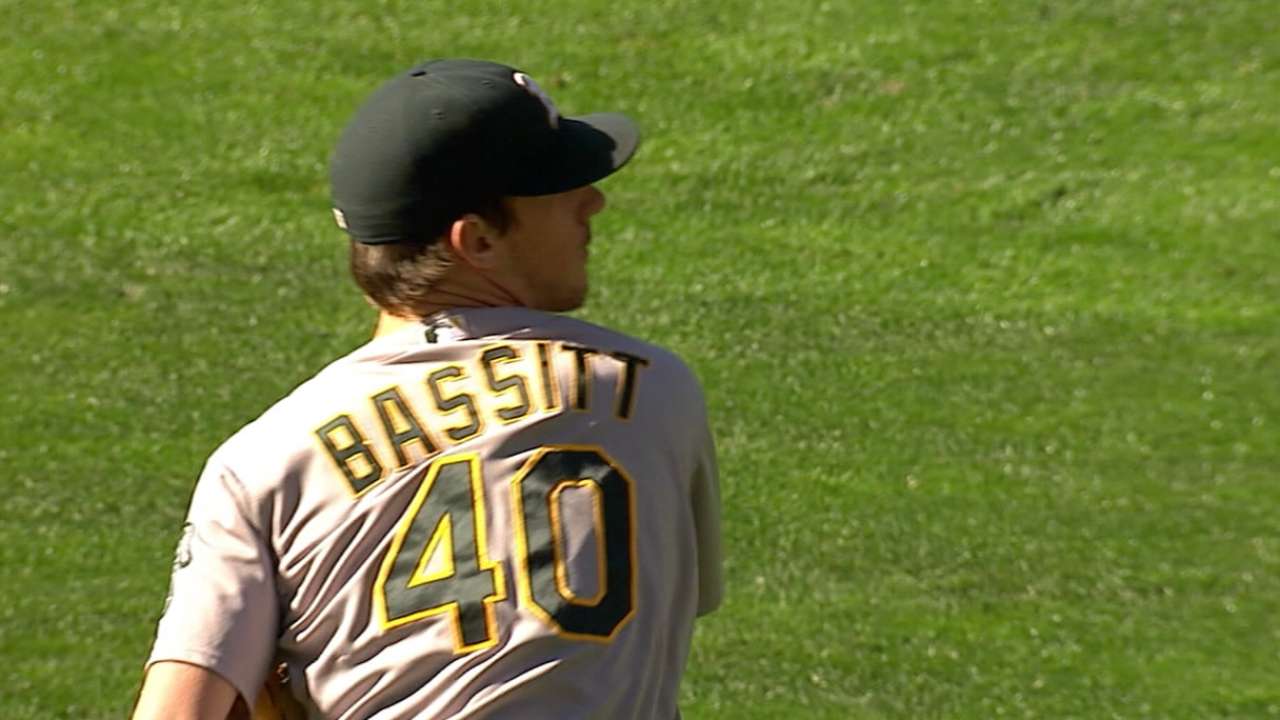 Athletics
The A's enter camp with a slew of starters readying to battle for three rotation spots. Will they stretch out two-time Tommy John patient Jarrod Parker as a starter?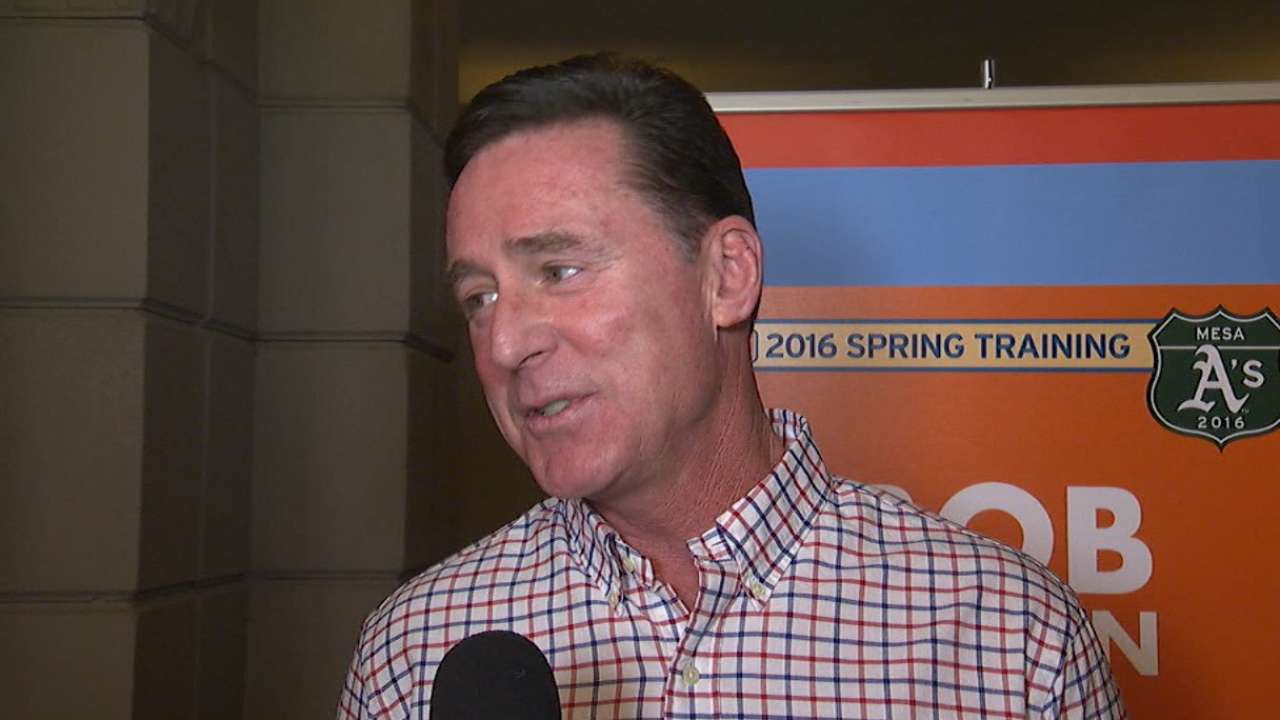 The right-hander, once a key member of Oakland's rotation, hasn't thrown in a big league game since Oct. 7, 2013. So for now, Parker is happy pitching again, off a dirt mound, next to a handful of teammates doing the same thing, simply keeping in motion with the rhythmic routines of spring.
"Rehab is a lonely, lonely experience, especially when you're having to do it multiple times, and to be part of a group and part of everything from the first day forward I know makes him feel a lot better," manager Bob Melvin said. More >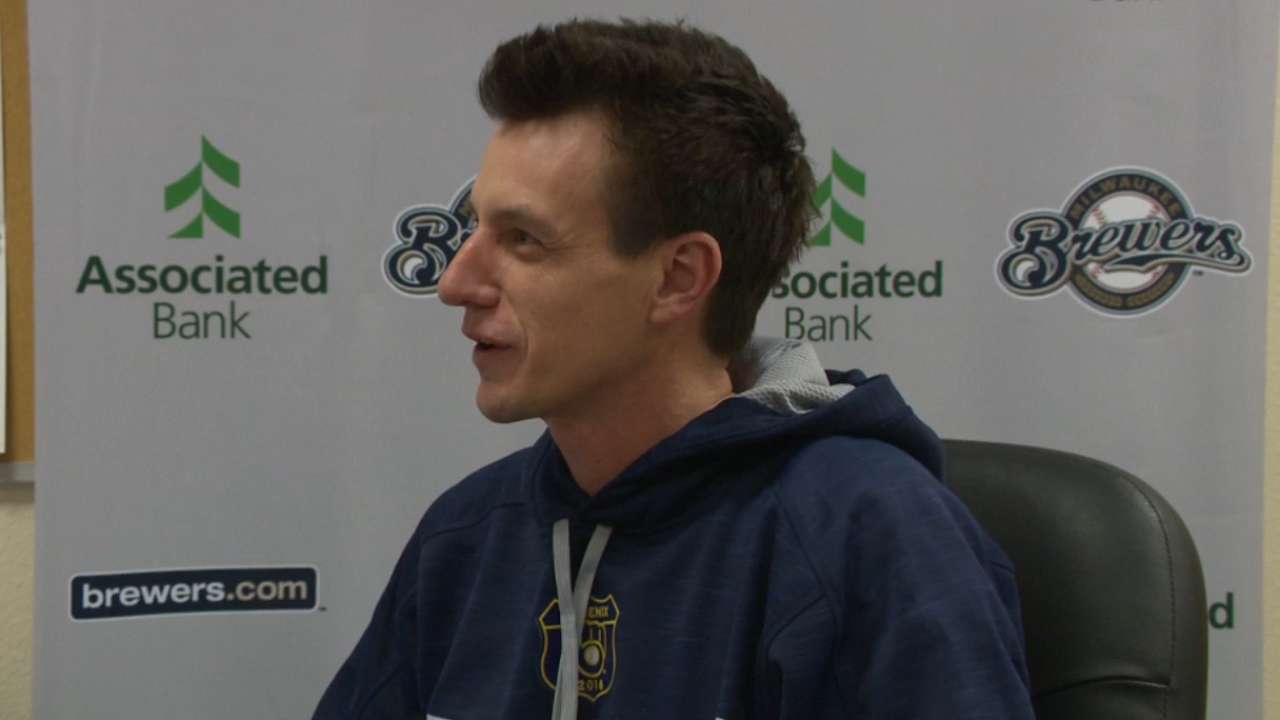 Brewers
Manager Craig Counsell doesn't plan to populate the clubhouse with magicians or zoo animals, a la Cubs counterpart Joe Maddon. But Counsell said he does want his first Spring Training at the helm to be "uncommon."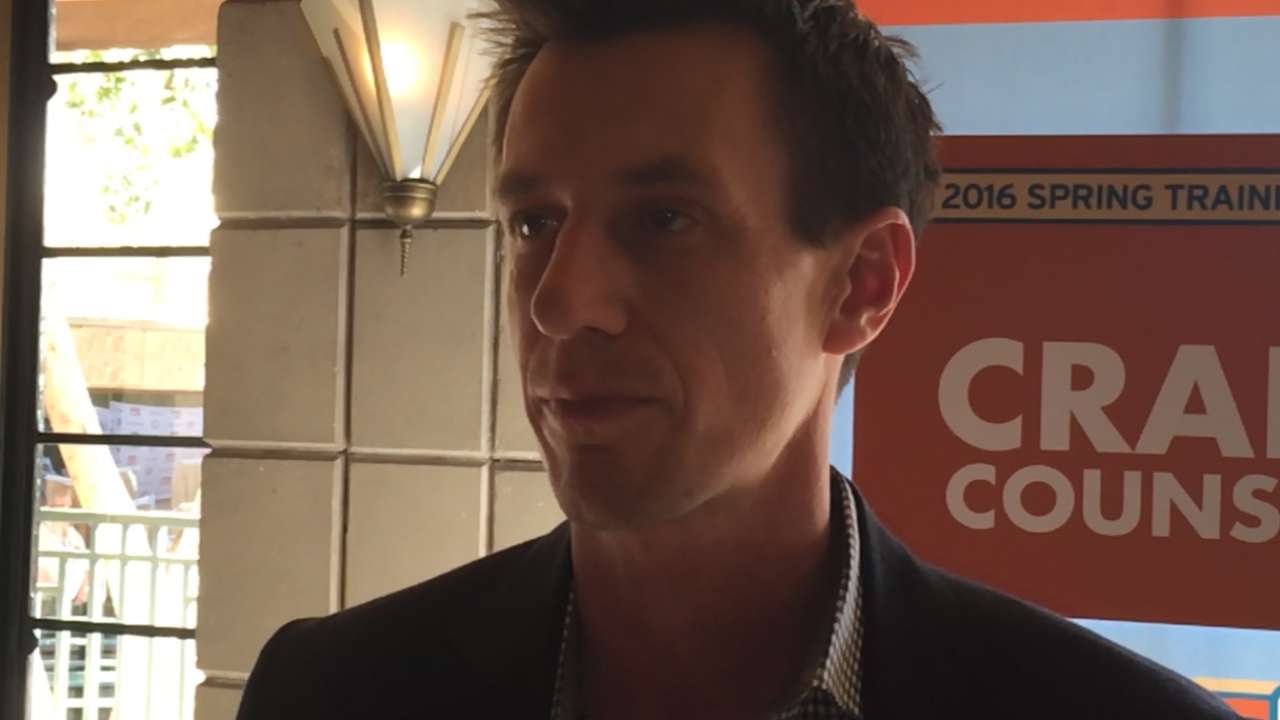 That process won't begin in earnest until Thursday, when the team takes part in its first full-squad workout. But before Counsell can spell out his vision for his first full managerial season and beyond, he first needs to put faces to all of the new names in camp.
"I think [players getting to know each other] is kind of an organic thing," Counsell said. "We're not having mixers." More >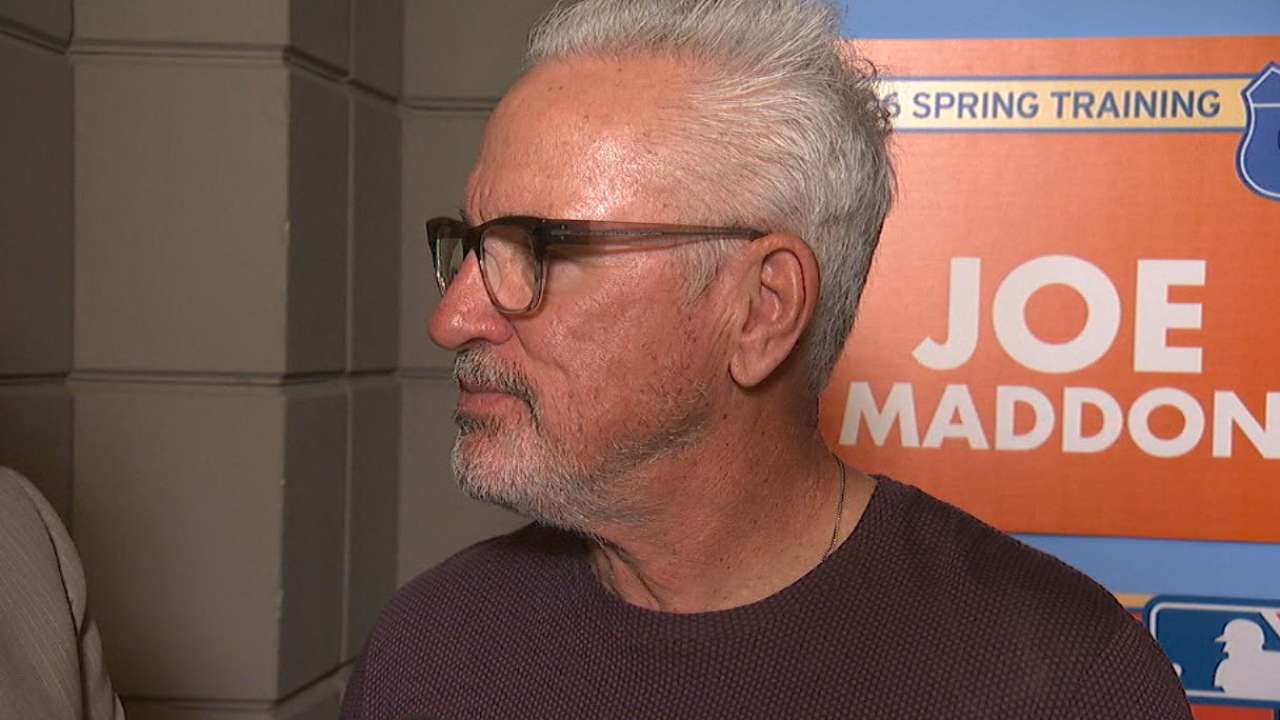 Cubs
After winning 97 games and reaching the postseason in 2015, Cubs manager Joe Maddon doesn't think his players will have any more pressure to deal with this season. His goal is to make sure they "embrace the target" and stay focused on the simple aspects of each day.
"Work hard, have fun." -@CubsJoeMadd #MediaDayAZ pic.twitter.com/Q32RjOABvV

— Chicago Cubs (@Cubs) February 22, 2016
There will be no discussion about ending any curses, real or imaginary, associated with the Cubs, who have not won a World Series since 1908.
"I've never really dealt with the word 'curse' -- I don't believe in those kind of things," Maddon said, "but I understand why people would talk in those terms. What it's about is how we handle the day properly." More >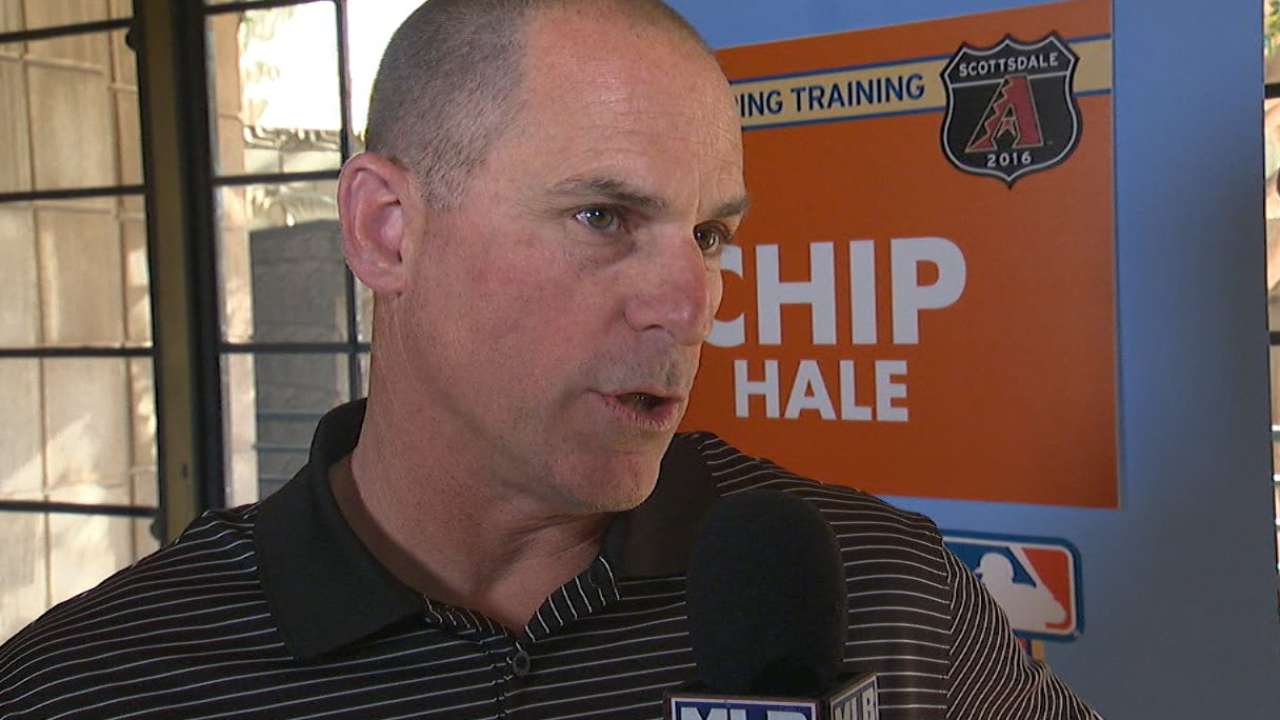 D-backs
As the signing of Zack Greinke and the acquisition of Shelby Miller suggest, there is no disputing the D-backs are doing everything they can to win in 2016.
But team officials do dispute the popular notion that in the process of trying to win now, they've left their farm system barren or significantly hampered their future.
"I've tried to do what you should do, which is build youth in your pitching so that you have these guys for a long period of time," GM Dave Stewart said. "That was my goal when I got here -- to build our system, to put players back in our system and to help the development side as much as I could." More >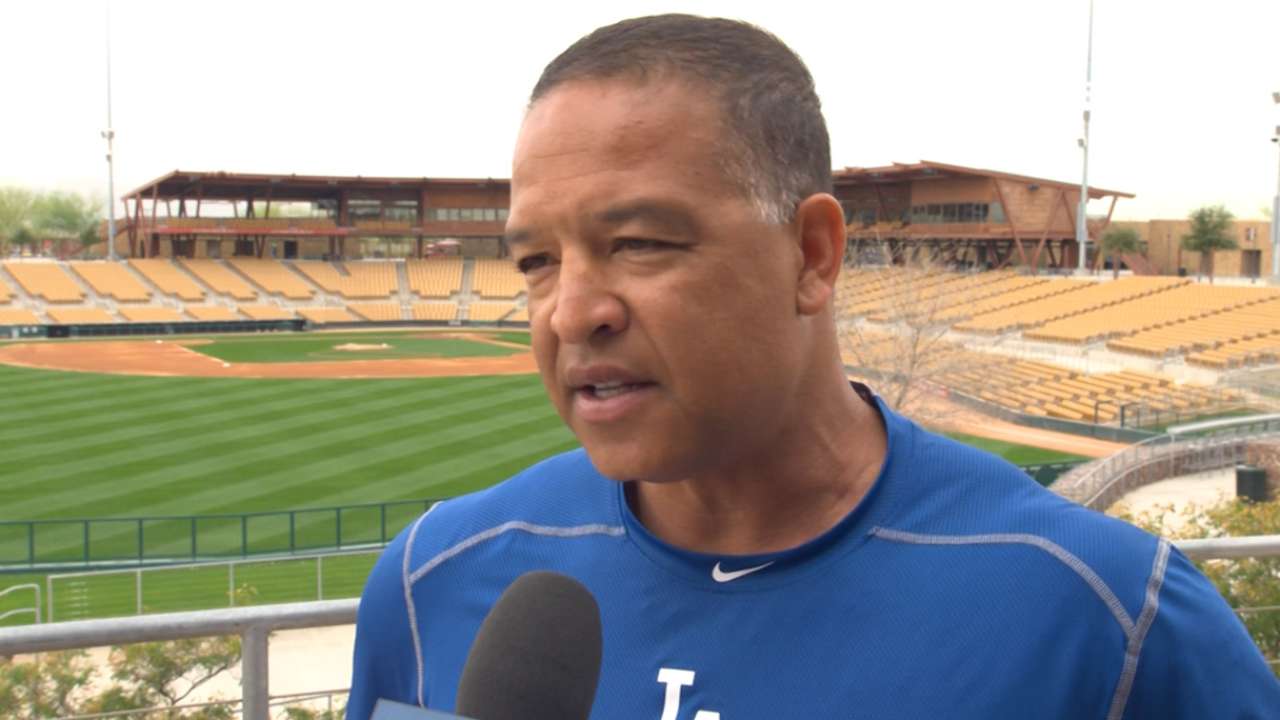 Dodgers
Can the Dodgers pull off a youth movement and win a World Series at the same time? Here they are with one of the most daring balancing acts in sports, trying to thread the needle by implementing a sustainable player personnel model without swallowing the bitter pill of losing.
The skipper at Media Day. #DodgersST

: @JonSooHooPics pic.twitter.com/Rf54sRXKU1

— Los Angeles Dodgers (@Dodgers) February 22, 2016
"I think the biggest challenge is trying to find where your real levers are in terms of what you are willing to do to acquire talent," GM Farhan Zaidi said at Monday's Cactus League Media Day.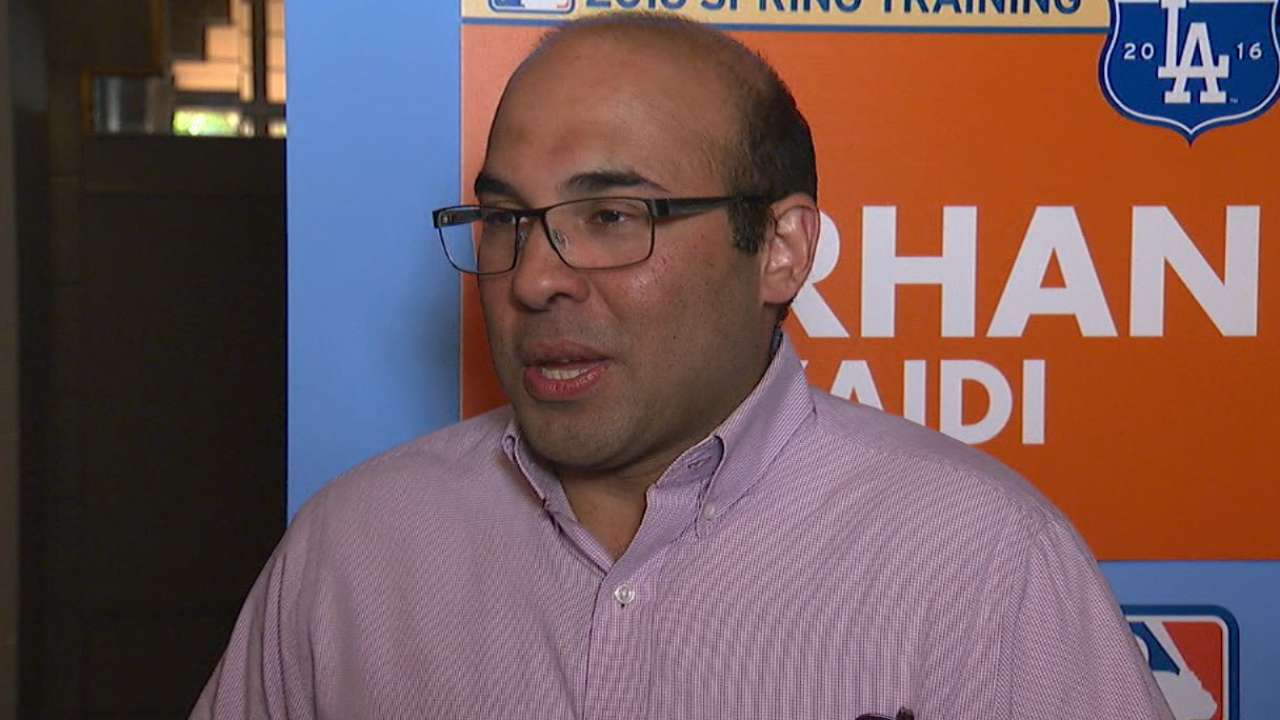 Zaidi said the front office is well aware of the World Series drought and the impatience of Dodgers fans but said management also is committed to developing talent rather than always being the highest bidder. More >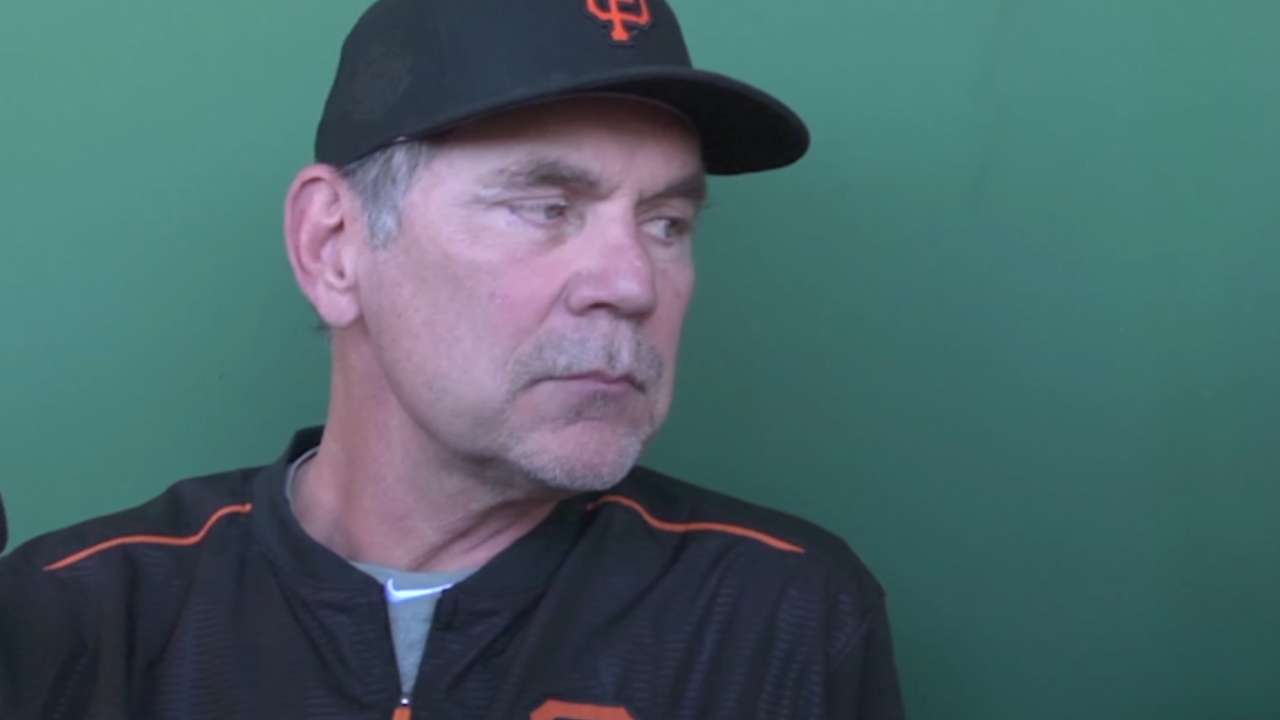 Giants
One way to ensure that players are fresh through the summer is not to tax them during the spring. The Giants were affected in almost every possible area by injuries to key players last year. So although the club's key players enter Tuesday's initial full-squad workout in apparent good health, manager Bruce Bochy intends to preserve their freshness as much as possible by regulating their Cactus League activity.
"We'll monitor his time," Bochy said of new addition Denard Span. "I think you'll see him get a little more rest than normal in the early go, just to get in baseball shape." More >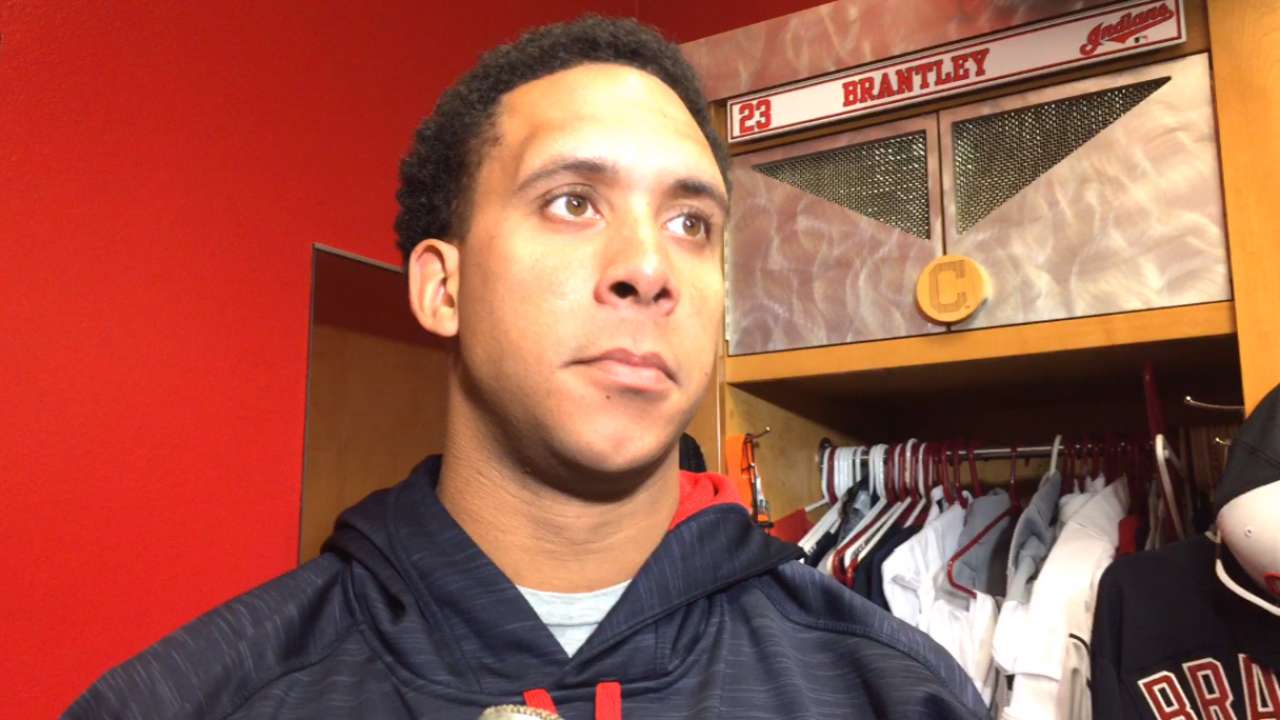 Indians
Reality does not always align with optimism, but Michael Brantley's progress from offseason surgery on his right shoulder certainly appears more than positive in the early stages of Spring Training. In a matter of days, Brantley has gone from simply swinging a bat to hitting baseballs off a tee, fueling the Tribe's hope that he will be ready sooner rather than later.
Brantley hit off a tee again this morning. Smiled and gave reporters a thumbs up as he headed back to the clubhouse.

— Jordan Bastian (@MLBastian) February 22, 2016
Both the Indians and Brantley plan on being smart with this process. Manager Terry Francona met with Brantley on Monday morning to discuss Spring Training and the season ahead. Francona said he has confidence that Brantley will not push himself too hard, too soon, risking a setback.
"I love the fact that he's pushing," Francona said, "because I think he's getting better quick, which is good. But, I think he's got a good grasp of things." More >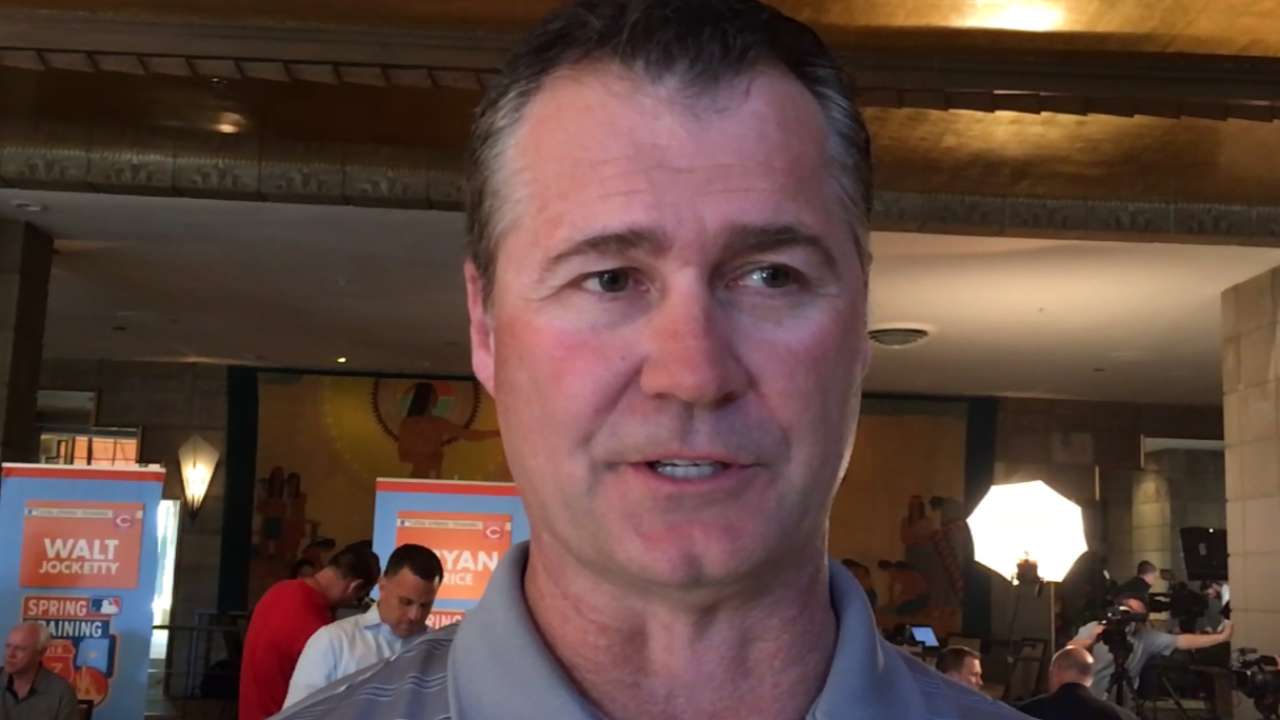 Mariners
New manager Scott Servais knows that nothing gets second-guessed more than bullpen decisions. And nothing hits a team harder than blown leads late in games.
Excited for what is developing. @Mariners pitching staff, in the first few days, is looking great! Excited to get back to the park tomorrow!

— Chris Iannetta (@Chris_Iannetta) February 22, 2016
New GM Jerry Dipoto has almost entirely revamped the relief crew this offseason, but the question remains: Have the Mariners solidified their bullpen with the addition of numerous "bounceback" candidates? For a team that wants to lean heavily on pitching and defense at Safeco Field, that answer figures to weigh heavily on how Servais fares in his first go-round. More >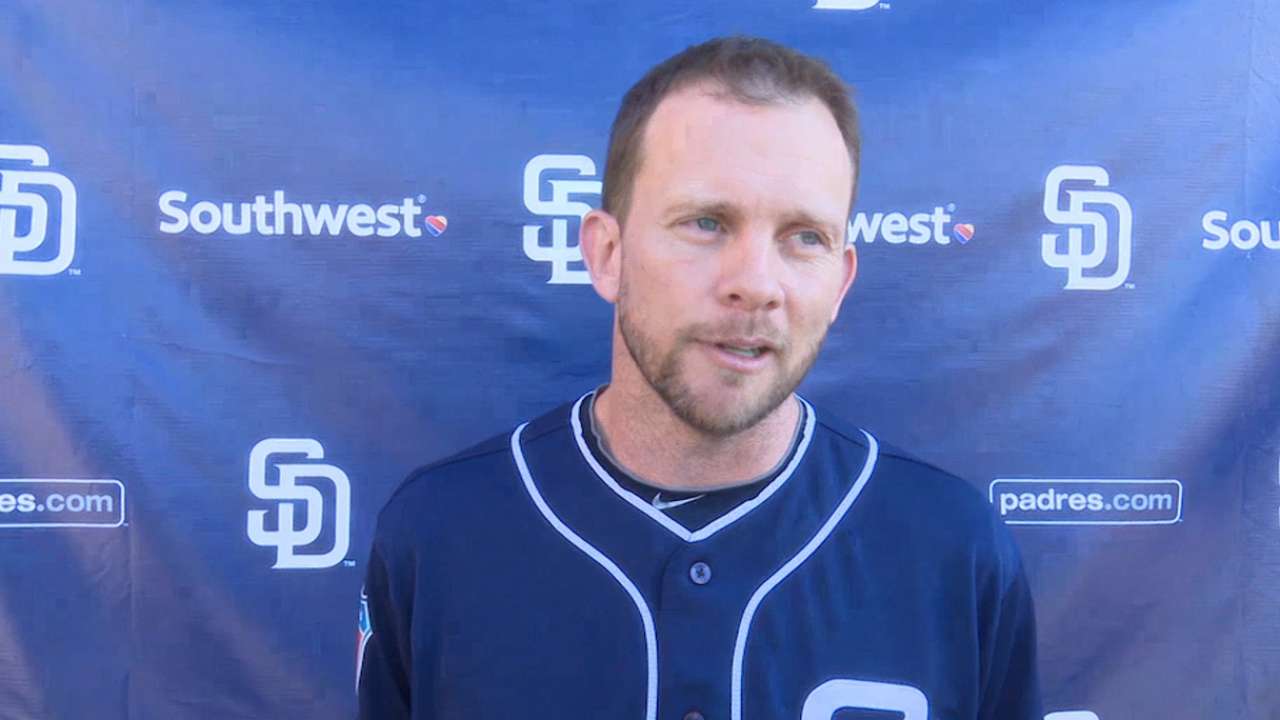 Padres
There are certainly big questions and a lot of competition for manager Andy Green and GM A.J. Preller to watch this spring, as two key questions need to be answered: Who will win jobs at the back end of the rotation and who will comprise the new-look bullpen?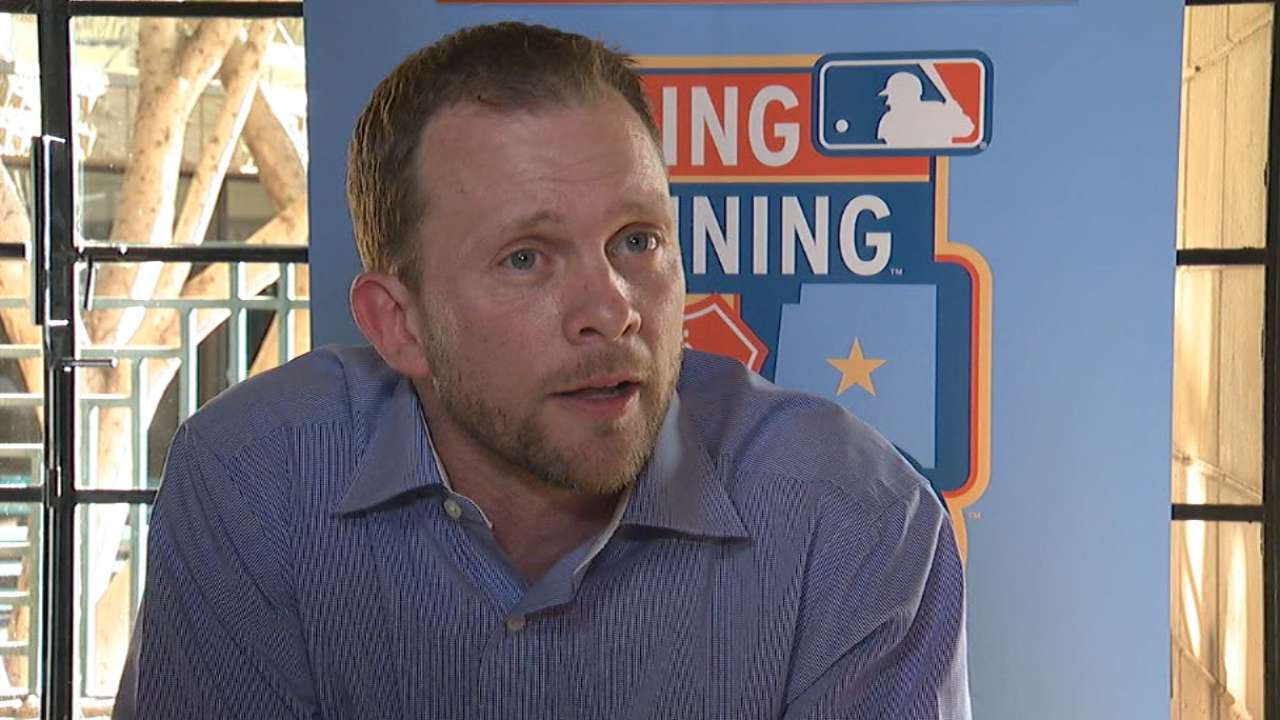 The Padres, who have generally hung their hat on strong pitching, didn't do that nearly as well in 2015, which is partly why the organization has brought in so many newcomers to camp. More >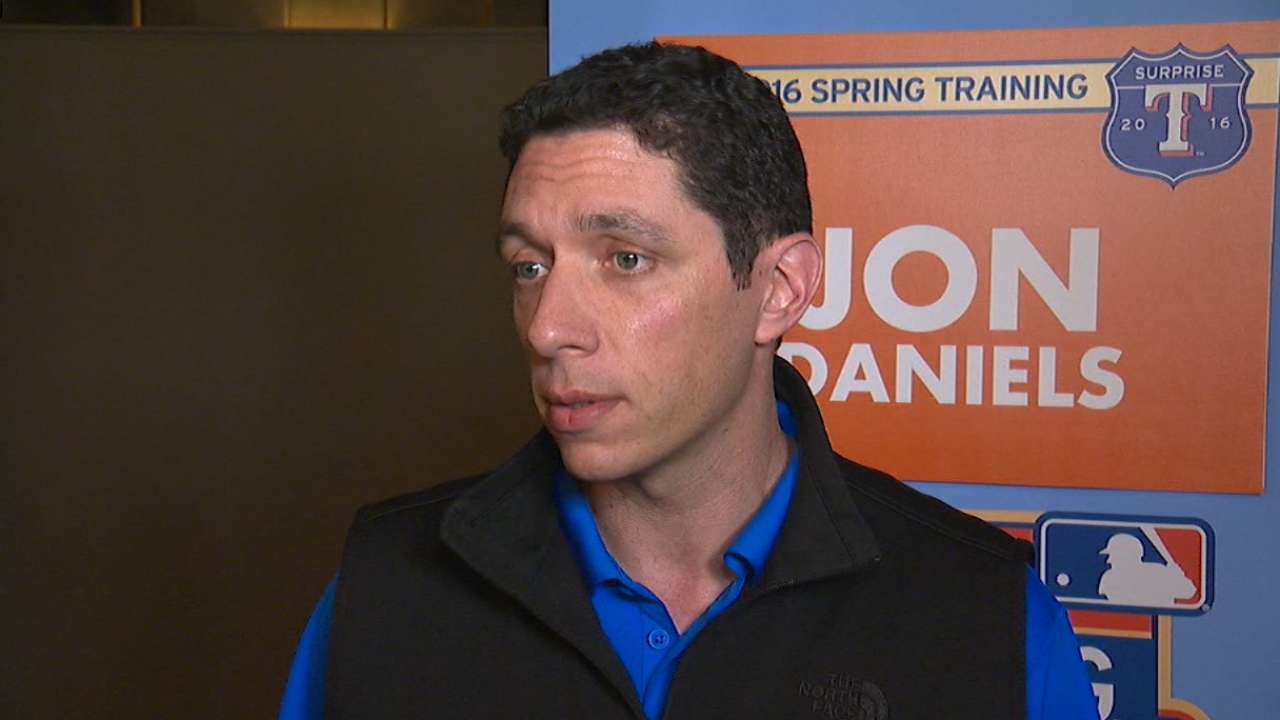 Rangers
Outfielder Josh Hamilton, who had surgery on his left knee after last season to clean out the cartilage but continued to experience soreness through the winter, is seeking a second opinion.
That's left the Rangers considering their internal options behind him in left field and monitoring the outfielders remaining on the free-agent market. "We have interest in a couple of guys out there, and we have expressed that in the right circumstances," GM Jon Daniels said. More >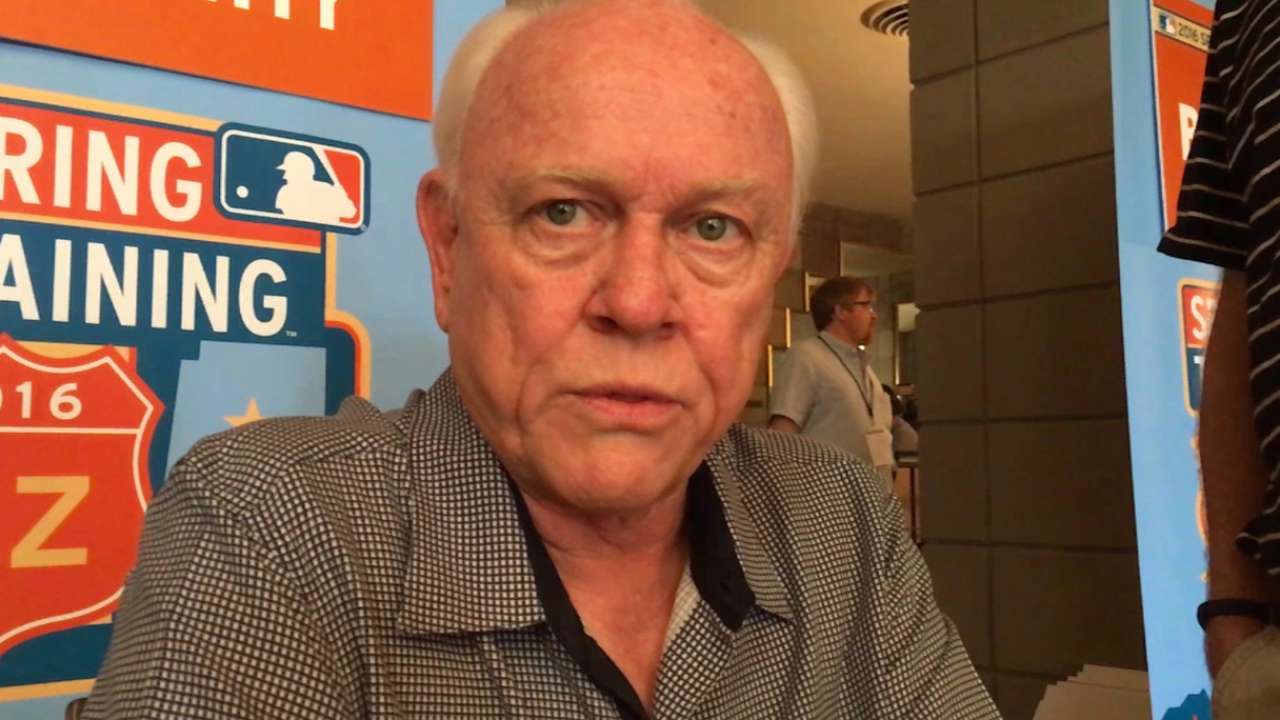 Reds
When the Reds traded veteran starters Johnny Cueto and Mike Leake last summer, following the previous winter's dealing of Mat Latos and Alfredo Simon, it signaled the rotation's full immersion in the youth movement.
Mondays are better with baseball. #RedsST pic.twitter.com/UNKlU25XTm

— Cincinnati Reds (@Reds) February 22, 2016
A handful of young pitchers are contending for three spots, including two intriguing prospects -- right-hander Robert Stephenson and lefty Cody Reed.
"I think what [manager] Bryan [Price] wants and what we want are guys who are pitch efficient," GM Dick Williams said. "Guys who work on the plate, keep the pace of the game moving and make the hitters beat our defense." More >
Rockies
Manfred did not address Reyes specifically on Monday. However, his answer indicated that he does not want to act before knowing all the information.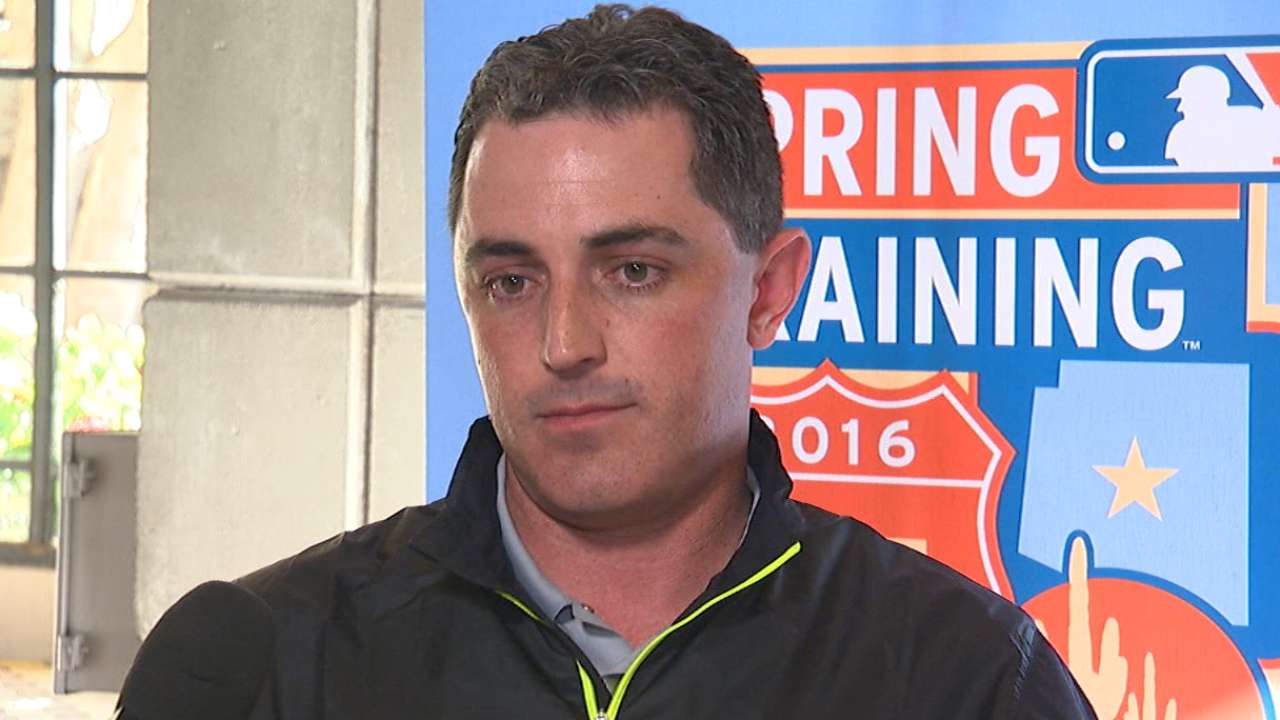 "The challenge, and it will always be present, is control over the development of the factual record often is in the hands of law enforcement," Manfred said. "You cannot expect a district attorney or other law enforcement official to provide information on a timetable other than what makes sense for him or her. We are always going to have this issue of being at the mercy of others when we are dealing with these sorts of issues." More >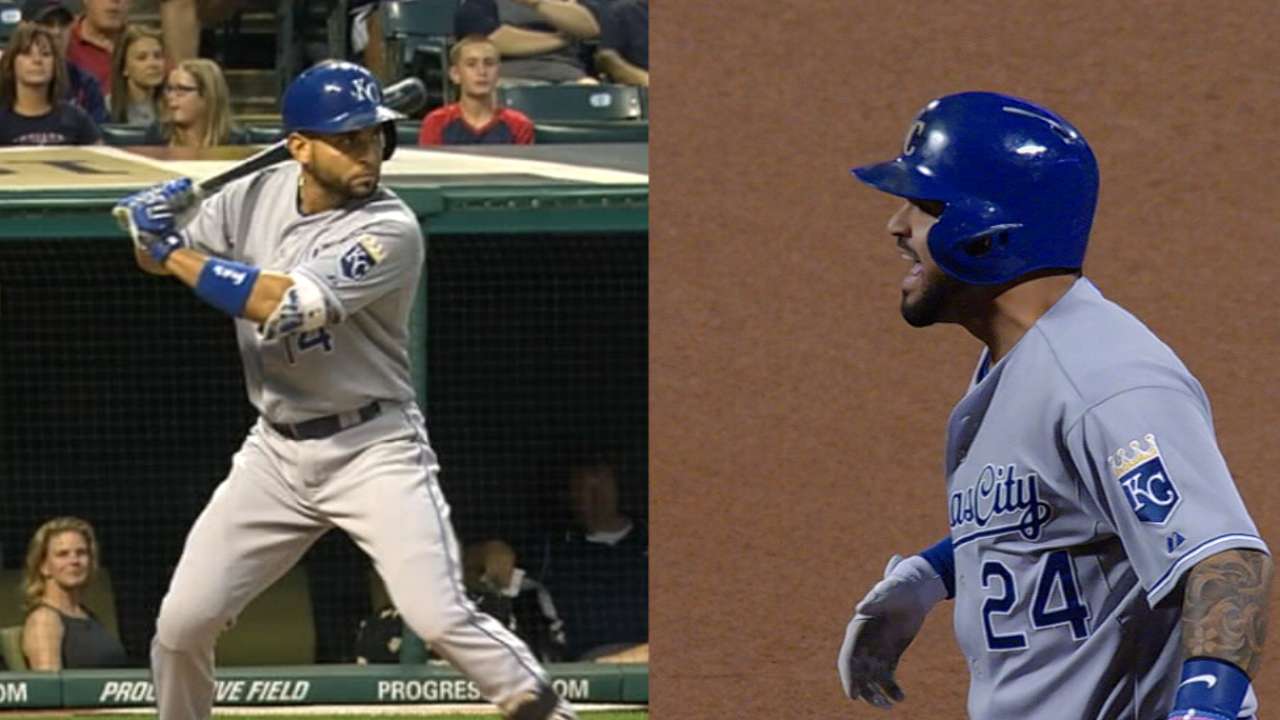 Royals
The Royals came into camp with two main questions: Who will be their second baseman, and which two pitchers will claim the final spots in the rotation?
While the club has opened up the competition at second base between incumbent Omar Infante, who is still owed $17.75 million on his contract through 2017, and Christian Colon, a former first-round pick who was one of the heroes of Game 5 of the World Series, it also must pick from a host of candidates for the last two rotation spots.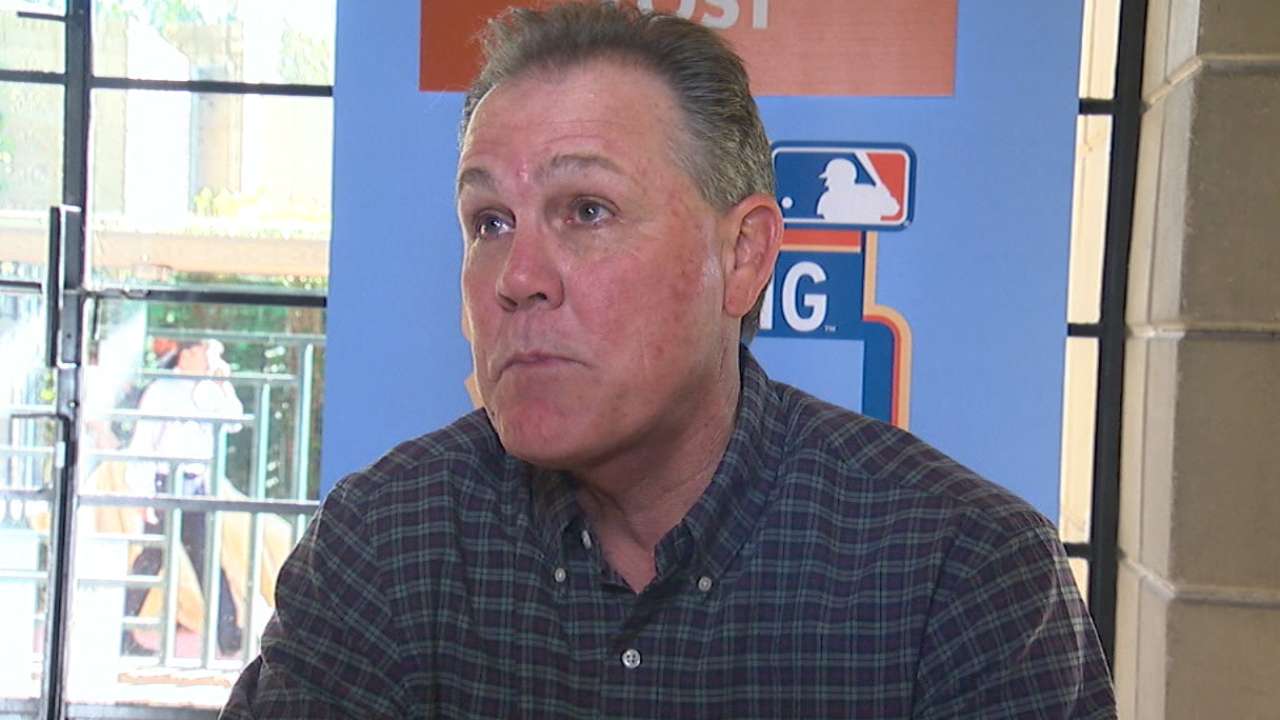 "That's what Spring Training is for," manager Ned Yost said. "We sort through this stuff. And you keep an open mind." More >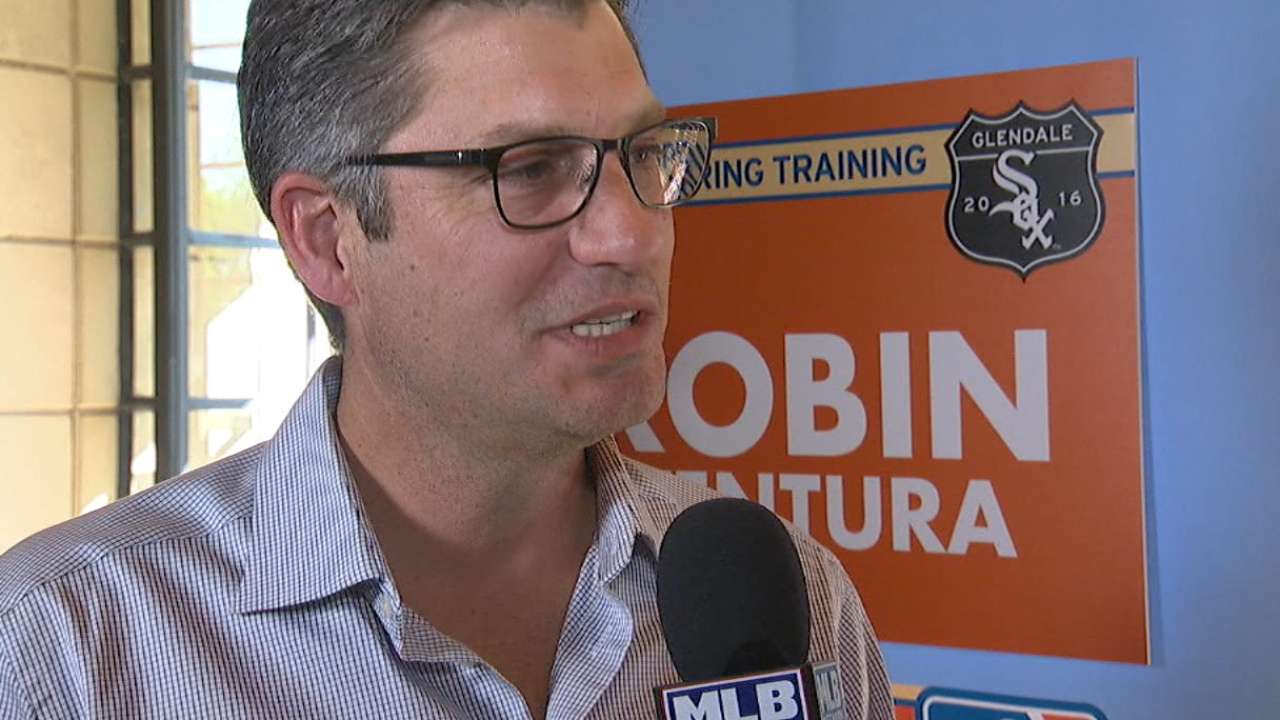 White Sox
There's no question the 2016 White Sox are improved with the addition of second baseman Brett Lawrie, third baseman Todd Frazier and even the low-risk, potentially high-reward, pickups of right-hander Mat Latos and Rollins, whose deal includes a big league camp invitation.
• Rogers: Rollins' Minors pact could have major impact
And even with position players scheduled to officially report on Tuesday, GM Rick Hahn continues to work at assembling the best team possible.
What's up @blawrie13? #SoxSpringTraining pic.twitter.com/FXxOZX3kJu

— Chicago White Sox (@whitesox) February 22, 2016
"I haven't signed that Opening Day roster and sent it to MLB just yet," Hahn said. "Until that happens, we're going to feel like there's always something else we can do." More >
Austin Laymance is a reporter for MLB.com. This story was not subject to the approval of Major League Baseball or its clubs.