Braves to use caution with Freeman at camp
After first baseman battled wrist issues in 2015, Atlanta plans to take time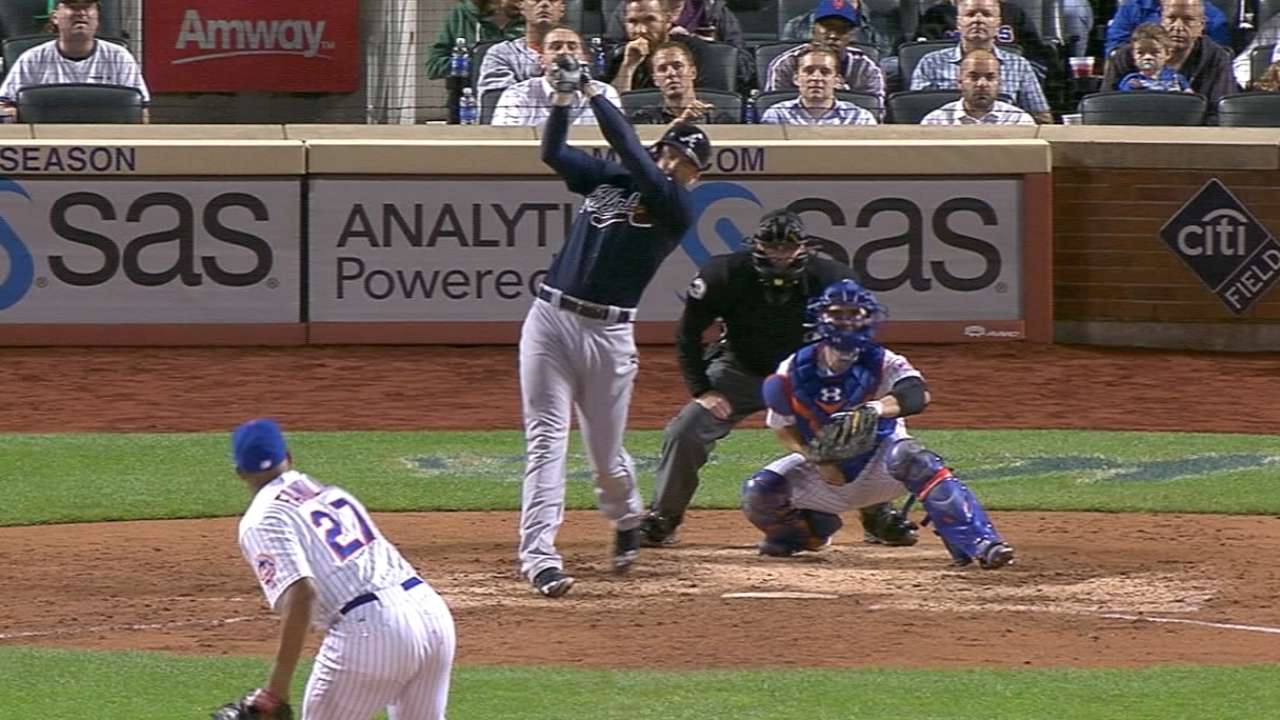 LAKE BUENA VISTA, Fla. -- Freddie Freeman exited last year's injury-plagued season hopeful that a few months of rest would provide sufficient therapy for his right wrist. But he has not progressed to the point that the Braves are comfortable with him entering Spring Training without any restrictions.
When Freeman reports to camp on Tuesday, he will be further evaluated by the Braves' medical staff, which will determine how active he might be during the early days and weeks of Spring Training. The veteran first baseman missed a month after injuring his wrist in June, and then he battled lingering discomfort over the remainder of the 2015 season.
• Spring Training: Schedule | Tickets | More info
"We just want to take our time," Braves general manager John Coppolella said. "We've got seven weeks of Spring Training. There isn't any reason for him to rush and have him hit 45 rounds [of batting practice] the first day. So let's just be safe."
Freeman will have an opportunity to update his recent progress when he reports to camp on Tuesday, but Coppolella said that he has not been given reason to believe there was a recent setback.
"Right now, everything is positive," Coppolella said. "We're just trying to be safe and positive. We're going to be cautious so that we can get as much out of him over the 162 games."
A week after initially feeling discomfort during a June 13 game at Citi Field, Freeman began a month-long stint on the disabled list with what was diagnosed as a wrist sprain and bone bruise. Shortly after returning to action, he suffered a right oblique strain that sidelined him for an additional three weeks.
Despite totaling just 35 plate appearances from June 17-Aug. 1, Freeman battled lingering discomfort throughout the season's final six weeks and was essentially shut down during the regular season's final week.
Freeman was encouraged by the way his wrist reacted when he began swinging a bat again in January. But it has long been known that the true test would not come until he swung on a daily basis over an extended period and was subjected to live pitching.
"I know the dry swings and the flips and the stuff you do in the offseason is fine and dandy," Braves manager Fredi Gonzalez said. "But here, we're just going to see how he is. We've got six weeks of Spring Training, and we'll go day by day, little by little and just progress that way."
If Freeman's wrist once again proves to be a problem, it would be a significant blow for the Braves' lineup. Freeman missed nearly two full months last year, but he still led Atlanta in home runs (18) and RBIs (66).
"He's our best player, and he's our best hitter," Coppolella said. "He's a huge part of our team. So we just want to make sure we get it right."
Mark Bowman is a reporter for MLB.com. This story was not subject to the approval of Major League Baseball or its clubs.