Phillies finding right fit for veteran Howard
Slugger wants to play every day on rebuilding team, but he struggled mightily vs. fellow lefties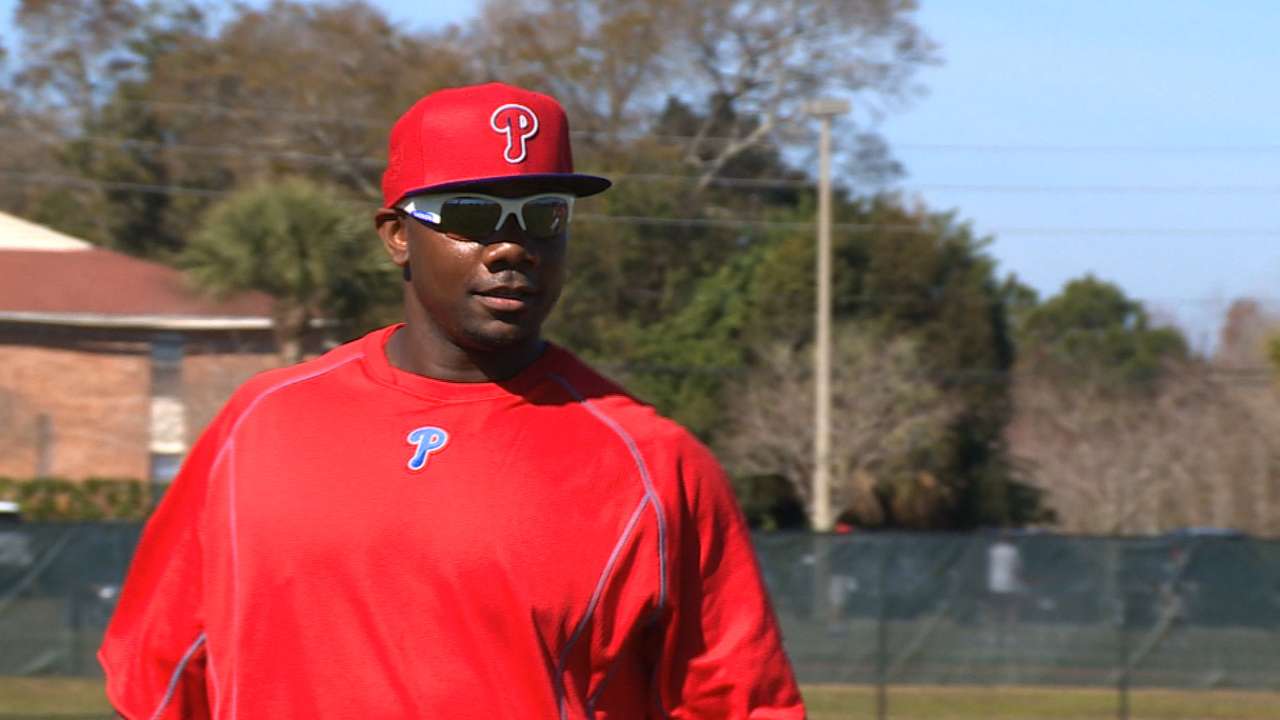 CLEARWATER, Fla. -- Pete Mackanin and Ryan Howard could have the "talk" Tuesday at Bright House Field.
Mackanin is expected to tell Howard that he has a considerable challenge ahead of him. Howard still believes he should play every day, but he needs to hit left-handed pitchers much better to warrant playing time against them. If Howard cannot, Darin Ruf will see action.
"He's read and seen and heard what I've said," Mackanin said about Howard on Monday at Bright House Field. "I think he's ready for it, and I think he's willing to show that he deserves to be in there every day."
Spring Training: Schedule | Tickets | More info
This is expected to be Howard's final Spring Training with the Phillies. He is entering the final season of a five-year, $125 million contract. He will make $25 million this season, plus he is expected to receive a $10 million buyout on a 2017 club option.
Howard is one of the more interesting storylines in camp. The Phillies have been trying to trade him for the past of couple years, but they've been unsuccessful despite agreeing to pay most of his salary. And one offseason after he was involved in a lawsuit with his family, Howard is suing the TV network Al Jazeera following a December report that linked him to performance-enhancing drugs.
But Howard's fit on a rebuilding team will be a topic of conversation for some time. He posted an .802 OPS against righties, but just a .418 OPS against lefties last season. Howard's OPS against righties ranked 55th out of 140 qualified hitters, but his OPS against lefties would have been the lowest in the big leagues by 47 points, if he had enough plate appearances to qualify. Conversely, Ruf's 1.107 OPS against lefties would have tied Nelson Cruz for the best in baseball, if he had enough plate appearances to qualify.
"Ryan might have a big year this year and get another contract for all I know," said Mackanin, when asked why Howard deserves playing time on a rebuilding team. "I'd like to see that happen, because if that happens, we're going to be a much better team."
Howard showed up at camp Saturday to drop off a few things at his locker. He took his physical Monday and worked out with the team before its first official full-squad workout Tuesday. Howard could speak to reporters Tuesday afternoon.
"It was good to see him," Mackanin said. "I knew he would come in in shape, and he had a big smile on his face as usual. He's ready to go. The thing I like most about Ryan is he posts up every day. He comes to play."
Ruf's playing time
How much playing time could Ruf see this season?
"At this point, knowing the personnel we're going to have on the field, his best chance right now would be against left-handed pitchers," Mackanin said. "I don't foresee any way to play him on a daily basis. However, with an injury, a trade, anything might happen. I'd like to get him 500 at-bats against all pitchers, but at this point, it doesn't look likely unless there is an injury."
Another big talk
Mackanin will address the team before Tuesday's workout. It will be his first Spring Training address as a big league manager.
"I'm formulating that right now," said Mackanin when asked about what he might say. "Try to win as many games as you can. Basically, compete and give it your best shot. The best man's going to win. ... You know, I gave a motivational speech one time and I got carried away and then the bell went off and I realized I forgot to practice. My speech went so long that we didn't do anything. It was a good speech though. So I'm going to keep it short and sweet."
J-Roll signs
Former Phillies shortstop Jimmy Rollins signed a Minor League contract with the White Sox. Mackanin said he was not "overly surprised" Rollins could not land a Major League contract. Chase Utley signed a one-year, $7 million contract with the Dodgers despite hitting .202 with a .654 OPS last season. Rollins hit .224 with a .643 OPS, but remains a better player defensively.
"He's probably lost a step," Mackanin said about Rollins. "He's still a solid player. But, actually, other than saying I'm not surprised is all I can say."
Todd Zolecki is a reporter for MLB.com. Read his Phillies blog The Zo Zone, follow him on Twitter and listen to his podcast. This story was not subject to the approval of Major League Baseball or its clubs.