Myers excited about first base, healthy season
Former outfielder sets goal at 600 plate appearances for Padres in 2016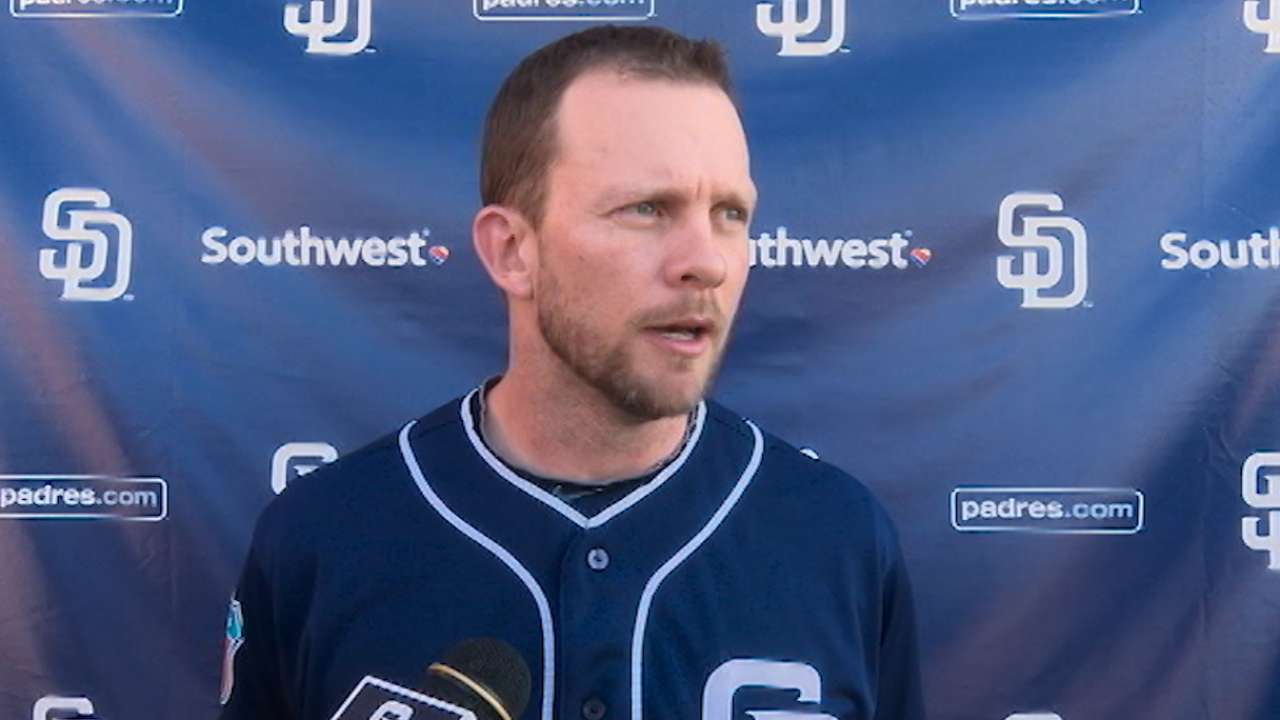 PEORIA, Ariz. -- Someone asked Padres first baseman Wil Myers on Monday about the possibility of being the team's representative in the 2016 All-Star Game, which will be held in July at Petco Park.
"That would be great, obviously," Myers said.
But making what would be his first All-Star team isn't Myers' goal for 2016. Not by a long shot. Instead, it's being healthy for the entire season, something he hasn't pulled off since '13.
What would 600 or more plate appearances mean to Myers, who turned 25 in December?
"That would be huge. I haven't played a full season since 2013," Myers said. "And just to be able to have 600 plate appearances, with the talent level I have, I think I'll be able to put together a lot of great at-bats.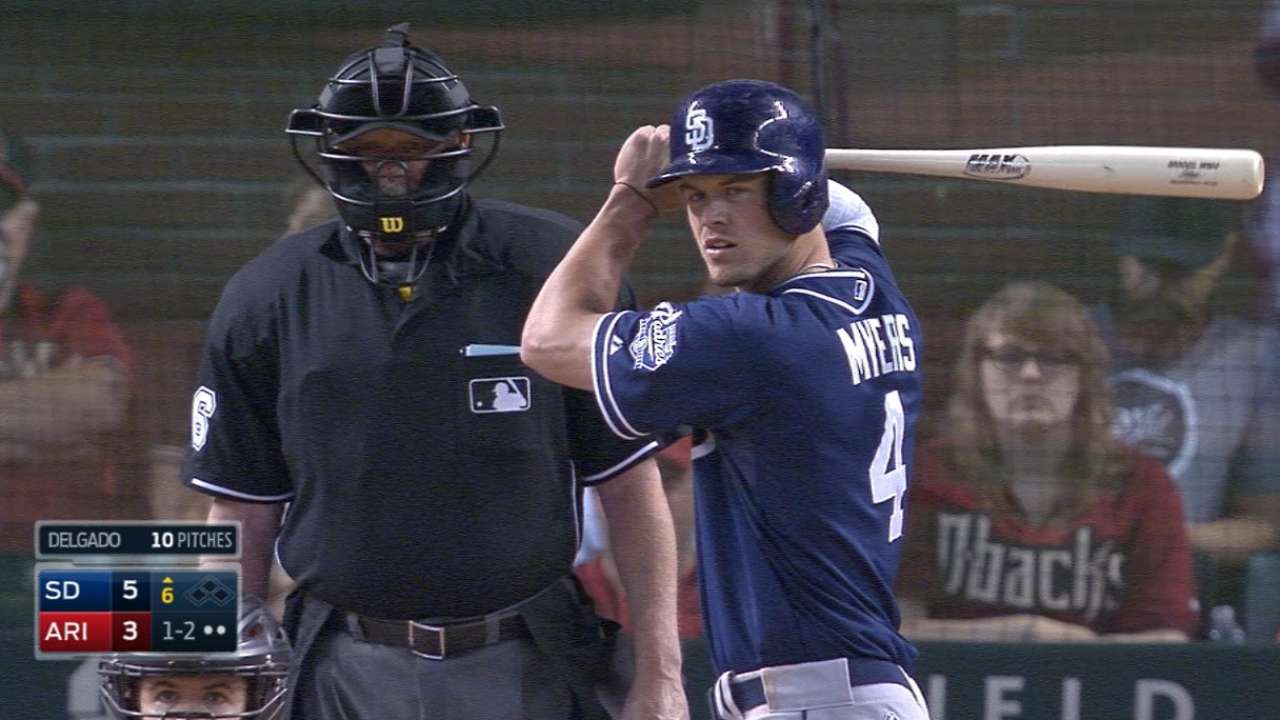 "That's one thing I'm looking forward to, just staying healthy all year."
Injuries to both wrists have waylaid Myers since 2013, when he was named the American League Rookie of the Year while with the Rays. That was also the last season in which he's had more than 400 plate appearances (662).
This is why Myers has been itching to get to Peoria for months.
"It's very exciting. The last two years, obviously I haven't played very many games at all," Myers said. "I think this offseason went by really slow for me, just because I hadn't played in two years and I was just ready to get going again.
"I'm very prepared for this year. I worked out probably harder than I ever have. I'm ready to get going this year."
• Padres' Spring Training information
The Padres, wanting Myers to get locked into one position, will let him play first base in 2016. It's a position that he picked up last season before he injured his left wrist, which eventually needed surgery.
The team's Opening Day starter in center field in 2015, Myers has fully embraced first base, a position that he's played just 24 games professionally -- 22 last season.
"It's my favorite position I've played so far in professional baseball ... and I'm looking forward to playing a full year there," Myers said. "This will be my first time ever going through bunt coverages, cutoffs, relays, things like that. Once I get used to that, I think I'll pick it up pretty easy."
Manager Andy Green, who flew to Charlotte, N.C., to meet with Myers in January, has had several conversations with him since. One was having him play first -- though on occasion, Myers will likely move to left field to get Brett Wallace at-bats.
What does Green think Myers is capable of?
"I think an entire year of [good] health for him," Green said. "I don't think there's any limitation. I think anything is possible for him this season."
Myers settled in nicely at first base early last season when Yonder Alonso landed on the disabled list. At about the same time, his offensive season was beginning to soar as well, as he was hitting .291/.340/.493 with five home runs at the time he injured his left wrist in May.
Can getting locked into one position actually help him offensively?
"I do [think so]," Myers said. "I thought about that this offseason. Just sticking to one position I think will really help, not just defensively but offensively as well."
Corey Brock is a reporter for MLB.com. Keep track of @FollowThePadres on Twitter and listen to his podcast. This story was not subject to the approval of Major League Baseball or its clubs.