Kiermaier eager to leave it all on field for Rays
With goal set at playing at least 155 games, defensive star looks to make impact on both sides of ball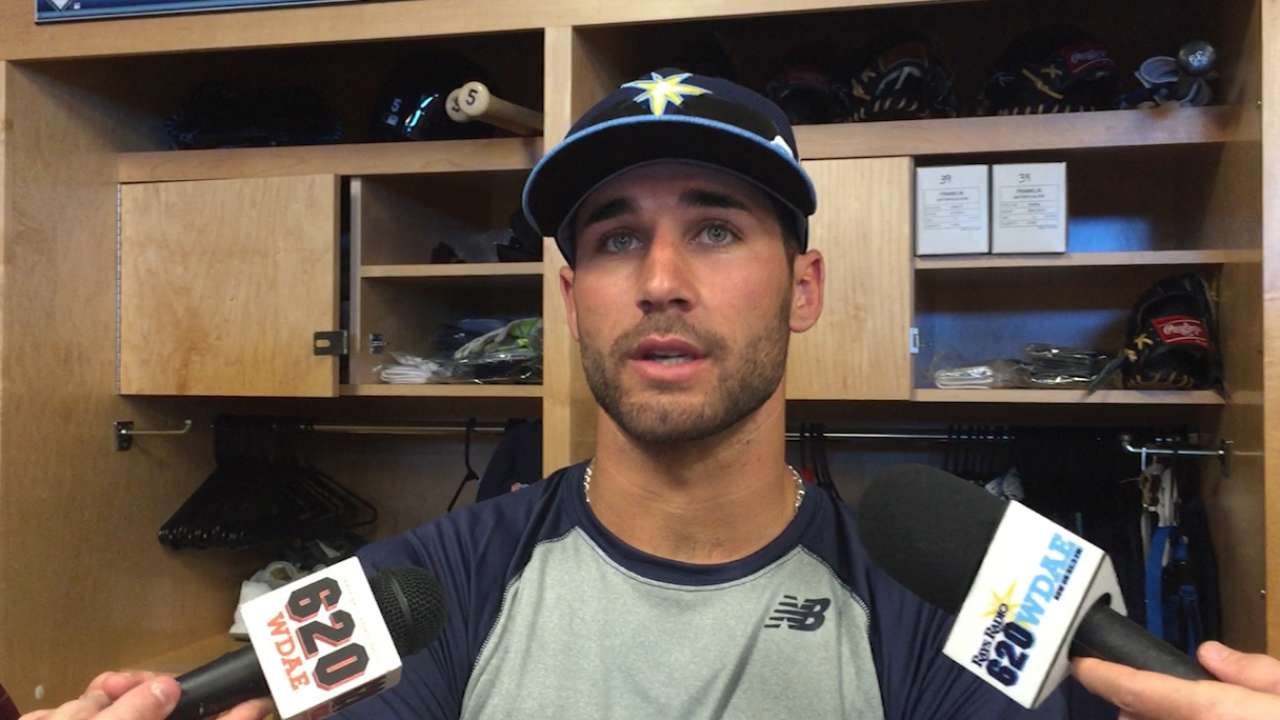 PORT CHARLOTTE, Fla. -- Kevin Kiermaier wants to be on the field every day. If one didn't already know that about the Rays' center fielder, he made his intentions clear on Monday when he reported to Spring Training.
Kiermaier played in 151 games last season.
• Spring Training: Schedule | Tickets | More info
"I was very happy [with] the amount of games I played last year," he said. "And even the games I didn't start, I was ready to go. Up until the last homestand, I had a little episode with my back that made me sit out the last two games of the season. But for the most part, I was ready to go. And I look forward to doing that this year."
This season, Kiermaier wants to play in at least 155 games. That means he must hit against left-handers. He hit .246 in 150 plate appearances against lefties in 2015 and .270 in 385 plate appearances against righties.
"I know I can hit them," Kiermaier said. "I have and I will."
Rays manager Kevin Cash acknowledged that he would "be real happy" if Kiermaier had a repeat performance of the 2015 season, but he added: "But I think K.K. would tell you there's always room to improve. The way he finished the last six or eight weeks of the year, if that's maintained over the full course of the year, he's going to continue to get better."
Us, too, @KKiermaier39. #ItAllStartsHere pic.twitter.com/jZc6WzKNcG

— Tampa Bay Rays (@RaysBaseball) February 22, 2016
Kiermaier made 131 starts in 2015, all but two in center field. He won his first Rawlings Gold Glove Award, the sixth in Rays history, and later was named the Rawlings American League Platinum Glove Award winner as the best defender at any position.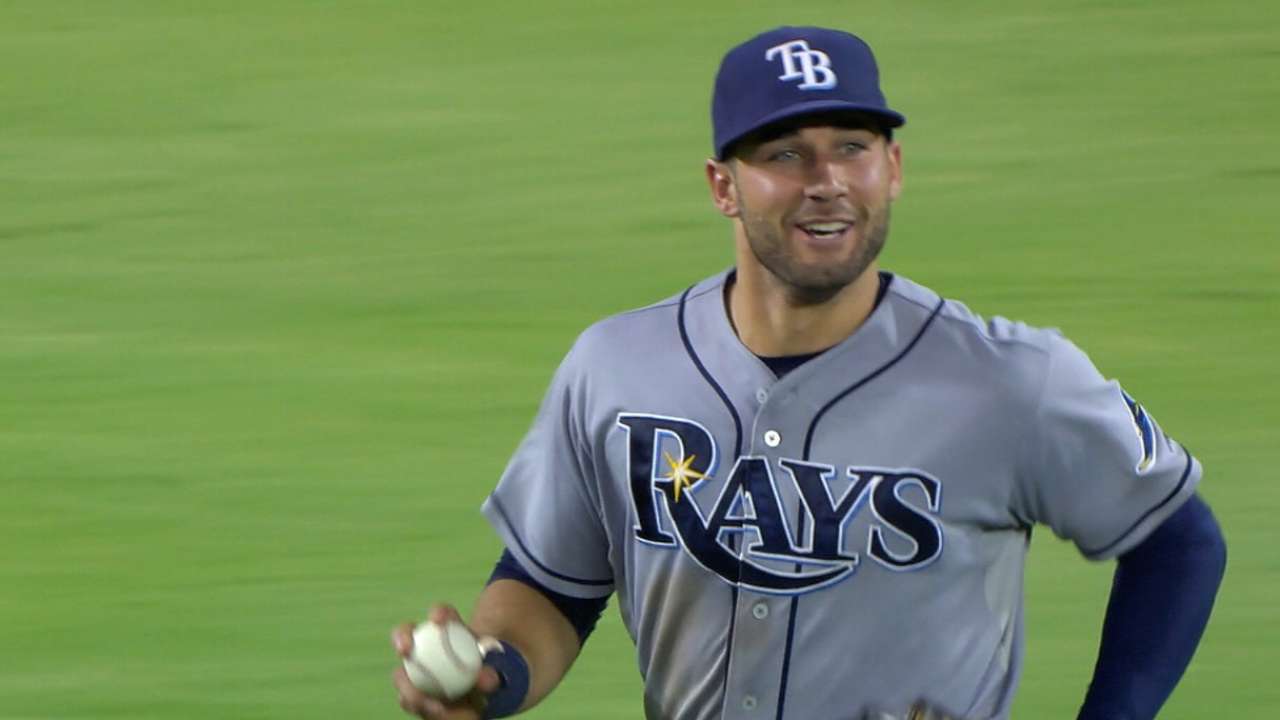 Kiermaier is a defensive game-changer in center field. Last season, he led all Major Leaguers with 42 Defensive Runs Saved, which was the highest mark since 2003, when Baseball Info Solutions began tracking the statistic.
"I think I showed everyone that me being out there in center field gives us a great chance of winning," Kiermaier said. "That's what it's all about."
Despite the high bar Kiermaier has set, Cash believes the defense will continue to get better. He also believes Kiermaier can become an impact player on offense.
"Because the old cliche, speed never slumps," Cash said. " ... With the stuff that he's worked on with his recognition and the discipline at the plate he showed, and his ability to adjust and handle different pitches, he's got a knack.
"We saw at the end of the year, I can't remember who he hit it off of. He hit a line-drive homer, just a bullet in the right-center-field gap. There aren't many guys who can put a charge in a ball like that, and probably a guy you wouldn't expect to do that."
Kiermaier hit .263 with 10 home runs, 40 RBIs and 12 triples in 2015.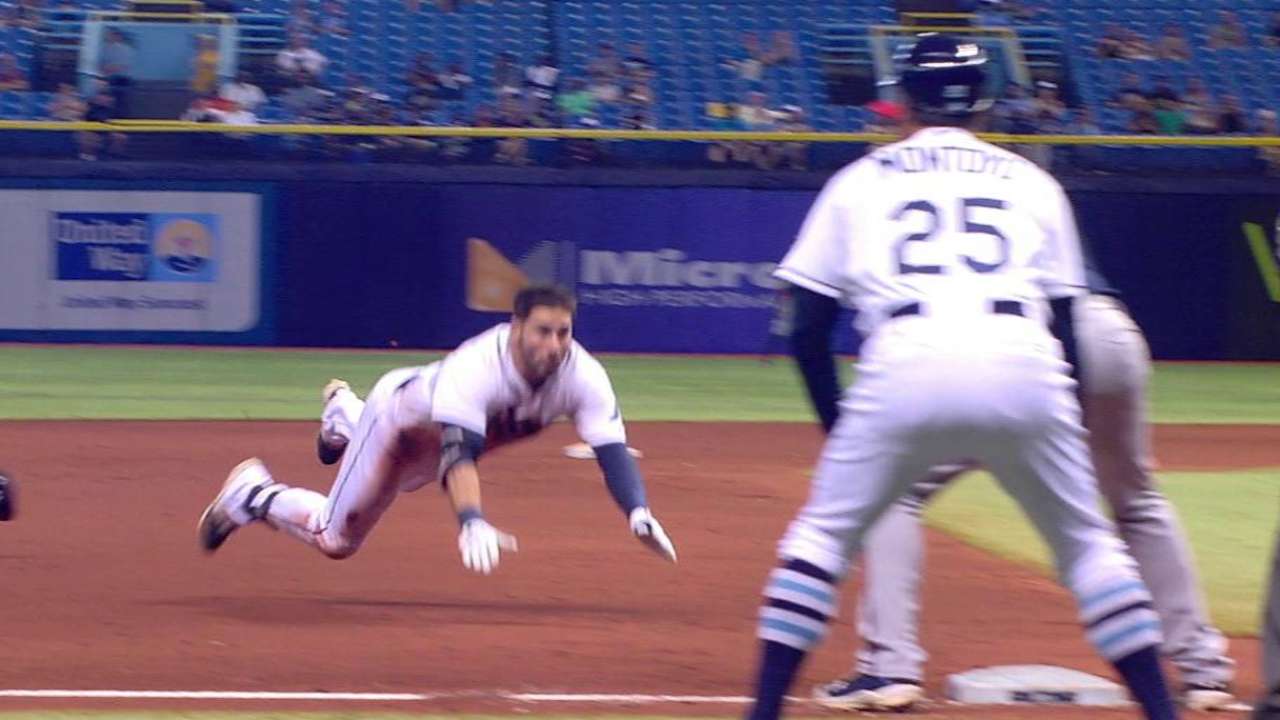 "I think I opened eyes last year, especially the defensive side of things," Kiermaier said. "And you know, it's the little things that I would do. Whether it's a hustle double, a routine base hit up the middle and I stretch that into a double, or stretching the limits on a ball to the gap and getting to third base ... that's the part of my game that I've been doing my whole life. That's what can separate me from others."
Kiermaier is confident in his abilities, but he knows he has limitations, too.
"I know I'm never going to be the guy to go out there and hit a bunch of home runs or drive in 130 every year," he said. "I'm comfortable with that. Everyone is different.
"But I think I've earned respect around the league the way I play. Even though I am a threat defensively, I think I've established that thing where you can't take your attention off me offensively, as well. And that means a lot to me."
Bill Chastain is a reporter for MLB.com. This story was not subject to the approval of Major League Baseball or its clubs.