Eyeing roster spot, Reynolds open to outfield work
Coming off tough season, infield prospect to branch out at Mets camp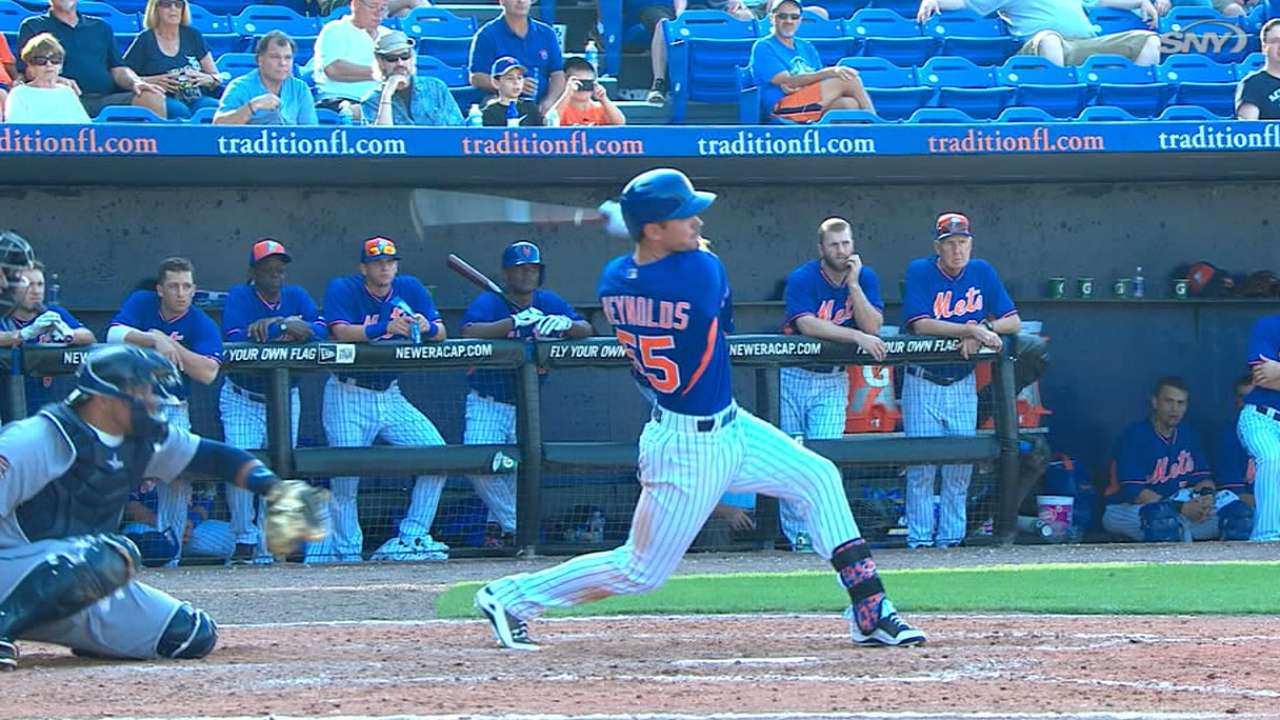 PORT ST. LUCIE, Fla. -- Matt Reynolds had only recently arrived at Mets camp when his phone buzzed with a curiosity.
"Is this true?" former teammate Matt den Dekker texted him, referencing Terry Collins' announcement that Reynolds -- a lifelong middle infielder -- would see time in the outfield this spring.
"News to me," Reynolds texted back.
Spring Training: Schedule | Tickets | More info
And it was news, though not entirely the unwelcome type. At age 25, Reynolds is coming off perhaps the most disappointing season of his career -- one that began with a strong chance to make the Mets out of Spring Training, but ended with a .321 on-base percentage and a .723 OPS at hitter-happy Triple-A Las Vegas. Months after the season, the Mets traded for second baseman Neil Walker and signed shortstop Asdrubal Cabrera, essentially torpedoing any chance Reynolds might have had to make the team this spring. That led the club to begin kicking around the idea of using Reynolds elsewhere -- even if nobody told him.
"I feel like if you can play infield, you can make the transition to outfield," Reynolds said. "You just obviously have to put in the work to get better out there. I have no problem going out there. If that's what they want to do, then I'm open to it."
It's been a half-decade since Reynolds last played the outfield for the Cape Cod League's Dennis-Yarmouth Red Sox; he doesn't even own the proper glove, but plans on acquiring his own model soon. But the Mets' No. 10 prospect is eager for any chance to make the big leagues sooner than he otherwise would.
"Right now, we have a loaded infield," Reynolds said. "If they need me in the outfield to get up there and help out, I'm willing to do it. ... I'm still part of this team. I want to help out. I want to win. If they need me in the middle infield, third base, outfield ... whatever they need, I'm willing to help."
Anthony DiComo is a reporter for MLB.com. Follow him on Twitter @AnthonyDiComo and Facebook, and listen to his podcast. This story was not subject to the approval of Major League Baseball or its clubs.