Hot corner Suarez's for the taking
Reds confident shortstop will acclimate well to third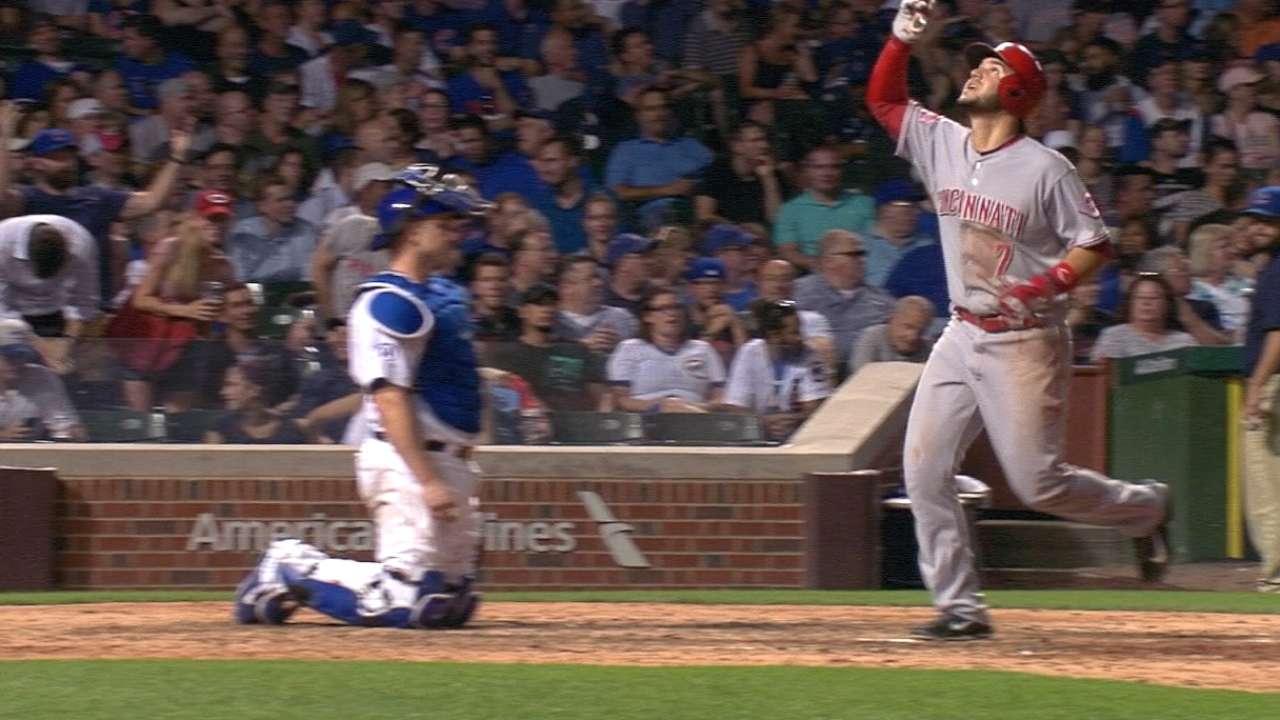 GOODYEAR, Ariz. -- Around the time the Reds traded third baseman Todd Frazier to the White Sox in mid-December, manager Bryan Price placed a phone call to Eugenio Suarez.
"The manager called me right away. He asked me if I wanted to play third base," said Suarez, who played most of his career at shortstop. "I said 'Hell yeah, I want to play every day.' I want to play in the big leagues every day, anywhere. I'm ready for any opportunity."
Save for 10 innings in parts of three big league games and 48 Minor League games (mostly in 2009 at the rookie level), Suarez has little time invested at third base.
That changed from the moment he arrived to camp Sunday. Suarez, 24, will be working closely this spring with coaches Freddie Benavides and Miguel Cairo on making the switch one position to his right.
"I'm working hard to be ready all season," Suarez said. "It's different, but it's good. I'm happy to play there."
Benavides, an infield specialist who was promoted to first-base coach, did not believe it would be a tough transition for Suarez.
"He went out early today. We're going to start early with him 8 a.m. every day, and work," Benavides said. "It's more of a reaction position than it is at shortstop, but he's got the good hands. I don't foresee a problem. I think he will be a very good third baseman."
Suarez, who was acquired in the Dec. 11, 2014, trade that sent pitcher Alfredo Simon to the Tigers, had a nice first season in Cincinnati. Called up to replace Zack Cozart after a season-ending knee injury June 10, Suarez stepped in and batted .280/.315/.446 with 13 home runs and 48 RBIs in 97 games. With Cozart back and expected to be healthy, the Reds wanted to keep Suarez's bat in the lineup.
Defensively, Suarez could make some great plays with both his glove and arm. But he was also prone to mistakes. Besides making 19 errors -- fifth-most among Major League shortstops with at least 800 innings played -- he had a minus-12.9 ultimate zone rating and minus-12 defensive runs saved according to Fangraphs. Both statistics were ranked 27th out of 27 shortstops with at least 800 innings.
"As a young player in the big leagues in his first extended playing time, you're going to make errors," Benavides said. "Look at all the top infielders. In their first years, they all struggled somewhat. He's got the hands. You're talking about a natural shortstop playing third base. It's like Frazier, who was an outstanding third baseman. His footwork was good because he played shortstop [in college and Minors]."
Conventional wisdom says it's easier to transition from shortstop to third base than third base to shortstop. Suarez realized that it doesn't mean the change will be easy.
"I have to be ready. I don't have to move too much," Suarez said. "The ball comes hard and quick."
Mark Sheldon is a reporter for MLB.com. Read his blog, Mark My Word, follow him on Twitter @m_sheldon and Facebook and listen to his podcast. This story was not subject to the approval of Major League Baseball or its clubs.