RF to rubber: Smith inches closer to Majors
Padres' Rule 5 Draft pick has steadily improved since switching to pitcher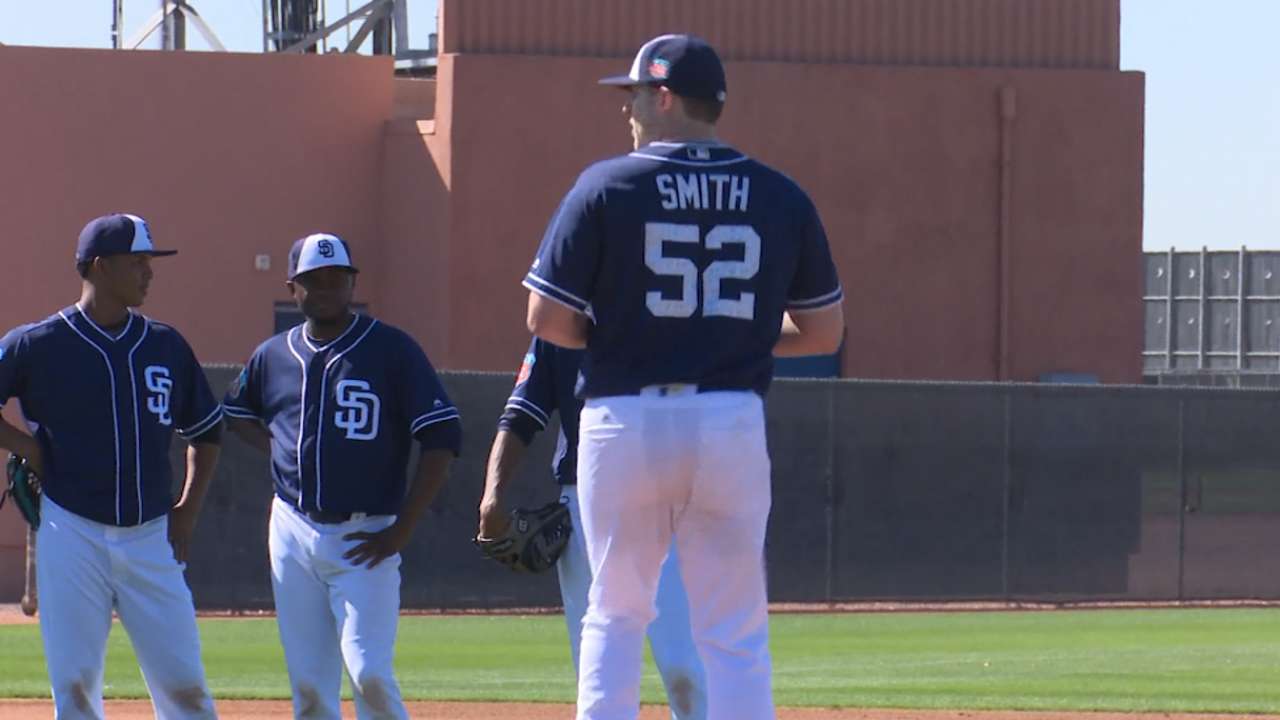 PEORIA, Ariz. -- Blake Smith spent his first four professional seasons as a position player, a left-handed-hitting outfielder with pop who once hit 20 home runs in a single season.
Yet today, as the 28-year-old is here in Padres camp trying to make the team, he is doing so as a player who is now trying to keep the baseball in the ballpark, not hit it over a fence.
Smith is one of three Rule 5 pitchers in Major League camp, and one of many faces who are in the mix to comprise what will essentially be a new-look bullpen in 2016.
Smith, who was plucked from the White Sox in the December's Rule 5 Draft, has been playing pro baseball since 2009, when the Dodgers took him in the second round out of the University of California, where he was a teammate of Padres right-hander Tyson Ross.
"He was really good in college -- a good, talented player," Ross said.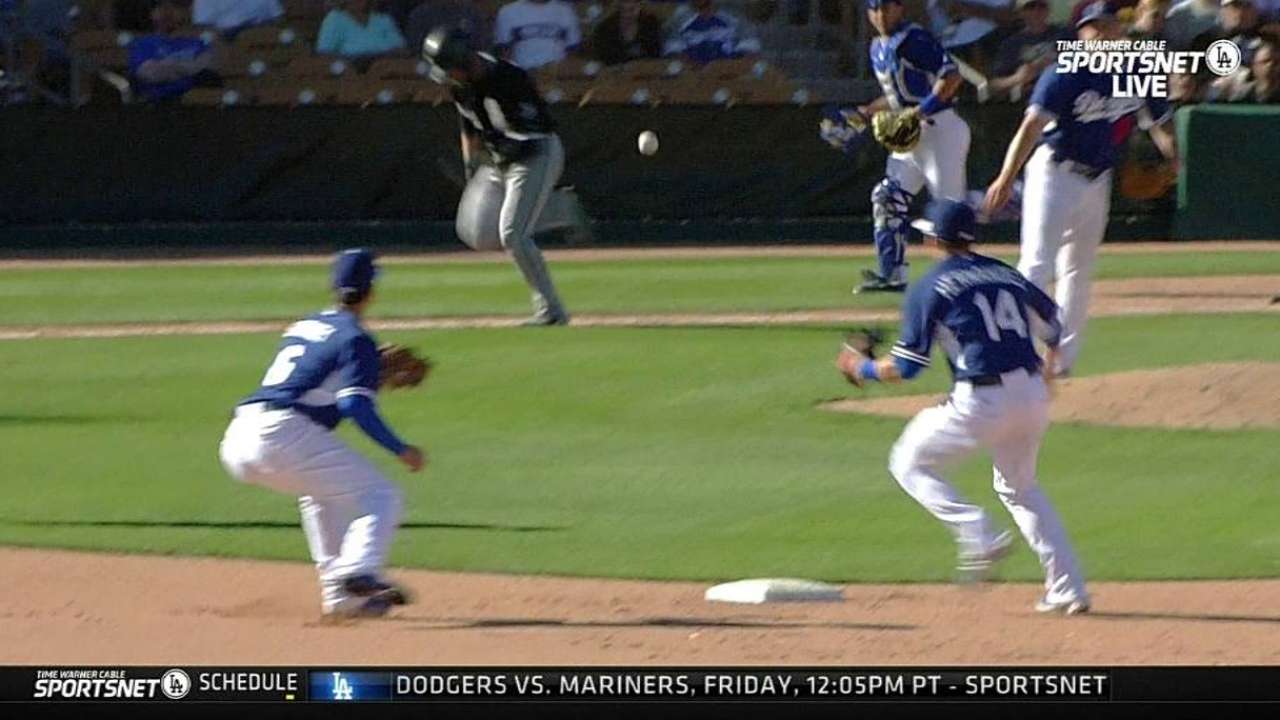 Smith hit .281 with 19 home runs in his first professional season in 2010, and he followed that by batting .304 with 20 homers in two stops in '11. But Smith noticed that guys were passing him by, and his future might be elsewhere.
• Padres' Spring Training information
"I had some good years. But it's one of those situations where it might have been the wrong place at the wrong time," Smith said. "[The Dodgers] had a good core of outfielders in the big leagues with Matt [Kemp], Andre [Ethier], Joc [Pederson], [Yasiel] Puig, and all these kids coming up.
"I told [the Dodgers] I wanted to play in the big leagues ... and they told me pitching might be my best shot."
The funny thing is, for all his success as a hitter, Smith didn't exactly go kicking and screaming to the mound -- he embraced it immediately.
"My last year as a hitter [in 2013], I sat down with some people from the front office and told them the clock was ticking. If we're going to make a switch, let's do it this year," Smith said.
"It was a mutual decision, which made it easier to accept. And I had been thinking about it for a while. It wasn't like they said I wasn't cutting it. So we switched and I went for it."
Considerable rust and pitching in the hitter-friendly California League awaited Smith that first season in Class A Advanced Rancho Cucamonga, as he posted a 7.78 ERA in 19 2/3 innings.
"It was pretty bad. I thought this was going to be harder than I thought," Smith said. "That was an awakening to me that I had some stuff to screw down and tighten up."
Smith got better in 2014 and again last season, when he was traded to the White Sox in May. In three Minor League stops in '15, he posted a 2.89 ERA in 53 innings with 64 strikeouts, limiting opposing hitters to a .226 batting average.
"It's gotten better every year," Smith said.
Smith has improved so much that he hasn't once gotten the least bit wistful about his former life as a position player.
"I really don't," Smith said. "Maybe it's still too soon, but I don't. I have passed on a few pitchers' [batting practice], which I thought that I would never do. I really don't miss it at all."
Corey Brock is a reporter for MLB.com. Keep track of @FollowThePadres on Twitter and listen to his podcast. This story was not subject to the approval of Major League Baseball or its clubs.