Veteran Hill front-runner for third-base job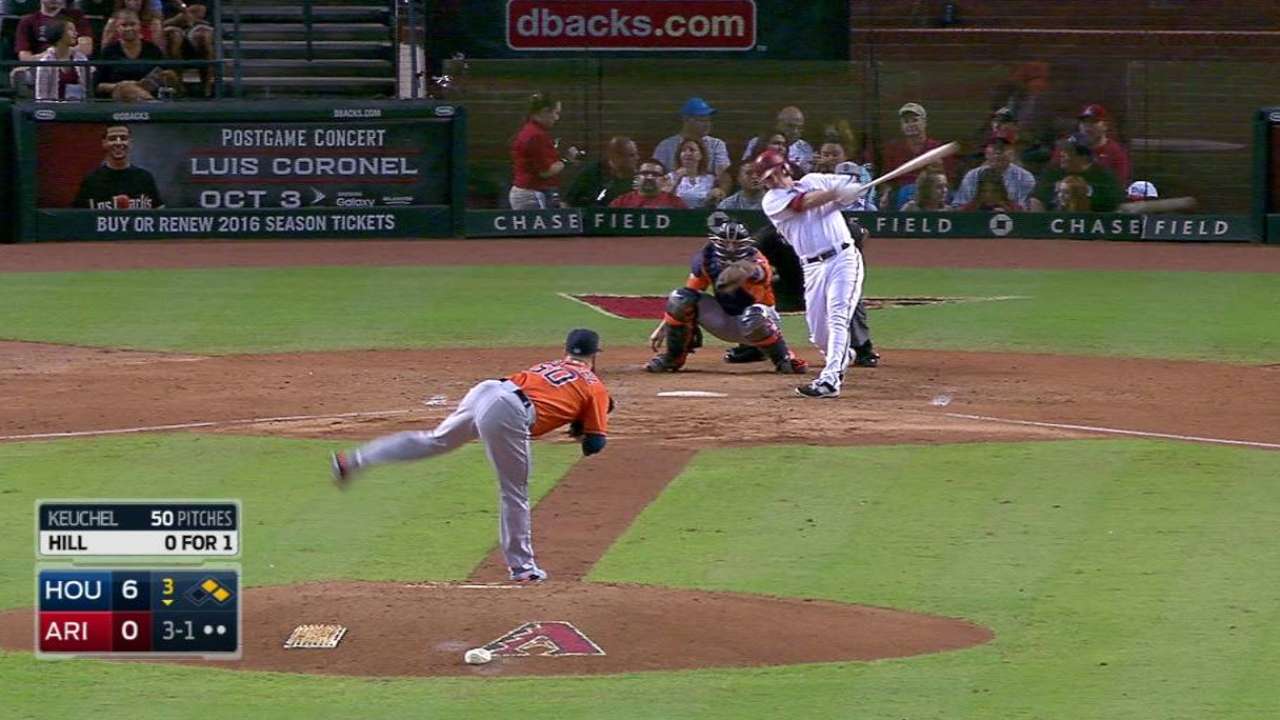 PHOENIX -- Veteran Aaron Hill is the leading candidate to be the Brewers' third baseman, manager Craig Counsell suggested on Monday.
Before the Brewers acquired Hill as part of the Jan. 30 trade with the D-backs, a pair of former Red Sox prospects were considered the front-runners for the position. Garin Cecchini and non-roster invitee Will Middlebrooks remain in the mix, though they appear more likely pegged for a job backing up Hill at third and Chris Carter at first base.
"You look at it against different pitchers, against different matchups, but Aaron Hill is what I'm looking at at third base," Counsell said. "Aaron is going to spend quite a bit of time there, especially in spring, at third base. And then how the season plays out, you're a little more open to. But I'm thinking of Aaron at third base."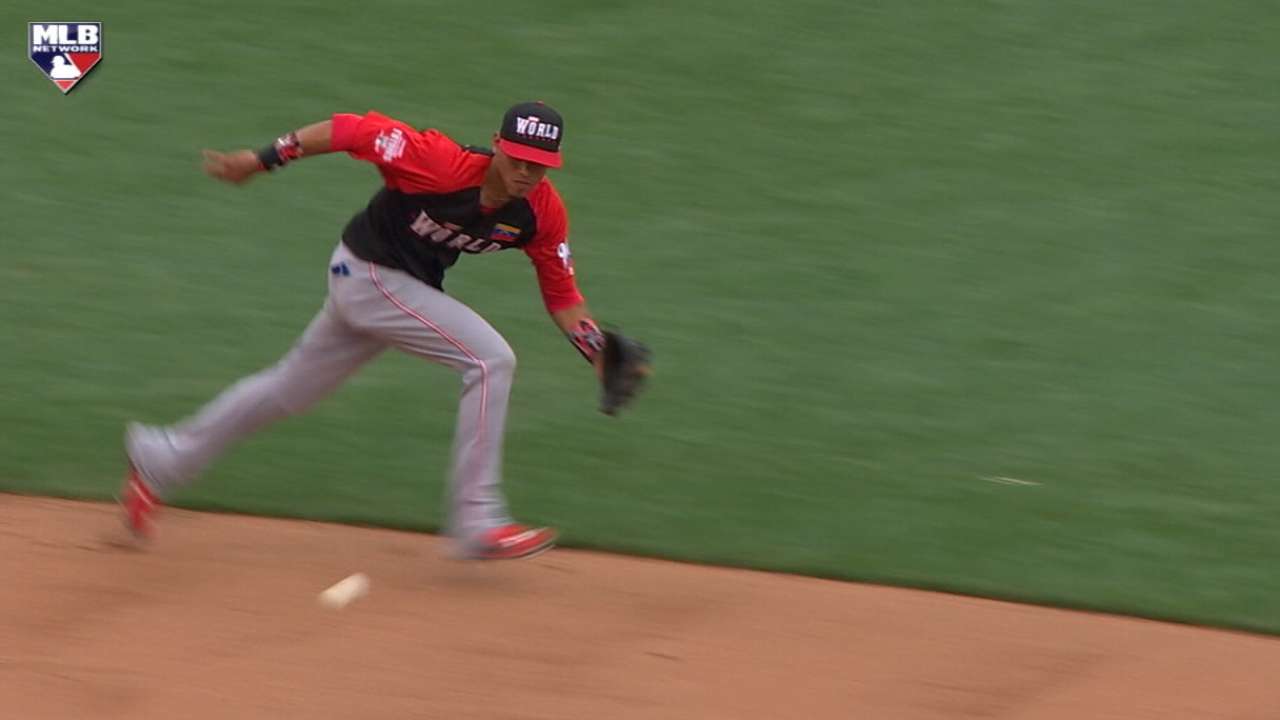 Of Cecchini and Middlebrooks, Counsell said, "They certainly have chances to make the team, for sure. They're in competition to make the team. The players kind of dictate it a lot through the course of the season. Both of those guys have opportunities to be contributors, and big contributors. But Aaron is what we're looking at right now."
"I had some time at third base last year and enjoyed it," Hill said. "It's a challenge. I like it. If that's where I'm going to be, I'm happy with it.
"Your job is to catch it and throw it. Try to keep it simple. That's what Spring Training is for. This is an awesome part of the year. You get a feel for it here in the spring, which is nice. Last year, [it] was more during the season, getting a feel for it. It's nice to know the plan here and what they expect of me. ... I'm looking forward to playing baseball and having fun with a young team."
Hill, who turns 34 next month, has primarily been a second baseman during an 11-year career with the Blue Jays and D-backs. His best seasons came in Toronto, which included a 36-homer, 108-RBIs effort in 2009, though he did win a National League Silver Slugger Award in Arizona in 2012.
Spring Training: Schedule | Tickets | Complete info
Over the past two seasons, however, Hill has posted a .238/.290/.359 slash line.
"There is a track record of some big success," Counsell said. "You're hoping to catch that again. … I also do like the presence that he provides to the infield. I think it's a good presence, and something important for us."
Flores a full-go
Coming off a nasty ankle injury he sustained last September, outfielder Ramon Flores has gotten healthy at the perfect time to make a bid for a job in Brewers camp. Flores, acquired in a November trade with the Mariners, spent the winter at Maryvale Baseball Park and last week completed his rehab protocol.
He has experience all over the outfield, including center field, the position most wide open in Milwaukee's camp. Flores was manning center field at Triple-A Tacoma last August when he broke his right ankle and suffered torn ligaments in a collision with the wall. It was an ill-timed injury, considering Flores had batted .423 in 14 games with the Mariners' affiliate after a trade from the Yankees. He was in line for a September callup.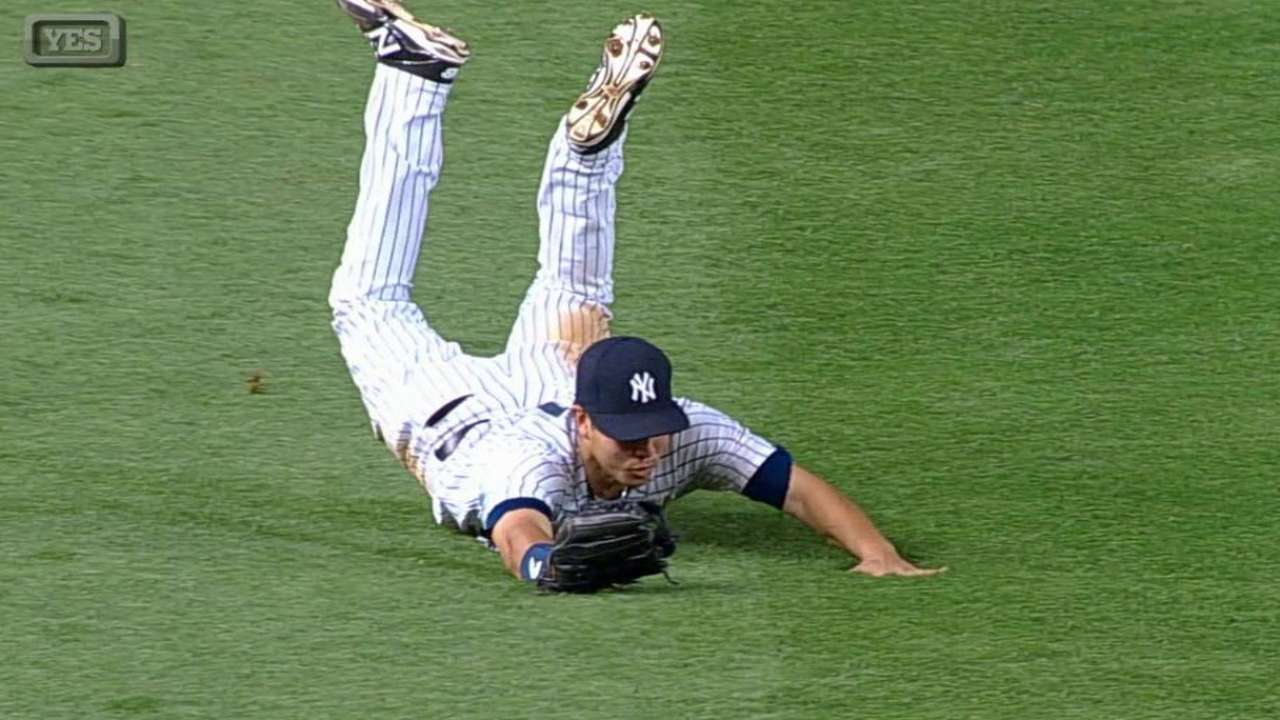 "It was tough, mentally," Flores said. "Now that's in the past."
Last call
• While he fights for a job in the Brewers' outfield, non-roster invitee Eric Young Jr. has taken on a roommate at his home in Mesa, Ariz.: his father, the Rockies' first base coach.
"We don't get to see each other too much because we're both at the field so much," Young Jr. said. "It's pretty much, have dinner and then say goodnight."
Adam McCalvy is a reporter for MLB.com. Follow him on Twitter @AdamMcCalvy, like him on Facebook and listen to his podcast. This story was not subject to the approval of Major League Baseball or its clubs.