Colome confident he can build on '15 success
Right-hander feeling settled this spring with bullpen role in mind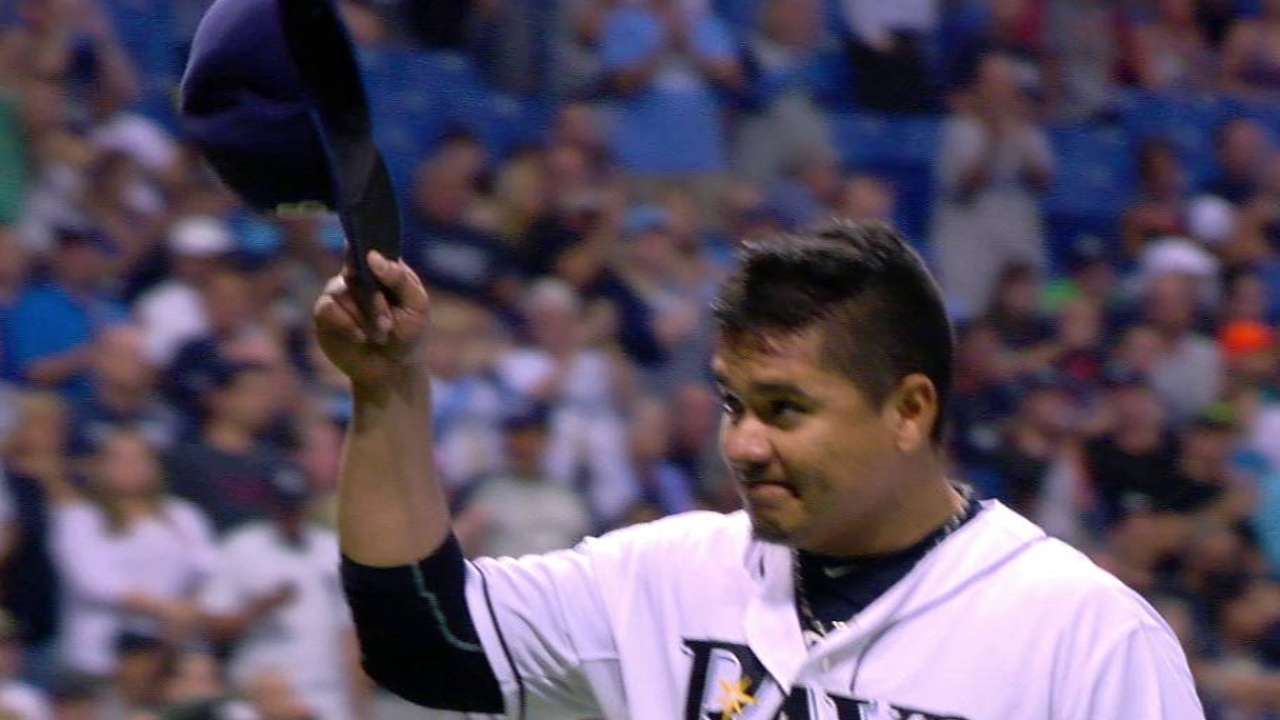 PORT CHARLOTTE, Fla. -- Alex Colome is all smiles this spring. How could he not be after last year's debacle?
"It's nice to make it on time this year," Colome said.
• Spring Training: Schedule | Tickets | More info
Colome and "visa problems" were synonymous last February. Then, once he finally arrived in Port Charlotte, he quickly came down with pneumonia.
"I say, 'What happened to me?' Because when I get here, I feel great," Colome said. "I throw a bullpen, throw live BP, and after that, I go in the hospital for one week. That was no good. But, you know, that happens."
Once Colome's season finally began, he pitched in the starting rotation, where went 3-4 with a 4.70 ERA in 13 starts. Once he settled into a bullpen role, he evolved into a late-inning weapon for the Rays. In 30 relief appearances, Colome went 5-1 with a 2.66 ERA, notching 44 strikeouts in 40 2/3 innings, and he did not allow a home run.
"A very good season," Colome said.
Once Colome went to the bullpen for good last year, Rays manager Kevin Cash said Colome "simplified some stuff" with the help of pitching coach Jim Hickey and bullpen coach Stan Boroski.
"He used his pitches differently, and there was more intent to force contact," Cash said. " ... We don't need you to beat around the bush and work the count and this and that and try to get guys to chase. You've got electric stuff. It was the same stuff all along, he just found a better way to use it."
Colome appears settled now that he knows his role, along with the fact he enjoyed so much success last season.
"One hundred percent confidence," Colome said. "Last year was my first full year in the big leagues. You know, we learn a lot of things. Like for this year, my confidence is strong no matter what they have planned for me."
Colome had an abbreviated winter ball stint in the Dominican Republic, when he pitched eight innings for Escogido.
"All I know is my arm feels good and I feel fine to do my job," Colome said.
On the nights when Brad Boxberger isn't available for closing, Cash allowed that Colome will be one of his best options to finish off the game.
"We're excited to have him coming in," Cash said. "We've got a lot of confidence [in him]. He kind of provided that for us. We're totally comfortable. He's going to be pitching in big innings for us."
Bill Chastain is a reporter for MLB.com. This story was not subject to the approval of Major League Baseball or its clubs.