Cole throws 20 pitches off mound without pain
Right rib inflammation held back Pirates ace at start of camp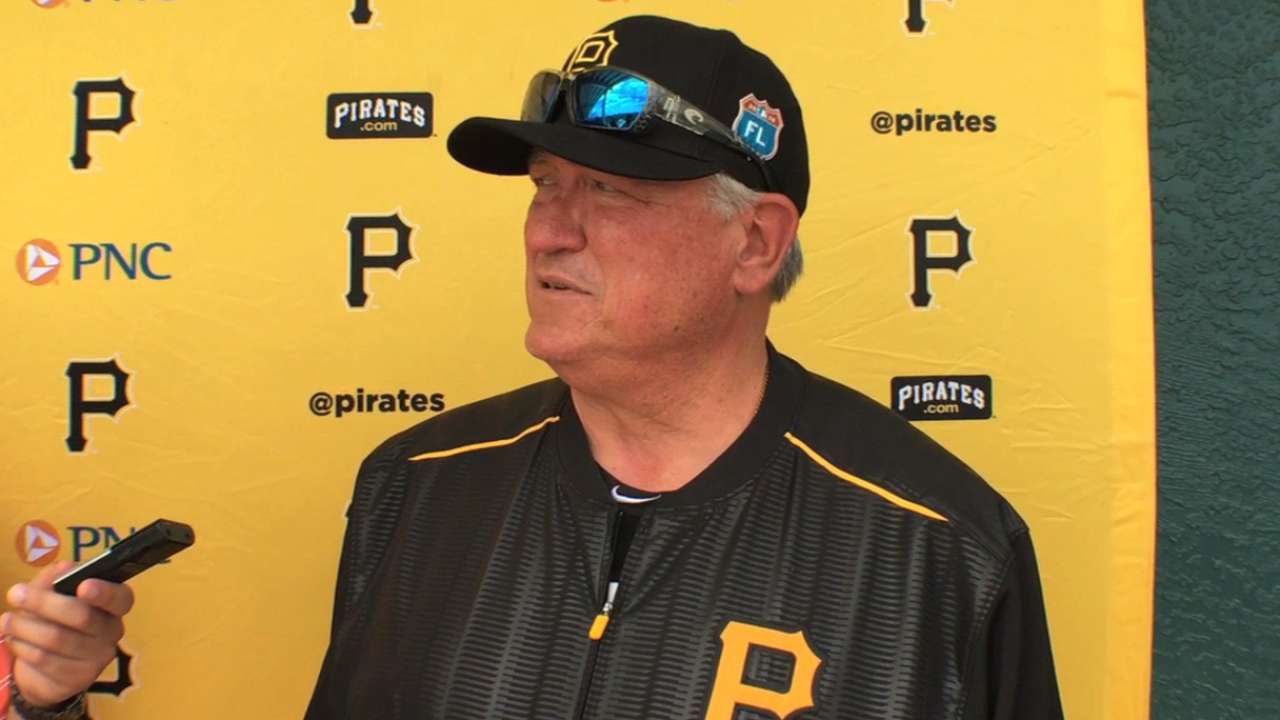 BRADENTON, Fla. -- Pirates ace Gerrit Cole threw 20 pitches off the mound Monday morning and reported no lingering discomfort after being held back by right rib inflammation at the start of Spring Training.
"Good to see him on the mound," Pirates manager Clint Hurdle said.
Cole threw fastballs and a few changeups to catcher Chris Stewart during a bullpen session alongside fellow starters Ryan Vogelsong, Jon Niese and Francisco Liriano. It was Cole's first time throwing off the mound this year, which still leaves him slightly behind schedule as pitchers begin preparing for the regular season.
"Really good," Cole said. "I thought it was actually a little sharper than I expected, but it's still the first one. It doesn't really mean much other than it's good to feel like a pitcher again."
Gerrit Cole's throwing off the mound: pic.twitter.com/0Ph2qJt5bL

— Adam Berry (@adamdberry) February 22, 2016
Cole's counterparts will start throwing live batting practice on Tuesday during the Pirates' first full-squad workout. The 25-year-old right-hander still needs to build up his arm strength in the bullpen, he said, while making sure his delivery is in good shape.
It remains unclear how, if at all, Cole's modified schedule will affect his potential availability when Grapefruit League games begin on March 1.
Cole said he first felt the inflammation in his right ribs during his normal offseason training. When Cole reported to the Pirate City complex, he was able to play catch, go through fielding drills and take batting practice -- everything, essentially, but toe the rubber and pitch.
"I have no concerns about it flaring back up," Cole said. "We're just trying to manage. Most guys come into this situation with a couple bullpens under their belt. Now, we just have to do the arm conditioning and fine-tuning of everything at the same point for these next few 'pens, so they're going to be important."
Adam Berry is a reporter for MLB.com. Follow him on Twitter at @adamdberry. This story was not subject to the approval of Major League Baseball or its clubs.