Right on: Showalter good with RHP rotation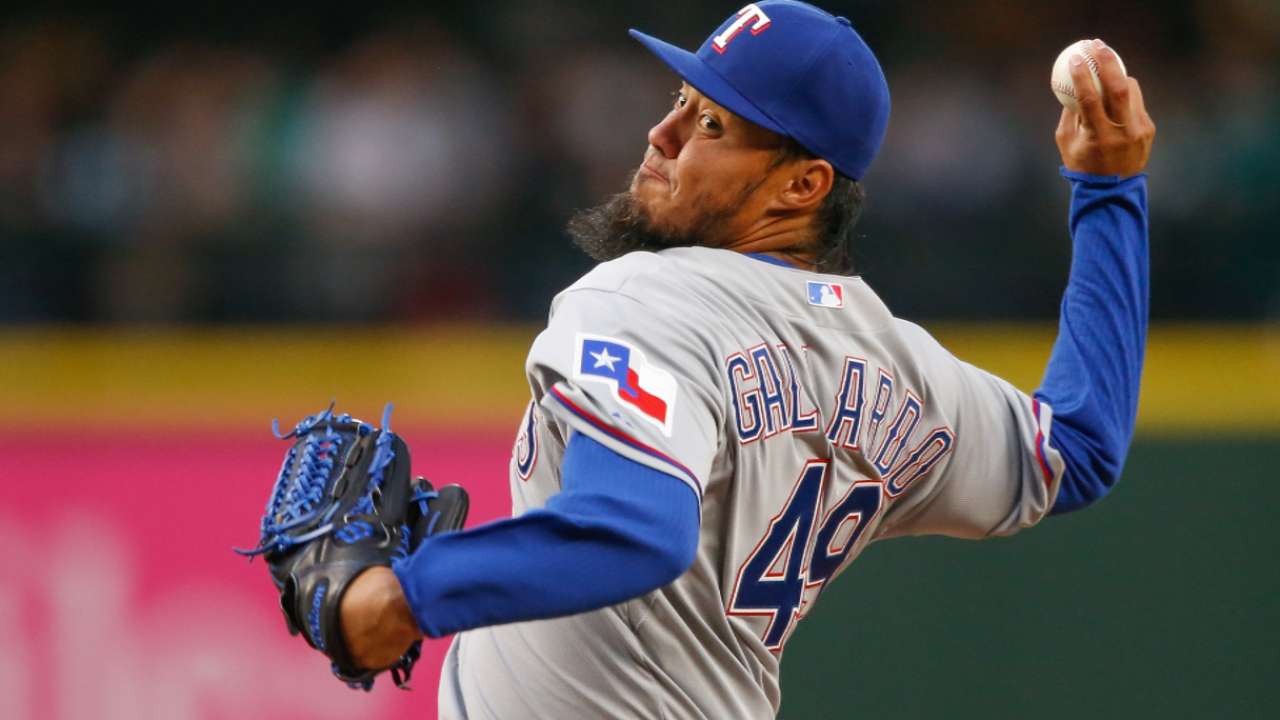 SARASOTA, Fla. -- Once the Orioles do officially announce the Yovani Gallardo deal, the team will have a rotation of five right-handed starters. Manager Buck Showalter said Monday that he doesn't have a problem with that.
"All right-handed starters in the big leagues better be able to defend themselves against left-handed hitters," said Showalter. "Sometimes that separates them from being a starter or a reliever. And all left-handed pitchers have to be able to defend themselves against right-handers.
• Spring: Tickets | Ballpark | 40-man roster | NRIs
"Because the lineups up here, you'll see a lineup down in Triple-A that [lefty] Chris Lee will face and it'll have six left-handed hitters. That's not going to happen in the big leagues. ... I just want good starters. If they are right-handed, so be it."
Orioles catcher Matt Wieters agreed with that sentiment.
"For me, as a catcher, if you can get guys out, I don't care whether you throw right-handed or left-handed or you kick it up there with your foot," Wieters said. "If you can get guys out, we'll put you on the mound."
Gallardo's presence figures to be a boost to the O's rotation, and while it eliminates any rotation competition, it could also change the complexion of the team's bullpen. The thought is that having a lefty long man, like T.J. McFarland, would help even things out over a right-handed option. Showalter agreed that was probably the more conventional way to do it, though he wouldn't commit to a roster decision this early in camp.
Gallardo was slated to arrive in Sarasota on Monday to take his physical. He could be out on the field as early as Tuesday.
News and notes
• The Orioles will have a pair of intrasquad games on Feb. 27 (five innings) and Feb. 28 (seven innings), both of which are at Ed Smith Stadium. They will not be open to the public. There will be a regular workout on Feb. 29.
• Both Dylan Bundy and Hunter Harvey were among the group to throw bullpen sessions on Monday. Showalter was asked if he's at the point now where he forgets that the pair of top pitching prospects are both coming off injury.
"No, I just don't talk about it. I don't tell them," Showalter said. "You don't get bogged down on it. Dylan was pretty good today. That was encouraging. You can tell by his face. Both of these guys are really looking forward to being just another guy instead of a guy on rehab. Just about everybody here has had similar issues in their pitching career. Some of it's a distant memory. Some of it is not."
Bundy was throwing on the string mound, which is a useful drill that has two pieces of string across the plate. It helps with command and, perhaps most notably, was used by Zach Britton the spring before he became closer.
"You don't make them [throw to the strings]," Showalter said. "Most of them are because they want to. The option is given to all of them."
• Showalter said he didn't expect any issues in reporting in advance of Tuesday's full-squad report date. The only position player who isn't accounted for yet is Alfredo Marte.
• Rule 5 Draft pick Joey Rickard is in camp, and it could be harder to keep him this year with Bundy out of Minor League options and the team trying to find a roster spot for Rickard.
"There's a spot, potentially," Showalter said. "I wouldn't close that door. See what happens in the next couple days. I know [executive vice president, baseball operations Dan Duquette] and I have been beating around some things. I know Dan's gathering opinions on our roster and the potentials, even if we have to do another one.
"You can't do anything with [Rickard] until the 14th [of March]."
Brittany Ghiroli is a reporter for MLB.com. Read her blog, Britt's Bird Watch, follow her on Facebook and Twitter @britt_ghiroli, and listen to her podcast. This story was not subject to the approval of Major League Baseball or its clubs.