Weiss out to improve offensive efficiency
Rockies manager focuses on 'winning an inning'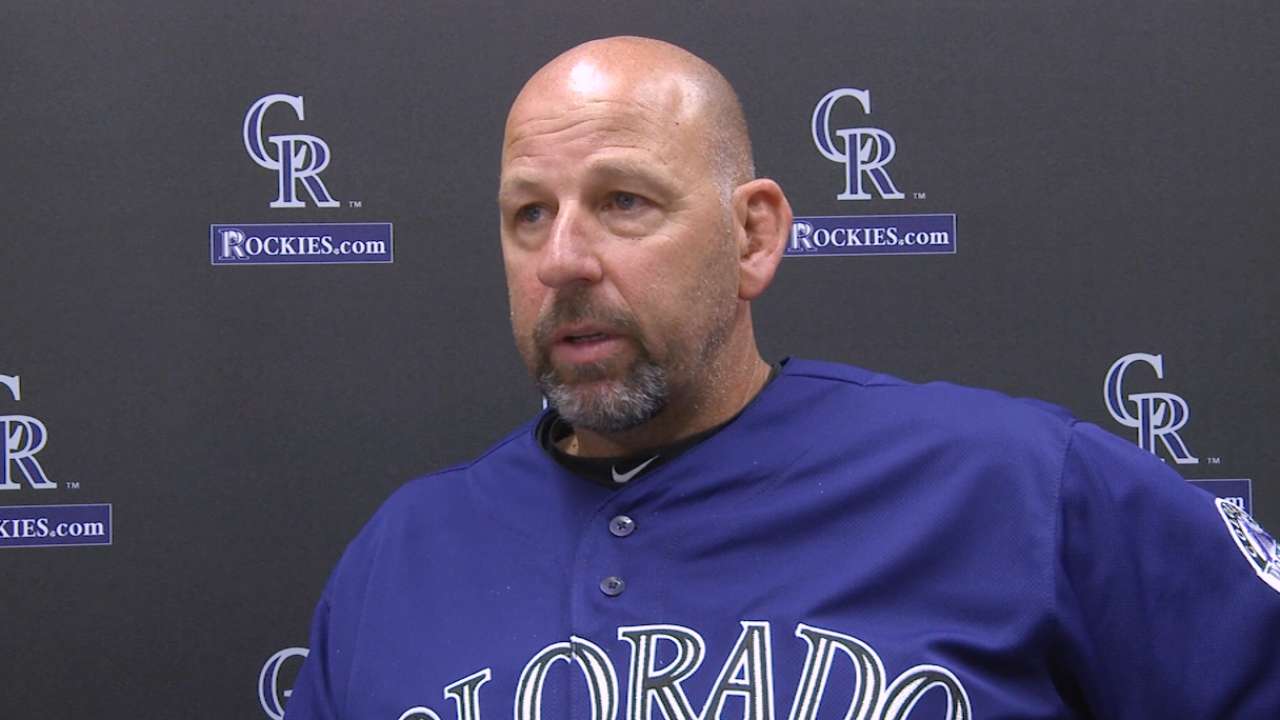 SCOTTSDALE, Ariz. -- If the axiom is you coach what you tolerate, Rockies manager Walt Weiss will preach intolerance -- but in a fun way. He'll attack last season's lack of offensive efficiency.
The Rockies finished fifth in the Majors in runs (737) and first in runs at home (449). But under Fangraphs' formula for "weighted runs created-plus," which measures teams against the league average for the season and includes park factors, the Rockies were 28th and 25th, respectively. That means they left a lot of runs unclaimed.
"We're going to have a drill or exercise where we just play an inning every day, certain situations," Weiss said. "There's competition involved. Guys will throw some money in a hat and the winning team will get it when it's all said and done. It's a fun way to focus on execution stuff offensively.
"Everything. Beating shifts, moving runners -- winning an inning. We talk about winning an inning a lot."
The Rockies have some room for improvement:
• They had three top-50 NL players in wRC+ -- Nolan Arenado (19th), Carlos Gonzalez (28th) and Charlie Blackmon (39th). As for National League West comparisons, the D-backs had four in the top 50 and three in the top 10, and the Giants had four in the top 25.
• According to the Bill James Handbook, Gonzalez's .265 batting average on grounders and line drives into the shift stands out because (under an admittedly small sample size, since widespread shifting is new) players with consistent shift-beating ability barely exist and those that are successful use the bunt more than Gonzalez.
• The Rockies possessed two of the game's most efficient baserunners last season -- Blackmon and DJ LeMahieu, whose 3.2 baserunning runs (BsR) added (according to Fangraphs) put them in a five-way tie for 14th-most in the NL. Gerardo Parra, who played with the Brewers and Orioles, had a 2.0 BsR, which would have been 20th in the NL.
The spirit of spring drills will have to linger come the regular season. While most fans who played ball growing up remember days of offensive fundamentals in team infield practice, it helps to remember that the big leaguers play 162 games. Mimicking situations can simply increase fatigue come game time.
"Typically, we're trying to look for ways to get guys off their feet," Weiss said. "We don't want to put more on their plate because the season is a haul.
"How much do you practice when you've got competition every day, and that's the most important part of the day? So you've got to try to find that balance."
Worth noting
• MLB chief baseball officer Joe Torre visited with Weiss on Saturday to discuss efforts to create a coherent rule or interpretation of sliding rules at second base during double plays.
It's a reaction to Mets shortstop Ruben Tejada suffering a broken right leg in the NL Division Series on a slide from the Dodgers' Chase Utley, who was suspended for two games even though umpires didn't make a ruling during the game. Utley appealed the ruling and remained in the series.
Weiss said MLB is looking at slides and the "neighborhood play," where the pivot man is not actually on second when the ball is in his hands.
Weiss noted that the rules address the runner being able to reach the bag, but they don't address his concern -- the late slide, which is what angered the Mets about the Utley slide. Late last season, Weiss expressed consternation when the Dodgers' Justin Turner slid late into Arenado, a third baseman who was pivoting at second because the Rockies' infield had shifted.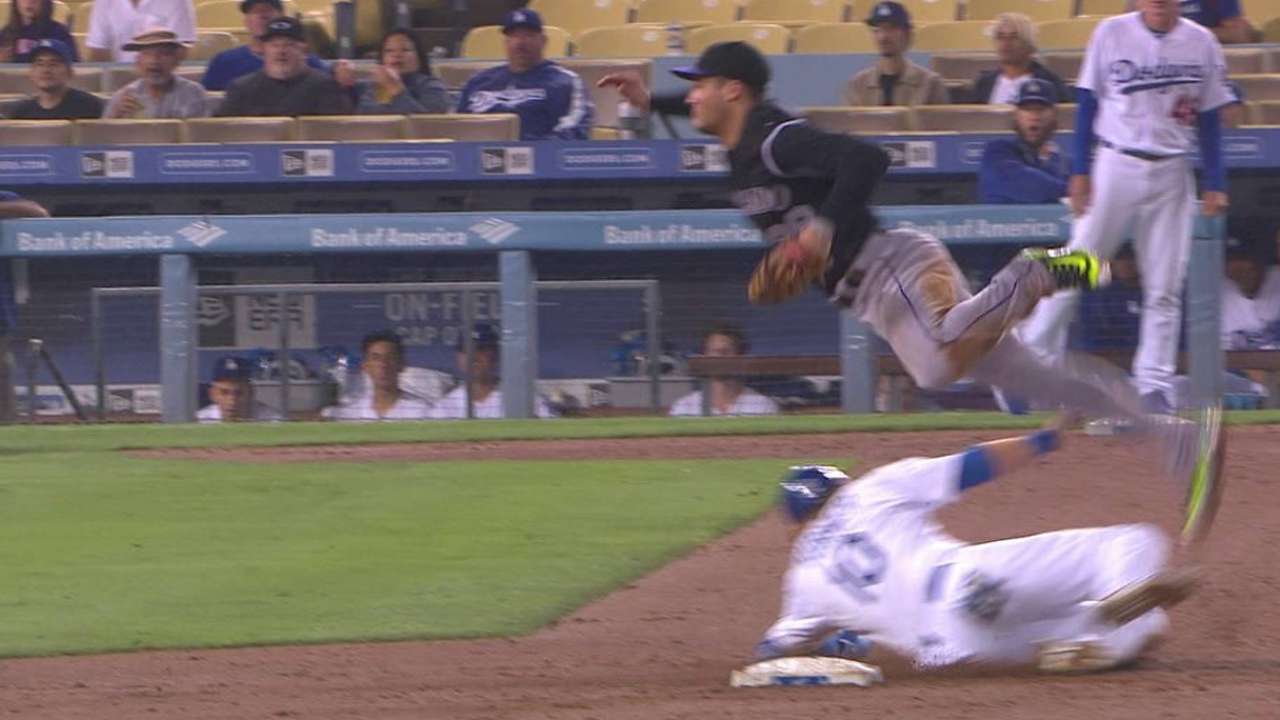 "I'm really good with clean, hard slides; I have a problem when a guy slides late," said Weiss, a longtime Major League shortstop.
• Reliever Adam Ottavino, completing recovery from Tommy John right elbow surgery, is not a factor this spring; otherwise, the Rockies have no one on a slower schedule because of injury. Weiss said the team will closely monitor starters Tyler Chatwood, who has been cleared to go after right elbow surgery in 2014, and Jordan Lyles, who missed most of last season because of surgery to repair a hyperextended right big toe.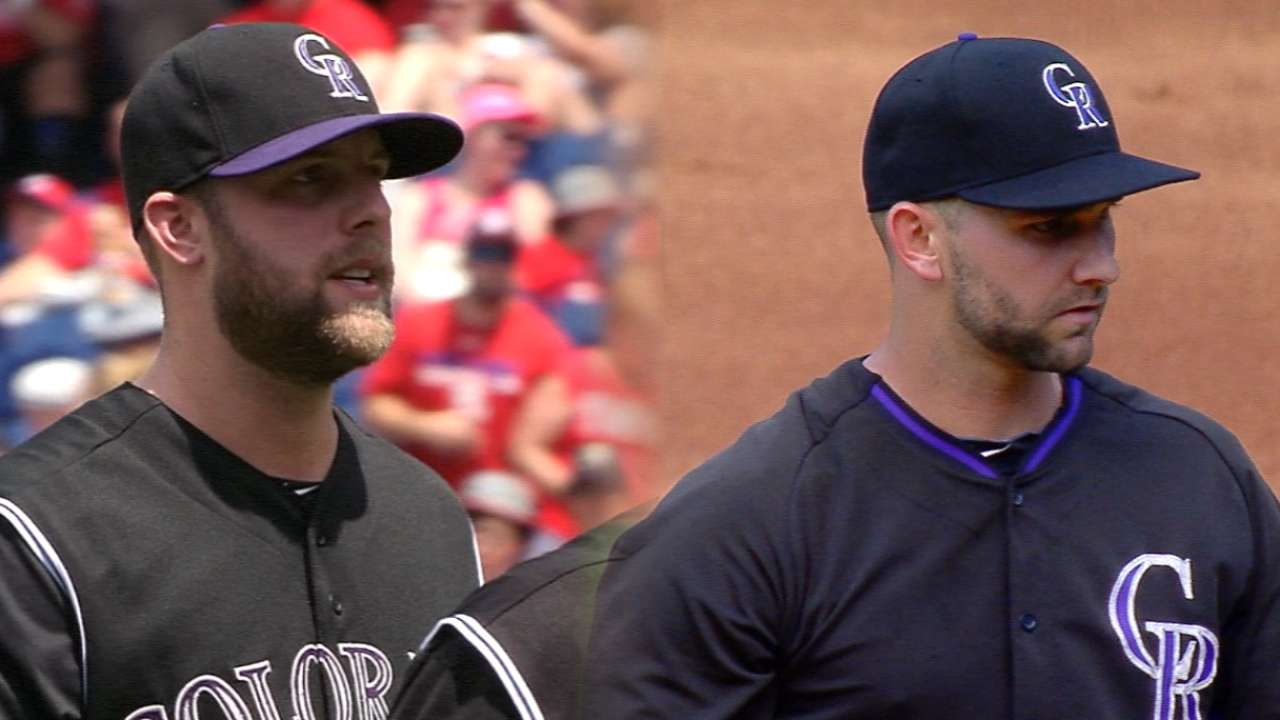 Thomas Harding is a reporter for MLB.com. Follow him on Twitter @harding_at_mlb, listen to podcasts and like his Facebook page. This story was not subject to the approval of Major League Baseball or its clubs.