Prospects Hoffman, Freeland aim to impact staff
Good friends and roommates together in Rockies' big league camp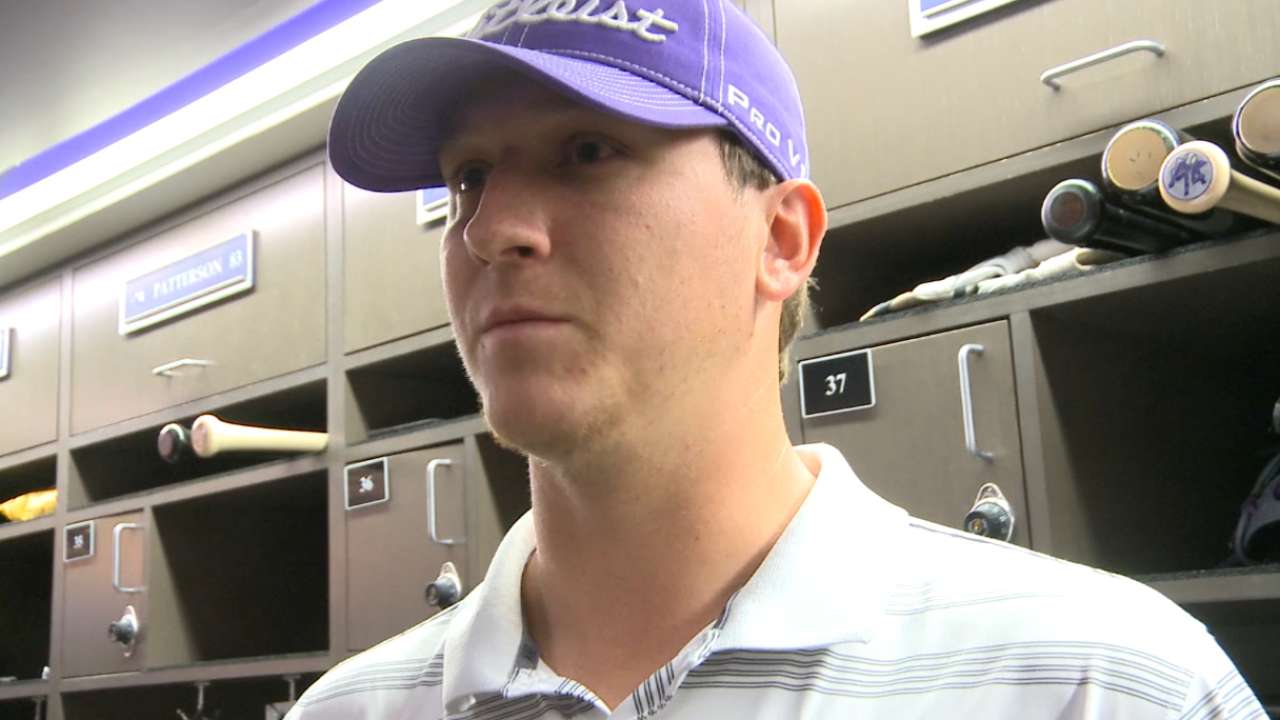 SCOTTSDALE, Ariz. -- The baseball universe began conspiring to bring Rockies pitching prospects Kyle Freeland and Jeff Hoffman together as early as 2013.
Freeland was at the University of Evansville and Hoffman at East Carolina University, when they were placed together in the Cape Cod League -- a heavily scouted summer college league. They were then consecutive picks in the 2014 Draft, Freeland by the Rockies eighth overall, followed by Hoffman with the Blue Jays.
• Rockies' Spring Training info
Then the similarities became weird. Each dealt with injuries. Hoffman underwent Tommy John surgery his final year at ECU and missed the 2014 season. Freeland's spring and summer of 2015 were marred by shoulder fatigue and a procedure to remove scar tissue from his throwing elbow.
Finally, on July 27 of last season, it occurred to Hoffman -- being traded from the Blue Jays to the Rockies in the Troy Tulowitzki deal -- that the separate paths would bring him and Freeland together.
"We really weren't that close in the Cape, but we were friends," sad Hoffman, the No. 52 prospect in baseball according to MLBPipeline and the Rockies' No. 4 prospect on MLB.com's list. "But when the trade was happening, I got taken by the Rockies. I texted him, got up with him, 'Hey, man, looks like we're going to be playing together again.'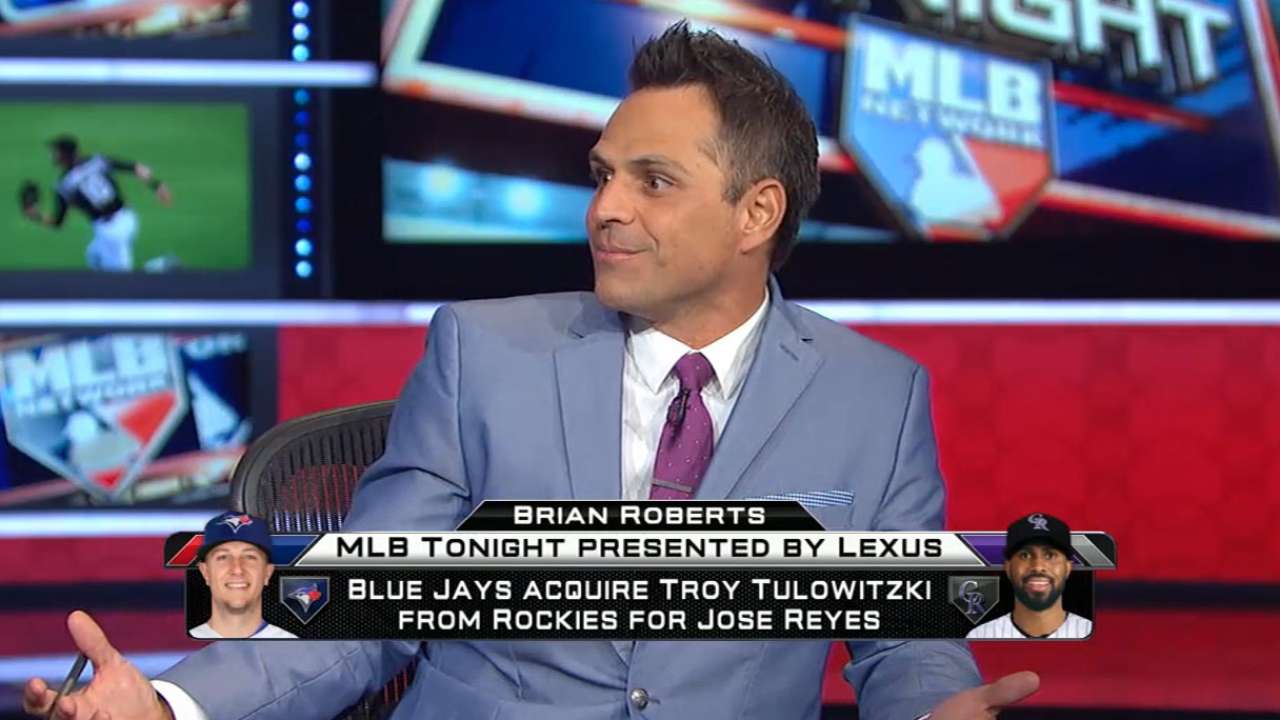 "From then on we went to Aruba together this offseason. We play golf all the time while we're here. Now we live together. It's fun. It's nice to know somebody that you've known before."
Heck, these housemates didn't even have to change wardrobes. Both played college ball for teams that wear purple … just like the Rockies.
Well, all these odd coincidences would be lovely if Freeland and Hoffman reach their potential in the Rockies' rotation, whether now or in the future. The fact they're already in Major League Spring Training demonstrates that they've put themselves on the big league radar despite not having much pro experience.
When finally cleared to pitch, Freeland went 3-2 with a 4.24 ERA in nine games at Rookie-level Grand Junction and Class A Modesto. But he found his stride against top prospects in the Arizona Fall League, going 4-1 with a 2.84 ERA in five games for the Salt River Rafters, with six of the seven runs coming in his debut.
Freeland said his arm was healthy and strong entering the offseason, and he comes to camp believing in his ability.
"If I wouldn't have had that experience facing that level of competition, coming in here would have been a bit more of a challenge," said Freeland, the Rockies' No. 9 prospect according to MLB.com. "Now I'm coming into big league camp having faced the elite."
After having Tommy John surgery during the early part of the 2014 season, Hoffman was a combined 5-5 with a 3.03 ERA with three clubs in the Blue Jays and Rockies systems. The work with the Rockies -- 2-2, 3.22 with 29 strikeouts and 10 walks in 36 1/3 innings at Double-A New Britain -- was especially instructive. Before the trade, the Jays prohibited him from throwing a curveball that offsets his four-seam and two-seam fastballs.
"It was a long time coming -- I was out of the game for awhile and when I got back into games I wanted to throw everything, and felt I could," Hoffman said. "The restrictions were tough, but I got through it."
The pair can assist one other through the heavy expectations.
Freeland is the highest-profile Denver-area product the Rockies have drafted and signed since pitcher John Burke, who was taken out of the University of Florida with the club's inaugural Draft pick in 1992. Burke went 4-6 with a 6.75 ERA in his only 28 Major League games, with the Rockies in 1996 and 1997. Although he is a lifelong fan who learned to love the Rockies from his father, Freeland never met his boyhood idols -- Larry Walker and Todd Helton -- growing up. And, because he had already planned a senior trip with his friends during his senior year at Thomas Jefferson High and turned down an all-star game invitation, the first time he'll pitch in a game at Coors will be in the Majors, whenever that is.
"It definitely crosses my mind frequently -- being the hometown kid that grows up and does something great for the Colorado Rockies," Freeland said.
Last year, the Blue Jays were considering bringing up Hoffman for their playoff run, to at least work out with the team and observe the atmosphere. Those plans changed when the Rockies insisted he be in the deal if they were going to give up their erstwhile franchise face.
Hoffman said being a Draft prospect at ECU helped prepare him to ignore the weight of being the Rockies' key to a trade, in which Tulowitzki and reliever LaTroy Hawkins went to Toronto for shortstop Jose Reyes, and pitchers Miguel Castro and Jesus Tinoco as well as Hoffman.
"They made the trade for who I am," Hoffman said. "And I don't think I need to be anything extra."
Thomas Harding is a reporter for MLB.com. Follow him on Twitter @harding_at_mlb, listen to podcasts and like his Facebook page. This story was not subject to the approval of Major League Baseball or its clubs.