Rangers welcome Guthrie, but Tepesch steals show
Ex-Royals righty throws first 'pen session; both in running for No. 5 starter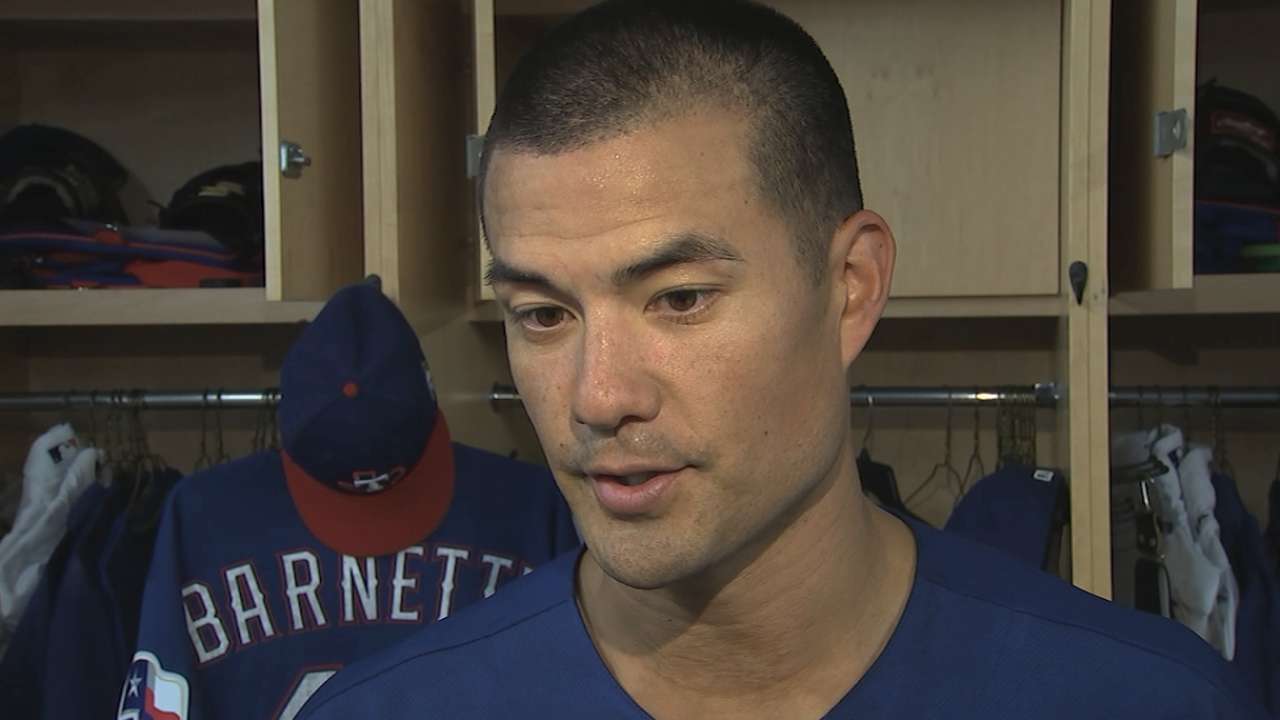 SURPRISE, Ariz. -- Veteran right-hander Jeremy Guthrie, signed to a Minor League contract, threw his first bullpen session for the Rangers on Sunday.
But Nick Tepesch, throwing next to him at same time, was the one who caught the attention of pitching coach Doug Brocail.
• Rangers' Spring Training info
"He was phenomenal," Brocail said.
The competition for the fifth spot in the rotation is only beginning. Tepesch and Guthrie are two of the entrants, along with Chi Chi Gonzalez, Nick Martinez, A.J. Griffin, Anthony Ranaudo and Cesar Ramos. Guthrie, a 13-year veteran with 272 starts, has by far the most experience of the group, which was a motivating factor for the Rangers.
"I like the fact that you can add that type of experience," manager Jeff Banister said. "The length of the experience and the style of experience, it raises the bar of the competitive level. It's an opportunity to push the fifth-starter spot competition and make it a little tougher."
Guthrie, 36, spent the past three seasons with the Royals and was 8-8 with a 5.95 ERA over 24 starts and six relief appearances last season. Over the previous two years, he was 28-23 with a 4.09 ERA in 65 starts. Guthrie said his decision came down mainly to either the Rangers or the Royals.
"It's a chance to compete and see if I can earn something," Guthrie said. "I know they have a lot of arms here, I'm just happy to be in the mix and see what I can do."
General manager Jon Daniels said he does not expect to add any more candidates to the competition, although the Rangers will still likely attend any showcase for some of the more prominent remaining free agents like Tim Lincecum or Cliff Lee.
"Barring unforeseen circumstance coming up, we have no other offers out there or anything else going on," Daniels said.
Tepesch, Martinez, Gonzalez and Ranaudo are all young pitchers who have pitched with the Rangers in the past three years with varying degrees of success. They all have talent, but have not yet reached a point where they are considered at the same level as Martin Perez.
Griffin was 21-11 with a 3.60 ERA for the Athletics in 2012-13, but has missed the past two seasons while recovering from Tommy John elbow reconstruction surgery. Ramos has made 241 relief appearances and 10 starts over a seven-year career with the Padres, Rays and Angels, and is being given a chance to stretch out this spring. He is the only left-hander in the competition.
"I think we have created a nice range for ourselves," Banister said. "Guys will have an opportunity, but not only that, there is an opportunity for one of these guys if they don't make the fifth spot, to go out to the bullpen. Maybe they will work with a little more intention and you get to see the real pitcher. They know what this is."
• The Rangers have signed left-hander Michael Roth to a Minor League contract. Roth, who will work on the Minor League side, appeared in 22 games for the Angels in 2013-14 and was 2-1 with a 7.79 ERA.
T.R. Sullivan is a reporter for MLB.com. Read his blog, Postcards from Elysian Fields, follow him on Twitter @Sullivan_Ranger and listen to his podcast. This story was not subject to the approval of Major League Baseball or its clubs.