Unnoticed by Uber, Gray turns heads at camp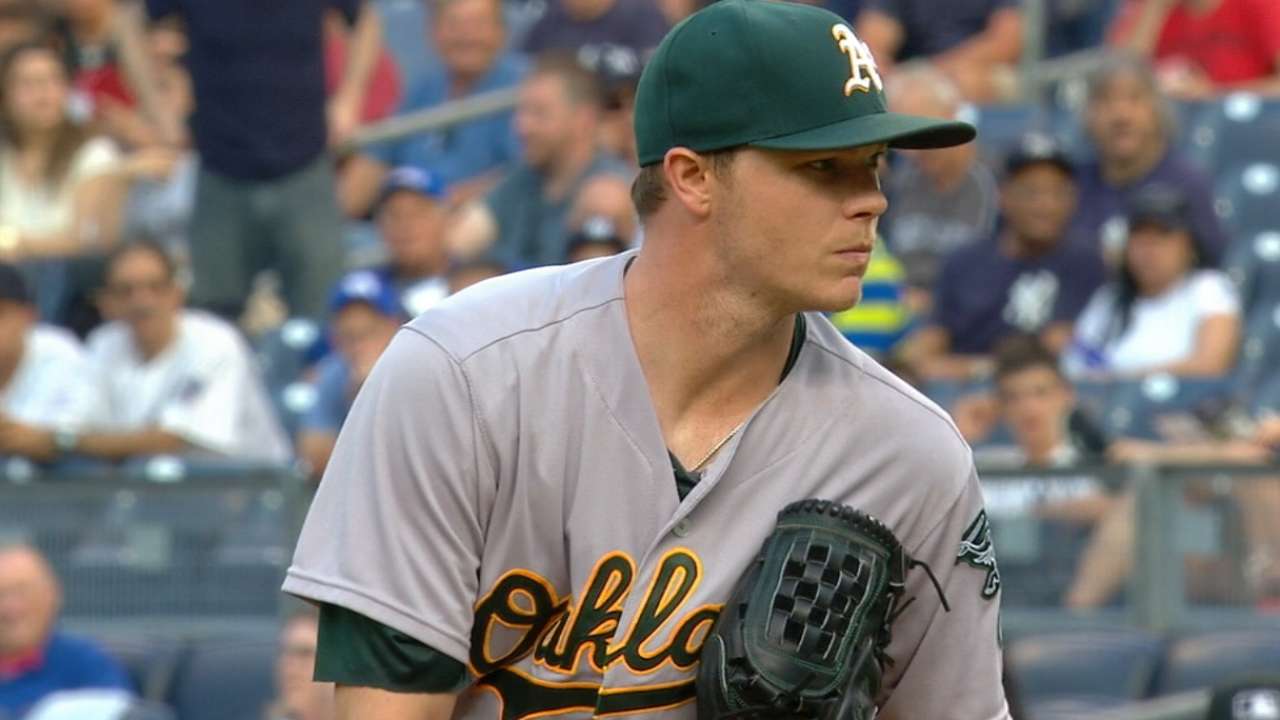 MESA, Ariz. -- Oakland's most recognizable player went unnoticed in an Uber car on Sunday morning.
Sonny Gray didn't mind, but he got a kick out of his driver, who asked the 5-foot-11 right-hander, "Are you a pitcher?" upon arriving at Hohokam Stadium.
Spring Training: Schedule | Tickets | Gear
"Yeah," Gray confirmed.
"I thought pitchers were bigger," the driver responded.
"I said, 'Well, normally they are, I guess,'" Gray said.
Maybe so, but Gray still stands tall in the A's clubhouse, representing how to do most anything the right way.
• Ace, now mentor, Gray ready to lead by example
In Oakland, he's considered the gold standard of fielding pitchers, meaning all eyes are on the ace even during mundane Spring Training drills, notably pitchers' fielding practice (PFP).
"Everyone watches him," A's manager Bob Melvin said. "When you have your No. 1 starter and he does drills as well as he does, not just the intensity of it, but the way he goes about his business. He's a great fielder.
"We do have a station called 'game awareness,' where we talk about how guys can better themselves, and not just the pitching end of it, but fielding your position, holding runners, and it's easy to point and say, 'Watch this guy,' because he does everything terrifically."
Gray, a runner-up for the 2015 American League Gold Glove awarded to Houston's Dallas Keuchel, takes pride in this.
"I love doing PFP," he said. "It's something that I've always enjoyed doing. I'll sometimes get more upset if I bobble the ball or miss the ball during PFP than if I miss a spot in the bullpen."
Gray was one of nearly a dozen pitchers to throw a bullpen session during Sunday's first official workout, his competitive juices flowing despite the setting.
"He's just as focused in his bullpens as he is in the games, which is good for younger guys to be able to see," Melvin said.
"He said his timing was a little off, he was a little quick, but his last 15 pitches were unbelievable," catcher Josh Phegley said. "He called me out and said he wanted to throw to a lefty and he dotted two pitches and threw a nasty curveball in the dirt, and he was like, 'We're good.'"
Worth Noting
• Gray wasn't the only notable name to get on the bump Sunday. Lefty Sean Doolittle, who was injured for most of the 2015 season, also threw his first official spring bullpen, walking away feeling strong. He was flanked by his brother, righty Ryan Doolittle, who is in big league camp for the first time.
"I'm sure some of the anxiety that's usually there for a younger guy, he can combat that with the experience of his brother," said Melvin, who also noted, "I think I can distinguish between the two. I'm glad that one throws left-handed, one throws right-handed."
• Melvin was pleased to see a solid bullpen session from right-hander Jesse Hahn, who missed the second half of last year with a forearm strain.
"This is a guy we were a little worried about at the end of last year," Melvin said. "It was good to see him throw a 'pen and get after it, looked like no reservations."
• Jarrod Parker is among those listed to throw on Monday, along with new A's pitchers Rich Hill, Ryan Madson, John Axford and Liam Hendriks.
Jane Lee is a reporter for MLB.com. This story was not subject to the approval of Major League Baseball or its clubs.