McCann to take on more scouting info
Catcher arrives leaner for Year 2, ready to map out game plans with Ausmus
LAKELAND, Fla. -- James McCann is the son of an aerospace engineer. If anybody on the Tigers should be able to process large amounts of information and translate it onto the field, it's him.
When he looked for ways to avoid wearing down from the rigors of catching over a season, he compared his weights from last year. He talked with players who had long careers, including former Tigers teammate and fellow Arkansas resident Torii Hunter. McCann read up on athletes from other sports, from Tom Brady to Kobe Bryant to LeBron James, and what has worked for them. McCann talked with Mike Strouhal, a strength and conditioning coach at the University of Arkansas, and came up with a plan.
"I added a whole heck of a lot more vegetables to the diet," McCann said. "Less meat and potatoes, more chicken and more fish."
• Spring Training: Schedule | Tickets | Gear
He reported to camp last year at 235 pounds, opened the season at 225 and ended at 215. He reported this year at 225 and wants to stay above 220 all season. He looks bigger and stronger at first glance, but he's leaner.
"I would've never thought I'd like kale," he said with a smile. "Kale turned out pretty good. Put a little olive oil on it, broil it in the oven, and you're good to go."
.@JamesMcCann34 autograph ✔️ pic.twitter.com/C2uEa7JHdX

— Detroit Tigers (@tigers) February 20, 2016
When the Tigers plot a course to trim the damage on a pitching staff that gave up the highest ERA in the American League last year, McCann will go through a similar process.
One of the Tigers' few bright spots from last year was the progress of McCann, who was thrust from a backup role when the season began into an everyday role in his first full Major League campaign when Alex Avila went on the disabled list. Around midseason, McCann worked with manager Brad Ausmus to take on responsibility for game plans, collecting scouting information and statistical tendencies on opposing hitters, and meshing that with pitchers' strengths. The resulting plan had to be simple enough to execute in a game without overwhelming McCann or the pitcher.
Essentially, Ausmus did with McCann what coaches did with him when he was a young catcher.
"The biggest thing that I took from last year was how to use all the information that's available and put together a scouting report that is usable," McCann said. "There's so many numbers out there, you can't go into a game and think, 'OK, on 0-2 [counts], this guy hits this or doesn't hit this.' You have to be able to take all the information and kind of categorize it. That's what [Ausmus] was really able to help me do."
Expect them to build on that for Year 2. The information flow increases with the build-out of the Tigers' new analytics department. The plan must remain simple.
"I think the scouting reports that we handed to him in the middle of last year, the research that we asked him to start doing, was a really good first step," Ausmus said. "I think over time he's probably going to take that framework that was given to him and mold it a little bit into what he finds usable. But experience is the most important factor for a catcher."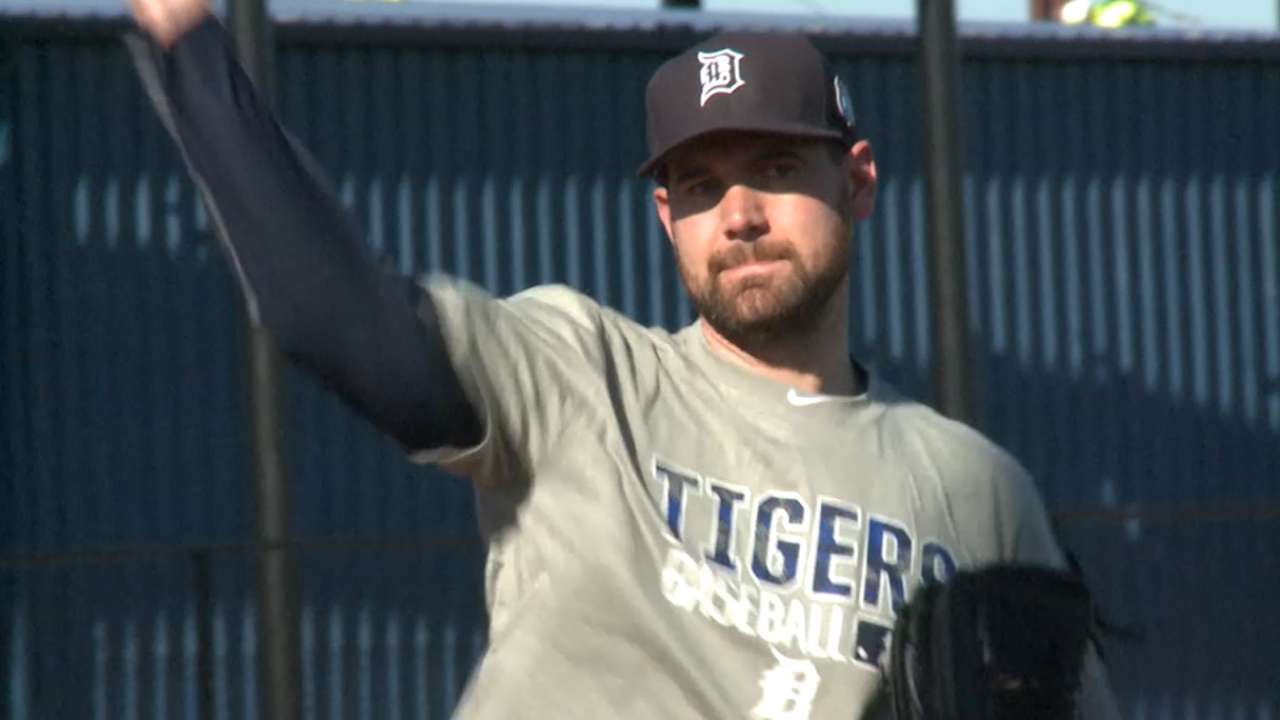 Jason Beck is a reporter for MLB.com. Read Beck's Blog, follow him on Twitter @beckjason and listen to his podcast. This story was not subject to the approval of Major League Baseball or its clubs.